Princess and I have had a busy weekend. We headed off to Birmingham for an early start at the Sea Life Centre before swinging by the BBC Good Food Show and BBC Gardener's World Live. It was one of hose impromptu efforts where it seemed on one hand sensible to kill two birds with one stone, and the other utterly stupid to navigate two press events in one day with a 3 year old.
We did see a few diva type moments, however nothing like the full on, hit the floor kicking and screaming toddler melt down we had last time we visited Birmingham, so I'm thinking this is generally an improvement. Stopping by the NEC turned out to be a brilliant idea, and Princess and I had a wonderful afternoon after recovering from some initial meltdowns (from me) over parking.
We checked into the press lounge and the lovely Matilda said there was going to be a gardening demonstration in the family tent that might be right up our street. Readers will already know that I love sharing new experiences with my family, so you know where we were headed at 2pm, don't you? She mentioned a chap called Dale, something to do with Blue Peter, and goes by the name of the Skinny Jean Gardeners. Of course my curiosity was peaked, in more ways than one.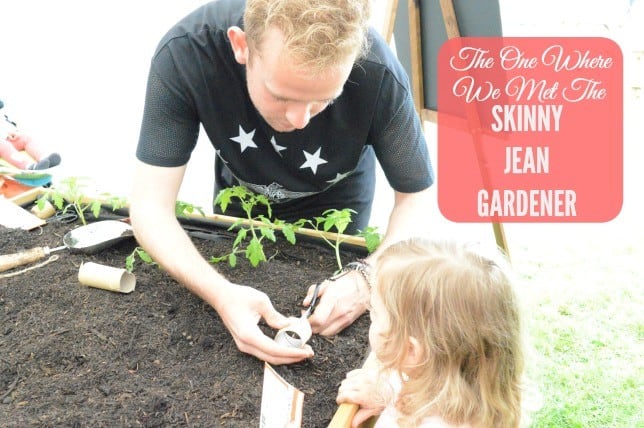 Now Princess is only 3, a little young for Blue Peter at the moment, so I hope I'm forgiven for not being au fait with the Skinny Jean Gardeners before today's chance encounter. Princess was a little apprehensive at first, having not encountered a Skinny Jean Gardener before either, and decided she would hang back a while before going and making her introductions.
When she realised she could play with compost and get mucky, her sensibilities were soon lost and she was happy to let Dale show her how to make a tomato planter to grow seedlings in. It was, without a shadow of a doubt the highlight of her day, marked with a satisfactory wiping of compost hands across a lovely clean pink top.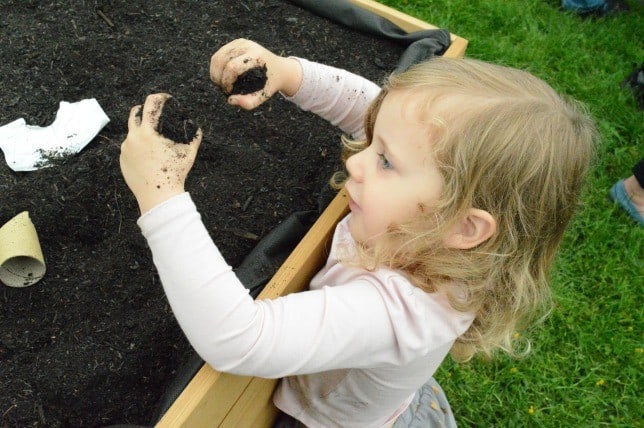 Now sadly our planted seeds didn't quite make it home in one piece, but Princess did make it home with an interest in planting more seeds. She was desperate to get in the garden and carry on her new activity. Sadly, by the time we made it back to Nottingham the only thing we could comprehend was dinner, bath and bed. However, I know she'll be up and at them wanting to find cardboard rolls and compost if I know this young lady.

Dale talked to us about growing topsy turvy tomatoes with our seedlings in a few weeks time. Now, this was something I struggled to visualise, but now I've seen the YouTube video, it all makes perfect sense! Check out this awesome idea to grow tomatoes absolutely anywhere! Furthermore, you might also want to check out this website – Happy Valley Seeds, where you can buy all kinds of seeds, be it vegetables, fruits, herbs, or flowering seeds in bulk.
It could also be a way to bag yourself a coveted Blue Peter badge. I bet you remember those don't you? Well it looks like things have changed, and getting badges these days is a lot more fun! We'll be sending in a photo of our topsy turvy planter to get us started!
Princess is at the perfect age to start to understand where her food comes from, and how things grow. Meeting Dale and seeing how interested she was has inspired me to teach her some gardening basics. She has no idea where the carrots or peppers come from that she eats, which for her age can be forgiven (I hope!). Seeing how much fun she had and how simple it is to start a few vegetables off, there's nothing to stop me know.