I went to a conference recently to speak to a group of Female Entrepreneurs about how to blog.  I haven't spoke in front of an audience like that for a couple of years, so I was feeling a little nervous and lacking in confidence as I boarded the train to Birmingham that day, I can tell you.
It was definitely a time when I had to build up my confidence to be able to address this group of successful business women, and there were a few tricks I pulled out of the bag that really helped me out.
I guess we all have times when we are feeling out of our comfort zone, and could do with a little boost, so I thought I'd share my tips for getting through these particular challenges.  I really believe confidence is something we can influence if we put our minds to it, and it can really help to calm the nerves if we are going into a new or unfamiliar situation.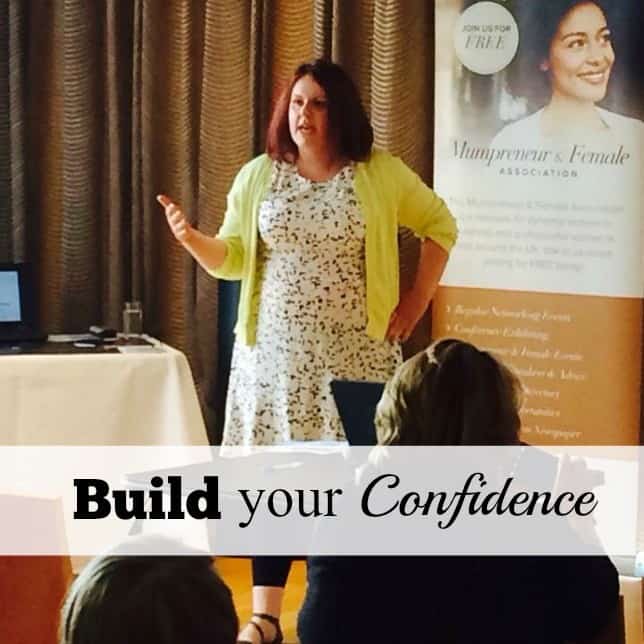 1. Being Prepared Will Help Your Confidence
Because I was going to be giving a talk, having a presentation to work from really helped me out.  I just used bullet points to prompt me with what I wanted to say, but it made such a difference organising my thoughts before had.
It gave me a tool to help me have a few run through's about what I was going to say, and it stopped me rambling and repeating myself.  I've been to so many presentations where the speaker has tried to deliver the talk off the cuff, and has ended up reiterating the same point because they haven't been prepared.
2. When Did You Last Feel Confident
I've talked about how powerful memories can be before in helping how we behave in the present, and you can pretty much apply this tactic to anything.
On the way to the event, I remembered a time when I was delivering training that was really successful.  I used to get excellent feedback for the courses I ran, so I pictured myself back in one of those sessions.  I thought about how I felt, what kind of body language I used and my presentation style and it really helped give me a boost before arriving at the conference.
3. Don't Dwell On The Negatives
There were moments when I could feel negative thoughts creep in.  'Why have I agreed to this' I thought, 'Who's going to want to here what you have to say' said the little voice in my head.
As soon as I started to hear these ideas, i stopped them from gaining momentum and I chose to focus on the positives instead.  It was going to be a great experience for me, and as soon as I got back into it I knew I'd enjoy it.  We are in control of what we think and if we make the effort to think positively we can chase the negative demons away and start to feel more confident instantly.
4. Don't Worry If Something Goes Wrong
Things happen, things go wrong from time to time and sometimes we make mistakes.  I did my best to prepare for things like my presentation not working by having a printed version, as that was something I could control, but sometimes things happen that are out of out control.
If something had of gone wrong, it wouldn't have been the end of the world, and it wasn't going to put me of doing the presentation.  If I'd of made a mistake somewhere along the line, as long as I learnt from it I'm sure everyone else would have forgiven me too.
5. Give Yourself A Huge Pat On The Back
I'm really proud of myself for the talk I did at the conference, and I think most of the people really enjoyed it.  Those that didn't, then I guess it wasn't for them and that's OK too.
I felt like I delivered something useful for those that were engaged with it, and it was lovely to speak to the delegates who wanted to know more afterwards.  It was just such a shame that I was up last and didn't have a lot of time to hang around after the event.  Those that did speak to me were really positive, and that has made me feel much more confident about the thought of speaking like this in the future.
I pulled it off, so well done me!  And well done to you too if you have stepped outside of your comfort zone recently, I hope it's helped you feel more confident too.  Practising tricks like these when ever your not feeling so confident about yourself will help you grow your confidence no end and pretty soon you'll change your behaviour without even realising it to grow into the confident person you've always wanted to me.