Recently Travelodge invited us to stay at one of their hotels for a family weekend break.  It was great timing for us as we had also been invited to review a day out at Knowsley Safari Park so we agreed that a stay in Liverpool would work out well.  We were booked into the Travelodge Liverpool Central hotel and all we had to do was turn up.
We were really looking forward to our weekend break.  We had never visited Liverpool before and the Travelodge Liverpool Central seemed like the perfect location to do some sight seeing from.
Travelodge Liverpool Central Hotel Review
The Welcome
The staff at Travelodge Liverpool Central were really welcoming.  We arrived before check in and nipped in to see if we could use the toilets.  The staff were more than happy to oblige, as well as being very friendly.
When we returned to check in, the process was really simple.  We were issued with our room cards and were offered the take away breakfast.
Now, I hadn't realised there wasn't a buffet breakfast available at Travelodge Liverpool Central and we had all been looking forward to having our cooked breakfast.  I was about to become a very unpopular wife if my husband couldn't have his bacon in the morning.
We were offered the option of visiting the Travelodge Liverpool Central Exchange Street where they did serve breakfast.  As it was only 5 minutes walk away we decided this option would suit us best.  With small children in tow, high chairs and tables are required when eating.  The take away option doesn't really suit a family with little ones.
The Travelodge Room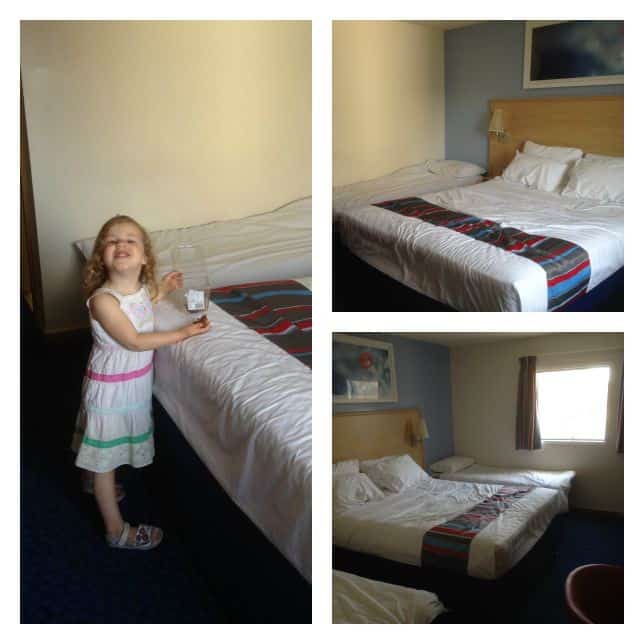 We expected a cot to be in the room when we arrived, and unfortunately it wasn't.  It turned out for the best, as we decided having another single bed made up would suit our needs a lot better.
Again, the staff were friendly and more than happy to oblige.  When we returned from dinner, a single bed had been made up for us and we were provided with some extra towels.  There wasn't enough in the room for the 4 of us when we arrived, but again it was soon fixed.
The room and the bathroom were clean and well presented.  There was plenty of storage for clothes and suitcases and a great dressing table area with tea and coffee making facilities and a TV.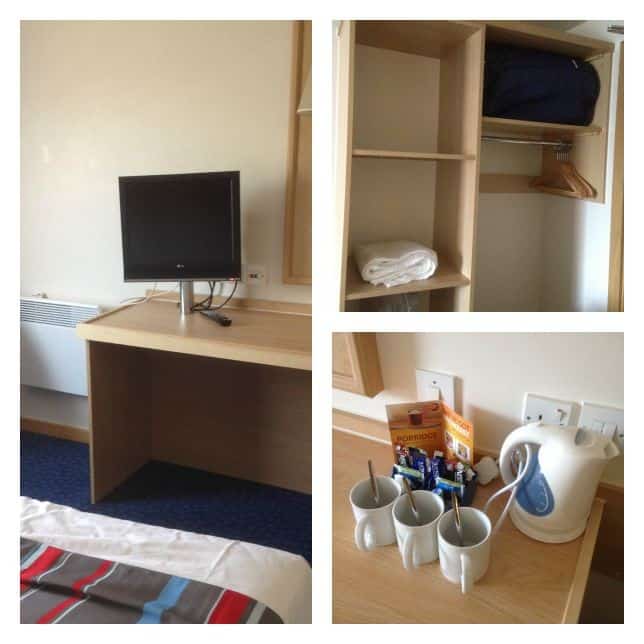 The bathroom had a shower and a bath, which was perfect for sorting out hot sweaty kids after a fun day out.
The downside was that there was a slight incident and our 3 year old trapped her finger in the hinge of the door.  She was trying to shut it quickly, to stop her younger sister getting in there and had her thumb in the door as she closed it with the other hand.
Fortunately there wasn't too much damage, but perhaps the hinge rubber covers might be an idea for family rooms to help stop little fingers getting trapped.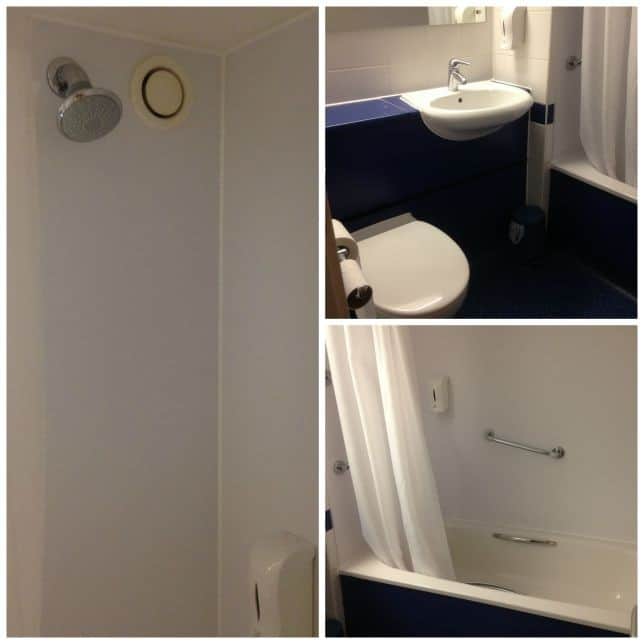 The Travelodge Liverpool Central doesn't have any air conditioning unfortunately, and it was really noticeable.  Despite keeping the curtains closed and trying to minimise the heat in the room, it was still uncomfortable.  There is a fan in the room, which we weren't really able to use as the children would have been far too interested in it, but that might have made a difference.
We did find the room quite noisy too.  We were on the 6th floor on the side of the building that over looks Dale Street.  This seemed to be on the main drag into Liverpool, and the noise from the taxis and the Karaoke Tuk Tuk were a bit much.  If our room had of been on the Old Haymarket side, I think it would have been a lot quieter.
We kept experiencing issues with our room cards.  Every time we tried to get into our room they failed for some reason.  The staff soon fixed it, which was great but it was inconvenient with having the children hanging about, especially when they were tired from a busy day out.
The Location
I was very impressed with the location of the Travelodge Liverpool Central hotel.  It was right next to the Cultural Quarter, which is a great area for families to explore.  When we arrived at the hotel, we were able to visit the World Museum while we waited for our check in time at 3pm.  There's also St John's Garden and the Walker Gallery near by.  The hotel is also just a short walk from the Albert Docks and the Museum of Liverpool.
We parked our car in the Council operated carpark opposite the hotel in Old Haymarket.  We used the postcode on the website to get us there, but you end up behind the hotel at a private carpark.  If you want to use the Old Haymarket carpark take the turning sign posted for Travelodge.
The Verdict
I wouldn't recommend staying at the Travelodge Liverpool Central for families.  If I was visiting with a friend or just my husband I'd be happy to stay here again.  If I was going again with the family I would stay at Travelodge Liverpool Central Exchange Street, or another site that provided cooked breakfasts and had good access to the local attractions.
We had a fantastic trip to Liverpool, and the hotel is just a part of that experience, but as a family we did end up using the room more than someone without children.  The staff were great, and happy to help us when issues were raised, which was brilliant and did make a lot of difference to our experince.
There was a slight communication issue about us having breakfast at the Travelodge Liverpool Exchange Street, which led to a slightly awkward conversation when we arrived there to eat.  It was soon resolved though, and the manager came over and spoke to us making sure we knew we were welcome and that we could return for the second day of our stay.
As a value hotel option for adults, I would recommend staying here for visiting Liverpool.  If you haven't been to this city before, you really must as there is so much to see and do.  I'll fill you in on what we got up to as a family very soon.
Need more travel inspiration? Check out our things to do in Liverpool with kids post now.
We were provided with a complimentary stay at Travelodge Liverpool Central in exchange for this review, but all thoughts are our own.