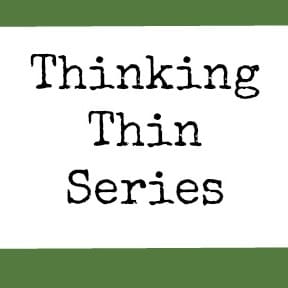 Welcome back to another week of Thinking Thin Thursday.  I was a little bit worried about catching up with you all this week and getting on the scales after our weekend break in Liverpool.  While I was away from home and eating out with the family it was harder to stay on track, so I wondered if I'd made any progress at all.
I'm pleased to report that I've lost a further 2lbs, which makes a total of 8lbs altogether.  I'm so happy with this, as I really expected that I would stay the same, or possibly even gain a little.
Even though I wasn't as strict about my diet as I have been at home, our weekend away was very active.  We walked a lot so eating a few extra calories didn't do me any harm in the end.  It is OK to increase our calorie intake when we are more active, as long as we reduce it when we slow down a bit.
I was still very strict about staying away from caffeine and drinking plenty of water.  Where possible I would have some lemon water too.  These little weight loss tricks are definitely helping me stay in control of my cravings, or what could probably be more accurately described as binges!
It also really helped that I didn't beat myself up after having a slice of chocolate fudge cake for pudding while at the Brewer's Fayre VIP party.  I was on holiday after all, and I wanted to enjoy myself.  Having a little treat doesn't mean my diet is over and I'm off the wagon.  Having a little treat and stopping there is brilliant control for me, and great progress towards my goal of thinking thin.
I have noticed though, that I am easily distracted, even when it comes to staying on my weight loss mission.  All the excitement of getting away for the weekend, the stress of managing it with 2 small children and it was enough for me to take my eye off the ball just a little bit.
I forgot to prepare myself for making healthy food choices when faced with the all you can eat breakfast buffet.  It wasn't a disaster by any stretch of the imagination, but I know I over ate just a little bit.  I did cut all the fat off the bacon and avoided the sausages, but I had more bread than I should have done and the bowl of cereal wasn't really needed.
Reflecting on my trip with the family has really helped me to think about my food choices for the weekend ahead as we are off camping to Larmer Tree Festival.  With camping I'm able to be much more in control of what I eat and I've just got back from the shopping trip to get us all stocked up for a few days away.
I've gone for things like pasta, new potato salad, tinned fish, cous cous and plenty of fruit (more for the kids than me).  I've tried to think of healthy meals I like, and if I can put them together with tinned options, it's surprising what you can come up with!
It's going to be another active weekend away, so I hope it doesn't do the healthy living plan too much damage.  In the meantime, please do let me know how you're getting on with your weight loss journey and what tips you'd like to share for a staying on track for camping and weekends away.