When I come up with a new slimming world recipe, I'm going to share it here on the blog.  This week's recipe is slimming world ham and mushroom pasta, and it's so east to make.  I've used fusilli in this version but you could easily change that and make slimming world ham and mushroom tagliatelle instead.
We had inset day here after half term, which meant my two and four year old were at home together.  They were fine for most of the day, but when tiredness kicked in the two year old got really viscous towards her older sister.  She did it all, biting, scratching, hitting and pinching.  She went on the time out step and lost her favourite toy, but her behaviour didn't improve much.  What does this have to do with making slimming world carbonara though?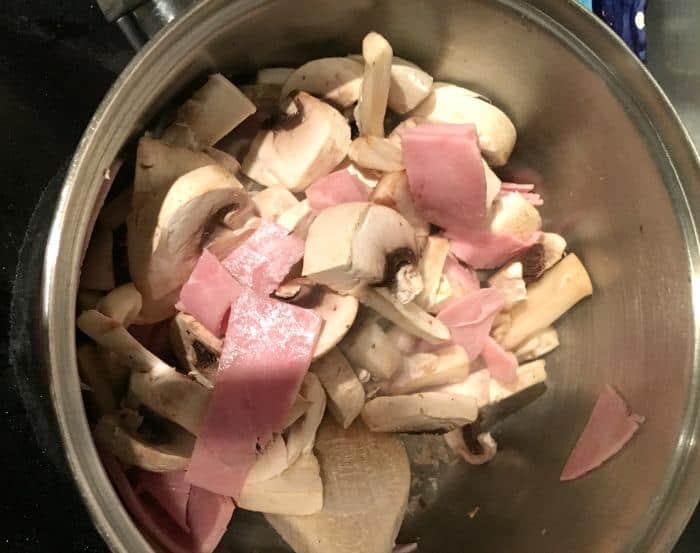 Dinner was meant to be slimming world minced beef with vegetables and balsamic vinegar, but there was no way I could spend all that time cooking in the kitchen whilst having to play referee to the kids at the same time.  So I text my husband to see if he liked carbonara, as I had a slimming world meal idea in my head that would take literally minutes.  Dinner has to be ready before my husband comes home from work, otherwise we enter the takeaway danger zone.  After having a challenging day with the kids, I knew that I was already on rocky ground.  I needed to move fast to make sure that a slimming world friendly meal was going to be on the table that night.
So, with literally 5 ingredients, my quick & easy Slimming World Ham & Mushroom Carbonara pasta recipe was born, and it was just the comforting bowl of pasta that I needed after the day I had had with the kids.  If you want to give my slimming world ham and mushroom pasta a try here's the recipe.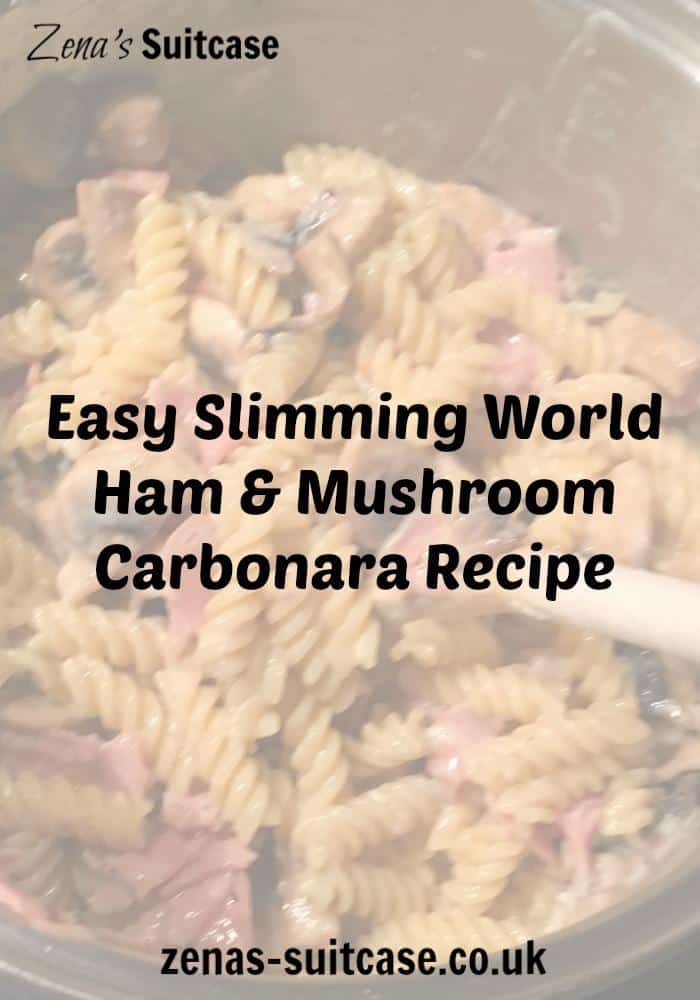 Slimming World Ham & Mushroom Carbonara Pasta
Ingredients (serves 2)
150 grams Quark
3 eggs
120 grams ham sliced into strips (any visible fat removed)
300 grams mushrooms
250 grams pasta of your choice (fusilli, spaghetti or tagliatelle work well)
salt and pepper to taste
Method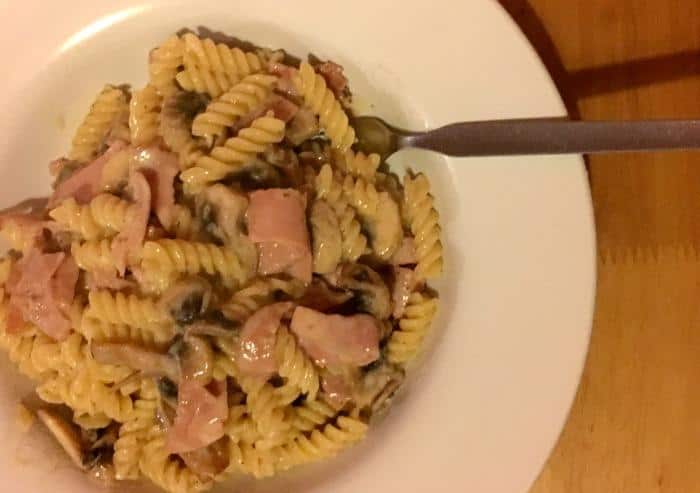 Slice the mushrooms and cut the ham into strips.  Put them in a pan on a medium heat to fry off.  I didn't use any oil or fry light as there was enough moisture in the ingredients to cook them off.  Keep them warm until they are ready to add to the pasta.
Cook your pasta for the required time and drain.  Put the pasta back in the pan.
Mix the 3 eggs and quark together in a bowl until they are fully combined.  Add some salt and pepper to the mixture.
Add the cooked ham and mushrooms to the drained pasta.  Pour in the egg and quark mixture and stir throughly.
Serve immediately with salad or vegetables, or if you are in a hurry just as it comes.
Follow it with a portion of Slimming World Chocolate Mug Cake, and you won't even realise you are on a diet!
If you need another quick meal, why not try my Slimming World Beef & Vegetable Stir Fry with Hoisin Sauce.
Have you tried any ham and mushroom pasta slimming world recipes before?