A few weeks ago I was invited on board the Royal Princess while it docked in Southampton.  It was a wet day in August (fancy that!) and I met up with my blogging bestie, Kaz from Ickle Pickle's Life and Travels,  to join the ship for a guided tour and to attend the launch of Chrissie Manby's new book, 'A Proper Family Adventure'.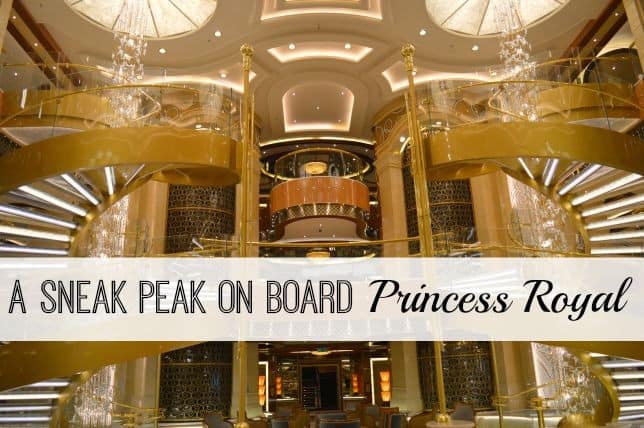 I love cruise ships, for me they are the ultimate in decadent luxury and the Royal Princess is   one of the very best in it's class.  It was christened by Her Royal Highness The Duchess Of Cambridge on June 13, 2013 and has been hailed the 'Most Popular Ship At Sea' by Cruise Critic.  That's a pretty big title if you ask me, but one I'm inclined to agree with!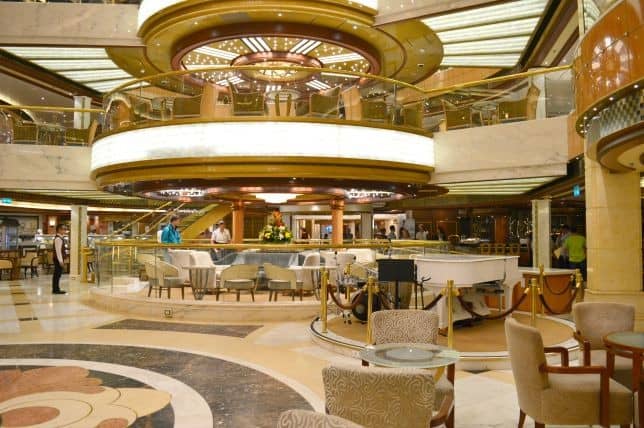 We began our tour in the stunning Atrium, which is deemed 50% larger than that of her sister ships.  I could see myself here enjoying afternoon tea, while taking in the street performers or live music.  The boarding passengers were treated to the stunning sounds of a live string quartet whilst we were on board, a background music I could certainly cope with while discussing my pending voyage.
Despite the wet weather, next we headed up onto the top deck to imagine what cruise passengers would enjoy while basking in the warmer climes of the Caribbean.  We also decided to see who was brave enough to take the Sea Walk, which is glass bottomed walk way cantilevered from the ship over the ocean, or in this case the English Channel.
Some of our tour companions were a little nervous about it, while the rest of us where busy taking pictures of our feet!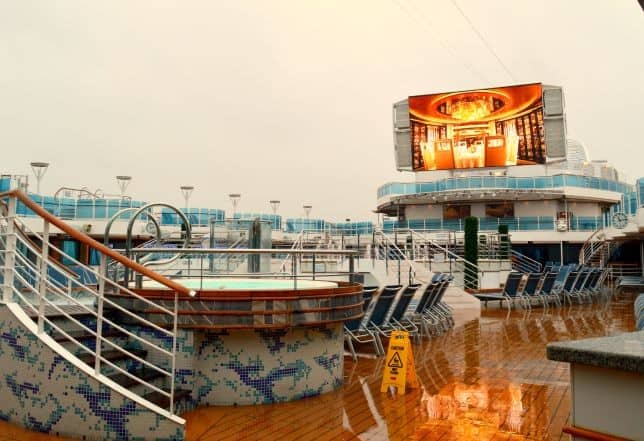 Food On Board Royal Princess
As the weather was not our friend during our visit, we were soon taken round some of the stunning speciality restaurants and introduced to the on board sous chef.  All the food on board the Royal Princess, and all Princess Cruise ships in fact, is freshly prepared.  We were also given the opportunity to join one of the speciality on board restaurants for a delightful  3 course lunch menu.  I can certainly vouch for the fact that the fresh gourmet cuisine is second to none.
If the ships menus weren't impressive enough already, celebrity and professional chef Curtis Stone has also teamed up with Princess Cruises, to bring them a very special menu called 'Crafted By Curtis'.  This will be available on board from October 2015, along side 'Chef's Table by Curtis Stone'.  These will be worth looking out for if you are celebrating a special occasion or want an unforgettable on board dining experience.
Families On Board The Royal Princess
We were able to stop by the children's activity clubs on the Royal Princess, and loved that it offered 3 separate areas for different ages to enjoy.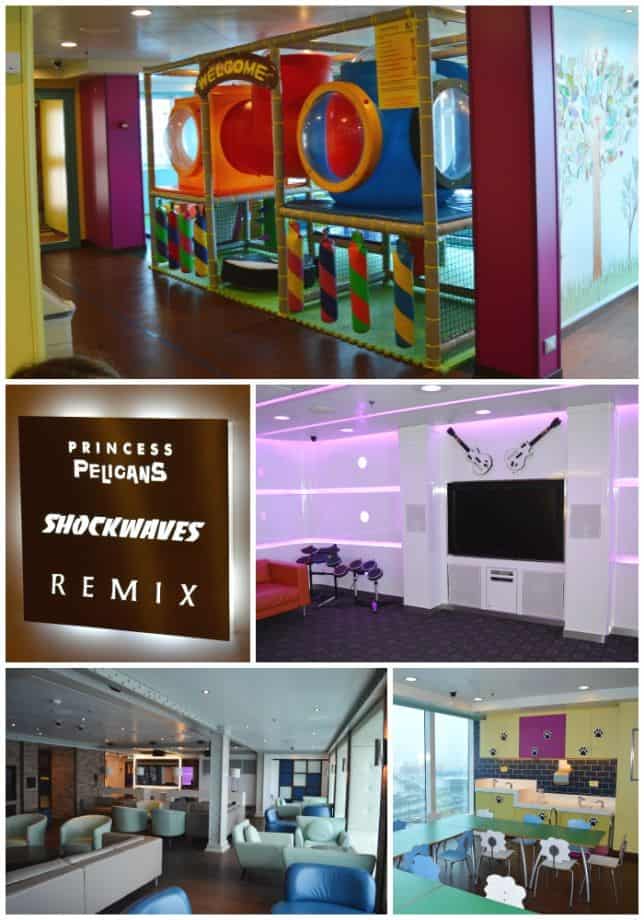 Young children aged 3-7 were invited to Pelicans, where they could enjoy soft play and age appropriate crafts and activities.  It was a lovely colourful space, with fully trained and registered counsellors on hand to supervise it's young cruise passengers.
Shockwaves were where the 8-12 year olds could hang out, and play computer games and air hockey along side craft's and other activities away from the younger passengers.
The teens could hang out in Remix, a lounge area designed with older children in mind with it's own designated pool.  A win not only for the teenagers, but the adults too.
Princess Cruise ships will provide children's clubs when 20 + young passengers are on board.  They also provide child minding arrangements and separate children's dining if required.
Cruise Holidays aren't just about shipping (pardon the awful pun) your kids off to the holiday club all the time though, they are also about sharing unforgettable experiences and Princess Cruises has many of those on offer for families too.
Who wouldn't want to see, or even audition for 'The Voice Of The Ocean'?  True to the hit TV show, cruise passengers can audition to take part in the live on board show.  The stars of the show go on to be coached by the on board professionals, before facing the tough judges line up and the voting public.
We were told this is a very popular on board show with audience members filling every seat and more.  Don't believe me?  Then take a look for yourself…
More a fan of the stage shows?  I for one am a huge fan of musicals, and I was enchanted by the thought of enjoying the best of Broadway as a part of the Royal Princess's entertainment package.  Stephen Schwartz of 'Wicked' fame has joined forces with Princess Cruises to bring 4 new shows to the fleet over the coming years.  The first, Magic A Do, showcases Schwartz's hit songs along side a cabaret of magical adventure, one not to be missed!
Discovery At Sea
Princess Cruises also offer  a collaboration that will take your cruise ship experience to the next level.  With Discovery TV networks they bring passengers an array of adventurous family experiences including stargazing, Shark Week, Mythbusters and Discovery and Animal Planet Shore Excursions.  There will be no time to be bored with this packed activity list, and you are sure to find something here the whole family will be able to enjoy.
I was totally charmed by my brief whistle stop tour of the Royal Princess and would quite happily of stowed away with the boarding passengers to to sail around the British Isles from Southampton.  Sadly, with strict security checks in place I guess this want going to happen, but maybe one day I will get to stay a little bit longer.
In the meantime I'll leave you with this virtual tour which really brings the charm of a Princess Cruise holiday to life…
Have you been on a Princess Cruise?