Last year Daddy and I took the kids to the local seaside for a day trip.  The weather wasn't particularly great but we were determined to spend the day playing in the sand.  The rain had slightly different ideas, and did put a slight dampener on things.  Our youngest daughter wasn't on her feet yet, so she was on lock down under the rain cover in her buggy.  Princess was drowned in her Thomas Land poncho but at least she was able to enjoy the sand a little bit more than her sister.  Even though we were a little damp, we still had a lot fun.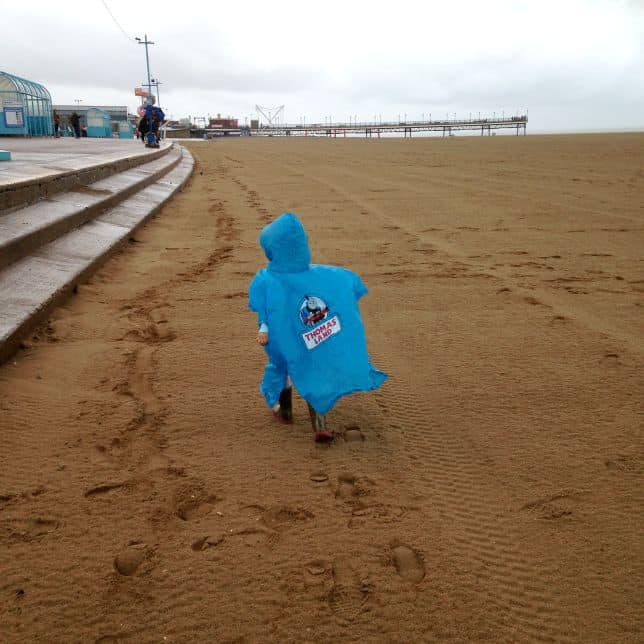 The kids were all wide eyed walking along the pier, and loved all the lights and sounds of the amusement arcade.  They couldn't wait to try the fresh fish and chips which provided some internal central heating as well as a very tasty treat.  They were a little bemused as to why we wouldn't consider letting them ride on the log flume.  'Were they not wet enough already', we asked.  Did they not notice that nobody else was going on the log flume either?  Kids are so blinkered when they want something, aren't they?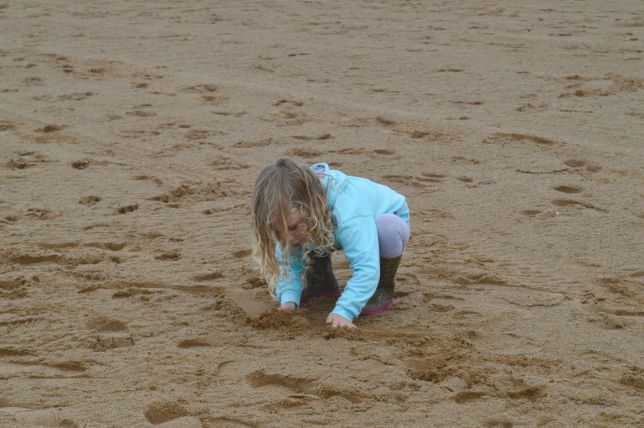 After a promise of another blustery walk along the beach, a minor crisis was averted and everyone was happy again.  We loaded up the car, and despite not having that much contact with the sand, we still found piles of it in my daughters nappy.  It just seems to get everywhere, doesn't it?
Seeing as we can't always be on holiday, a day trip to the beach sounds like a tradition that we need to be starting and I was just talking to Daddy about taking the kids again this year.  While I can't promise the weather is going to be any better, I know we can still have a lot of run.  The summer might be looking like a wash out, but rain must not stop play where kids are involved.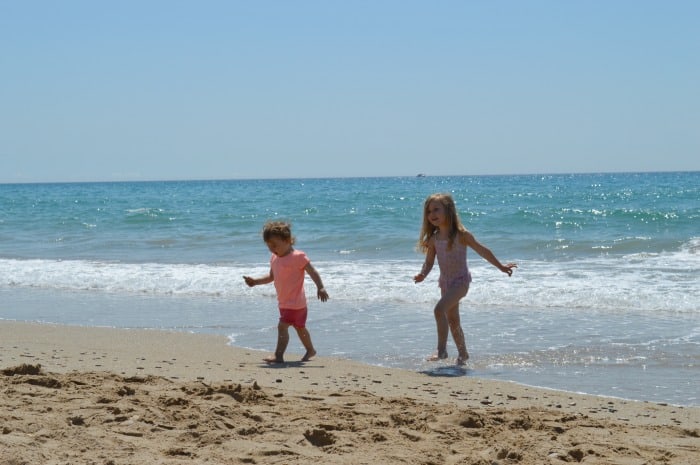 Now both the kids are very confident on their feet, and have left the buggy well and truly behind them it will be a different experience all round.  The kids love digging in the sand and building castles.  They also adore running and playing, and a game of football or frisbee will be good exercise for all of us, especially me! We will need to do something to burn off those fish and chips won't we?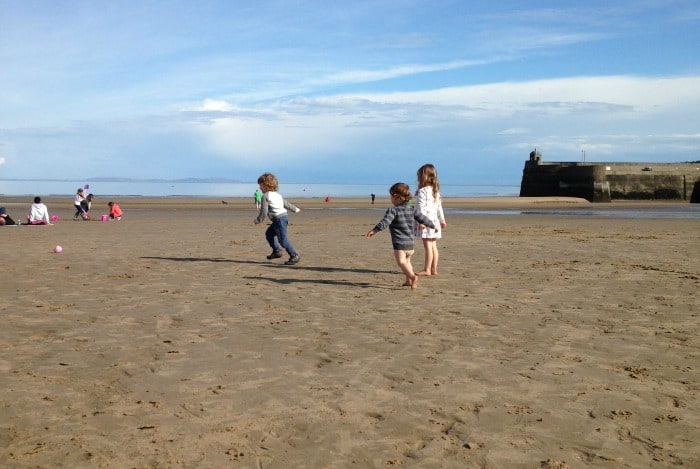 Things To Do At The Beach In The UK
I want to make sure the kids are really excited about their day out, so I've been looking online for things we can do.  When we need a rest from all those beach games we could see who's the first person to spot a dolphin.  Did you even know that sometimes dolphin pods can be seen of the Welsh and Scottish coast?  I didn't until I started looking into things to do on the beach.
It would also be a lot of fun to go caving.  We could turn this into a pirate adventure, hunting for buried treasure.  We have some jewels and treasure chests that would be perfect for the job and I would go off and hide them while the girls buried Daddy in the sand.  There would have to be a bit of dressing up, to get everyone in the swashbuckle mood.
I'm really looking forward to our day at the beach now.  I hope the sun shines for us, but if it doesn't I still think it will be a lot of fun and a great way of creating family memories for years to come.  Do pop back and find out how we get on.  If you have any ideas of fun things to do at the beach with a toddler and preschooler I would love to here them in the comments below.
Pin For Later