Peugeot recently asked us if we would test drive their 5008 7 seater family car and see what we thought.  As we a looking for a family car right now, it could't have come at a better time for us.  I've never driven a Peugeot, so I really was going into this road test with a fresh pair of eyes.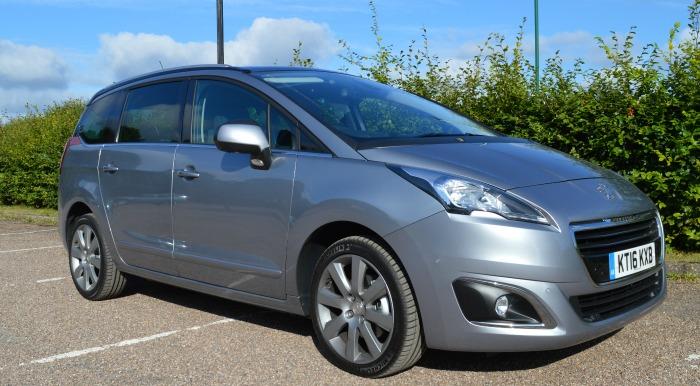 What is the Peugeot 5008 like to drive?
This family car is a really lovely drive.  Considering it's size, it felt really light and was easy to handle.  It was responsive when we needed it to be but also handled longer drives really well.  It was as good to drive in the city as it was on the motorway, which I think you struggle to find in a car of this size.
I loved the visibility and driving position in this car.  We are used to driving a SUV, and thought the change to an MPV would be difficult.  Actually I hardly noticed the change at all, and still felt like I had a good view of everything around me and didn't feel too close to the road.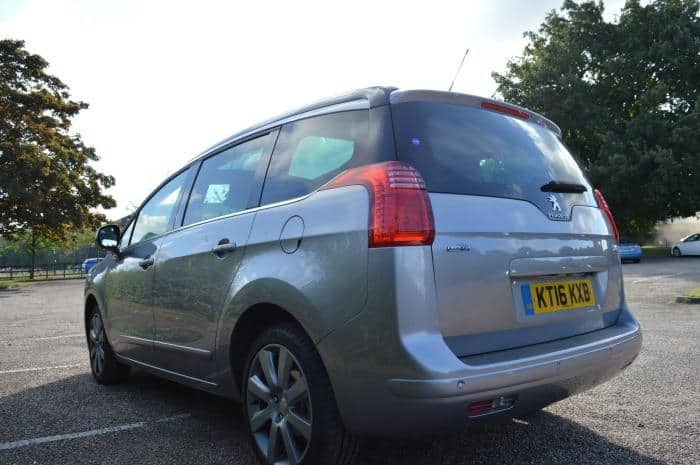 I was really impressed with the turning circle, it made for a really easy 3 point turn, which we do a lot where we live and makes parking and manoeuvres so much easier.
The alloy wheels added to the driving experience, making it exceptionally smooth for me as a driver and the passengers.
The parking camera and sensor were great, and really took all the hard work out of reverse parking and similar manoeuvres.  I would never back into a tree again with this technology to help me.  So much of this aspect of driving is about guess work, but now you can make judgements with this technology that are safe and sensible.
Inside the Peugeot 5008
There is lots going on inside the Peugeot 5008 and for the full vehicle tour, please do check out my YouTube video as I 'm not covering everything here in the blog post.
The children were a huge fan of the glass roof.  The panel retracts to reveal a full tinted glass roof that you can see out of from the rear of the car.  It's worth noting that the glass roof itself doesn't open, which seemed a little odd.
Personally, I could live without this feature, as it didn't really add anything to the driving experience.  We found on really sunny days, it made the car too bright and wasn't great for driving.  Also, the sun would reflect off the silver used on the gear stick and dash board, so we would have to close it anyway.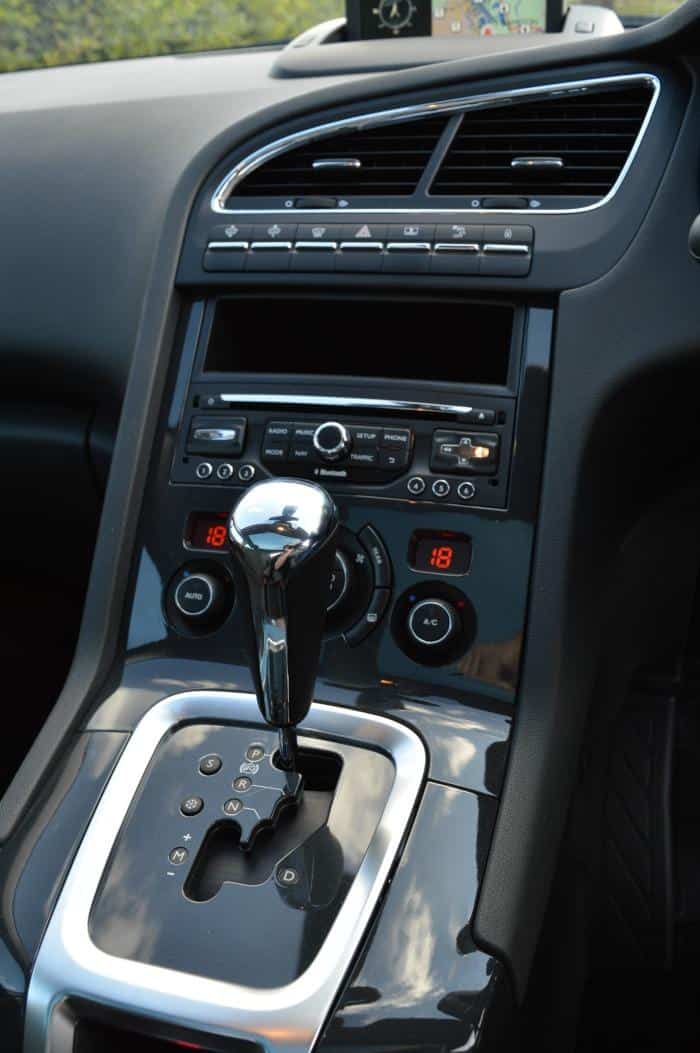 I did really love the Heads Up display which showed you the speed you were going and the next manoeuvre if you were using the car's sat nav.  The electronic display was also helpful, but we did find that it didn't always display the speed limit, which was a little annoying.  I find I check the speed limit on a road quite a lot.
The air conditioning was perfect for us, as it could be temperature controlled for the driver and passenger side individually.  I also liked the addition of air vents inside the rear passenger doors.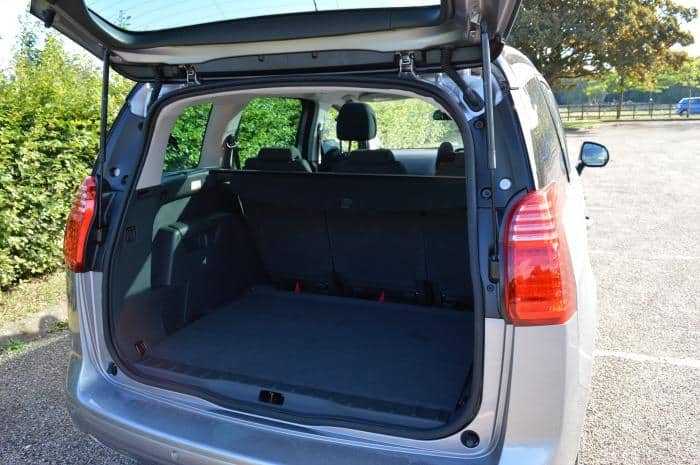 The boot space on the Peugeot 5008 is huge.  This is where the 2 additional seats neatly fold away, and to be honest I only found them by complete accident when making the YouTube video.  They are that well concealed.  We threw all the children's bikes and kit in the back of the car for a visit to the park, and had plenty of room to spare.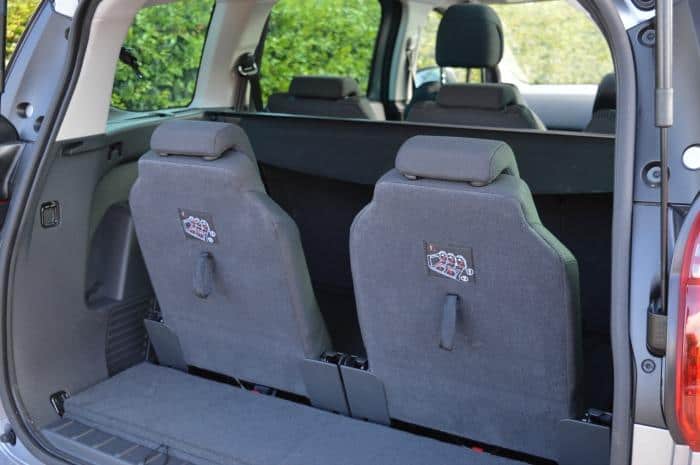 Other Features
The wing mirrors automatically fold in when the Peugeot 5008 is locked, which is so helpful for street parking.  It reduces the risk of damage from other cars, and is great for where we live as we always have to leave one car on the road.
What Did We Think
Over all we thought that the Peugeot 5008 Allure was a great family car.  For it's size it was so easy to drive and relatively economical on fuel.  It's convinced me that an MPV is a good option for a family of our size, and where car seats are still in use.  We could also fit teen in the car, as well as the 2 year old and 4 year old which was a pleasant change.  He's usually squeezed snuggly between 2 car seats, and as a result doesn't travel with us very often.
Pin For Later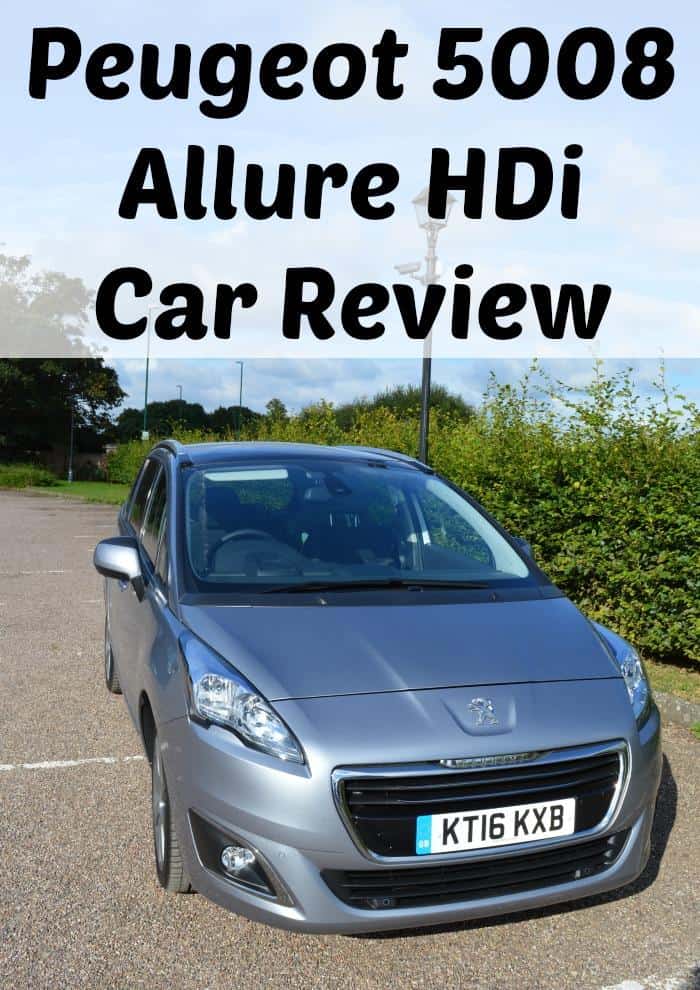 What Could Be Done Better
To be honest this is me being really picky, and probably wouldn't deter me buying the Peugeot 5008.  I thought the car seats were a little on the firm side and I wondered how comfortable they would be on a long road trip or after a few years of use.  I would have liked to see a little more padding if I'm being completely honest.
Where there is a glass roof in the car, I would suggest having all the dashboard in black instead of silver as the reflections were quite distracting and meant the roof had to be closed on the brightest days, which was a shame.
Apart from those few small issues, the Peugeot 5008 would make for an excellent family car for a large family or if you knew there were occasions you would benefit from having 7 seats.  If you need a lot of boot space for holidays and camping, the Peugeot 5008 is definitely worth looking at.
We were provided with the use of the Peugeot 5008 Allure HDi in exchange for our honest review, but all thoughts and opinions are our own.