We've been thinking a lot about where we want to visit in the UK this year as a family.  One of our travel goals for 2017 is to show the children more of the country where they live.  We are lucky enough to have a lot of beautiful countryside, really historic places as well as some truly stunning coastline to share with them.  We have also discovered a new love for castles and really want more of them to feature in our travel plans for the year ahead.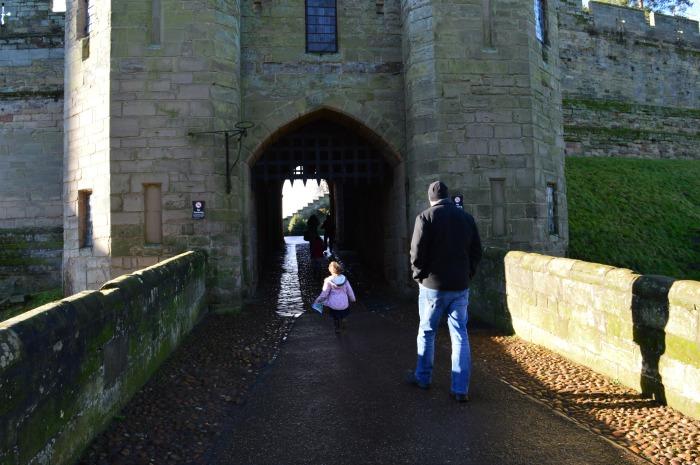 We've been lucky enough to team up with Premier Inn who are helping us to enjoy more short breaks in the UK to help with our travel goals.  The great thing about living in the UK is you can throw everything you need for a short break in the back of the car, strap the kids in and hit the road really easily.  Within a few hours you can be a new city having a new adventure and creating new memories.
We had never been to Warwick before, and we really wanted to visit it's famous castle.  Premier Inn invited us to stay at their hotel in Royal Leamington Spa, just a few minutes down the road from Warwick.  It made January a whole lot more bearable knowing we had a family weekend away to look forward to to recharge our batteries.  Even a short break can give you the much needed rest you need from day to day life.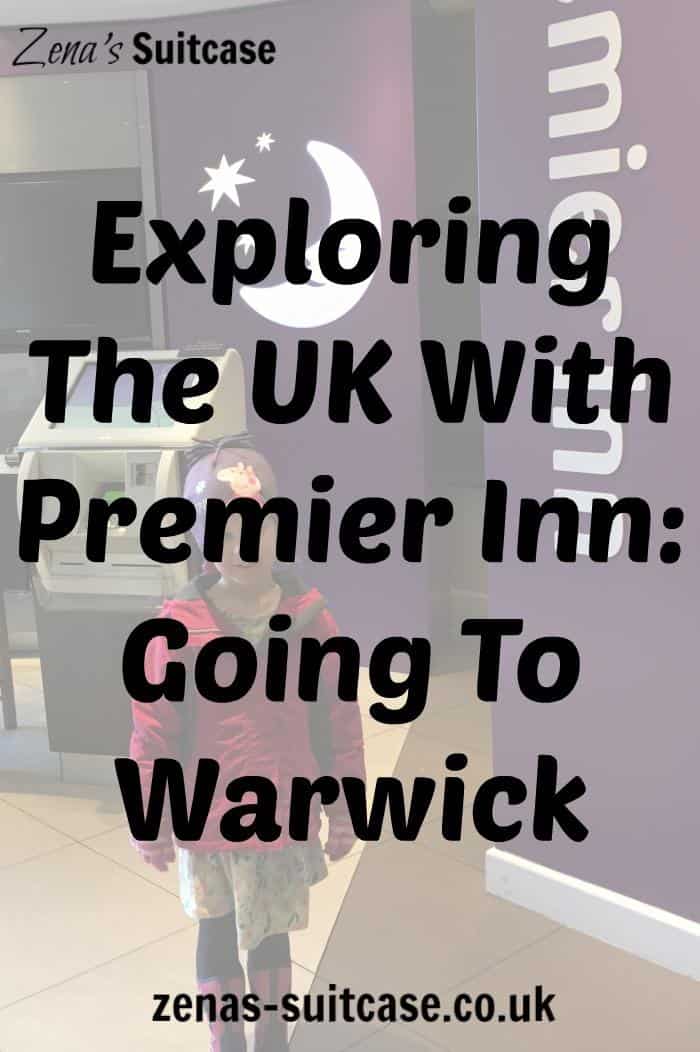 We set off in the car on Friday evening, and for some reason the heavens started to open.  It was mighty inconsiderate of them and it made the drive to Leamington Spa far from pleasant.  For a moment, I started to wonder if this was a sign of what was to come for the rest of the weekend.  There is nothing more ominous than getting off to a bad start when you're going on holiday is there?
Arriving at Premier Inn
I shouldn't have worried, as from the moment we arrived at Premier Inn at Royal Leamington Spa everything fell into place.  The staff gave us a warm and friendly welcome and got us settled in straight away.  We went to explore the room, and the kids started sussing out the beds they wanted for the night.  I'm not sure why they bothered to be honest, as they took over the kingsize bed anyway!  We put their pyjamas on and popped back down to the restaurant to see if we could get some supper.  With two very tired children, the thought of venturing out was just a bit too much.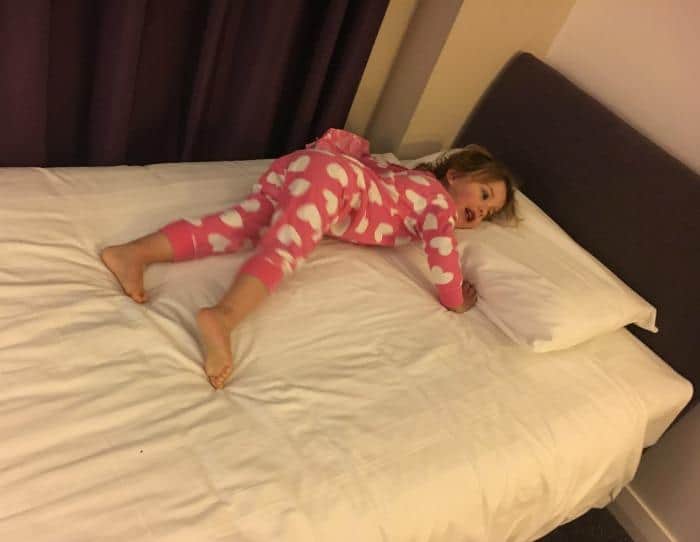 The staff were so helpful and made the kids exactly what they wanted to eat.  Two plates of sausages and beans with a side of garlic bread were presented to them and they were so happy.  I had a beef casserole and Daddy tried the thai curry.  For a tired family who just wanted a quite meal and some downtime before bed, this was perfect.  The food was nice, and reasonably priced and we even snuck in a glass of wine to wash it down with.
The team at Premier Inn will do their best to accommodate what you need while you sty with them.  It was clear from the minute we walked through the door that customer service was very important to them and it made a big difference to our stay too.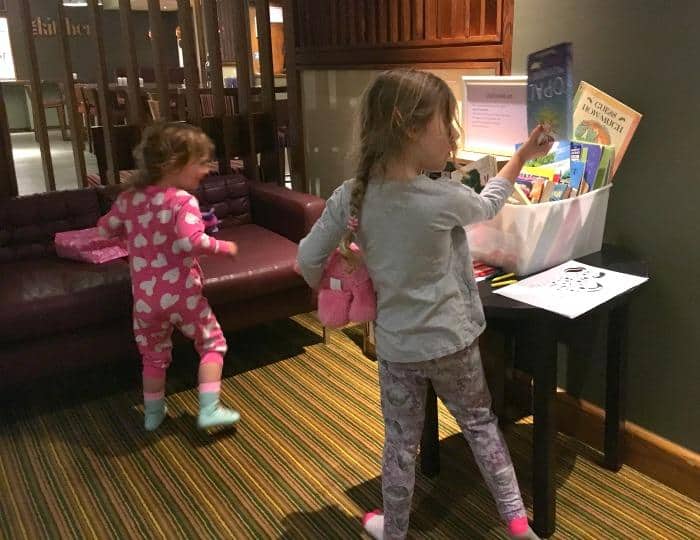 Making The Children Feel Welcome
We took a seat in the little children's area to unwind before bed.  There were some books, colouring and a tunnel and tent for the kids to play in.  They had made some big cushions for the children to lounge on and get super comfy for a bed time story.  It was just enough to give the children somewhere to chill out, and also really showed how welcome they were at this hotel.
Breakfast at Premier Inn
After a very good night's sleep, I bought the kids down for their breakfast.  Kids get a free breakfast when eating with an adult at Premier Inn, so you know the most important meal of the day is sorted.  My girls love that they can pick what they want to eat themselves and were happy to stick to the continental breakfast.  I, on the other hand, didn't hold back and enjoyed Quorn sausages, poached eggs, mushrooms and beans.  It was freshly cooked and delicious and went really well with my freshly ground coffee.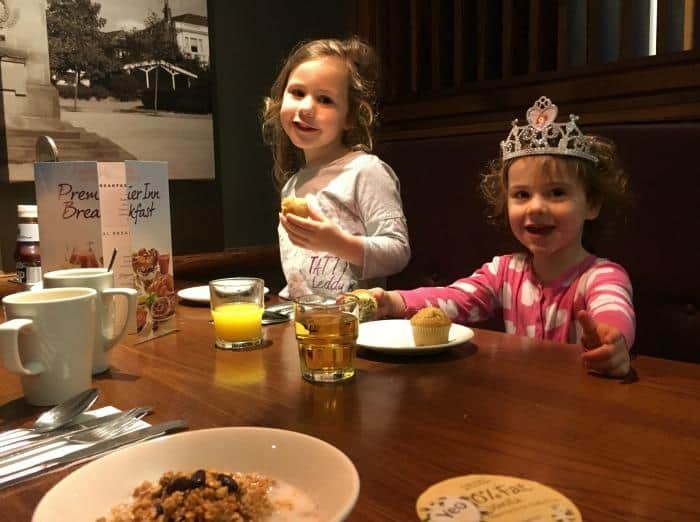 Where to go in Warwick?
After we'd fuelled up for the day, we asked the staff where they would recommend taking the children.  The lovely Shaz had bought the girls a little goodie bag each, which they loved.  The sweets proved to be really helpful at getting the kids to behave themselves when they were getting a bit rowdy.  Top of the list for places to go was Warwick Castle.   Shaz also recommended taking the girls to the park next to Warwick Castle, as there was always something to do there.  Apparently the boating lake is fantastic in the summer.
With the help of Premier Inn our day was planned and we headed off in search of a medieval adventure.  The weather was completely on our side with bright blue sky and sunshine and we had the best day exploring the castle.  If you have ever been to Warwick Castle, you'll know that it's pretty big.  By mid afternoon, our 2 and 4 year old were really flagging.  They had had the best day, but they needed to get back to the hotel to take a rest before dinner.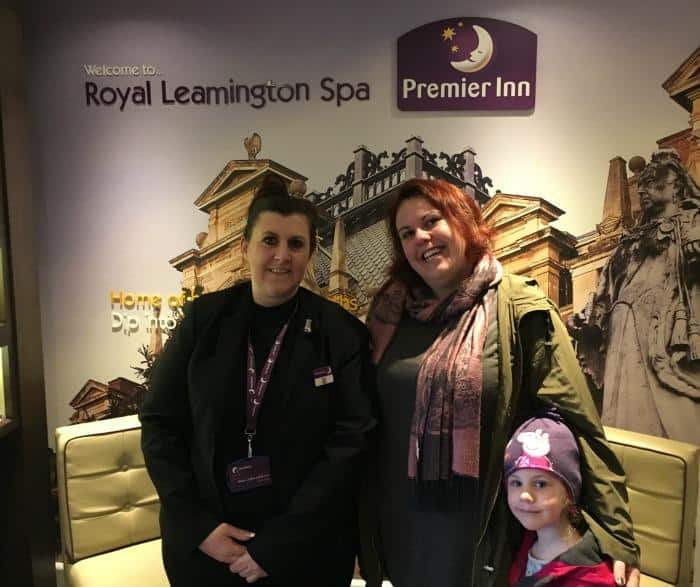 We all put our feet up for half an hour and watched some children's TV.  When you have kids, that's what you do isn't it?  The girls were really happy to see their favourite channel on the TV so everyone got a few minutes peace before heading out to dinner.  The Premier Inn staff recommend eating out at least once during a visit to Royal Leamington Spa.  Regent Court is filled with options and Pizza Express is just down the road.  That's where we headed as it was so close, family friendly and served our favourite food.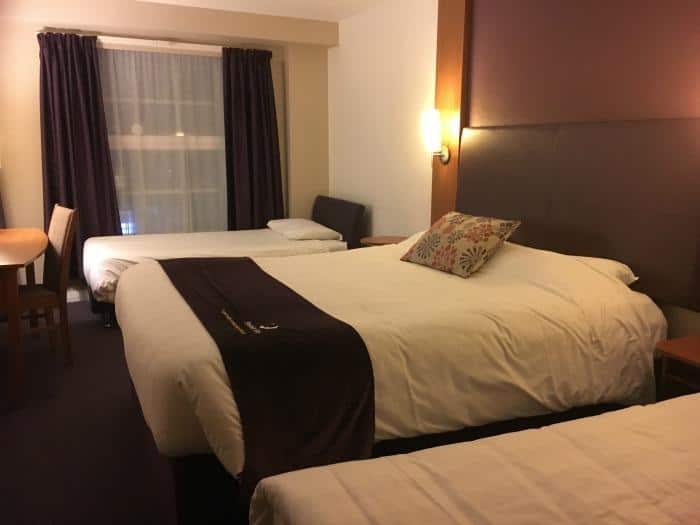 Sorting Out The Accident!
After dinner, a very tired Zena's Suitcase family headed back to Premier Inn looking forward to a good night's sleep, when disaster struck.  There was a nappy free toddler bouncing on the bed while everyone was getting ready for bed, who decided it was time for a wee.  She'd clearly been storing it up as it went through the duvet, the sheets and to the mattress topper.  Mummy was nominated to go downstairs and break the news to the staff on reception.   They were so good about it, and got it sorted for us straight away.  We sat downstairs in the children's corner while a fresh bed was made, then had another attempt at getting the kids to bed.  The second time was definitely more successful than the first, and a lot drier.
The next day we decided to stay in Royal Leamington Spa before heading back to Nottingham.  Shaz suggested Jephson Gardens, which was a short walk from the hotel.  With a children's play area, lakes and ducks it sounded perfect for us.  When we got there we found a sensory garden, a botanical greenhouse (which was free to enter!) and water fountains also.  It was a lovely place to explore with the girls who enjoyed it very much.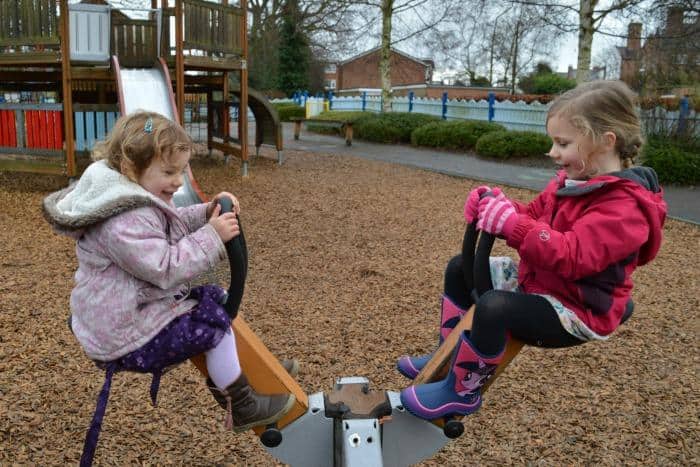 The time to leave Premier Inn came round far too quickly, and we gathered our suitcases and popped back to reception to drop off our door cards.  We really felt like we had got to know Shaz and the team during our stay as they took a real interest in our experience and making sure we had a good weekend.  Nothing was to much trouble for them.  We said our goodbyes before leaving for the carpark (which was a bargain at £4.50 for 24 hours!) and started the journey home with a bunch of new memories from our stay with Premier Inn.
Tips For Booking Your Stay At Premier Inn
For anyone who wants to book a trip to Royal Leamington Spa Town Centre, I suggest you book directly through the Premier Inn website.  This is the only place you will find their Saver rate deals and this will be the best price available for your stay.
Also, pop on the website before you go and check out the Premier Inn suggestions for where to park.  This will help you to use the correct postcode for your sat nav and you might be able to get a discount on parking through your Premier Inn hotel.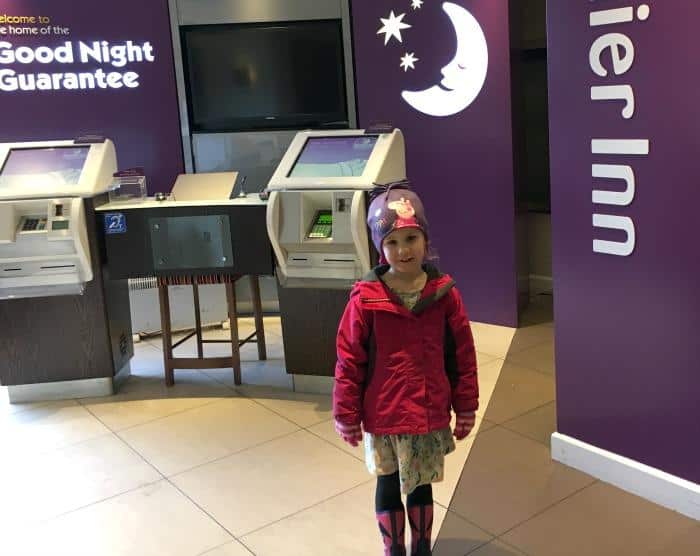 Don't worry if you've not made plans for your stay, the Premier Inn staff will give you lots of local advice to make the most of your visit.
We also love that you have access to free wifi during your stay with Premier Inn.  We all like to be connected in our family so we take our laptops and tablets with us so we can keep up with work and the children can play their favourite games.
Have you got any UK holidays planned this year?  I'd love to hear about where you are going to be exploring in the comments below.
We were invited to stay with Premier Inn in return for this post but all thoughts and opinions are our own.