Our weekends really do go from one extreme to the other in this house.  One week we might be off on a super exciting weekend away or another we might be in the house juggling looking after the kids with a long list of household chores to catch up on.  It's probably not to far off how things happen in your house, is it?
This weekend, we stayed close to home, but I was not going to let cleaning and laundry take over our lives.  Sundays are always off to an early start as my daughter has swimming lessons at the local leisure centre.  She has to be in the pool for 10.30am so Sunday lie ins are completely out of the question.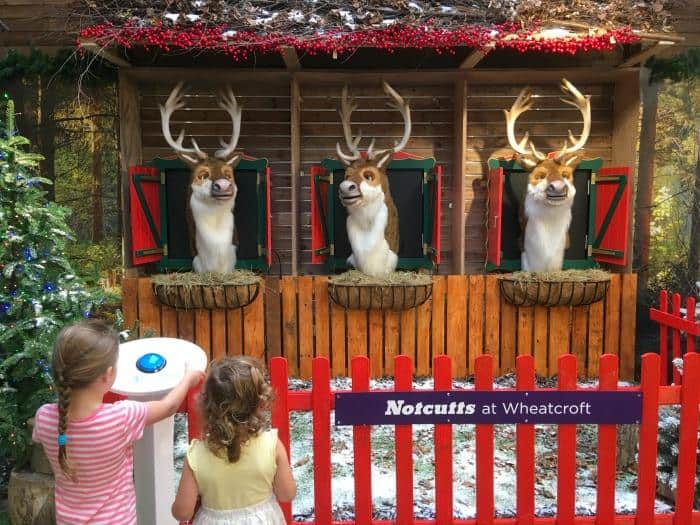 Brook doesn't go in the pool at the moment because of her grommets and because we are having trouble getting her to go into a swimming lesson without her sister.  This is something we are keen to tackle, but more on that in another post.
Seeing as we are already up and out of the house, I wanted to catch the momentum and make sure we had some quality family time together.  We didn't want to travel for miles, so after swimming we headed to the local garden centre.  Brook and I had recently discovered feeding the fish there and wanted to show Daddy and Indie how much fun it was.  For £1 you get a tub of fish food and you can feed the koi carp in this huge tank.  When they are really hungry they are literally jumping out at you to get to the food!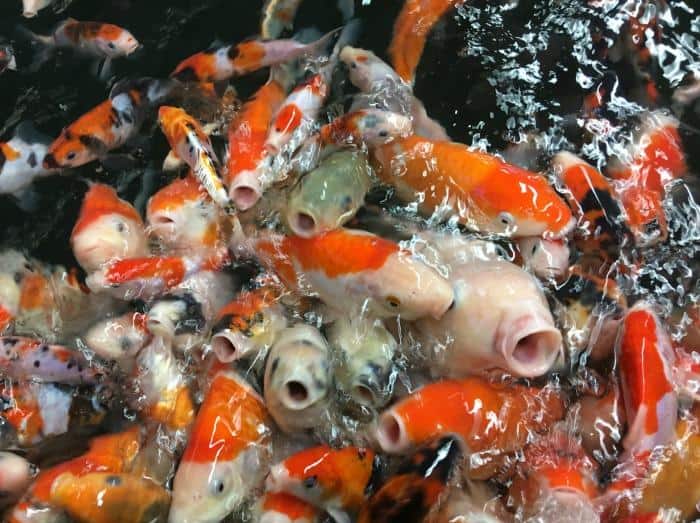 This particular day, they weren't quite as frantic as I think they had already had some visitors, but it was still a fun thing for us all to do.  I even caught Daddy smiling as the girls threw in the fish food trying to get it in the open mouth's of the fish.  We explored the rest of the fish tanks at the aquatic centre as they have quite a collection of fish and the kids love looking at the different varieties and picking out their favourites.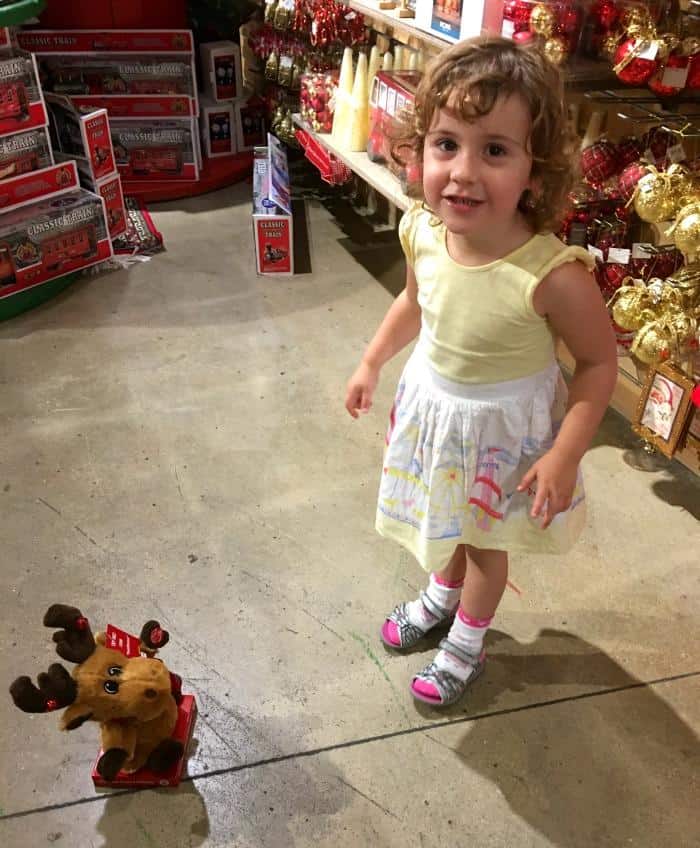 The Christmas display at the garden centre is also in full swing.  Walking through the sparkly displays and picking out our favourite singing Santa's makes me feel so happy that Christmas is just around the corner. The girls set off as many dancing reindeer as they could and we tried to avert the dropping of snow globes before we were having to pay for some damaged items in store.  It was all good fun, well for us anyway, maybe not the other shoppers in the store!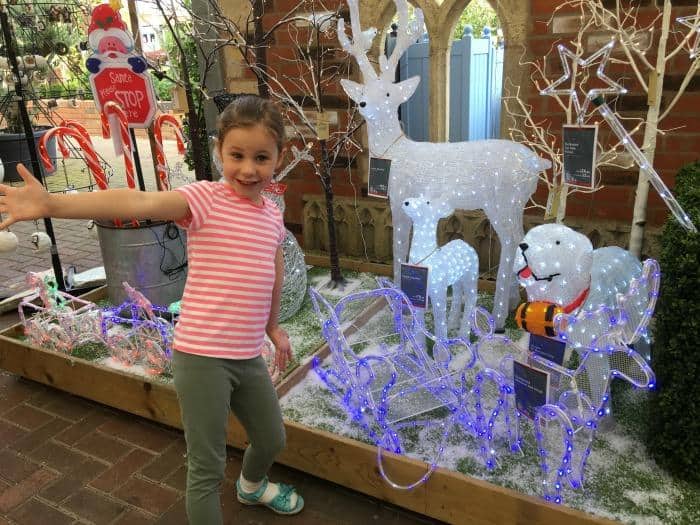 Fortunately, the promise of a kids lunch box with jelly and a play on the pirate ship helped us to avert disaster and we picked up some food in the lovely cafe.  I noticed that they were doing Breakfast with Santa and I made a note to book a slot when we got home.  Fortunately there was still good availability.
Before we left we popped by the pets section and the girls managed to get a few words out of Rusty the Parrot before making a beeline towards the toy section.  There was some debate over buying an oversized unicorn at this point but we managed to leave without obtaining another furry friend to add to our already ridiculously large soft toy collection.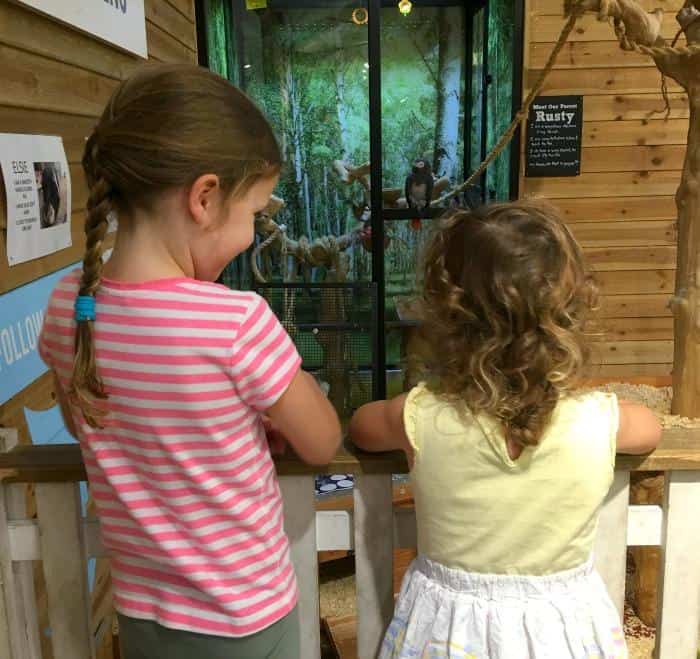 For an October day, we were experiencing bright blue skies, sunshine and relative warmth for the time of year.  We decided to visit another of our favourite local places, Highfields Park, to go for a little walk.  We popped into Lakeside Arts on the off chance there was some family friendly theatre showing, and we were convinced by the Box Office staff that The Three Muskateers by The Three Half Pints would be worth seeing.  At £8 per ticket, it's difficult to say no, especially when you can have front row seats as well.
We wondered off to look at the dinosaur and art exhibitions and have a play on the park before the show got started.  We didn't have any trouble filling the hour and a half window before the show as there is always plenty to do at Lakeside.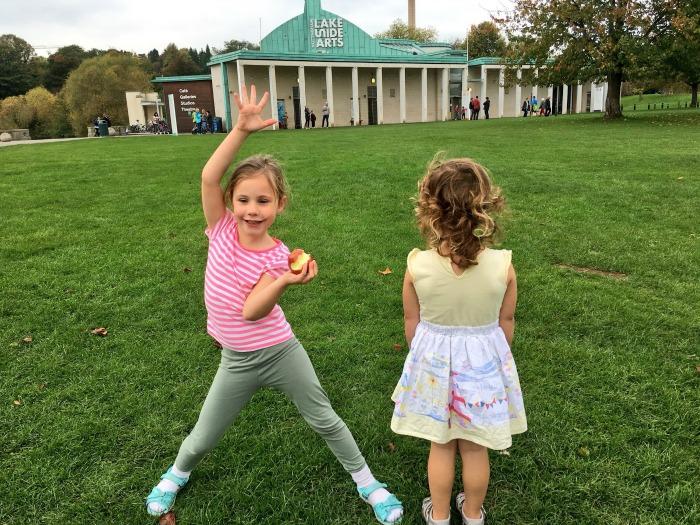 When we announced it was time to go to the theatre, the girls charged towards the building, super keen not to miss a thing.  We took to our seats, and it soon became apparent we were sat under the main speaker.  Brook found this very loud as she is still trying to adjust to a world with full hearing, but fortunately it didn't put her off the show.
The Three Muskateers was hilarious from beginning to end, and we all laughed pretty much all the way through at the slapstick humour and double entendre that were coming thick and fast.  When they put a wet mop on Daddy's head we literally couldn't contain ourselves.  It was a brilliant show, and I'm so glad that we decided to go and see it.  It was the perfect end to an impromptu family day full of fun.