It was an absolute delight to be invited back to Chamäleon Theatre in Berlin so soon after seeing the previous show, Scotch & Soda back in March. When I received the email asking me if I would like to see the latest show, PARADE, I knew I couldn't turn it down.  I was so excited to see what was coming next from my contemporary circus friends in Berlin, and I was curious to see how they would top their previous show stopping efforts.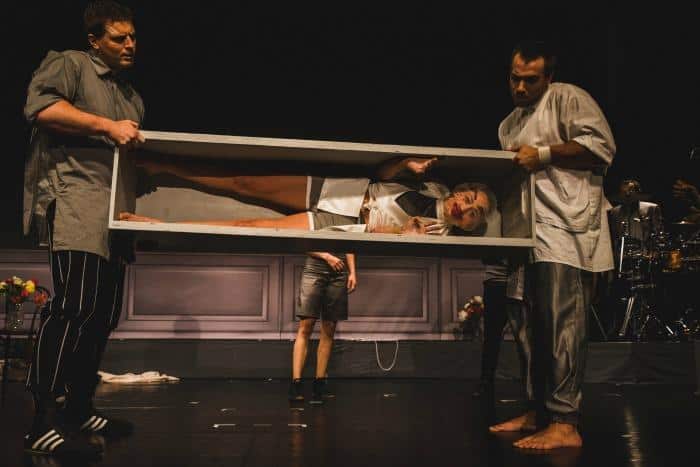 Pre Theatre Visit To The TV Tower
Before the show, we met up with the lovely Dagmar from Chamäleon and the other bloggers who would be joining us for the show.  We were going to be heading up the famous TV Tower and enjoying some evening views over the city from the tallest building in Germany before the curtain went up.  After our quick security check, we climbed into the speedy elevator and literally flew up tower to the viewing station at the top.
With champagne flutes charged, we found out a little bit more about the TV Tower and each others blogs before taking in the stunning views over the city of Berlin.  We even got chance to have a quick look at the revolving restaurant above the viewing station.  The food looked amazing and I made a mental note to come back one day to sample what it was like for myself.  If you make it there before me, please pop back and let me know what it's like!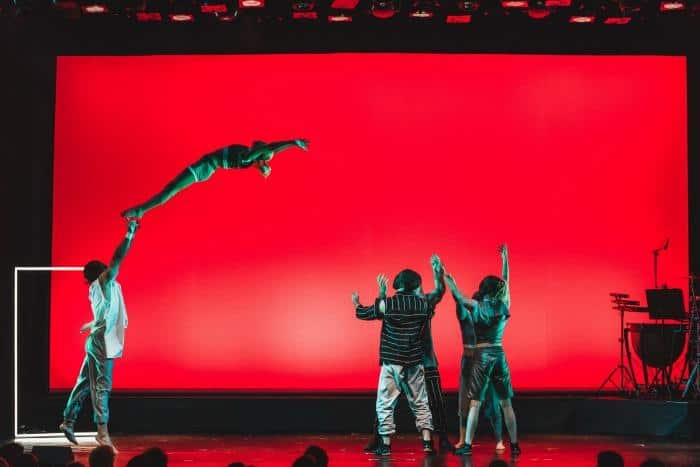 Before long, it was time to head to the theatre, and excitement was certainly brewing about the show we were going to be seeing that evening.  We took our front row seats and waited with eager anticipation for PARADE to begin.  I had deliberately not read any reviews or watched the YouTube trailer as I wanted the show to be a complete surprise, and I'm so glad I played it that way.
Chamäleon Theatre, Berlin
A word first though about the Chamäleon Theatre itself.  I'm a huge fan of small intimate spaces when it comes to watching a show, and the Chamäleon definitely ticks this box for me.  Shows that are performed here are always new contemporary circus in style.  This means they are not only stunning to watch but that they also translate beautifully for an international audience as they do not rely on the spoken word to tell the story.
Chamäleon and it's productions take all the elements of traditional circus that we know and love like trapeze, ropes and acrobatics and mixes them up with stunning choreography, music and creative lights and imagery to deliver something truly creative.  Put all this together into a tiny theatre in Berlin and you have a wonderful evening of some of the most stunning entertainment you will ever have the pleasure to see.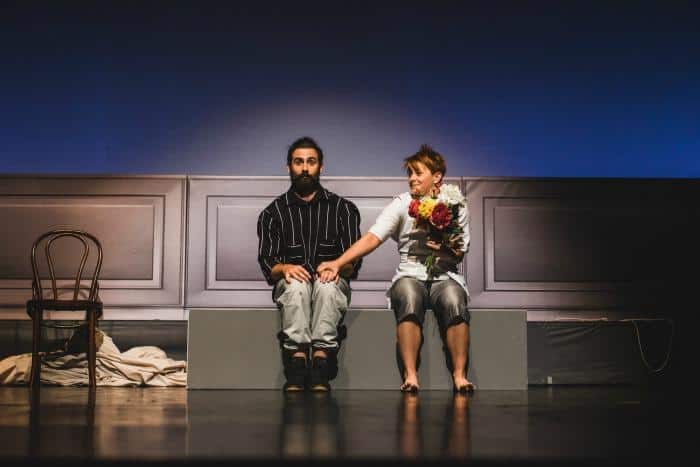 PARADE The Show
PARADE was a very different performance to Scotch & Soda, but in someways it was far more captivating.  It explored the lives of a group of people who were on a journey of self discovery.  Their stories explored relationships and love, from the unrequited version to something far more passionate.  Emotions such a jealousy, sadness and joy danced around the stage as the artists shared their adventures through physical theatre and incredible contemporary circus performances.
As I watched, often in disbelief at what the artists were able to achieve with their bodies, I felt the stories resonate with me as the mother of children growing up in a new digital age.  The show left me with lots of questions about how this can affect their lives, their self esteem and what they will become as they grow into adulthood.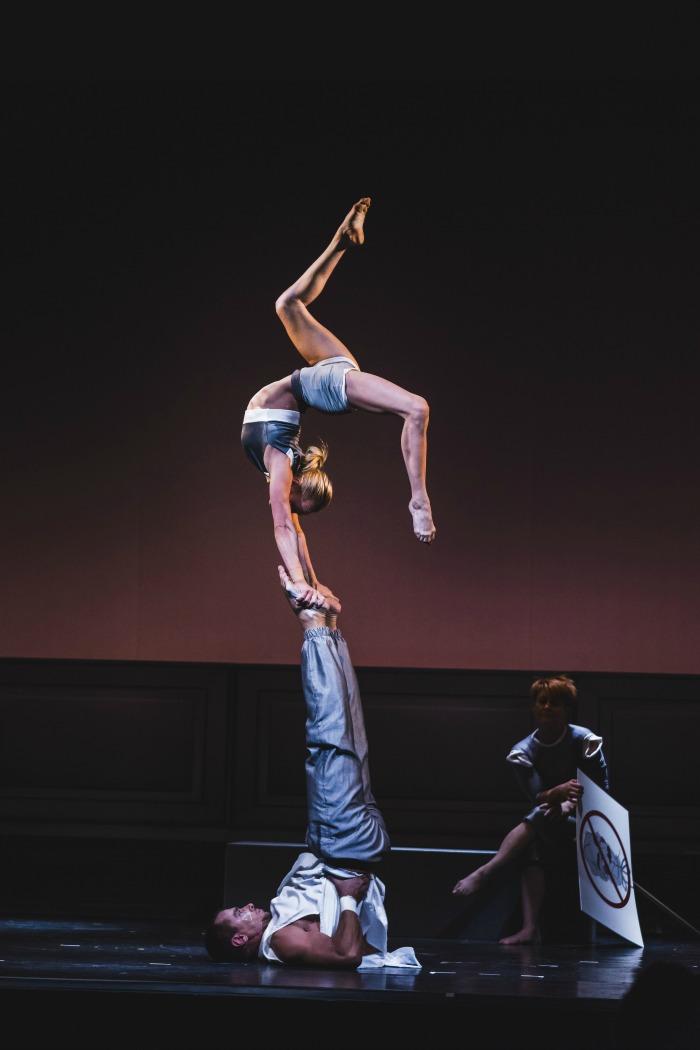 Every artist on the stage bought something unique to the overall all performance, and its incredible to think that before coming together to make this show they knew very little about each other.  The chemistry and connection they create on stage as they perform the most magnificent acts of new circus really draws you into the overall story.
PARADE is a passion project from Brendan Shelper, Creative Director at Battle Royal and he has worked collaboratively with Chamaleon Theatre to bring this new show to life in this incredibly unique space.  The artists, imagery and music work together seamlessly to provide the audience with a visual spectacle that they are unlikely to forget in a hurry.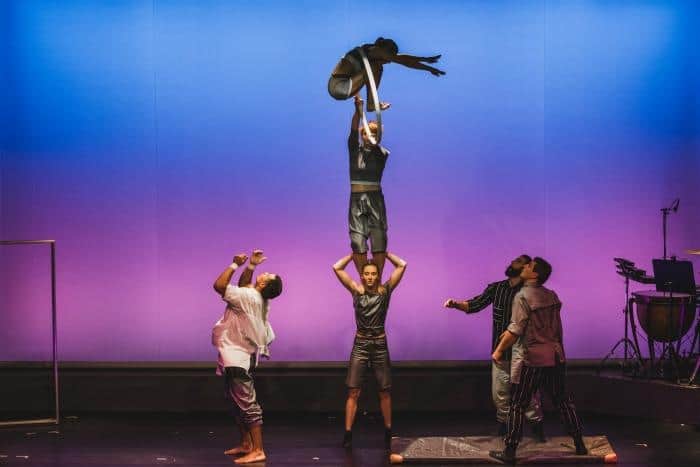 I loved how PARADE took the audience on it's journey, exploring the characters and their personal stories.  Enjoying story telling along side the moments of excitement and tension as you wonder how on earth all these bodies are balancing on top of each other takes the experience of the show to a whole other level.
A show should make you feel something, and PARADE does this throughout the performance and leaves you with a lots of questions about what it's like growing up in modern society.  It's an interesting and engaging process to explore your own experiences about modern life along side the characters experiences in PARADE.  What ever you take away from seeing PARADE at the Chamaeleon Theatre, I suspect that there will be lots to discuss afterwards.  A show that gets people talking, is one of the best kinds of shows to see in my book.
Does this sound like a show you would go to see in Berlin?
I was a guest of Chamäleon Theatre for the purpose of visiting Berlin and seeing the latest performance, PARADE, but all thoughts and opinions are my own.  Photos courtesy of Chamäleon Theatre.