I am very aware that the spaghetti bolognese that I cook at home is nothing like the authentic Italian pasta that I'd experience in a five star restaurant but for a family meal it ticks our boxes especially on a school night.  However, sometimes it's nice to ditch the family meal and have a real treat, and this is where Pasta Evangelists come in.  Do you want to hear more?
The Pasta Evangelists team reached out to me on Twitter and asked me if I would try out their fresh pasta dishes.  It was the first time I'd heard about their service so I was really keen to learn more.  Here's what I found out…
How Does Pasta Evangelists Work
Every week the talented chefs at Pasta Evangelists create 5 authentic handmade Italian dishes for you to choose from.  You simply select the meals you would like to try from the menu and tell them when you would like it delivered.
You can sign up for a one off purchase or join the 'Pasta Club' and have meals delivered to your door over 5 or 10 weeks.
You're fresh Italian dish is delivered to your door with pasta, sauce and any garnishes required.  There is also a really handy recipe card with step by step instructions for how to put your Italian meal together.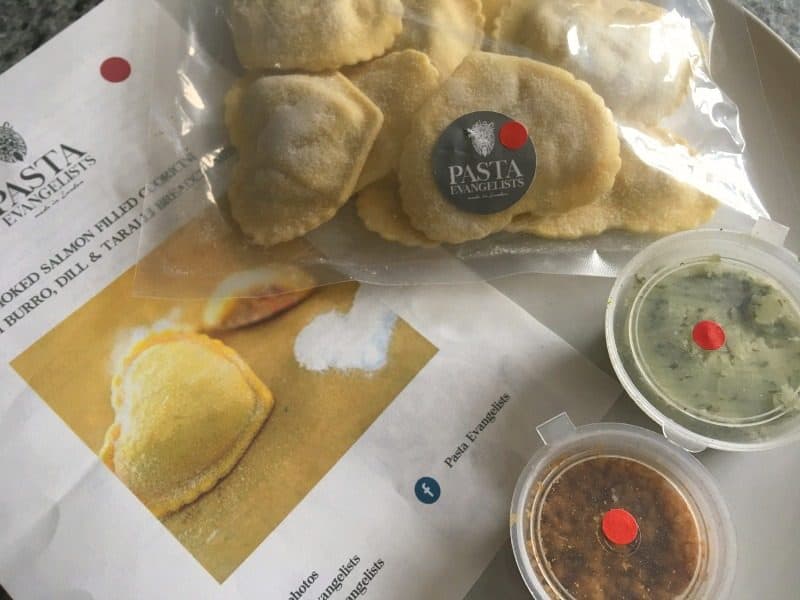 Making an Authentic Italian Meal at Home Couldn't Be Easier
You've got your favourite Italian wine ready to go and some gelato in the freezer for dessert and all you need to do is cook your pasta.  If fresh pasta makes you nervous, there's no need to worry as Pasta Evangelists have literally got everything in hand.
We tried the smoked salmon filled cuoricini with burro, dill and taralli breadcrumbs and the malloreddus alla campidanese from the week's menu.  They sound like complicated dishes but trust me when I say you can create restaurant quality Italian food in your home in less than 5 minutes.  Yes, it really is true!
Each dish was colour coded so I knew exactly which component went with each meal.  Each pasta dish was cooked and on the table in around 5 minutes and they both really looked the part.  I was really impressed with my efforts, but truth be told Pasta Evangelists had done most of the hard work, I was simply assembling the final creation.
In both cases the pasta was delicious and the accompanying sauces were completely on point.  The smoked salmon was light and delicate and the campidanese sauce was authentic and rustic and complimented the malloreddus pasta perfectly.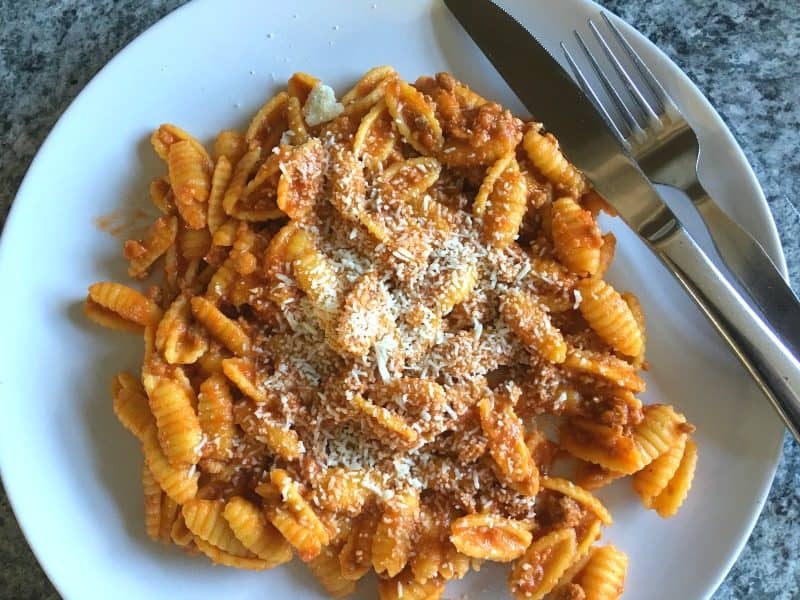 Why Order From Pasta Evangelists
I will definitely be ordering from Pasta Evangelists again having sampled these two meals because I was really impressed with the quality and price.  We order takeaway food as a treat fairly often, and Pasta Evangelists offers a refreshing and unique change from our regular delivery service.
Each dish is handmade with the finest seasonal ingredients and Italian produce is used to create the weekly menu's where possible.  Pasta Evangelists pride themselves on bringing a little piece of real Italy into the British kitchen and allow you to sample dishes from all 20 regions of the country.  If Italian food is your thing, ordering from Pasta Evangelists is one of the best ways to keep your passion alive.
If this wasn't enough, Pasta Evangelists are also turning some major heads in the food industry.  With Prue Lieth from The Great British Bake Off on board alongside Sunday Times critic Giles Coren and William Sitwell from Masterchef all singing their praises, you know your meal will be delizioso!
How To Place Your Order + Exclusive Discount Code
Ordering your meals from Pasta Evangelists is really simple.  Simply visit the website and select your favourite dishes from the weekly menu.
Meals vary in price from £6.50 to £9.50 depending on ingredients etc.
Standard delivery costs £2.50 but if you spend over £30 delivery is free.  The Pasta Club subscription service starts at £69 and it's always worth checking their website for the latest offers and discounts.
Talking of special offers, if you are interested in trying Pasta Evangelists range of meals I've got a discount code exclusively for Zena's Suitcase readers.  If you enjoy your food, I would strongly urge you to give this service a go.  If you enter the discount code ZENASSUITCASE at the checkout you will receive £10 off your first order!  That's a great incentive to get you started isn't it?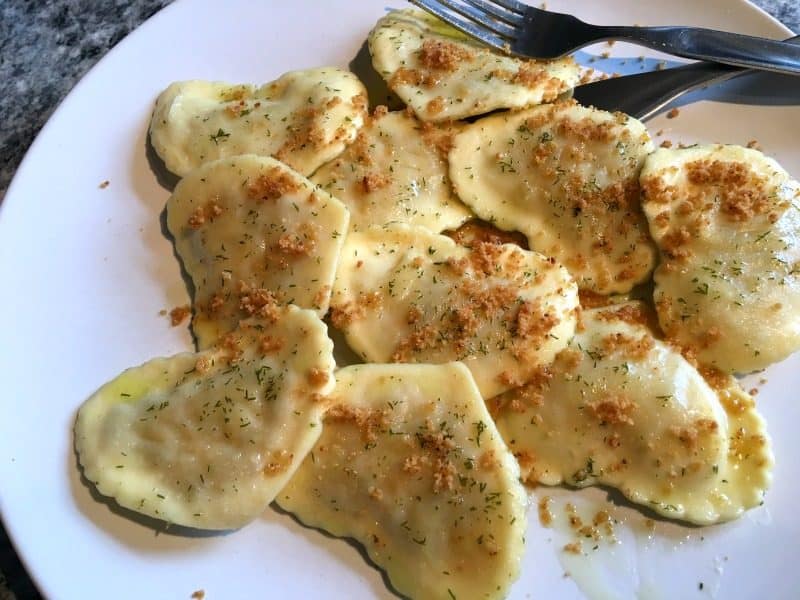 If you want to treat someone special and give them a night off in the kitchen, I think they will love their first taste of Pasta Evanagelists as much as we did.  I'm also thinking this would make for the perfect night in for Valentine's Day, what do you reckon?
If you try this service out, please do pop back and let me know what you think in the comments below.  I'd love to hear your thoughts.
Know someone who would enjoy this post?  Please do share it with your friends and followers, as it would literally make my day.  
For the latest blog posts, offers and giveaways don't forget to subscribe to Zena's Suitcase.  You can also follow the latest updates on Twitter, Facebook, Instagram and Pinterest.  
We were provided with the meals from Pasta Evangelists in exchange for this post but all thoughts and opinions are our own.