Going on holiday with the family is one of the best parts of the year, and for many families, it creates a great opportunity to spend quality time together that isn't as easy to find during the normal routine. Of course, the first time you take a young child away somewhere new, and they get to experience things like flying for the first time, it can be easy for them to feel a little bit overwhelmed.  When this happens, it can also become stressful for you as their parents, and for older children. 
With a bit of forward planning, however, you can make sure that the first time you take a young child away on holiday on a plane is as convenient and enjoyable experience, both for them, and for the rest of the family! Here are some ways you can make it easier if you are planning to do this this summer: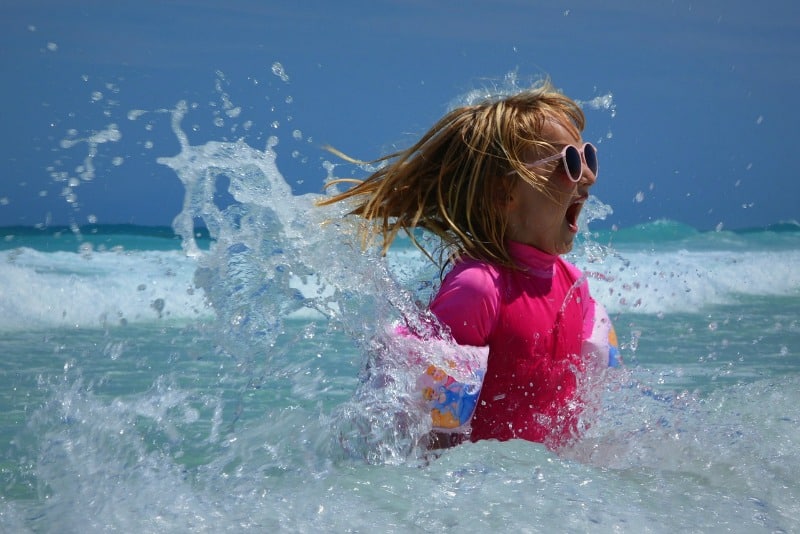 Make the Journey to and From the Airport Straightforward
For a lot of people, the exciting part of a holiday begins once they arrive at the hotel, and the journey to actually get there is just a necessary part of things. For a kid who has never been to an airport or on a plane, however, everything about the journey is new and exciting, but can also be a bit daunting!
It can therefore be less overwhelming if you get to the airport in a way that is familiar to them, and which doesn't add any extra steps to things. The best option is to drive there and use a parking service so that you can simply walk to the terminal or take shuttles. This can help you keep your young child reassured about the journey.
You can get a service like this at most major UK airports, for example the Birmingham Airport Long Stay Car Park which allows you to park up and take a shuttle across to the airport making the transition hassle free. Many families are grateful for this type of service too, because it means less struggling with luggage and keeping hold of children to actually get from home to the check in desk!  If you would like to book such a service, visit birminghamparking.com.
Talk to Your Child About What Happens at the Airport
It goes without saying that you will probably want to prepare your child in advance for what will happen on the plane, so that they are not afraid.  It can also help a lot to go through with them in the weeks leading up to the trip what happens in an airport and what they will see there. Things like having their luggage x-rayed can be strange and scary to some kids, or just plain interesting to others, and talking about this and why it is done before you go will save having to answer lots of questions on the day when you are busy!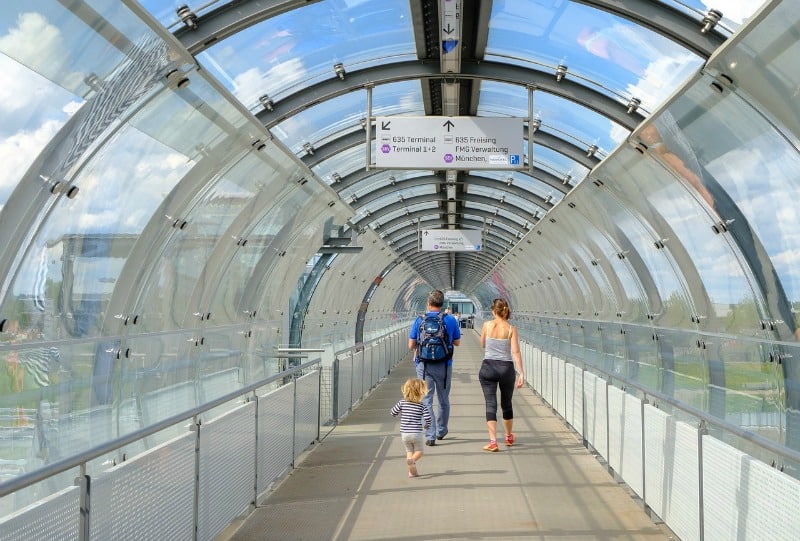 Talk them through things like checking in the luggage, getting to the gate, and going through security so they know there is nothing to worry about, even when they have to follow strange instructions like taking off their shoes, or when you have to wait in long lines. Not only will this remove a lot of anxiety for them on the day and reduce stress for you, it is also a great topic you can teach them about using books, pictures and online resources for a useful learning experience.
Help Them Pack Their Own Cabin Luggage
You will probably want to take all the important stuff you need for your child in your own cabin luggage, but as part of the educational experience of flying for the first time, let them pack a small bag of their own to bring on the plane.
As they choose things, you can talk to them about their choices, and teach them about what being on a plane is like as you go. For instance, you may be able to tell them that a noisy toy won't be appropriate because there will be lots of other people there, helping them to understand about being courteous to other passengers. Also, perhaps it isn't a good idea to take lots of small things because they might roll away and get lost when the plane is moving, helping to prepare them for turbulence.
This can make them feel more comfortable and in control of what is happening when they fly, as they can choose some items they want to bring with them to keep them feeling safe. It can also help them learn about how on planes, you can only take a few things with you to have in the cabin, and everything else goes through in your big suitcase.
Plan How You Will Keep Them Occupied on the Plane and During Any Waiting Times
Travelling can often mean a lot of time that you need to kill, whether you are waiting in a line to check in, sitting on the plane, or on the transfer to your hotel. This can be boring and tiring for adults, and it is a million times worse for kids! You should therefore have some strategies in place to stop them getting bored and getting irritable.
If your plan involves using a tablet or smart phone, make sure you pack a spare battery pack so that you can keep using it even if you don't get a chance to recharge it before or during the flight. Tablets can be great for keeping kids from getting bored, as they can read, play games or watch things on them. Remember that for at least some of the flight they need to be turned off and to warn your child about this in advance so they don't get upset when you have to take it away from them for take-off!
If you are travelling with a baby, it really doesn't have to be stressful if you plan in advance.  There are some great suggestions in this post from Battle Mum about travel essentials that will make the trip a lot easier.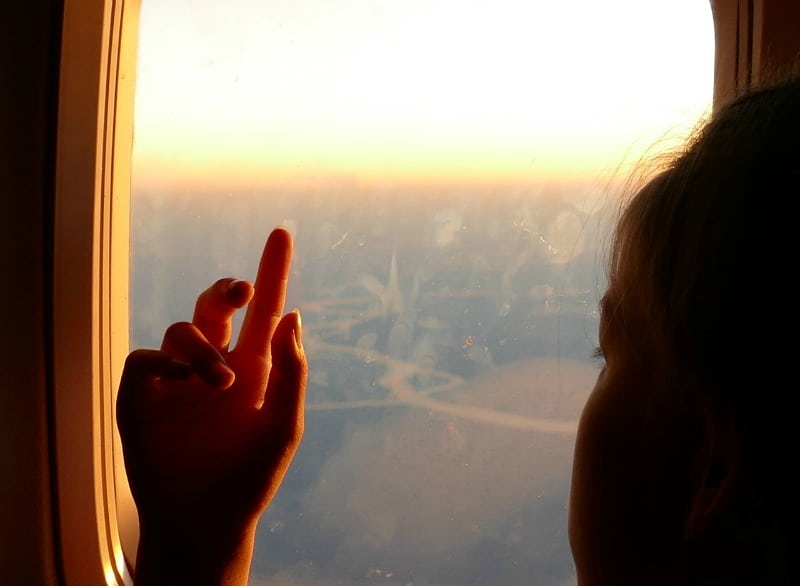 Share What You Are Seeing
It can be easy to forget, when you have been through airports many times and see them as nothing more than functional, uninteresting places, that they can seem incredible when you visit one for the first time. Some kids will really get a kick out of being able to watch all the planes taking off and landing, or even just going on the moving walkways at the larger airports, as well as seeing all of the different people and shops.
Talk about all the new things and go along with it when your child is having fun! It can be refreshing to think of the airport and the plane as an exciting part of the trip like they will, so why not enjoy seeing things through their eyes!
It can be a long, tiring day for a child when they experience so many new things at once, from their first time at an airport to their first experience of being in a foreign country or staying in a hotel, but it doesn't need to be an exhausting day for you too if you plan to make the journey as convenient and enjoyable as possible for the whole family.