If you are thinking of buying a tablet for your children I don't think you can go far wrong with the Amazon Fire HD 8 Kids Edition.  We are a very tech family, so I can say that with a great deal of confidence.  My daughter's were recently sent the Amazon Fire HD 8, and I was excited to see what they thought of it. They are both very confident using tablets at age 3 and 5 so they were the perfect choice for putting the Amazon Fire HD 8 to the test and this is what we learned.
How to Set Up The Amazon Fire HD 8 Kids Edition
When the Amazon Fire first arrived I was keen to get it out of the box set up.  First of all, I added my own Amazon account and added a password to the tablet to keep my account locked when the kids are using it.  All my apps appeared automatically after adding my user details and password. It took literally seconds to do.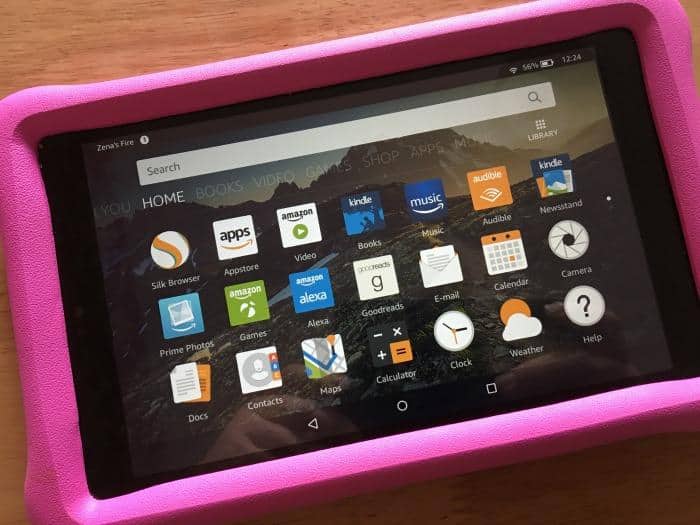 Setting up the kids accounts was really easy as well.  It's as simple as selecting the Fire for Kids app and popping in a few details.  You can add up to 4 child accounts to the Amazon Fire HD Kids Edition with completely separate profiles.  All you need to do is add their name, gender and date of birth.  This information is used to show your child the most appropriate content for their age.
We easily added a separate picture to each profile so that each child account was easily identifiable when the kids are using it.
I also added some child safe apps from my own account for the girls to use.  This is good for things like YouTube Kids or Netflix.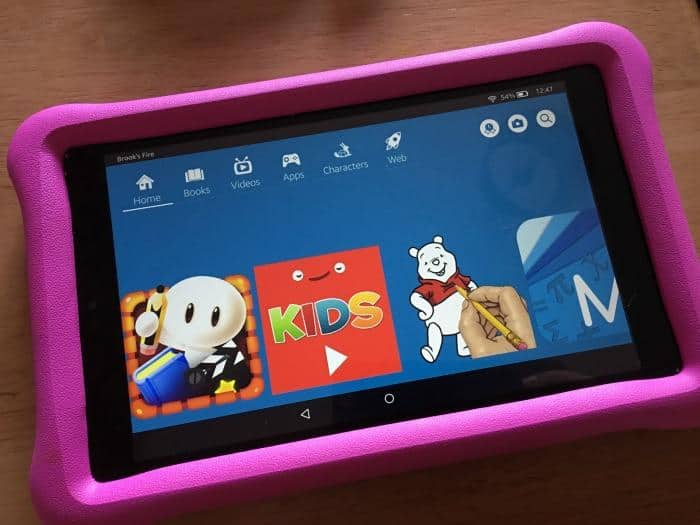 The Amazon Fire HD 8 Kids Edition also includes access to Fire for Kids Unlimited for 1 year.  This gives your children access to over 5000+ videos, games, books and apps for entertainment and educational purposes. Here's a few apps we'd recommend you add to your Amazon Fire to get them started:
Kids Free Apps From Amazon 
This free app provides the best videos from YouTube for kids! Thousands of fun and safe cartoon videos. Kids channels, cartoons, games, songs and music, dance and a wide range of learning videos to help get rid of that rust that comes from a summer of fun.
Welcome to the magical world of Disney Junior Play featuring your favourite Disney Junior characters all in one place! Loads of exciting games, puzzles, sing along videos, dress-up fun and sticker book scenes. The 'Disney Junior Favourites' pack is free with download and features four games and a sticker book. Play jigsaw puzzles to encourage problem solving, placement games to support logical thinking, and dress-up games to inspire imaginative thinking.
Anitales is a unique and exciting app which encourages children to create story by use their imagination and get their creative juices flowing!??Immerse yourself in the Anitales world as you choose your story location, add personalised characters, record voice-overs, and add animation to bring your story to life. This colourful and beautifully illustrated world is fun for the whole family and allows you to connect and share your stories with friends.
How to Draw: Cartoon Characters – Free
Drawing various Cartoon Characters from different films and animated movies like Sponge Bob, Fairy Tinker Bell, Superman, Spiderman, Dora and many more, has never been so easy.
Each drawing lesson is divided in 10 to 20 steps, and it's extremely easy to follow. Have fun with this application at home, in school, while drawing on paper, or with chalk on pavement – do it everywhere!
Mathletics has evolved… right into your hands. The multi award-winning e-learning platform is available on selected Android tablets and is now better than ever! Use in the classroom, at home – or anywhere. Use online or offline – Mathletics can now truly be access ANYWHERE!??Mathletics is the world's leading educational resource for mathematics, created by the team behind the World Education Games. Over 4 million students in schools across the world are a part of our global learning community.
Blogging Like Mummy – Priceless
My kids have showed interest in starting their own blog which makes me so happy! They will be able to do this with the Fire tablet but I think we'll wait until they get better at writing before we set anything up for them. At least I have time to look up the best safest blogs for children, after all, blogging safety is an important issue.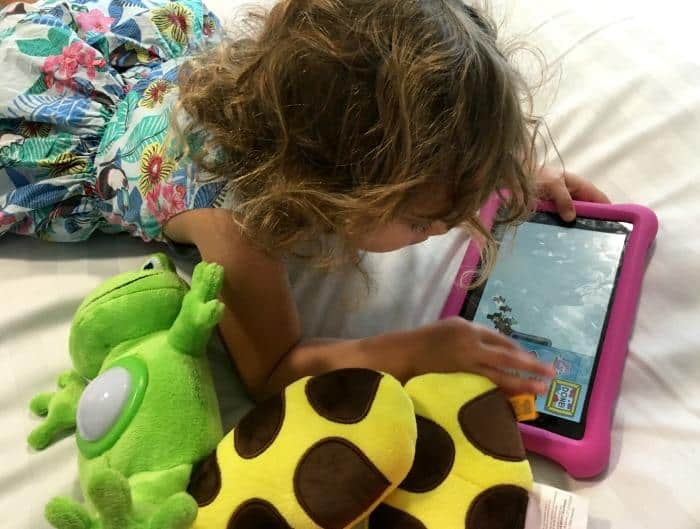 How The Amazon Fire HD 8 Kids Edition Can Help Kids At School
As soon as Indie went back to school we were asked to download an app called 'Teach Your Monster To Read'.  It's a fantastic app that helps build reading skills in Early Years school children.  We found out we could download it to the Amazon Fire HD 8 Kids Edition and she could get started straight away.
Her teacher is monitoring her progress at school so we want her to use the app, and other educational apps like it, regularly.  The Amazon Fire HD 8 is the perfect tablet for setting educational goals and ensuring kids are using educational apps as well as for playing games and watching videos.
There are some great parental control settings on the Amazon Fire HD 8 that are super easy to set up.  You can set goals for how much time your child spends using the books, videos and apps.  This uses timescales so you can tell the tablet to allow 15 minutes for watching videos, 30 minutes for educational apps and 20 minutes for books, or however you would like to set it up.
By ticking a simple box you can tell the tablet to block any entertainment apps until the educational goals are met.  This is a great way of offering a child rewards for completing school related work.
Another fantastic setting is that you can tell the tablet when to shut down the account at bedtime and when it can be turned on in the morning.  This takes so much stress out of the 'turn the tablet off it's time to go to bed/get ready for school' conversation.
The other setting we loved was that you can set up different goals and times for the weekend compared to weekdays.  If Indie has done well with her educational goals over the week, it's really easy to allow her more time at the weekend to play games as a reward.
Key Features of the Amazon Fire HD 8 Kids Edition
There's lots of things going for the Amazon Fire HD 8 Kids Edition so I've put them into a comprehensive list for you.  If you were on the fence about buying one, by the time you've read this I think you'll be convinced.
8″ HD display and 32 GB memory space
Sturdy kid proof case in choice of blue, pink or yellow provided
No in app purchase access for children
No social media access
1 year subscription to Fire for Kids Unlimited included with 5000+ books, videos, games & apps
2 year worry free guarantee – this is really awesome!
12 hours of battery life
Easy to use parental controls with curfews, screen time limits and content control settings
You can share apps from your own library
Can add up to 4 child profiles
Perfect tablet for ages 3-12 years
Child accounts can only access appropriate content approved by Amazon
We have really enjoyed having the Amazon Fire HD 8 Kids Edition and can see why it's the best tablet for kids at the moment.  Indie is making real progress with her reading with the help of the Amazon Fire and it really helped keep Brook busy when she was waiting in the hospital for her operation recently.
It's super easy for us all to use and the features definitely set it apart from anything else on the market at the moment.  The battery life is a really big deal as well.
You can buy the Amazon Fire HD 8 Kids Edition for just £129.99 which we also think is excellent.  Considering all the features that are included, as well as the year subscription to Fire for Kids Unlimited, this is excellent value for money.  It means no more buying apps here and there that your kids want to use, as they will probably have access to them directly with the Amazon Fire.
We were provided with the  Amazon Fire HD 8 Kids Edition in exchange for this review but all thoughts and opinions are our own.