There is a brand new Amazon Fire for Kids tablet on the block and we have been lucky enough to take a peek at it with my 4 year old and 6 year old for this review.  The Amazon Fire HD 10 Edition for Kids is the largest tablet for children available from this popular online retailer and in this post we are going to tell you what we think.
Before we get on to that though, have you been wondering when is a good time to introduce your children to a tablet?  If you have more than one child, I would say a good time is when they are able to reach each other from their car seats in the back of the car and they have enough coordination to inflict pain on their brother or sister.
If your children fight, even just a little bit, you can probably relate to this.  I learnt very recently that regardless of how long or short a car journey is children can turn it into quite a challenge if they are not getting along in the back seat.  After a long day out, imaginative books and toys just don't engage them and all they need is a bit of time out to watch Wishenpoof or Team Umizoomi.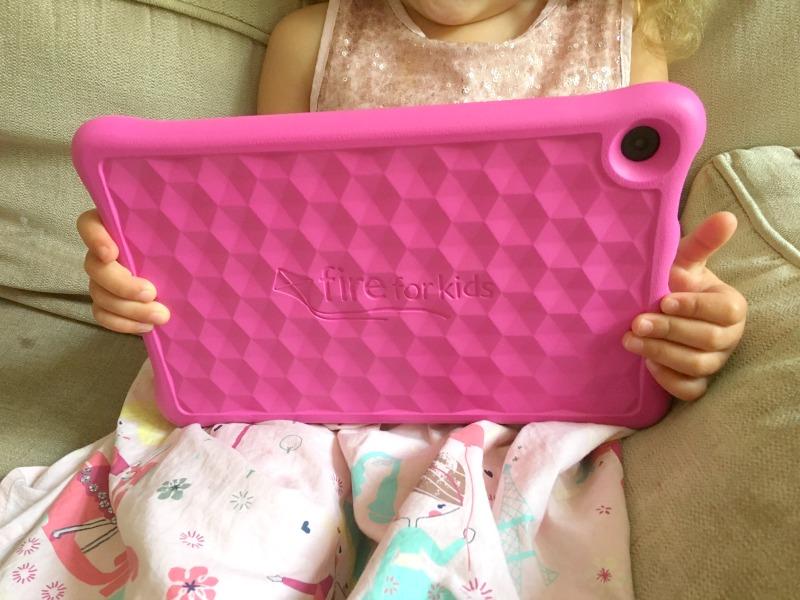 After the kids turned a 40 minute car journey back home from our day out to Conkers Visitors Centre into a stressful and potentially dangerous situation because of their fighting, I vowed never to leave the house without their Amazon Fire HD 10 Kids Edition tablet and headphones again, especially if I was driving alone with them.
But what about the amount of screen time time a child should have?  I'm pretty sure that if you employ a sensible and balanced approach to letting your kids use a tablet everything will be fine.  The rules we try to follow with our amazon kids tablet are:
no tablets during dinner
no screen time just before bed
all homework and reading for school needs to be done before screen time
lead a balanced lifestyle and get outdoors
Amazon Fire HD 10 Kids Edition Review
So how did the new Amazon Fire for children compare to the Amazon Fire Kids 8? The biggest difference is of course the new screen size.  The 10″ screen is brilliant and gives the girls so much more space to watch their favourite shows or play their games and educational apps.
The larger screen really adds to the interactive experience for them both.  When Brook and Indie are in the mood to share, the larger screen size means they can enjoy using the Amazon Fire Kids 10 together far more easily.
The Amazon Fire HD 10 Kids Edition still comes in a really sturdy kid proof tablet case which makes it easy to handle.  The 10 hours of mixed use battery life means it will keep kids entertained during pretty much any road trip, so it doesn't matter if you are driving to Cornwall, Scotland or Northern France, it has got your in-car kids entertainment covered.
The features we really love though are the worry free 2 year guarantee.  One of the biggest concerns I have about giving my 4 year old and 6 year old a tablet is what will happen if it gets damaged.  Our kids have been known to throw things with little consideration for where they might land, and tablets are no exception.  We know that if they were to damage the Amazon Fire tablet in the first 2 years, they would be happy to replace it, no questions asked.  That's a huge piece of mind for parents looking to buy a new kids tablet.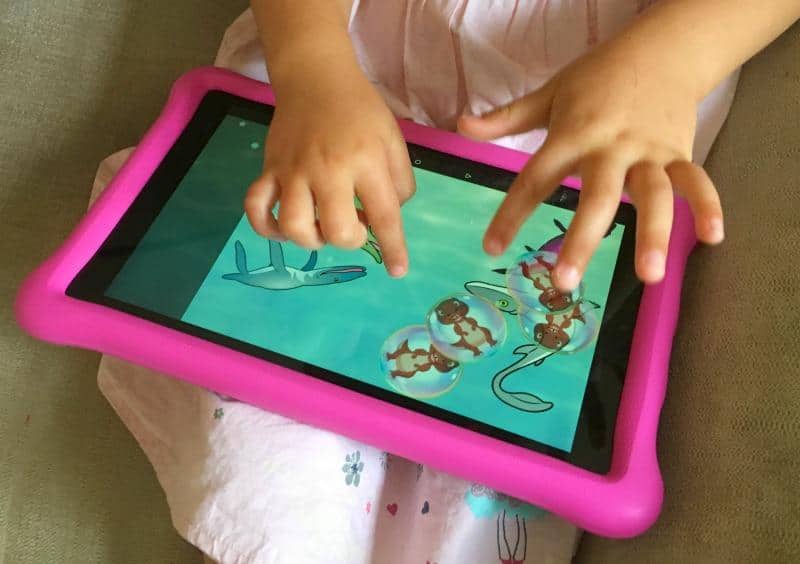 We also really rate the 1 year of Amazon Fire for Kids Unlimited that comes with the Fire HD 10 Kids Edition.  This gives Brook and Indie access to all their favourite apps and programs at no extra cost for the first year.  After 12 months you can cancel or continue the subscription.  I'm fairly confident we will continue to use the Kids Unlimited subscription after the year has ended.
It's also really reassuring to know that all the content that my 4 year old and 6 year old can access on the Amazon Fire Tablet is child friendly and the parent control settings are really easy to use, allowing you to control screen time and what you let them to see if you prefer them to use the educational Amazon Fire Kids apps before using the games or watching cartoons.
We have had the Amazon Fire HD 10 Kids Edition a few weeks now, and genuinely feel that this is one of the best tablets for kids currently on the market given the price and features it has.  I'd also like to add that the Amazon Fire Kids 8 Edition tablet that we have previously reviewed on Zena's Suitcase is still going strong despite some heavy use by the girls.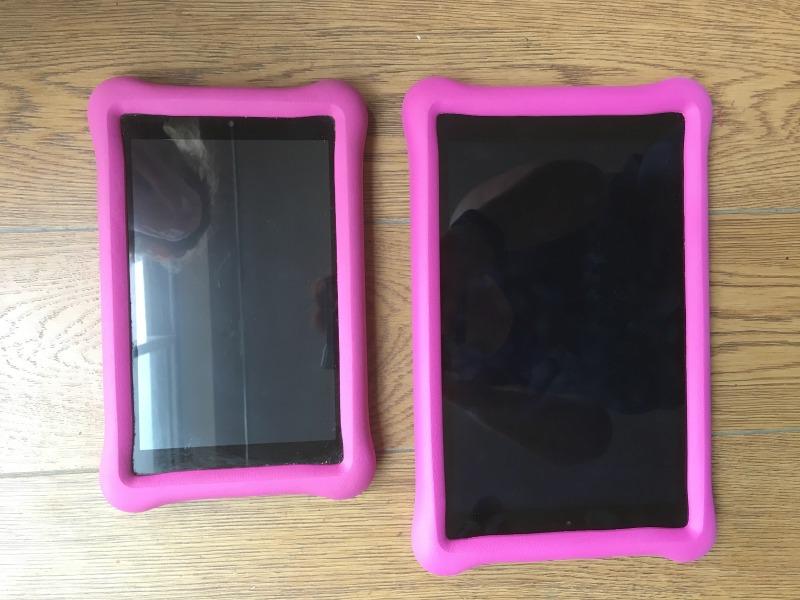 Seeing as the Amazon Fire Kids 10 is one of three kids tablet available from Amazon at the moment, I thought it would be helpful to compare their key features in the table below especially if you are looking at which tablet to buy your kids for, dare I say it, Christmas!
Name
Screen Size
Memory
2 Year
Warranty
Kid Proof
Case
Fire for Kids Unlimited
Battery
Life
Price
Fire 7 Kids Edition Tablet
7" Display
16 GB
Yes
Yes - Pink, Blue and Yellow available
1 Year
up to 8 hours
View on Amazon
Fire HD 8 Kids Edition Tablet
8" Display
32 GB
Yes
Yes - Pink, Blue and Yellow available
1 Year
up to 12 hours
View on Amazon
Fire HD 10 Kids Edition Tablet
10.1" 1080p Full HD Display
32 GB
Yes
Yes - Pink and Blue available
1 Year
up to 10 hours
View on Amazon
Have you tried an Amazon Fire Kids Tablet yet? If you have any additional comments, please share them below this review, as I'm sure other parents will find them helpful.
Feeling lucky? Enter the giveaway to win a £50 Amazon gift card here.
Know someone who would enjoy this post?  Please do share it with your friends and followers, as it would literally make my day.  
For the latest blog posts, offers and giveaways don't forget to subscribe to Zena's Suitcase.  You can also follow the latest updates on Twitter, Facebook, Instagram and Pinterest.
We were provided with the Amazon Fire HD 10 Edition for the purposes of this review, but all thoughts and opinions are our own.