mifold Review
The latest travel accessory to arrive in our house is the mifold grab and go child restraint from mifold UK.  We regularly travel with a 4 year old and a 6 year old and I've been interested in the mifold travel car seat for a while now.  When we received an email asking us to review the mifold car seat for the blog we were very keen to say yes.  Here is what we discovered about this innovative portable car seat:
What is the mifold Grab and Go Travel Car Seat?
Put very simply mifold grab and go is a compact travel car seat for children aged between 4 and 12 years old.  It's not a travel booster seat as such, but instead it makes the seat belt fit the child more securely while they are in the car.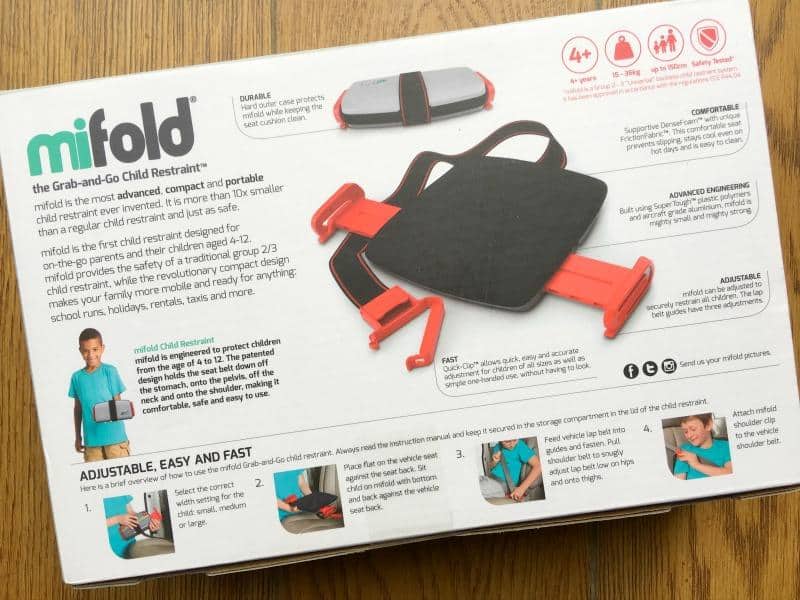 It's a universal travel child car seat so it fits in the majority of vehicles including cars and minibuses.  The mifold travel child seat is small and compact which means it will fit into most travel bags or carry on luggage.  It only weighs 1.6lb (750g) and when not in use the dimensions are 10in x 5in x 2in
(25cm x 12cm x 4cm) which makes it a perfect lightweight car seat for air travel.
How Does The mifold Travel Child Seat Work?
With the help of my 6 year old traveller, Indie, we set about finding out how the compact travel car seat worked.  I found the mifold seat really easy to fit in the car and to secure my 6 year old daughter.  She was sat comfortably and securely in the car in less than a minute.
The mifold travel child seat is simply unfolded and the sides are released and adjusted to fit the size of your child.  There are three settings which makes the seat suitable for a 4 year old through to a 12 year old. We used the second setting for Indie.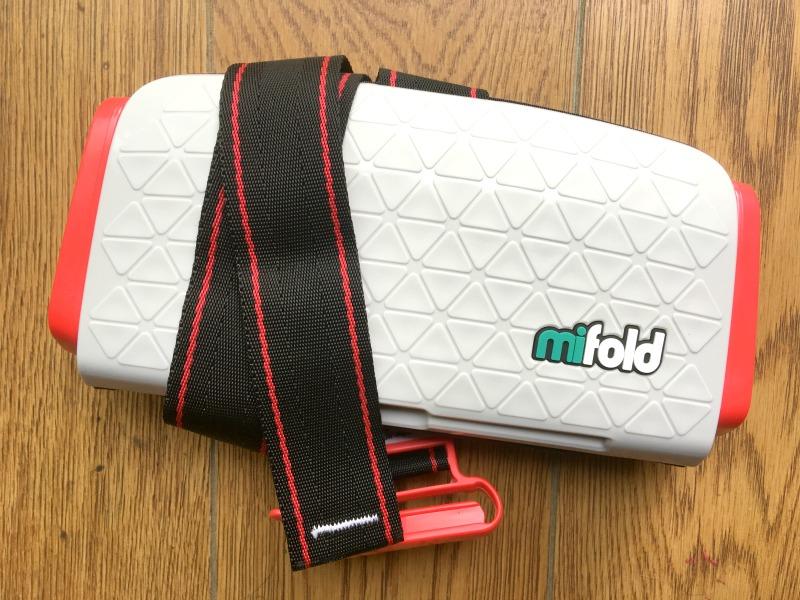 The adjustable strap is then fitted to the seat belt and the fixing is placed in a suitable position to fit the seat belt across the child's body.  The seat belt lap is secured in the sides of the extendable arms of mifold seat so the entire seat belt fits snuggly to the child across the legs, stomach and chest.  I was really confident that once fitted correctly the 'mifold grab and go' would keep the car seat belt in place while travelling and Indie seemed happy in the seat also.
mifold Safety Ratings
A big questions parents will be asking is, is mifold safe?  The mifold grab and go child restraint has met the requirements for the EU Regulation ECE R44 04 which means it is suitable for general use.  What testing did it receive though?  The mifold car seat has been through car accident simulation testing including a frontal car collision at 50 km/h and a rear car collision at 30 km/h.
The ECE R44 04 regulation also requires the mifold car seat to undertake a roll over test.  All the tests required by EU Regulation ECE R44 04 are carried out with test dummies that represent the weight category the car seat is suitable for.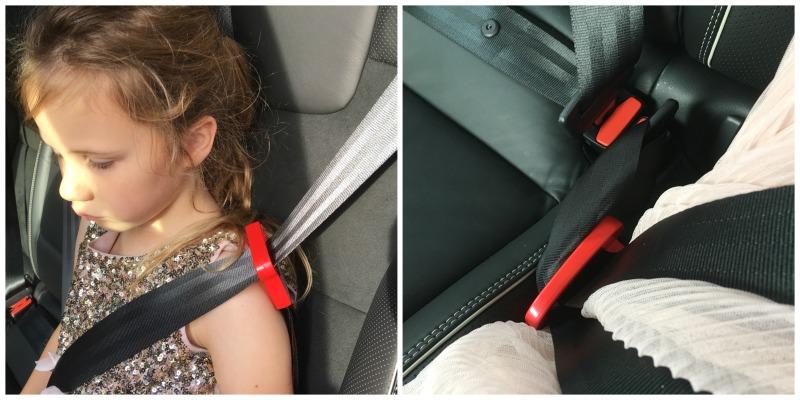 From a parenting perspective, I would be happy to use the mifold grab and go child restraint for when we are travelling abroad.  It would be a perfect travel accessory to take on holiday if we were going to be using taxis or airport transfers.  It will also be helpful for those unexpected car trips a child takes with friends and family who wouldn't usually have a car seat fitted to their car.
Where to Buy mifold Travel Car Seats
If you are keen to get your hands on a foldable car seat for travel you can purchase mifold grab and go car seats from Whitestep or from the mifold shop on Amazon.  Other mifold stockists in the UK include John Lewis and Dunelm.
How much is the mifold grab and go award winning car seat?   This compact travel car seat costs around £39.95 to buy online.
Feeling lucky? Win a £50 Amazon Voucher here.
Know someone who would enjoy this post?  Please do share it with your friends and followers, as it would literally make my day.  
For the latest blog posts, offers and giveaways don't forget to subscribe to Zena's Suitcase.  You can also follow the latest updates on Twitter, Facebook, Instagram and Pinterest.
We were provided with the mifold grab and go child restraint travel car seat for the purposes of this review, but all thoughts and opinions are our own.