If you know anything about travelling with kids you'll completely understand that taking on long distance driving needs some very careful planning indeed. There is no denying that driving from Nottingham to Cornwall with children is a very long way, but I was feeling a lot happier about taking on the road trip with the Kia Optima Sportswagon 2.0 GDi PHEV Auto we were going to review for the week. I had very high expectations about testing this car out, but did it turn out to be the best car for long distance driving with kids?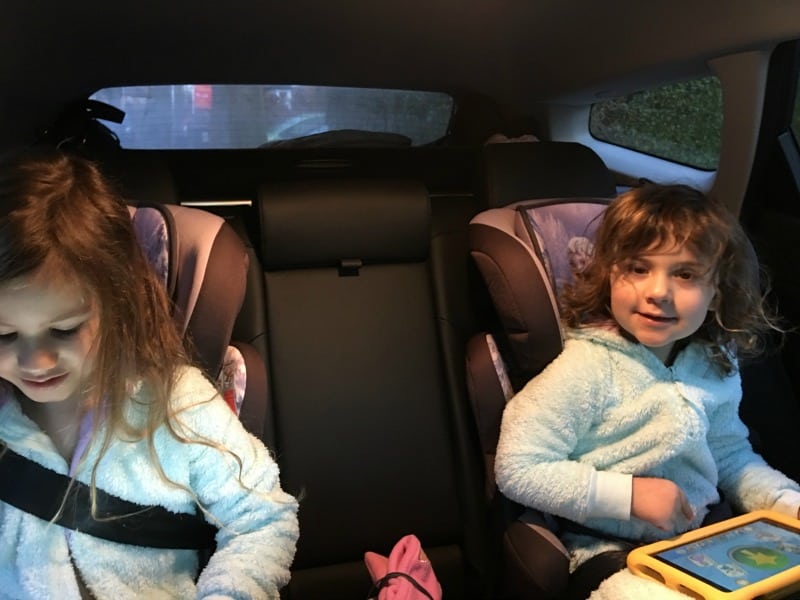 As soon as the car was delivered to the house, I starting loading it up with all our bags and cases.  I had bags for swimming gear, a hats and gloves bag in case we had some cold weather and the all important activity bag filled with pencil cases and colouring for when the kids got bored.
Wellies and coats were stuffed in between the cracks of 2 large suitcases and I even managed to get the kids scooters in the boot too.  The first box was well and truly ticked, the Kia Optima Sportswagon defintiely had enough space to pack everything that a family of 4 would need for a week exploring Cornwall.  We were certainly off to a good start and it was looking like one of the best road trip cars we have had for a while.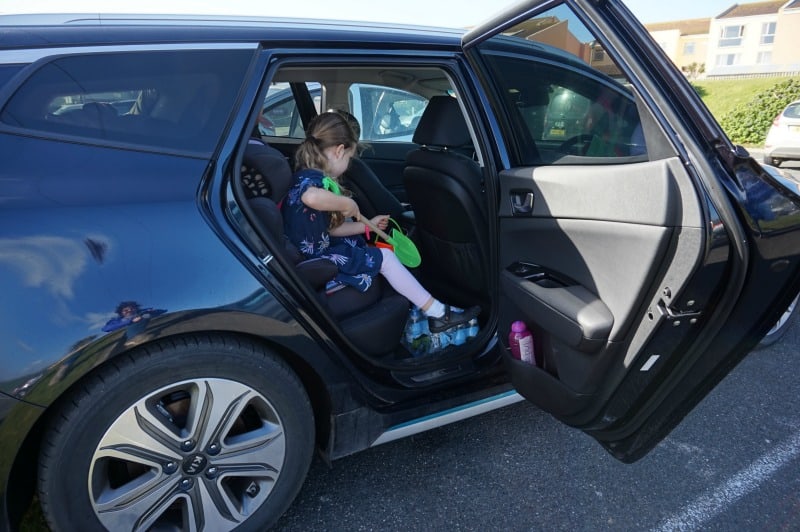 The next day we loaded up two very excited children and were feeling ready to hit the road.  We were really impressed with how much space we felt we had inside the car.  The kids had loads of room in the back for their travel toys and tablets and the front of the car felt spacious and comfortable too.  After one last check to make sure we had everything, including enough snacks and drinks for the long distance journey ahead we set the touch screen sat nav to take us to our first destination, the Esplanade Hotel in Newquay.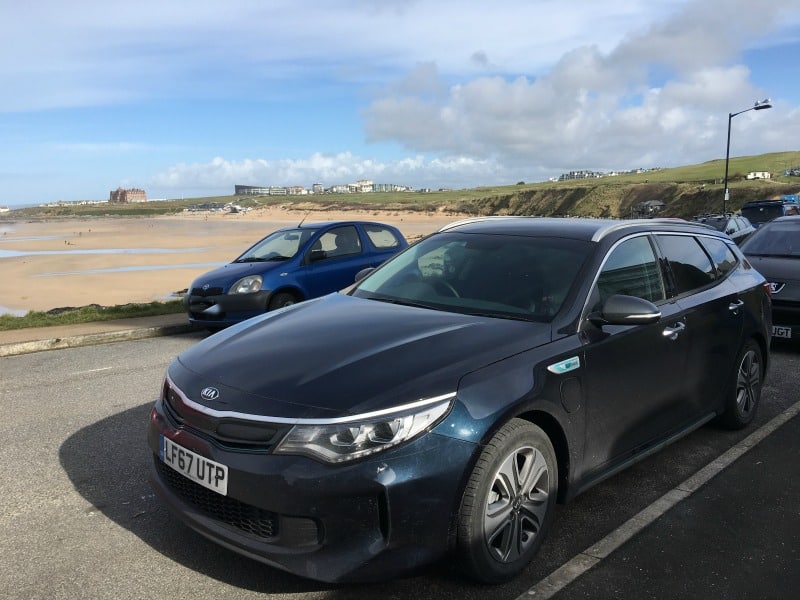 The road from Nottingham to Newquay took us 6 hours, with a couple of quick toilet breaks en route for the kids.  I drove all the way, and usually I would feel pretty tired after taking on long distance driving like that but when I stepped out of the Kia Optima it really didn't feel like I had been driving for 6 hours at all.
The drive was smooth and effortless which made our family road trip incredibly stress free.  Being on of the best hybrid cars in the UK at the moment, the car was incredibly quiet, which made concentrating on the road so much easier.  You are probably wondering if it felt as powerful as a petrol car, and the answer to that is yes, possibly more so.
With an electric car the power is available to the car immediately so it's incredibly responsive when you put your foot on the peddle.  In a standard car the petrol needs to combust before it turns into energy the car can use so the power isn't as immediate.  The difference is probably milliseconds but I certainly noticed it when it came to the vehicle's performance.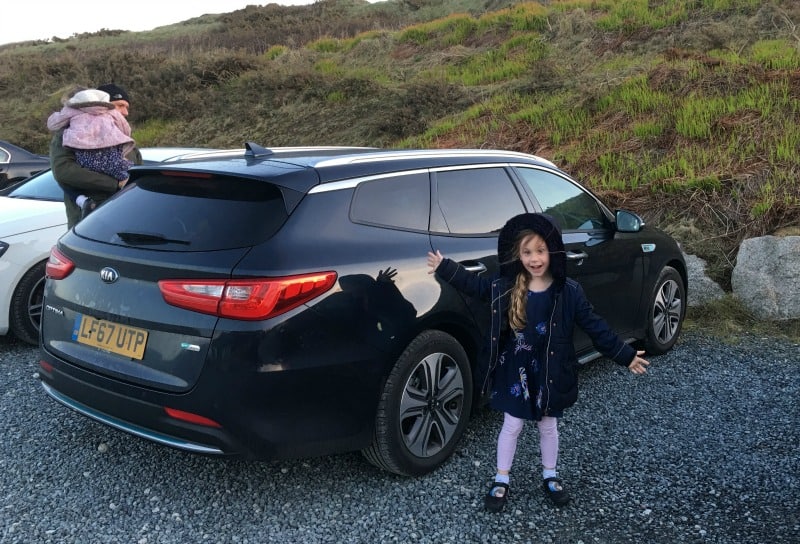 The other significant factor about having a hybrid plus in car is it significantly reduces your CO2 emissions and is a lot cheaper to run on a daily basis.  A couple of the places we stayed at in Cornwall had electric charge points for cars which were free to use.  We did use petrol during the trip but it was around 1 and a half tanks worth and considering we travelled nearly 800 miles over the week, we felt that was really good.  My husband was seriously impressed with the fuel efficiency and hybrid features, and it's probably true that he knows a little bit more about these things than I do.
I was also really pleased that we had the Kia Optima Sportswagon 2.0 GDi PHEV Auto to drive around in during our holiday as anyone who knows Cornwall at all will know there is some really interesting country lanes to navigate in the area.  There were some nail biting moments, but thanks to the Kia Optima we negotiated them all very successfully.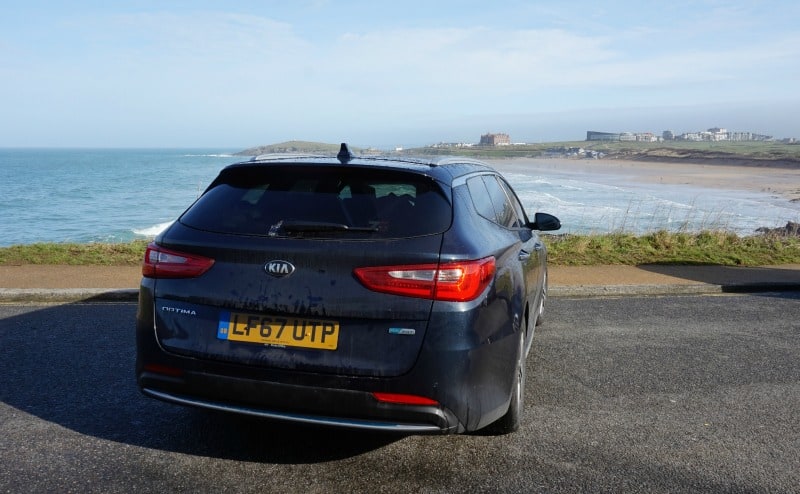 If you read the post about us visiting the Sharksfin in Mevagissey the other day you might have got a sense that driving around there was slightly challenging.  We ended up in the car literally on the harbour.
Once you get to the harbour there is no turning back and you have to negotiate a very narrow road, that is also pedestrianised with a sheer drop into the harbour.  It's literally one car wide with no fencing or barriers on the harbour side.  The tide was out which probably amplified matters but we managed not to end up parked along side one of the boats, fortunately.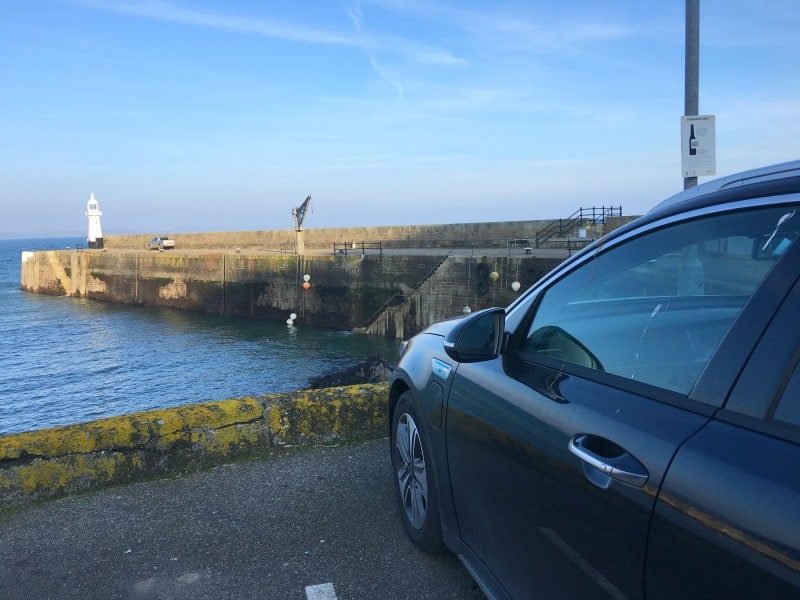 There are also lots of narrow lanes in Cornwall that were not designed with the modern car in mind, but being in the Kia Optima made everyone feel a lot safer.  It's a road trip car that handles incredibly well so when I was driving on roads that I didn't know I really did feel in control of what was happening no matter what the road had in store for me.  Because the plug in hybrid car was a 6 speed automatic, and incredibly responsive with managing the gear changes, I could really focus on what was happening on the road especially when we were driving at night down to Porthleven Holiday Cottages.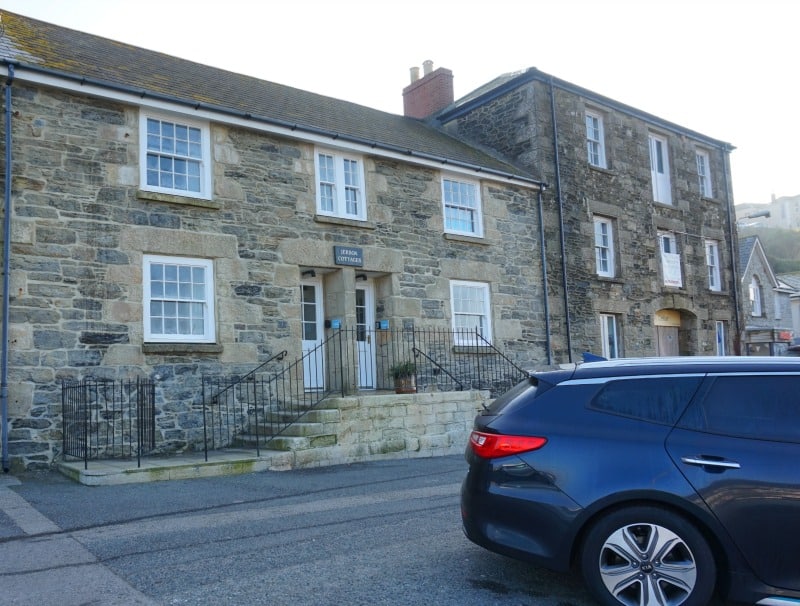 From my perspective I really felt the Kia Optima Sportswagon 2.0 GDi PHEV Auto was one of the best hybrid cars in the UK at the moment. From the first test drive when I picked my husband up from work I was asking when we could get one as we are currently looking for a new car for long distance driving.  After our week away in Cornwall, the car was the biggest talking point in my husbands office, not our trip to Pirates Quest, going for breakfast with the seals or the visit to the Eden Project.  Men do like to talk about cars don't they!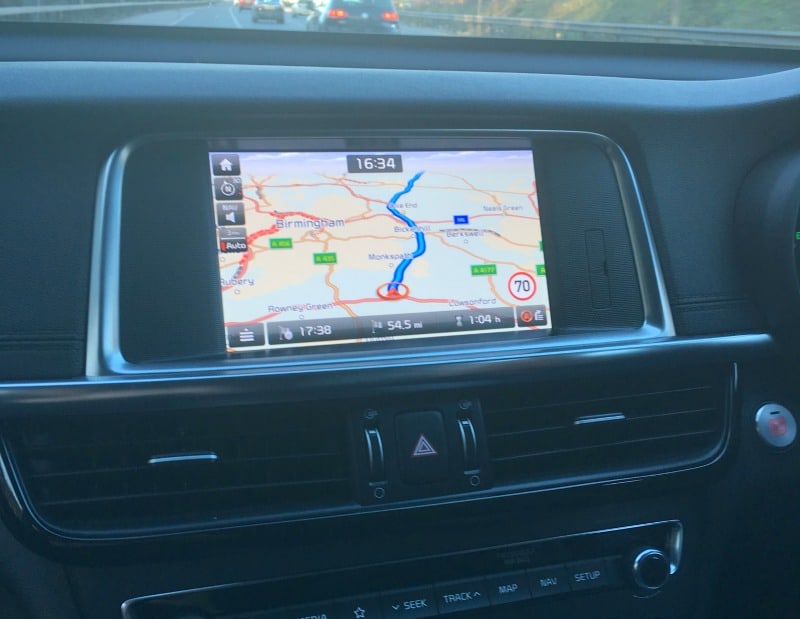 The hybrid car from Kia Motors really did make our road trip to Cornwall a breeze and the fact that the trip was so cost effective made a huge difference to our travel budget.  Some of the features that really stood out for me were the reversing camera system and the touch screen satellite navigation system.  Also, both inside and out it looked stylish and solid.  It certainly ticked the best family car box without being boring or frumpy, and no one wants to drive a boring or frumpy car now do they?  Here's a few other technical features of the Kia Optima Sportswagon 2.0 GDi PHEV Auto you might find useful:
17″ Alloy Wheels
Dual Automatic Air Conditioning with Ioniser
7″ Touchscreen Satellite Navigation with European Mapping
Bluetooth® & Music Streaming
6-speaker audio System
Front & Rear USB & Front AUX Port
Reversing Camera System
Front & Rear Parking Sensors
Electronic Parking Brake
Electronic Stability Control (ESC) & Vehicle Stability Management (VSM)
The Kia Optima Sportswagon 2.0 GDi PHEV Auto has an engine capacity of 1,999.  It also has 4 cylinders, 16 valves and a max power of 154 bhp at 6000 rpm. The on the road price for this model is currently £35,145.
Know someone who would enjoy this post?  Please do share it with your friends and followers, as it would literally make my day.  
For the latest blog posts, offers and giveaways don't forget to subscribe to Zena's Suitcase.  You can also follow the latest updates on Twitter, Facebook, Instagram and Pinterest.
We were loaned the use of the Kia Optima Sportswagon 2.0 GDi PHEV Auto for the purpose of this car review, but all thoughts and opinions are our own.