As well as being an incredibly beautiful county, Cornwall also prides itself on offering it's visitors some exceptional family friendly dining experiences.  With local fish and seafood in abundance many restaurants are able to offer fresh daily specials as well as their well crafted regular menus.  With lots of bars and restaurants to choose from, finding places to eat in Cornwall can start to feel overwhelming so I want to share with you our experience of family dining at Sharksfin in Mevagissey during our recent Cornwall break.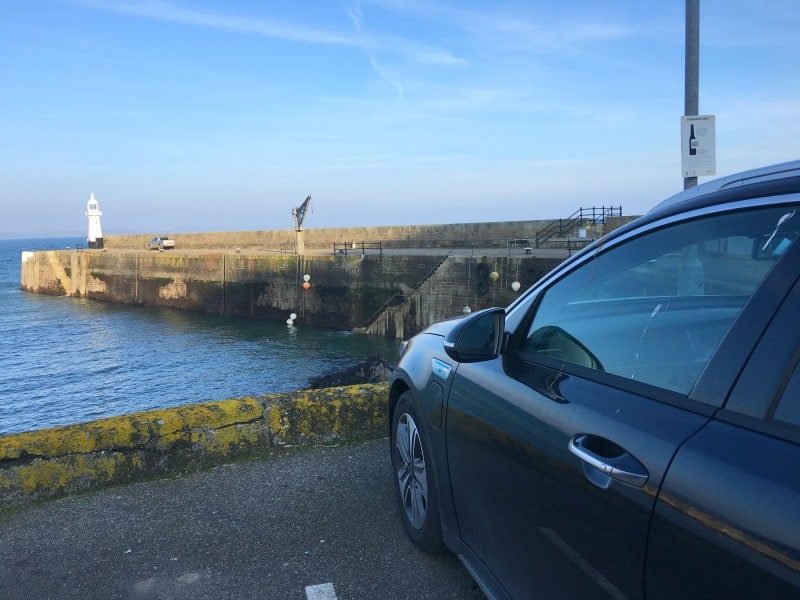 Cornwall is an area that lends itself so well to exploring and my first tip if you are looking for restaurants is to use it as an excuse to visit new towns and villages during your visit.  We were lucky enough to visit a number of places while we were in Cornwall and not one of them disappointed with Mevagissey leaving a strong impression on us for a number of reasons.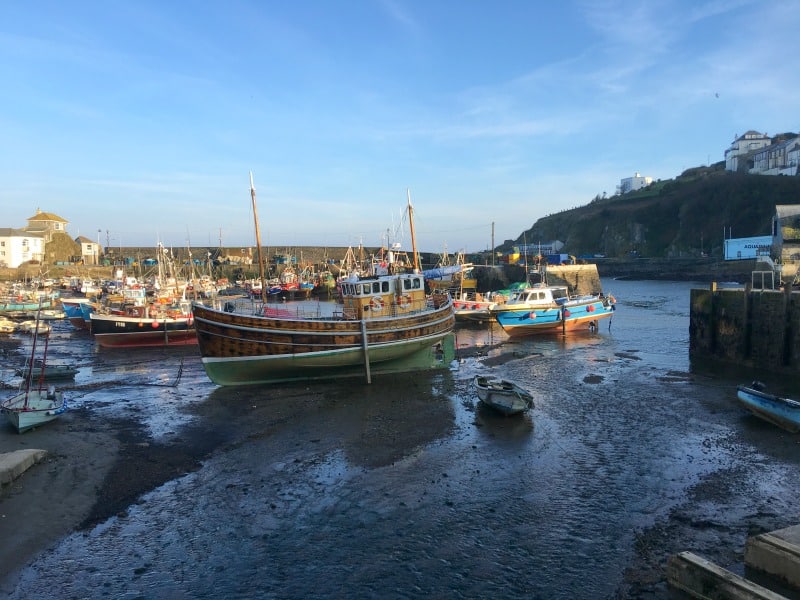 Parking in Mevagissey
Mevagissey is a small traditional fishing village and as it's just a 20 minute drive from The Eden Project it seemed like a great stop off before heading down to Porthleven Holiday Cottages for a few days.  If you want to visit Sharksfin in Mevagissey my second tip is to park your car in the first or second car park  you see and take the short walk through the village to the harbour.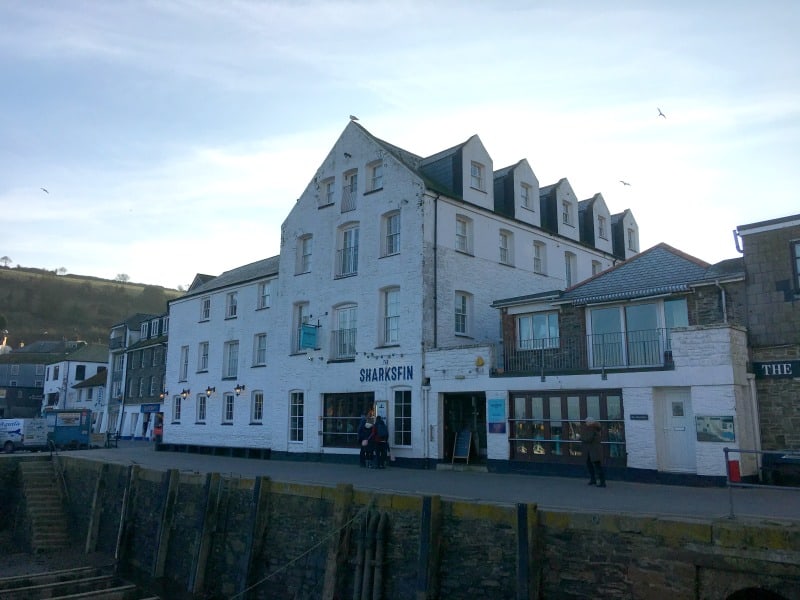 Do not follow the signs to the harbour like we did as you will have to drive around the harbour's edge, which is also pedestrianised.  Also make sure you have some change for the car park as coins will be required.  If you get caught out there is no cash machine in Mevagissey but you can draw money out at the Post Office or many of the bars and restaurants will provide cash back.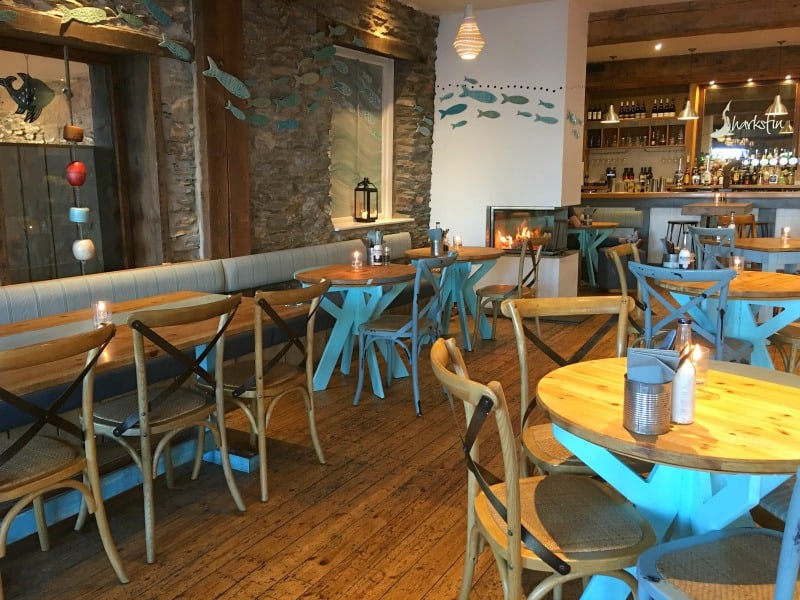 Family Friendly Dining at Sharksfin, Mevagissey
Once we had completed the nail biting drive around the harbour, acquired change and parked up we headed down to Sharksfin for dinner.  A warm and friendly welcome was what was needed and that's exactly what we got as we were shown to our table in the restaurant.  We all began to relax as we soaked up our surroundings.  The harbour looked far less daunting from our window table and the kids enjoyed seeing the tide come in and watching the boats slowly rise in the water.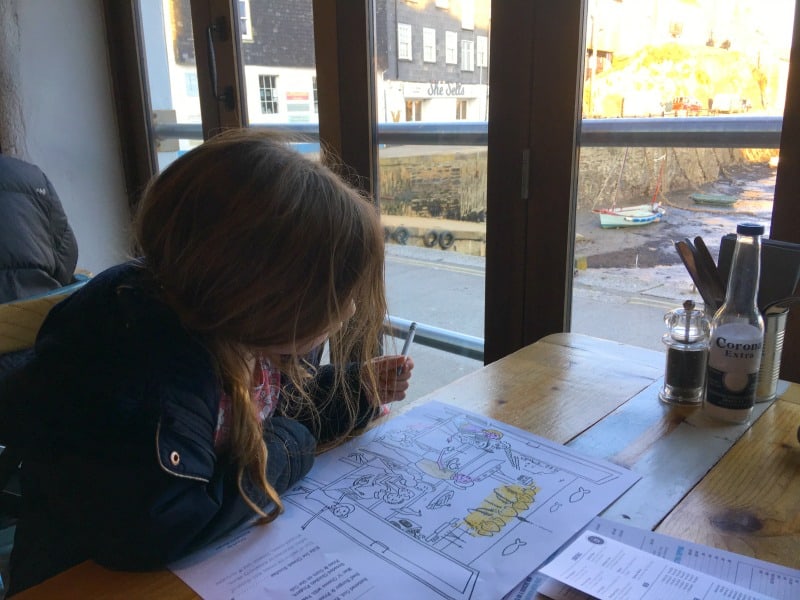 The real fire in the corner gave the bar a cosy feel and overall the decor felt perfect for the location with rustic wooden beams and stone walls throughout.  The girls got stuck into their colouring pages while Daddy and I made some difficult decisions about the menu with a little help from our waiter.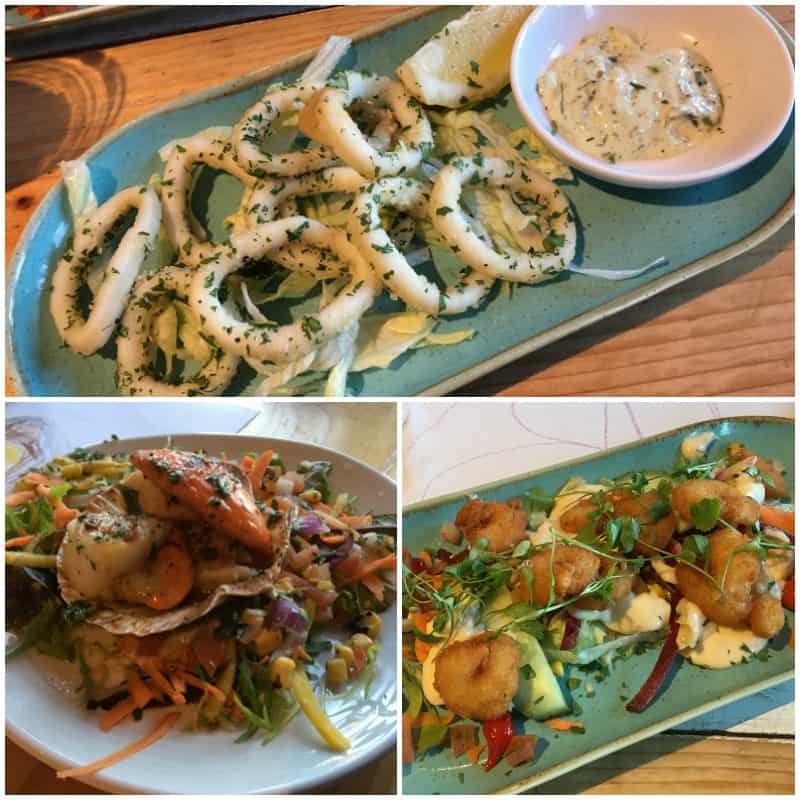 We throughly enjoyed our starters, and picked the scallops, calamari and shrimps to kick off with just incase the girls wanted to try something.  When it comes to sea food it's about quality ingredients being cooked perfectly and Sharksfin ticked both these boxes very well indeed.  We had got off to a very good start indeed, and excitement was rising about the main course.  If I was to make one suggestion I'd love to see Sharksfin add a few starters to the children's menu to align it with the main menu.  It would be great for kids to enjoy three child friendly courses if their parents are wanting the full eating out experience.
The mains followed in a timely manor and on the whole didn't disappoint.  I chose the the pan fried Cornish hake loin with Cornish cider cream sauce after a very strong recommendation from our waiter.  I'm certainly pleased I listened to him as the food was delicious.  The cider sauce was subtle and was expertly complimented by the flavours of samphire and smoked bacon.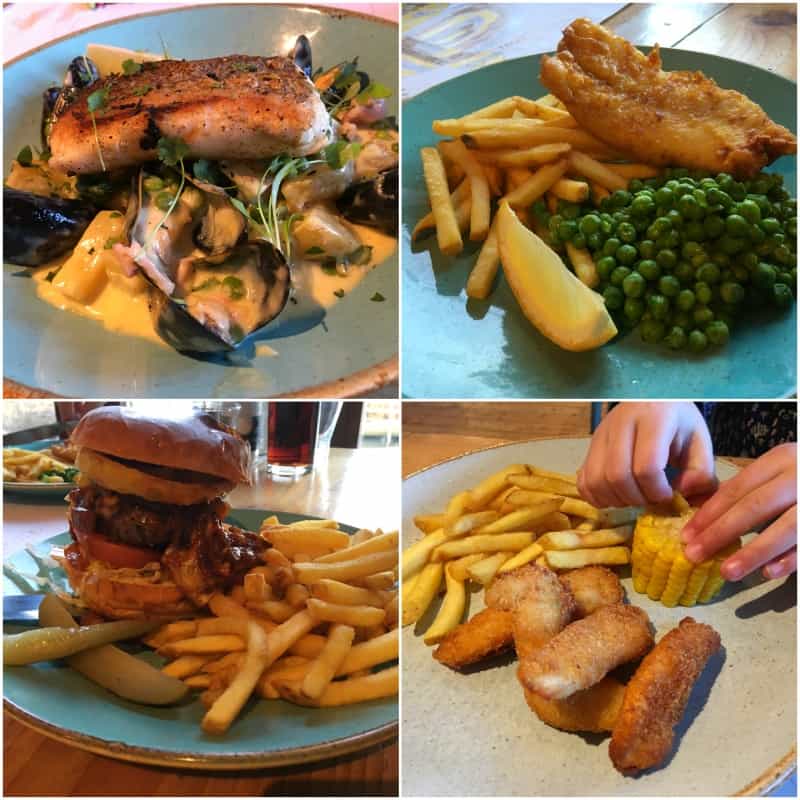 Daddy was presented with the monster of all tower burgers which definitely hit the spot.  The meat was moist and the sauce was uber tasty.  Indie tucked into a good portion of fresh fish and chips and Brook tried the chicken nuggets and chips.  The only plate that wasn't empty at the end was Brook's and I suspect she found the chips a bit on the salty side and the nuggets a bit hard.  Perhaps this is something Sharksfin could keep an eye on for future little guests?
There were happy faces all round when it came to dessert.  The waiter took down exactly how the kids liked to have their ice cream.  I really hadn't realised until now quite how fussy they could be about colour, sauce and extras but our waiter was more than happy to listen to them and make sure their requests were accommodated.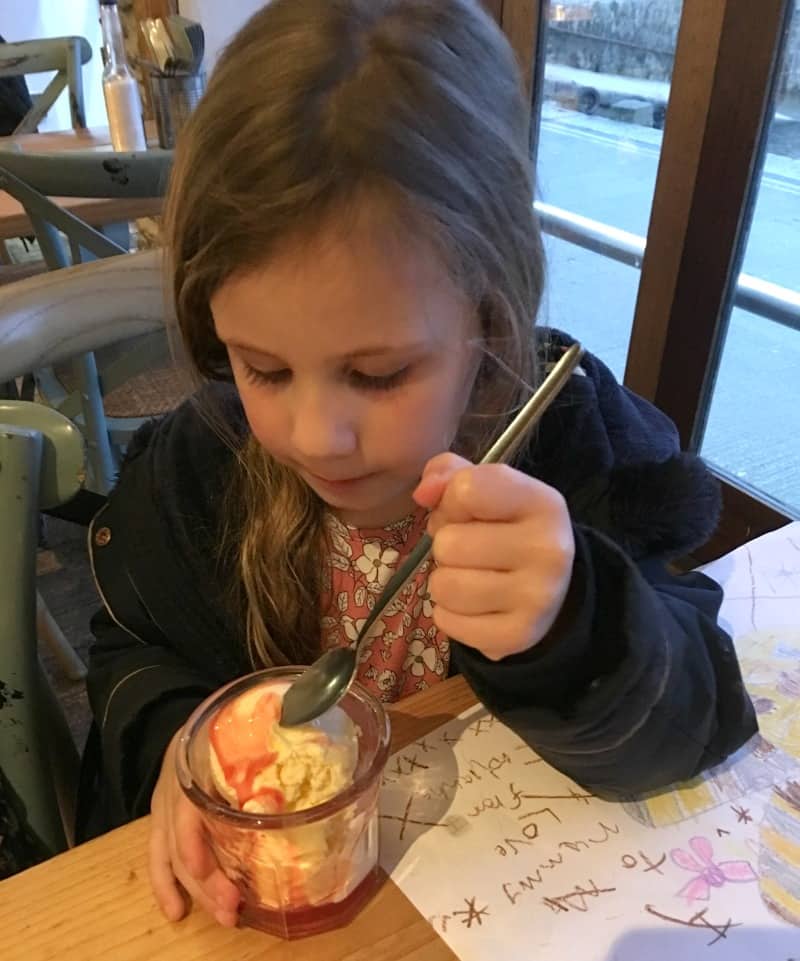 I think the Mevagissey chocolate mud pie with clotted cream and rhubarb crumble with Cornish ice cream speak for themselves here and certainly helped us end our experience at Sharksfin on a high.   We definitely felt refuelled and ready to hit the road again for the next leg of our Cornwall road trip.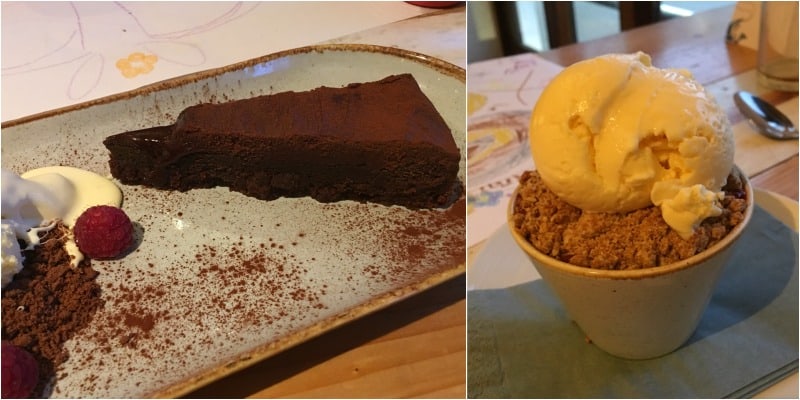 Overall we had a lovely experience at the Sharksfin and generally speaking the food was good, and some of it was certainly excellent.  With a few minor tweaks Sharksfin could definitely provide family diners with an outstanding experience of eating out in an excellent holiday location.  We would happily visit Sharksfin again if we are on holiday in Cornwall as it was a lovely family treat.
Useful Information For Visiting Sharksfin, Mevagissey
Address: Sharksfin, The Quay, Mevagissey, PL26 6QU (Do not use this postcode in your sat nav if you want to avoid driving around the harbour – use the postcode for the carpark below).
Tel: 01726 842969
Email: [email protected]
Dog friendly, children welcome, wheelchair accessible and disabled toilets available.
Postcode & address for coach and car park in Mevagissey: Valley Rd, Mevagissey, St. Austell, Saint Austell PL26 6SB
We were provided with a complimentary family meal at Sharksfin in Mevagissey, Cornwall in exchange for this post but all thoughts and opinions are our own. 
Know someone who would enjoy this post?  Please do share it with your friends and followers, as it would literally make my day.  
For the latest blog posts, offers and giveaways don't forget to subscribe to Zena's Suitcase.  You can also follow the latest updates on Twitter, Facebook, Instagram and Pinterest.