Before our visit to Pirate's Quest in Newquay, I thought I had best prepare the girls for what might lie ahead.  As they are only 3 and 5 years old, they do find some things scary and I didn't want this to spoil their experience of Newquay pirates.
We talked about how pirates who lived in Cornwall wore different clothes and maybe even looked a bit dirty long ago.  Some of the history that surrounds pirates is of course fact, but it was easier to tell the girls that the Pirates Quest experience was pretend, as this was a concept they would understand.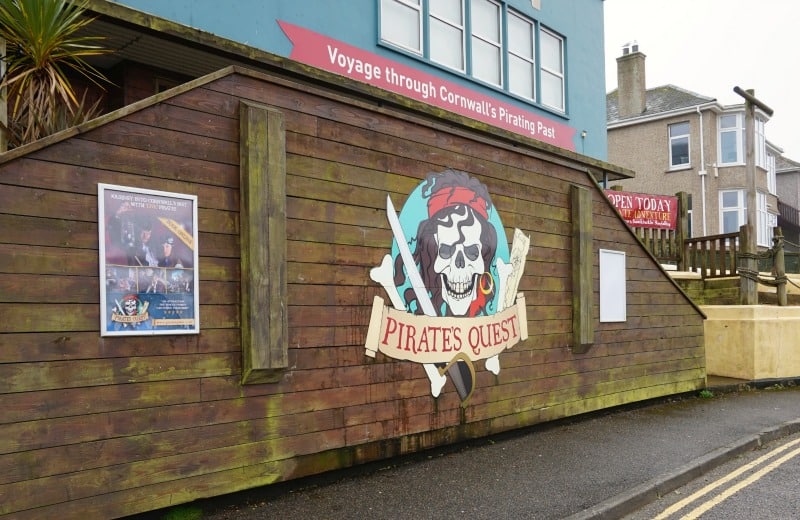 When we arrived for our time slot at Pirate's Quest Newquay we were given a pirate treasure map, and our small group headed inside to begin our own personal pirate quest.  We were played a pirate message explaining some of the ground rules like turn off mobile phones and don't eat food during the tour and reminding us that now was a good time to head to the toilet.  All pretty reasonable stuff to be honest and good tips for making sure you make the most of your time with the pirates in Cornwall.
Then we heard singing coming towards the room, and a real pirate came to join us and we knew are Newquay pirate quest was about to get underway.  He led us through a secret door and told us more about our pirate quest and the puzzles we had to solve.  All the children on this particular pirates quest were very young, and our pirate guides were definitely sensitive to this.  They provided their young audience with just enough pirateness to make the experience authentic, but didn't overdo it to the point that they were scared or nervous.
We learnt about lots of different things about Cornwall pirates history and some other characters that were believed to have lived in Newquay and the surrounding areas back in the old days.  I hadn't realised that giants and fairies played such a big part in Cornish folk lore until our visit to Pirate Quest Newquay.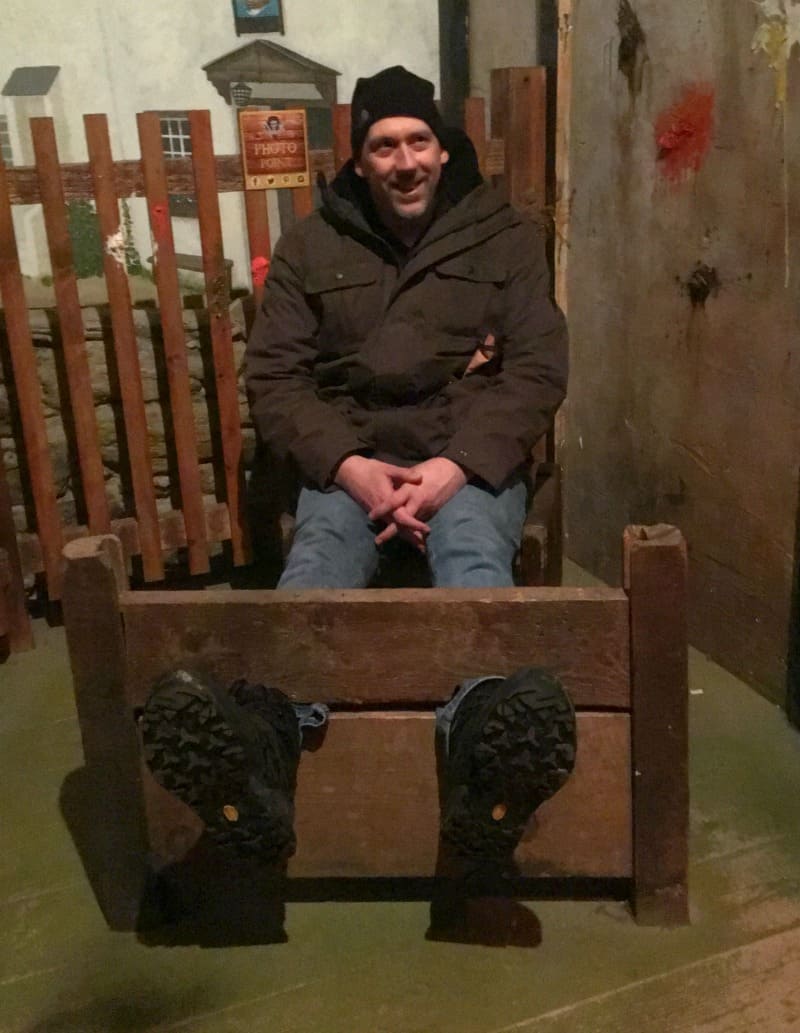 The children were really drawn into the whole pirate experience in Cornwall and as a family we all really enjoyed it.  The girls particularly enjoyed putting Daddy in the stocks during the experience!
There is a part of Pirate's Quest Newquay that is a bit scary for younger children, and the pirate warns you about what you are about to enter into and offers you an alternative route if you would prefer to avoid this part of the experience.
In retrospect I think we should have gone for the less scary option, but the children were so drawn into the story telling that they wanted to continue.  This part of Pirates Quest Cornwall is a little bit scary for young children, as there are lots of jumpy moments and the adventure definitely changes tempo.
Despite this part of the experience, Pirate's Quest makes sure that you end your visit to the pirates of Cornwall on a high and you get to steer the ship and have your picture taken with the pirate.  There's one more chance to pick up clues to help you solve the puzzle on your map and to see a particularly pretty mermaid before your leave the pirate experience.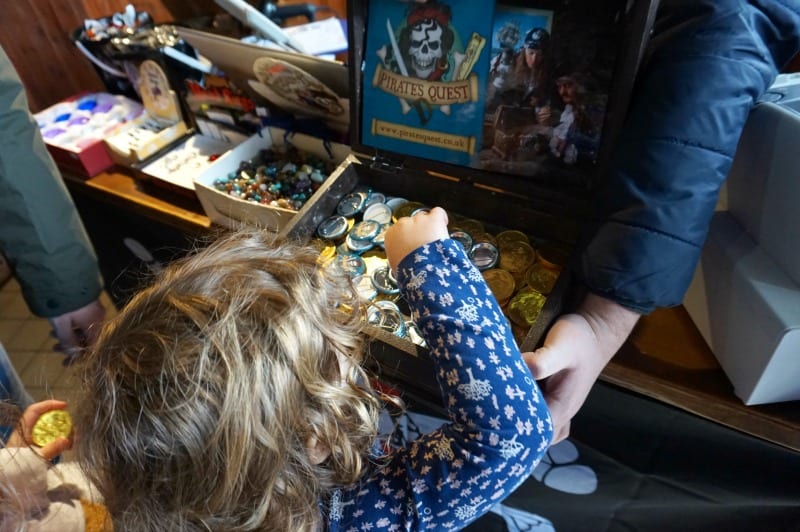 Once we had completed Pirates Quest, the girls got to pop back to the shop and claim their prize from the treasure chest.  They were really pleased with their gold coins and the Pirate Quest badge they were given for completing their adventure.
Despite the scary bit, we really enjoyed Pirates Quest and can certainly recommend the experience if you are looking for things to do in Newquay especially on a rainy day.
Here's a quick summary of what we loved it:
1 hour long
Pay and display car park opposite (does get busy in Summer)
Cornwall Pirates were authentic
Small groups took part in Pirate's Quest
Option for a less scary experience (even though we didn't take it)
Great story telling & funny jokes with great insight in to the Cornwall pirates history
Good activity for rainy days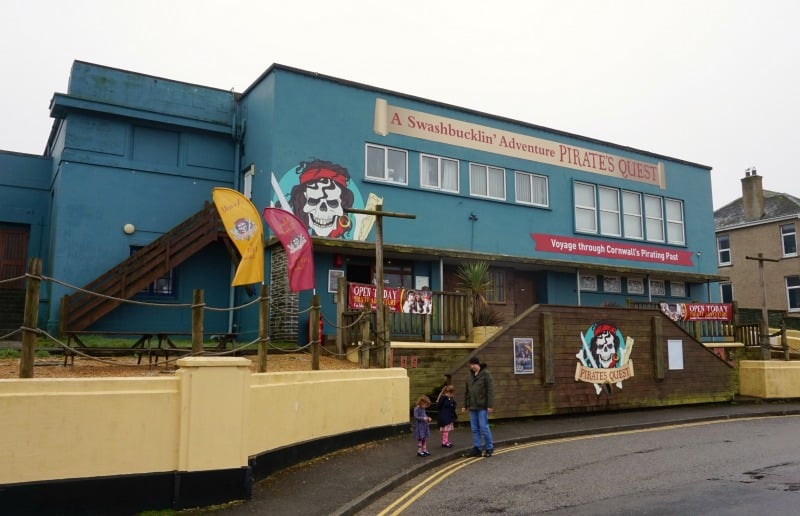 If you would like to book a visit to Pirates Quest, here's some useful information: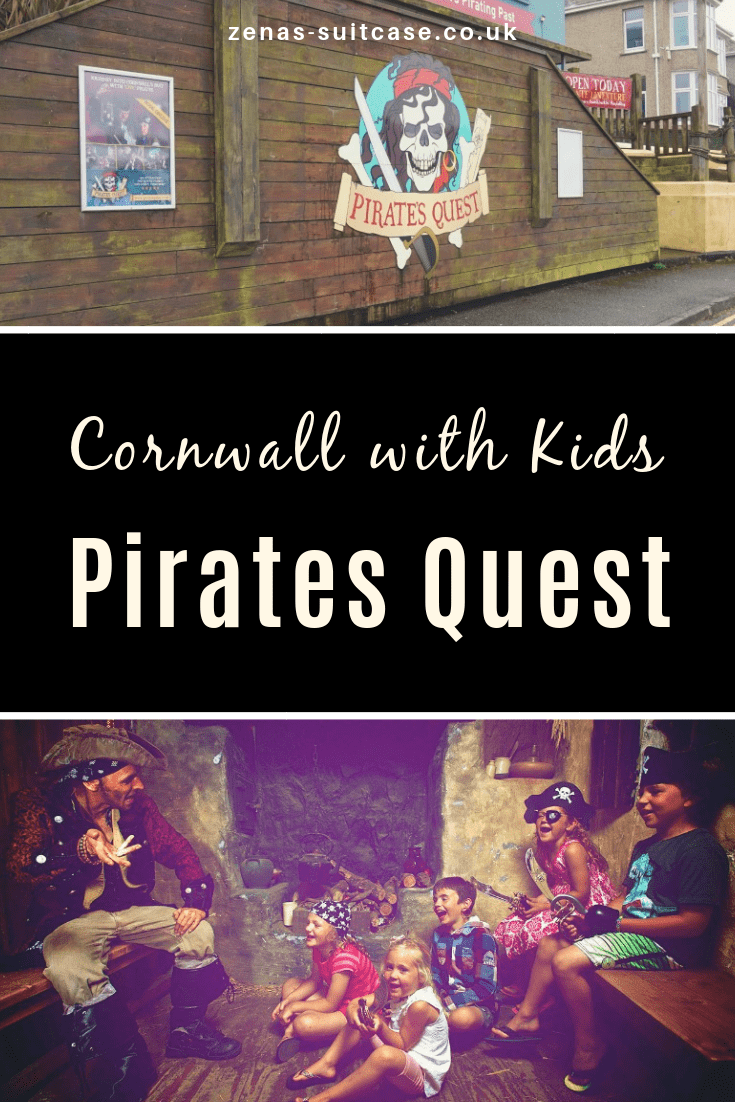 Pirates Quest Address and Postcode
St Michael's Road,
Newquay, Cornwall, TR7 1RA
T. 01637 873379
E. [email protected]
Spending time in Cornwall? You might also enjoy reading our other day out reviews:
Visiting The Eden Project in Cornwall with Kids – Review
Breakfast with the Seals at the Cornish Seal Sanctuary
Why You Should Visit The National Maritime Museum in Falmouth with Kids
Newquay Zoo Review – Family Day Out In Cornwall
You can also follow Pirates Quest on Twitter, Facebook and Instagram for regular updates and offers.
We were invited to Newquay Pirate Quest in exchange for providing this review, but all thoughts and opinions are our own.