This post was written in collaboration with the Trainline App
My son has been at university for a year now, but we still aren't entirely used to him living away from home.  When he first left, I tried to prepare him with the life skills that he would need to manage from day to day.  I think all parents with a student going to university will be talking to their son or daughter about doing a weekly shop and making student friendly meals, but are you also talking to them about student travel and how to get cheap train tickets?  If this hasn't crossed your mind yet, this post is going to really help you out.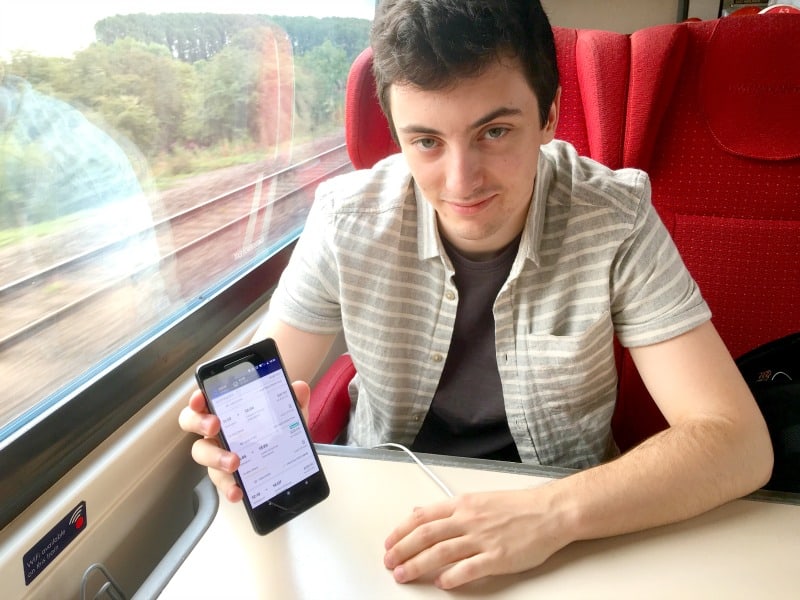 Student Travel
My son is going to be travelling by train and coach more and more while he's a student.  He visits his girlfriend and friends at other university's and of course he travels home a few times a year.  He will also need to start planning to buy train tickets to job interviews and recruitment days which will probably mean needing to find cheap trains to London. To be honest he's not caught many trains to london and going there still makes him feel a bit nervous.  He's not very confident about using the London Underground and it's a city that still overwhelms him, and I wanted to change this.  
I'm also very aware that children don't always listen to their parents when they try and explain things like how to buy very cheap train tickets or how easy it is to get around London once you get used to it.  Instead of trying to talk to him about saving money by buying advanced train tickets with Trainline app, showing him how it worked with a day to trip to London was hopefully going to be far more effective.    
We Bought Cheap Train Tickets To London with Trainline App
Trains to London from Nottingham are super quick these days and run really frequently so planning a visit with my son was easy to do.  We used the Price Prediction in Trainline's app to work out the best day to travel based on when we found cheap trains to London.  Not only could we easily see the best time to book advance train tickets but it was also really easy to add his 16-25 railcard discount for maximum money saving! At this point my son downloaded the Trainline app which is available for free from Google Play or the App Store, so the message was definitely getting through!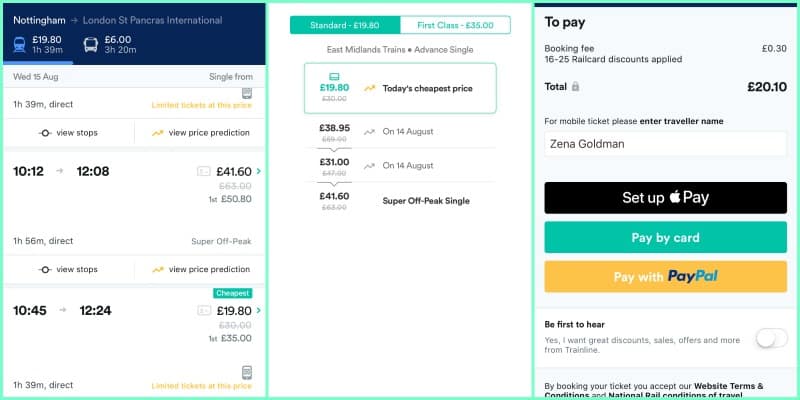 The Trainline's in-app Price Prediction tool is going to be the most help to my son when it comes to planning to buy his student train tickets.  The Price Prediction in Trainline's app was brilliant for showing him how to book very cheap train tickets online.  He could clearly see when to buy the cheap rail tickets and how long he had left to buy the tickets at the best price.  This is going to have a huge impact on how he plans his student travel and how he can save money while at university. 
Visiting The Science Museum
We agreed we would spend our day in London visiting the Science Museum, which was perfect for my son as he is a bit of a geek.  We had been to London as a family recently and there were a few exhibits there I knew my son would like.  The train journey was a good chance for us to catch up as well.  My son spends a lot of time on his computer or at his girlfriends when he's at home, so the train was a good place for us to chat without the usual distractions.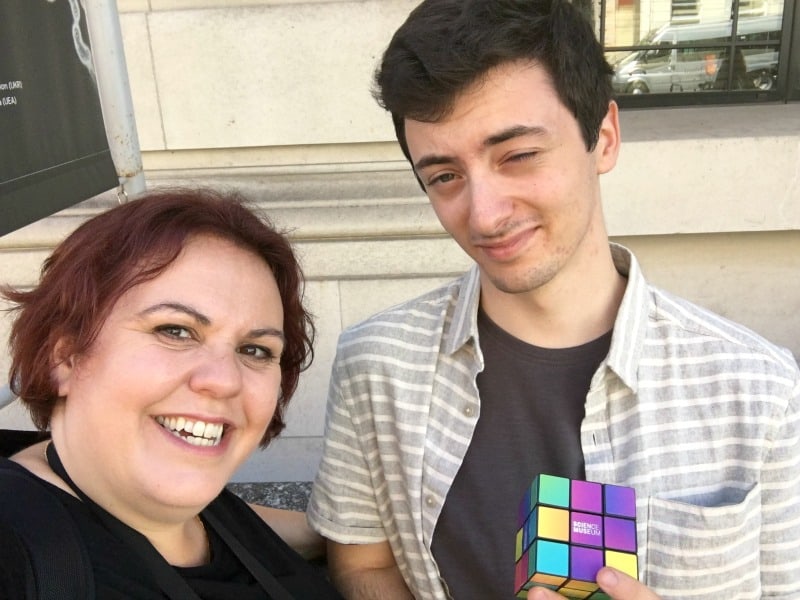 Catching the tube from London St Pancras / Kings Cross to the Science Museum was hassle free too, and a good route to show my son that as long as you know the line you are travelling on and the direction you are going, not a lot can go wrong on the London Underground.  We jumped on the Piccadilly Line to South Kensington station and arrived at the Science Museum by lunch time.  The Science Museum is huge and it kept us busy for most of the day.  We really enjoyed the Red Arrows flight simulation experience and the Tim Peake Virtual Reality Space Descent.   We also had a proper giggle seeing how technology had changed over the years with some of the first computers and games consoles they have displayed in their technology exhibits.  They look really different to the Google Pixel and PC my son uses today. 
Check out the highlights from our visit to London here:

Exploring London
I wanted to show my son some more of the city to help him feel more confident about catching the train to London by himself.  I used to travel to London a lot when I was young as it was just a short train journey away from the area where I grew up.  I used to hang out in Covent Garden, Leicester Square and Piccadilly Circus all the time when I was a teenager and I know now that it was these frequent trips to London that helped me feel confident about travelling to the capital as an adult.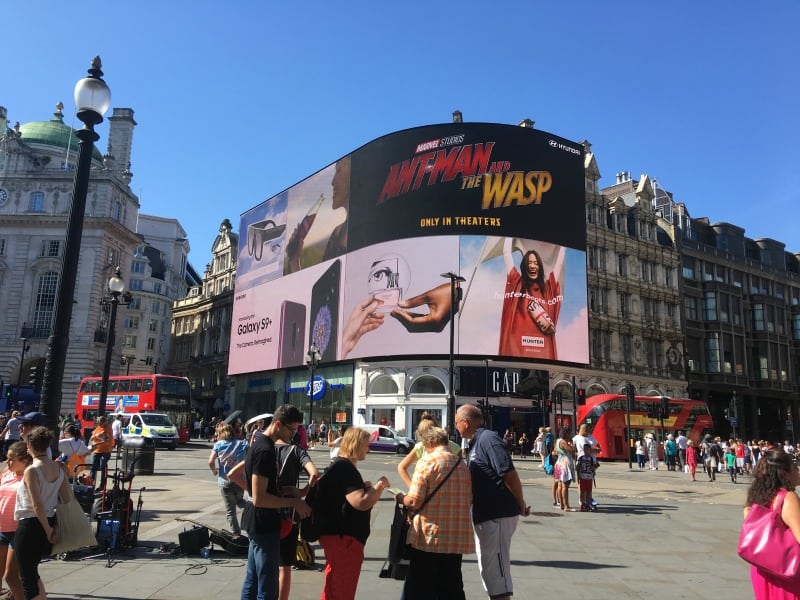 We started at Leicester Square hoping to pop into the Lego Store, but quickly reevaluated our plans when we saw the queue outside the shop.  We soaked up the atmosphere of people enjoying the street dancers and the buzz of theatre land instead as we headed to Covent Garden.  This is an area of London where the pace is a little slower as tourists are exploring the boutique shops or watching the entertainers in the square.  We managed to see a tight rope act outside the Punch & Judy pub and those living statues you see a lot in cities these days.  Even on a day trip to London, you can always add some variety to your visit.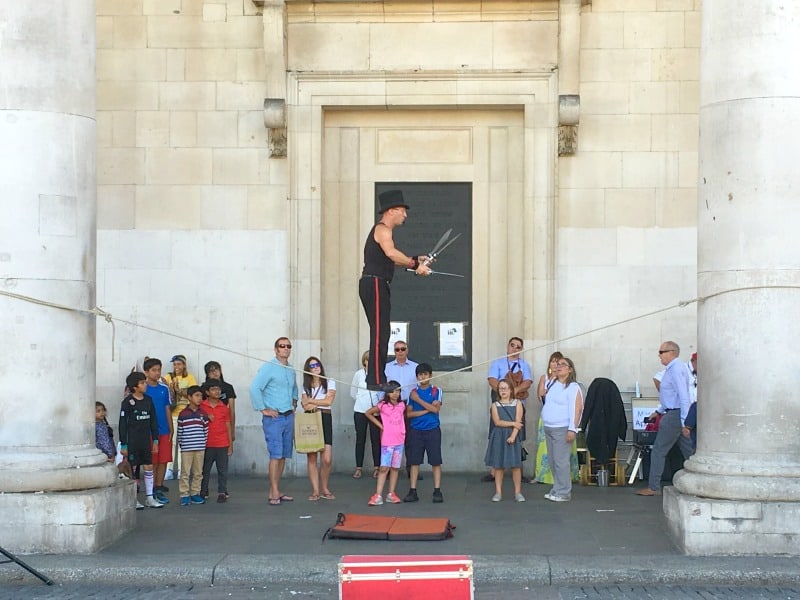 Tired, but happy from our day out in  London together I took my son to this little Italian restaurant opposite the British Museum for dinner.  He loves pasta so this was the perfect choice and it also gave him a few more ideas of places to go when he's next in the city.  Everything looked on time for our train to Nottingham with the departure information on the Trainline app so we walked back to London St Pancras in the sunshine.  As we walked through Russel Square, my son actually said 'London isn't that bad after all', which I thought was a real break through. I think he'd picked up a few misconceptions about visiting the capital and we managed to dispel many of the them including that train travel to London doesn't have to be expensive. 
Things we Loved About Buying Advance Train Tickets with Trainline App
On the train to Nottingham we discussed how awesome this free travel app was going to be for buying student train tickets.  We added the train journeys that he would be using to his favourites, and used the Price Prediction in Trainline's app to compare train tickets. There were even savings to be made on buying last minute train tickets with the Trainline app.  We were also impressed to see that you can use the Trainline app for buying cheap coach tickets and for travelling in Europe. 
It's safe to say that we all start to panic a little if we are in a rush to get to the station or we don't have long to catch a connecting train on a long distance journey. My son has to buy train tickets to Scotland and this always means at least two changes along the route.  The live updates and departure information for times and platforms will help no end with his train travel from now on when it comes to making his connections on time.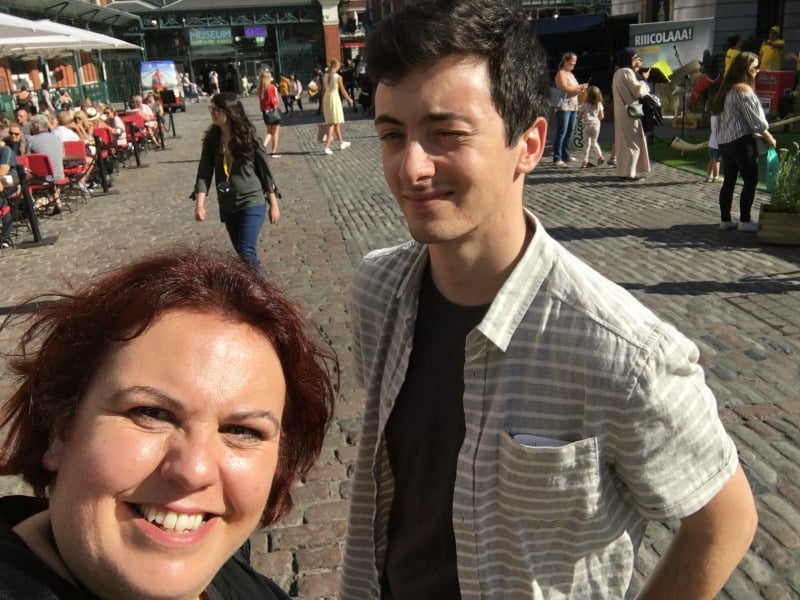 Being able to use his 16-25 railcard discount was a huge bonus as well, and it was really easy to add to buying the train tickets.  All we needed to do was show his 16-25 railcard to the conductor with his train tickets to confirm the discount.  Seeing as he had his student railcard on his phone, as well as the mobile tickets feature the chances of him losing his train tickets are pretty slim too!  There's also three different payment options on the Trainline app, which is really convenient.  My son and I use PayPal a lot to buy train travel, but you can also pay by card or set up Apple Pay which I know a lot of people love to use.  
It's safe to say that not only did we manage to get cheap train tickets to London with Trainline app but we also had a lot of fun.  It was also great to see my son realise that there are some great ways to save money on student travel when you have the right travel apps.  The whole day taught him a lot about how he can buy advanced train tickets with the Trainline's in-app Price Prediction tool and save money while at university. 
Want to get started with buying cheap train tickets with the Trainline app? You can download the free travel app from here.