Hello readers!  Thanks so much for stopping by today.  I recently had the opportunity to introduce the girls to the Sylvanian Families collection, and I was really excited to see what they thought.  Sylvanian Families is a toy that's been around since 1985, so it's a brand I remember from my own childhood.  Sadly, I didn't own my own set but I definitely wanted to!  Being able to review the Delicious Restaurant and the Maple Cat Family definitely ticked a box for me, as well as my daughters.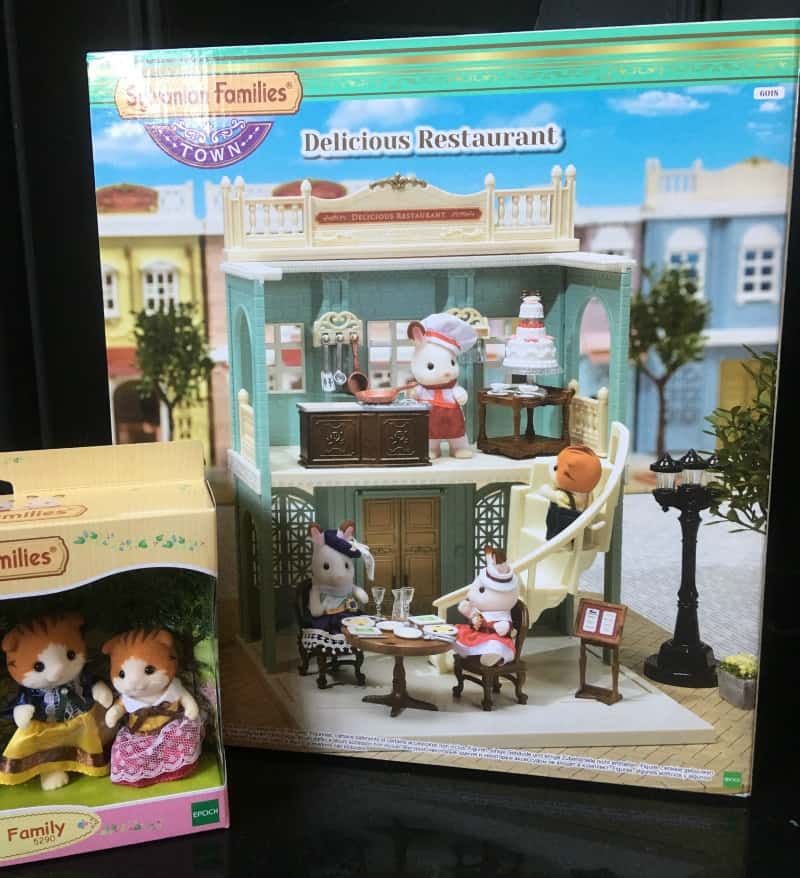 When the box arrived, I decided to set it up before the girls got home from school and nursery.  I justified my decision by thinking it would be better that they didn't have to wait for it come out of the box, but really I wanted the chance to take an uninterrupted look at the new toy that had arrived in the house that day.  I was sure that once they saw it, I probably wouldn't get a look in.
The great thing about Sylvanian Families is that it doesn't take long to put a toy like the Delicious Restaurant together.  There were just a few stickers to add and a some pieces to put in place to complete the Parisian style building.  The small details like the cups and saucers needed removing from their packaging but once that is done, they are ready for some lovely imaginative play.  There are no batteries required with this toy which I absolutely love, so once it's out of the box it's ready to go.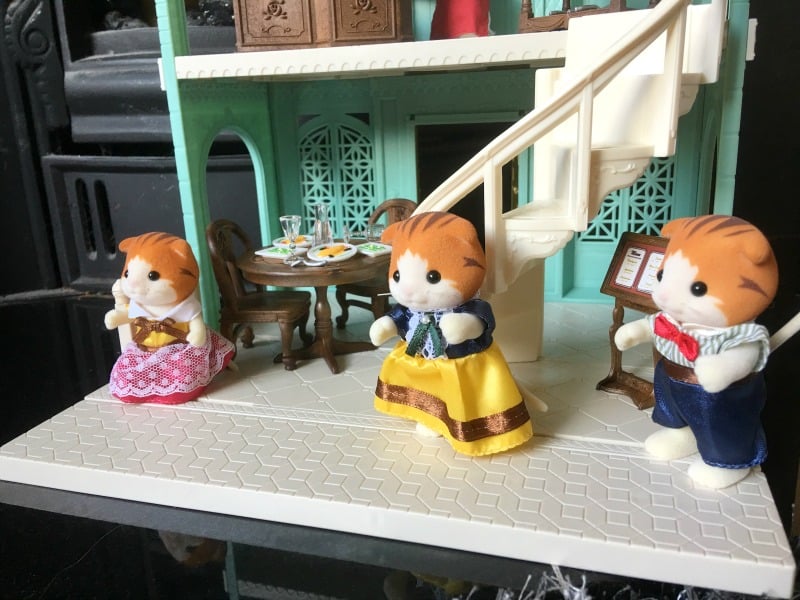 The Maple Cat Family do not require any set up at all and come already dressed in their gorgeous little outfits. You can change their clothes, and unlike some other toys, the girls found it really easy to get them dressed and undressed again.  This was a great help as the Delicious Restaurant comes with a chef outfit to help complete the setting.  Both the girls fell in love with the Maple Cat family on site.  Their cute features, soft fur and outfits definitely won them over.
There were a few things we all loved about the Delicious Restaurant.  The building itself has so much character, and there's a few ways to play with it as you can move the furniture and building around depending on how you want to play with it.  The attention to detail is excellent and the set comes with a stove, a dining table, menu stand and a trolley.
To take the play opportunities to the next level, there is even more detail with a full table setting including knives, forks and spoons, meals, glasses and even a decanter.  For the kitchen there are pots, pans and cooking utensils making for a very realistic play setting.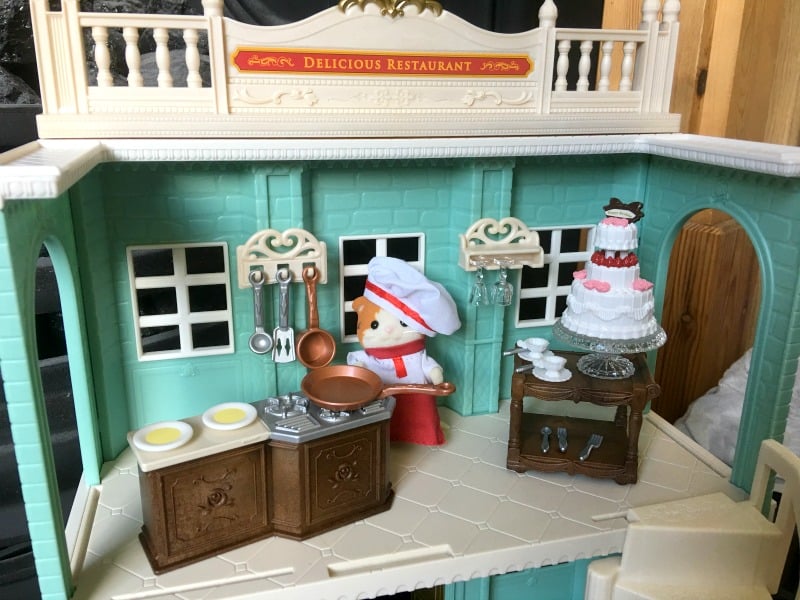 To help promote the idea of family gatherings and special occasions there is even a birthday cake to be served for dessert along side the cups and saucers.  Doesn't this sound like one of the best restaurants you've ever visited?
When the girls arrived home from school they immediately clocked the Sylvanian Families Delicious Restaurant and Maple Cat Family set up in the living room.  The dived straight in and started playing with it, and didn't ask for any tablet time or any other toys that night.  In fact getting them to part with it to go to bed was more of a struggle than getting them to switch off their tablets, but in a good way!
Their new Sylvanian Families play sets have been a part of their play routine ever since, and they want to take the Maple Cat family everywhere with them.  They even joined us on our recent glamping trip to Lincolnshire. I can genuinely say we are very impressed with Sylvanian Families, and can see us adding more sets from the Town Series to our collection.
The Sylvanian Families Delicious Restaurant set is available from Smyths Toys currently priced £39.99.
The Sylvanian Families Maple Cat Family is available from Argos priced £18.99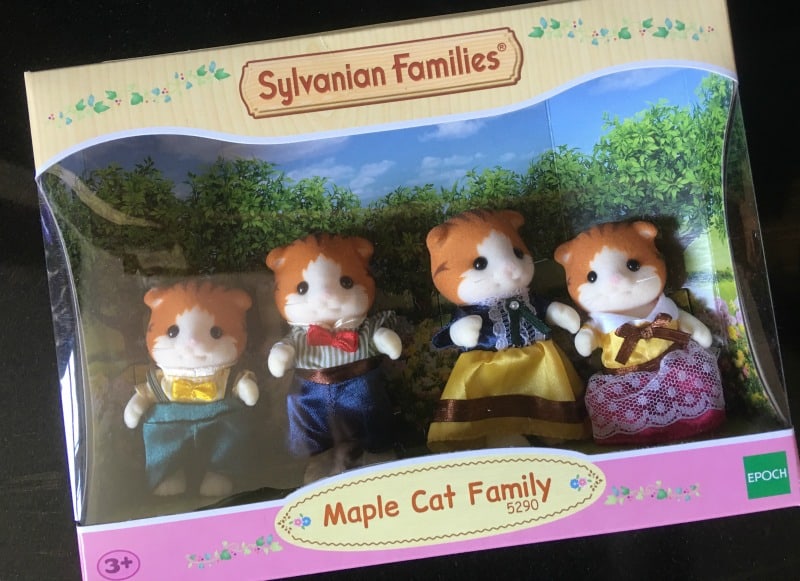 Feeling lucky? Check out my other giveaways here.
Know someone who would enjoy this post?  Please do share it with your friends and followers, as it would literally make my day.  
For the latest blog posts, offers and giveaways don't forget to subscribe to Zena's Suitcase.  You can also follow the latest updates on Twitter, Facebook, Instagram and Pinterest.