One of the jobs on our list of things to do this year is buy a new family SUV.  Being a blogger I often get invited to review new cars, and when we were asked to review the Vauxhall Grandland X it could not have been better timed.
With my eldest son heading back to university and the summer holidays in full swing it was a great time to put the Vauxhall Grandland X to the test.  The first job was to get the car packed up with all my son's worldly goods and get him back to his student house.
If you have ever seen how much stuff a student has, you will know that the boot size on a car is very important.  The items that take up the most room are his suitcases and desktop computer.  As well as these bulky items there is also all his kitchen equipment and student books.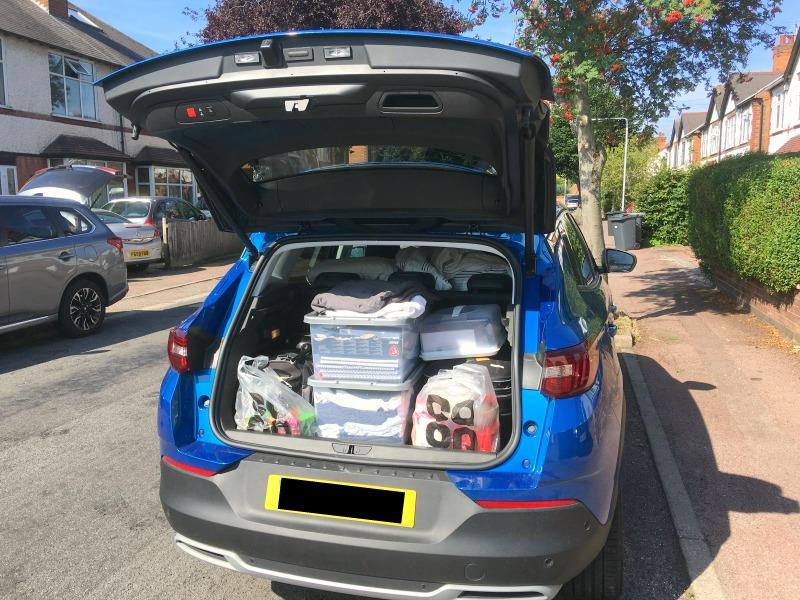 When the day came to drive him back to university we didn't have any trouble at all getting all his equipment into the Vauxhall Grandland X.  When we were loading it up it struck me that this family SUV would be perfect for long road trips or camping holidays.  The boot size on this SUV is incredibly generous and would absolutely meet the needs of even the busiest family.
Vauxhall Grandland X Family SUV Car Review
The drive to university was incredible smooth.  I thought it was a great driving position in this Vauxhall SUV.  It was also incredibly manoeuvrable which I was impressed with given it's quite a big car.  Getting into parking spaces or reversing was relatively straightforward given the great power steering and reverse cameras.
The Vauxhall Grandland X handles long distance driving with ease, and I loved driving it on my 4 hour round trip to drop off my son.  It cruises on the motorway perfectly and there are some really useful features on this SUV for long distance driving.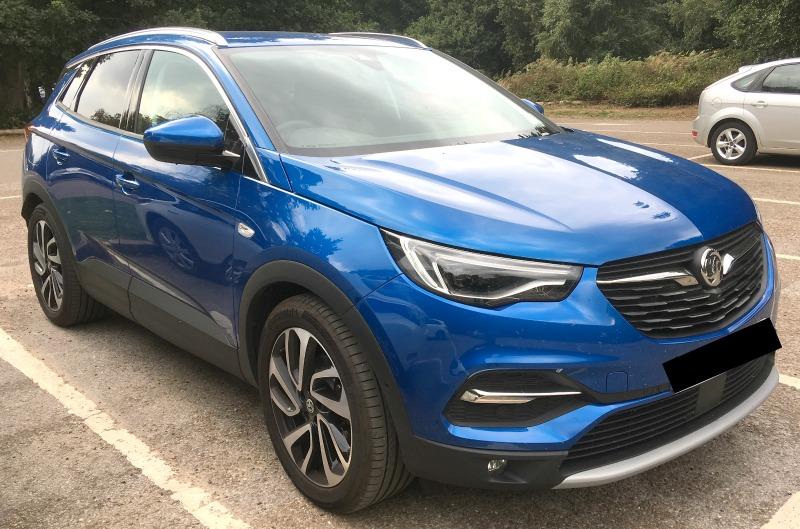 Car Features
In both wing mirrors there is a black spot warning light that alerts you to the fact that there is a car approaching that you might not be aware of.  A small orange light appears in the corner of the wing mirror if a car is in your black spot.  As a safety feature I found this really helpful and allowed me to keep my eyes on the road ahead until the car had passed.
The other safety feature on the SUV that really helped improve my driving was the lane departure warning system. I have a tendency to drive over to the right side of the lane and it's something I have to keep in check, especially on motorways.
The lane departure warning system made it really easy for me to stay in the correct position for the lane.  If I was not indicating to change lane, and the car was heading to far to the right, the lane warning system would come on.  A light would appear in the dashboard and the steering wheel would gently try and correct my position.  It felt a little strange at first but once I was used to it I really felt it helped to improve my motorway driving.
The intelligent dashboard was also incredibly helpful in the Vauxhall Grandland X.  If you are someone who likes to make sure they are driving efficiently, this Vauxhall SUV could be for you.  The dashboard shows the current speed limit, MPG and the number of miles left before you need to refuel.
This information is helpful for driving in the most efficient gear and planning when you need to call into a petrol station.  I found it helped me make small adjustments to my driving to ensure I was able to get the most miles per gallon from the car.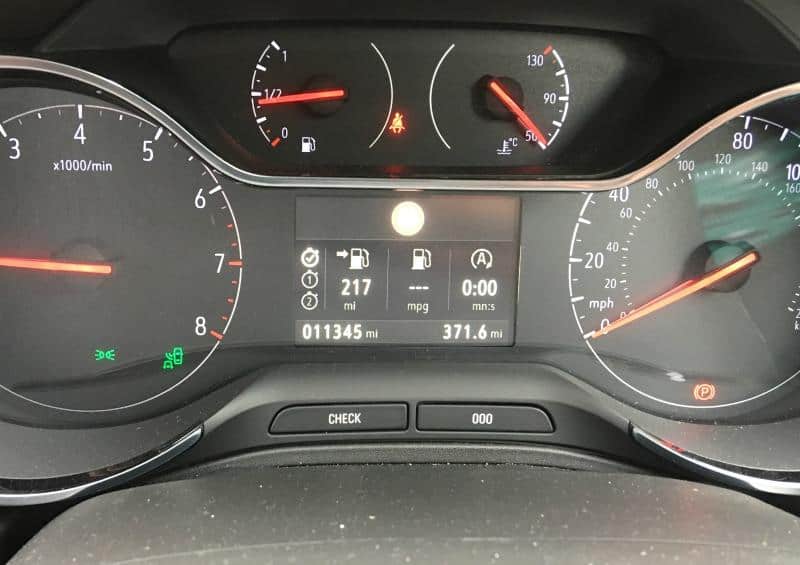 Once my son was safely deposited back at uni, it was time to test the Vauxhall Grandland X with the younger kids.  We decided to squeeze in one more day out before going back to school.  I put their bikes and scooters in the back of the car and we went to Clumber Park in Nottinghamshire for the day.
Vauxhall OnStar Features
As you are probably aware by now, driving with the girls in the car by myself can make me nervous.  When they are entertained it's OK, but if they are not they can become quite disruptive.  No matter how far we are driving we give them their tablets now.  We may not always have time to download new shows for them to watch, but that isn't a problem with the Vauxhall OnStar wifi system.
With the help of the My Vauxhall app on my phone that stores the passwords and other helpful features, the wifi system has the capacity to link to up to 7 devices.  I think this is the maximum number of people you would fit in the SUV so that's great to be honest.
Before we set off to Clumber Park I connected both the girls tablets to the wifi as well as my own phone. For the whole trip they could access all the games, apps and shows they wanted with the tablets and we experienced a safe and harmonious drive to north Nottinghamshire.  If we were going further afield with the girls or driving to Europe for example this feature would really help us out.  Given there is also USB connection for charging devices in the Vauxhall Grandland X, long car journeys would be a breeze.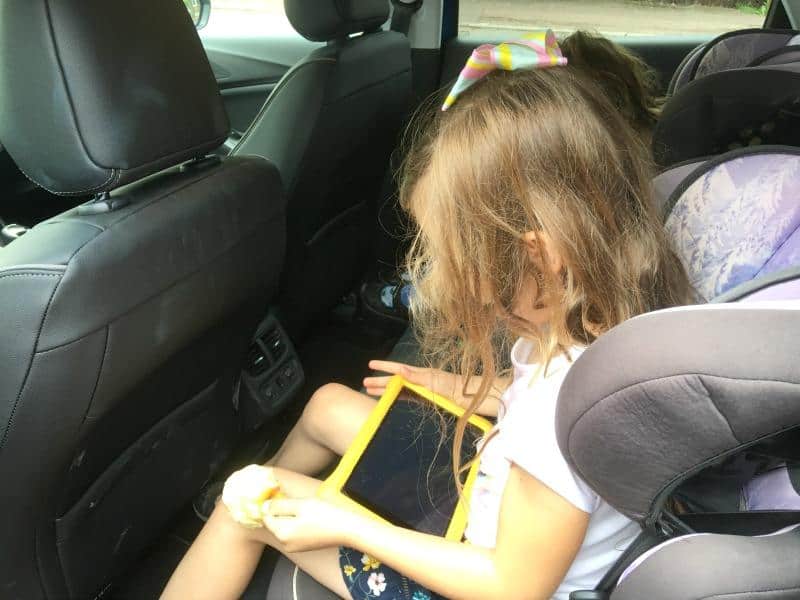 The other thing we loved about the Vauxhall Grandland X was how much space we had.  The girls were really comfortable in the back seat with lots of leg room.  The seats in the front were great for a good comfortable driving position too.  With the colder weather heading our way it was also good to see heated front seats and a heated windshield on this SUV.
Room For Improvement?
There were a few things with the Vauxhall Grandland X that I didn't like so much.  The acceleration speed from a  standing start on this model was a bit slow.  The engine capacity of the model I was test driving was 1199cc which is probably why.  Once it was at cruising speed it was fine, but getting off the mark needs some improvement especially for when faced with busy roundabouts.
The parking break was also something I think I need to spend more time with to get used to.  New cars seem to favour having the small switch parking break regardless of whether they are manual or automatic.  I just didn't feel this parking brake gave me the same level of control, especially for hill starts, as I was used to.  It's probably just a question of getting used to the different type of handbrake but it might be something you want to bear in mind if you decide to test drive the Vauxhall Grandland X.
How Much Does The Grandland X Cost
That being said though, given the on the road price of the Grandland X Elite Nav 1.2 130PS Turbo S/S is £28,340.00 I genuinely think you get a lot of car for your money.  There were some great features on this model that I loved and it's the perfect SUV if you need a lot of space in your car to fit with a busy family  lifestyle.
We were provided with the Vauxhall Grandland X for the purposes of this review but all thoughts are my own.