This post may contain compensated links
When you are going skiing with the family, finding a good budget holiday can be a challenge.  I'm sure lots of you will argue that there is no such thing as a cheap family ski holiday, but there are definitely ways to stop costs escalating out of control.  These top tips for planning family ski holidays on a budget will help you save £££s on the slopes and leave you with money in the bank for your next trip.
Top Tips for Planning Family Ski Holidays on a Budget
Pick a Budget Ski Location
You can save a lot of money on your ski holiday by being savvy about picking a less popular ski resort or location.  Whilst some expert skiers will swear by going to places like Chamonix in France or Verbier in Switzerland for skiing or snowboarding, you can have just as much fun in some of the lesser known resorts.  Picking a ski resort that is less fashionable will help to keep your holiday budget under control too.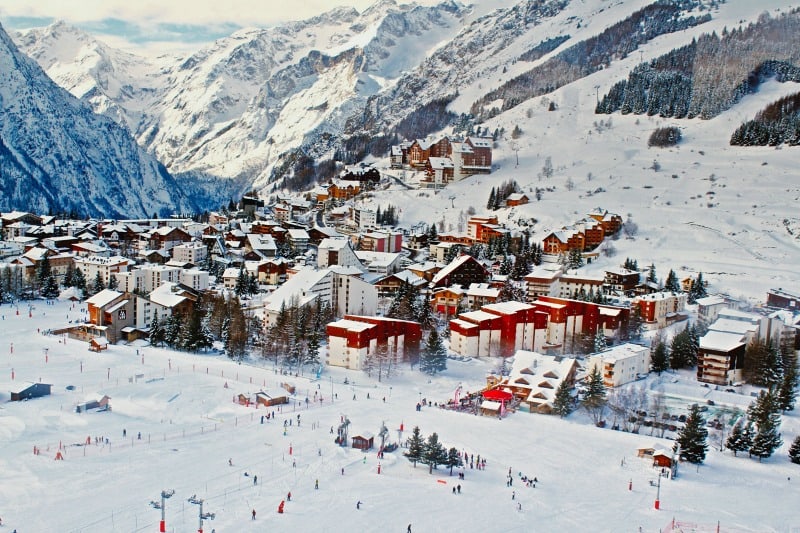 By booking your ski holiday in places like Kranjska Gora in Slovenia, Bansko in Bulgaria and Livigno or Sestriere in Italy you are guaranteed to keep the costs down even in the school holidays. The ski holiday itself should come in cheaper, but so should the extras so it's savings all round.
Booking Flights
One of the first questions is should you book your own flights for a ski holiday.  This will very much depend on what type of ski holiday you decide to take.  If you know your preferred family ski holiday is to stay in a chalet, then look for trips that include flights.  There is very little to be gained by booking your flights separately.
If you are considering a self catering ski holiday, then it's very likely that you will be booking your own flights, if you decide to fly that is.  Book your flights as early as possible, especially if you are planning on travelling in peak weeks like February half term.  Turn on your flight tracking notifications for the best deals or consider not flying at all, but more on that later.  When it comes to flights for a ski holiday or booking your chalet, you really want to consider planning your trip at least a year in advance to secure the best prices.
Consider a Self Drive Ski Holiday
In school holidays and peak times, the cost of the flights can really push the cost of your ski holiday up.  If you are fortunate enough to live in the South East of England it is feasible to drive to the French Alps in 12 hours.  If your children are well versed in road trips, and you are confident driving in Europe this can be a real money saver for dedicated skiers.
Book as a Group
The most cost effective way to book a family ski holiday is to book as a large group.  This could mean going with another family or going on a multigenerational ski holiday, which are very popular.  If there are more than 6 of you planning on going skiing, talk to your ski holiday company about their group discounts.  Large family ski holidays like this need to be planned well in advanced to make the most savings, as large holiday accommodation can get booked up quickly.
Take Advantage of Ski Holiday Offers
The good news about family ski holidays is there are lots of ski deals out there if you look for them.  The offers that will save you the most money are discounted or free ski passes for your trip.  Also, you will find lots of ski holidays where kids places are free or significantly reduced.  When it comes to booking your ski holiday, savings like this can make skiing a much more affordable holiday all round.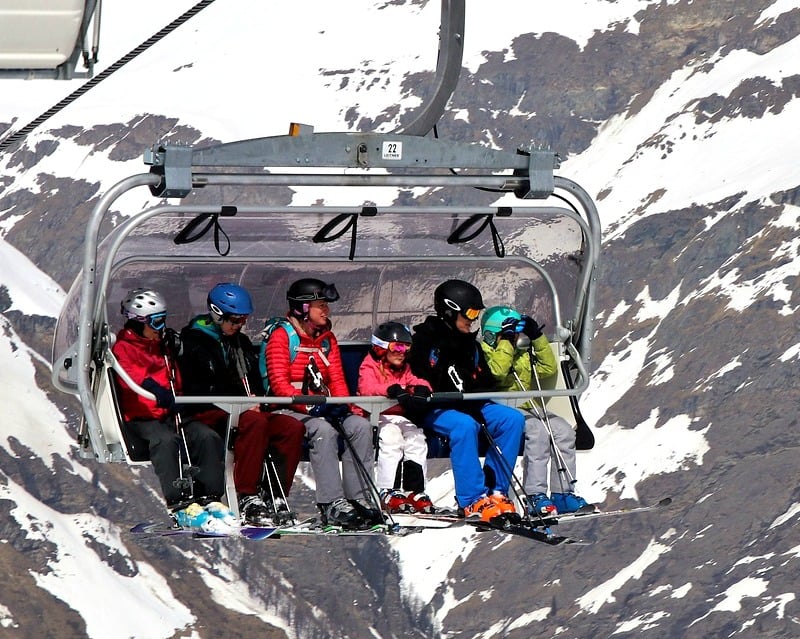 When to go Skiing
Considering when to go skiing is something that families don't have a great deal of flexibility with given the constraints of the school holidays.  New Year and February half term certainly see the biggest price hikes for family ski holidays.  You might want to consider taking your ski trip during Easter, but be sure to check the weather and look for high altitude resorts where being able to ski is more likely.
If your child has started school, but hasn't turned 5 years old before you take your ski holiday, then it's worth noting that children are not legally required to be at school until their 5th birthday.  If you want to take advantage of the off peak prices, then you can always consider taking your child out of school.  If the money you would save on the family ski holiday far outweighs the fine you could receive from the school, it could be a risk you are prepared to take.
I love Nell's advice, who writes Pigeon Pair and Me blog, 'Go later on in the season. You can usually find cheaper deals at the end of March or at the beginning of April. It's warmer then, but you can just ski in the morning before the slopes go slushy. Your kids won't want to be out all day when they're little. And then afternoons can be spent in the resort pool, snowshoeing or enjoying a hot chocolate in a nice cafe.' 
Self Catering Ski Holidays
If you thought a ski chalet or hotel was your only option for your ski holiday, you might be pleased to here that there are more options than ever when it comes to self catering apartments in ski resorts.  If you are a family who like to set their own routine, this can work really well.  If a few families go together you can share the cooking and chores so that you still feel like you are getting a break.
If you choose a self catering ski holiday, it's a good idea to stock up with your food and drink at a supermarket well before you reach your destination, as prices will increase when you are in the resort.
If self catering is a feasible option for your family ski holiday, work out all your costs before you book.  Take into account your ski passes, flights or travel costs and food for the week and do a realistic comparison with the other types of ski holidays available for the same week.  If you can make big savings, then self catering can make a huge difference to your budget.
Susanna from A Modern Mother thinks self catering ski holidays are the way forward, and offers this advice, 'Self catering is an excellent way to keep skiing holidays affordable. You can eat a few special meals "out" but then have breakfasts and most dinners at home. Pick meals that are easy and you just need to assemble the ingredients – like charcuterie, cheeses, breads, salads, packaged fondue, etc or super easy family meals like pasta.'
Ski Equipment
It might be your first time skiing or you might just need some new ski gear.  Which ever it is, there are lots of ways to keep the costs down before your trip.  The first, and hopefully most obvious option is ask friends and family if you can borrow their ski gear.  This is such a sensible option if you are skiing with kids, as they grow out of things so quick, and especially if it's their first trip.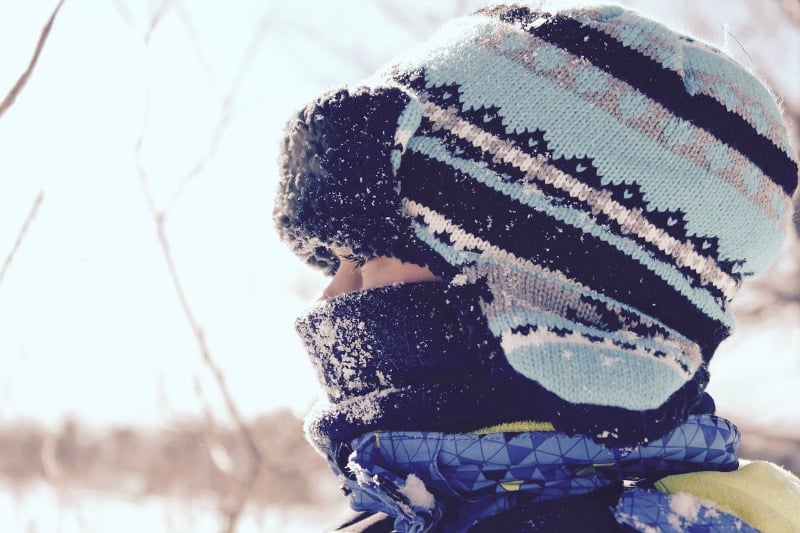 If you have to buy new ski gear, the best places to look for budget ski jackets and trousers is places like TK Maxx or even Aldi has a ski wear event where you can pick up cheap ski clothes.  If you shop online for ski clothes, look for ski bundles like these from Mountain Warehouse.  Buying the jacket, trousers, hat, gloves and ski socks all together can save you a lot of money.
If you are regular skiers, investing in a pair of ski boots can also make a lot of sense.  You won't have to pay to hire ski boots while you are on holiday, and you can pack them in your regular luggage so not incurring extra baggage fees.
Saving Money at the Resort
There's also a few ways you can save money on a ski holiday while you are at the resort. These tips can make a huge difference to a family ski trip.   Firstly, make sure you have exchanged any cash you need well before you reach the airport for the best exchange rate.  Travelling with a preloaded credit card can also save money, and help to avoid any bank charges and changes in the exchange rate to make the most of your cash.
If you require ski lessons while you are on holiday, afternoon lessons and group lessons often provide the best value for money.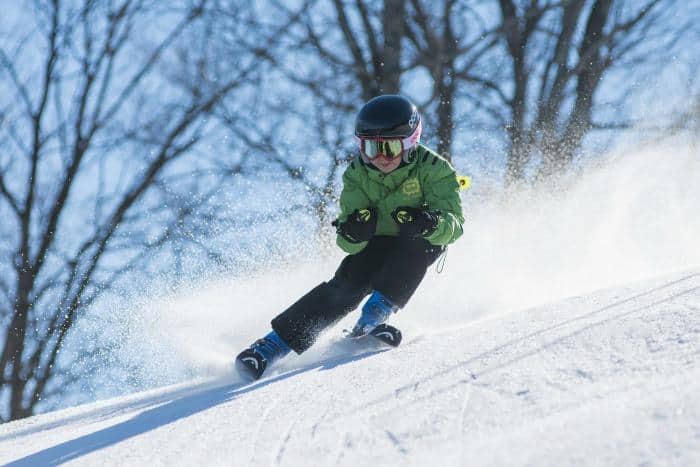 If you are going to be spending some time on the nursery slopes, check if you require a lift pass for the drag lift.  Some resorts don't require a lift pass for the drag lift so you might be able to save some cash here, for a few days at least.
My final tip is take a packed lunch up the mountain.  A burger and hot chocolate times 4 can soon add up if you eat up the mountain all week, and I personally love a fresh crusty baguette packed with ham and cheese with a bag of crisps on the side for lunch. A lot of ski resorts now provide picnic rooms so budget conscious skiers can eat their snacks in comfort without the hefty lunch bill.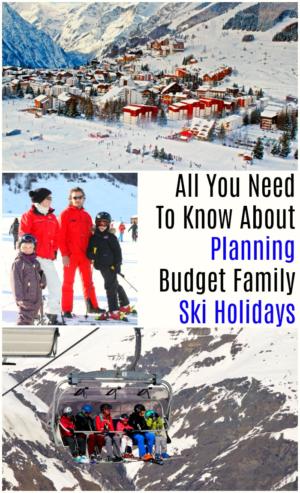 I really hope you found these tips for planning family ski holidays on a budget helpful.  If you would share this post with your friends and followers it would literally make my day.  Love Pinterest?  Then 'Pin it' to you holidays board, it would help me out no end.
Any tips you would like to share with Zena's Suitcase readers? Please do leave your ideas for saving money on ski holidays in the comments below.