One of my favourite trips ever was going to New York with my son.  It was our first trip to NYC and quite likely to be a last holiday together for a while.  I spent a lot of time planning that trip and I think it's safe to say we had a pretty awesome time.  I've been thinking about our visit a lot recently, so it seemed like a great time to write these top 10 things to do in New York with teens.  If you are planning a trip to NYC with a teenager sometime soon I hope our ideas will help with your travel plans.
Top 10 Things to do in New York with Teens
Hop On and Off Bus Tour
We had so much fun together on the New York bus tour, and I'd definitely recommend it if you are only in New York for a few days.  Firstly it's a great way to see the city and the tour guides that we experienced were all really entertaining.  We got to see places we would probably have never come across, like the FBI building (that has no windows) and Trump Towers.  The bus tours stop at all the major landmarks, so it's perfect for making your way around the city for sight seeing too.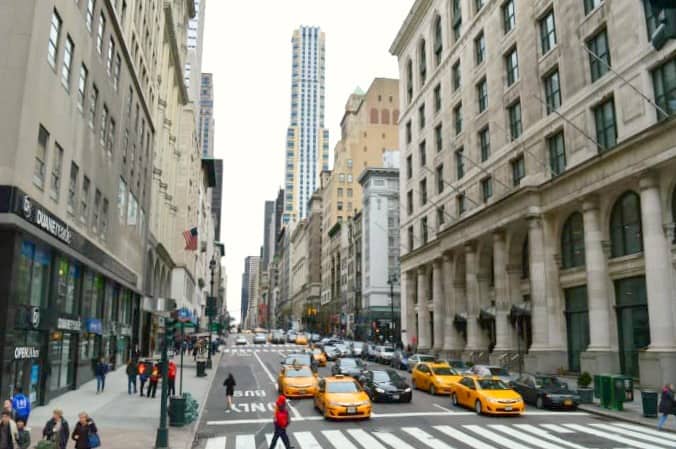 Visit Time Square
Time Square is probably one of the most iconic locations in New York with it's flashing billboards and street entertainers.  Its one of the few free things to to do in New York City and the perfect place for a selfie or two with your teenager.  My favourite moment was when my son had a snake on his head, and my not so favourite moment was when it nearly fell off!  We saw amazing street dancers and got caught up in the whole vibe of it.  We even saw Good Morning America being filmed live when we passed through one morning on our way to Central Park.
Go Shopping
I wouldn't say my son is a huge fan of shopping, but there's something about New York that makes you want to visit the stores, even if it's only to browse.  My son is a keen basketball player, so we did end up in the sports shops buying some new boots.  We also stopped by Macy's, which was obviously more about me than him.  The point is, no matter what you thing is, New York is the place to shop for it so you will probably want to add it to your list of things to do.
Visit the Statue of Liberty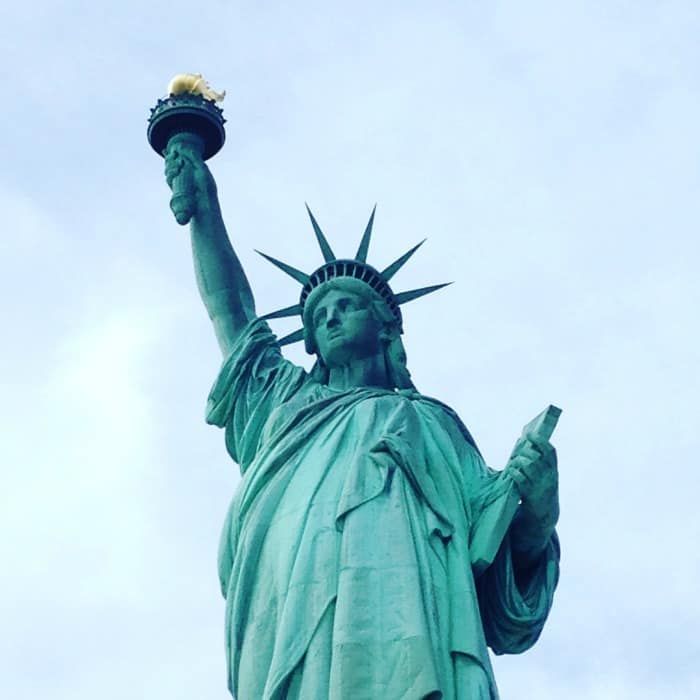 My son and I both agreed that visiting the Statue of Liberty was a must for both of us.  We had seen this infamous statue so many times in the media that we simply had to go and see it with our own eyes.  It's quite a popular attraction as you can imagine, so visit early in the day if you can.  There is airport style security before you catch the ferry out to the island, but the boat trip doesn't take long at all.  We just visited the island and got as close as we could to the statue for our photos.  We decided not to visit the museum or Ellis island due to our time constraints.  You could visit the Immigration Museum and go into the statue and enjoy the view from the 'Crown', if you had more time.
9/11 Memorial Museum
The 9/11 attacks took place in 2001 so there is every chance that the teenager that you are going to New York with wasn't born or doesn't remember these taking place.  I've added this to the list of things to do in New York as I felt quite strongly that it was something my son and I needed to go to.  We wanted to pay tribute to the lives lost in this awful tragedy and think about what could be learnt from it.  The memorial of the cascading waterfalls where the towers once stood are a fitting tribute and for some teenagers, this might be where your visit ends.  If you visit the museum, it is difficult in parts, but in my view worth seeing to understand what took place that day and also the political landscape of the time.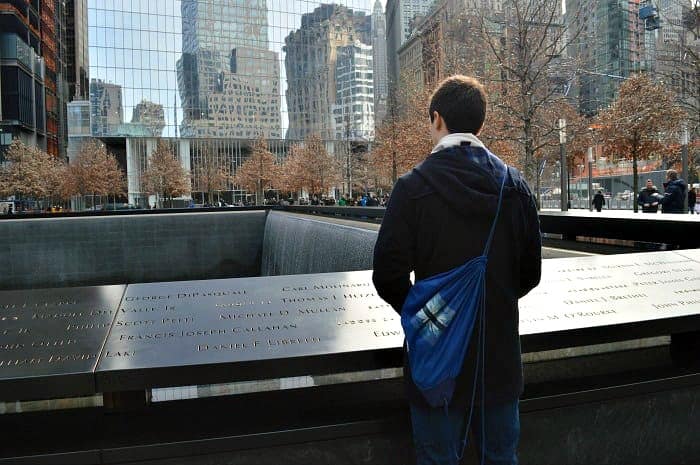 Visit the 'Top of the Rock' – Rockerfeller Centre
There are a few observatories where you can get a view of the New York skyline, but in my view you should definitely add the 'Top of the Rock' to your list.  I took my teen son just as it was getting dark, but sadly was just a bit too late for sunset.  I would recommend finding out what time the sun is going down in New York, and heading to the Rockerfeller Centre at least an hour before if you are keen to see this part of the day.  At the 'Top of the Rock' we really enjoyed the 360 view of New York City at night, and the clear view of the Empire State Building.  The viewing platform is surrounded by glass so there are no bars or obstructions to spoil the view providing a photo opportunity not to be missed.
Go to the Empire State Building
If you decide to visit the 'Top of the Rock' at night, I strongly recommend taking a trip up the Empire State Building in the day, to give you the contrast in the view.  My son and I grabbed a coffee and a donut at the kiosk near our hotel and went to the Empire State Building first thing in the morning.  The beauty of this was getting straight through security with no queues and being able to enjoy the exhibits and observation deck at our own pace.  As well as the daytime view, I think your teenager will enjoy the iconic images of workmen sat on cranes against the New York skyline and the art deco feel of the experience.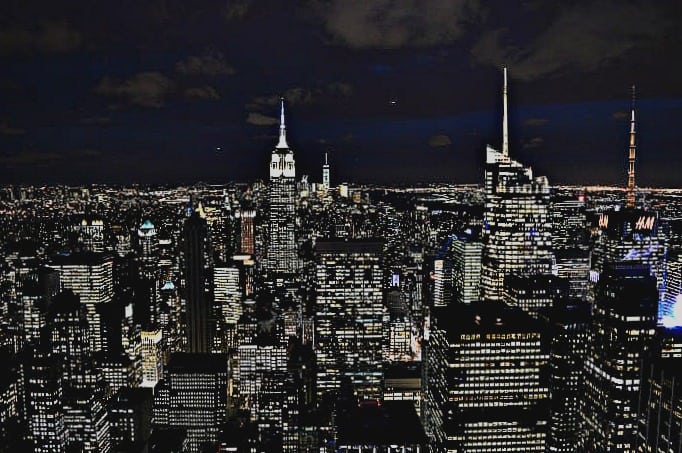 American Museum of Natural History
The American Museum of Natural History is a fantastic place to visit in New York with teens because it's home to such a wide variety of exhibitions and artefacts.  With everything from a fascinating dinosaur exhibit on the 4th floor to exploring life in our oceans, it's a fascinating place to spend some time in New York.  For those teens who like things a little more out to orbit, the Space exhibits maybe where you want to head to first but it's also worth visiting the website to see if there are any special events that grab your attention.
Go to Junior's for Cheesecake
I'm pretty sure most teenagers like cheesecake and I'm sure they would also be pretty impressed with a visit to Junior's for some of the best that New York has to offer.  There is bound to come a time in your visit to New York where you are going to want to take the wait of your feet and indulge in a sweet treat.  Junior's is one of the most famous places to eat cheesecake in New York and please take it from me and my teenage son that you really won't be disappointed.
Visit Brooklyn Bridge
I would really have loved to have added 'walk over Brooklyn Bridge' to my list of things to do in New York with teenagers, but it wasn't something we were able to do ourselves.  If you have time on your trip to NYC I would absolutely walk over the bridge as not doing it is still one of my biggest regrets.  We did make a point of seeing Brooklyn Bridge from the bus tour that took us over Manhattan Bridge.  We also stayed on the bus tour and went round Brooklyn.  We really enjoyed getting out of Manhattan and experiencing another side to New York.  If we had of had just a little more time during our schedule, we would have got off the bus in Brooklyn and walked back over the bridge.
I hope that you found this list of things to do in New York with teens helpful.  It was our first visit to the city, so we wanted to visit the main tourist attractions.  When travelling with kids of any age, seeing the main tourist sites can often be easier to navigate.  They also benefit from added security which can bring real peace of mind.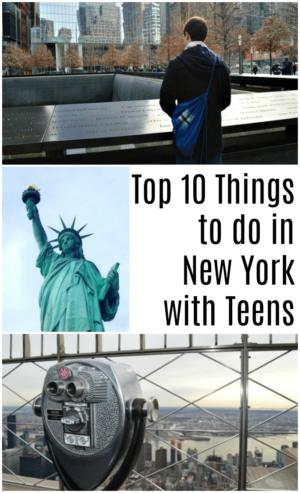 If you enjoyed these 'top 10 things to do in New York with teens' please do share it with your friends and followers.  If you are planning a visit to NYC 'Pin it' to your travel board for later.