Advertisement feature written in collaboration with Nickelodeon Treasure Hunt & Malta Tourist Authority
If you follow Zena's Suitcase on Instagram or you saw this blog post you have might already  spotted that we visited Malta to go and check out the all new Nickelodeon Treasure Hunt this April.   It was our first time visiting Malta and to be there for the premiere of the Nickelodeon Treasure Hunt was super exciting for all of us.
We spent our first morning taking it slow, wandering around St George's Bay, near the Intercontinental Malta hotel where we were staying.  It did not take me long to decide that Malta was a great family holiday destination for us.  It's a beautiful country, with a relaxed way of life and family friendly atmosphere.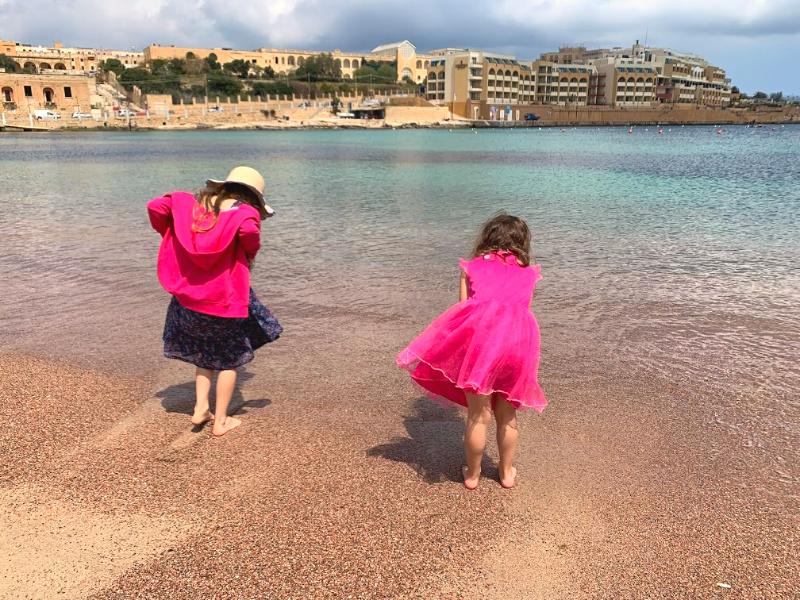 The challenge we were now faced with was how were we going to enjoy the culture and beauty of Malta with a feisty 5 and 7 year old in tow.  I do love my girls, but they, like all children, can be challenging when travelling.  Making sure we all have a fun and memorable holiday, while minimising the amount of meltdowns, is always the balance we try to strike when we are travelling.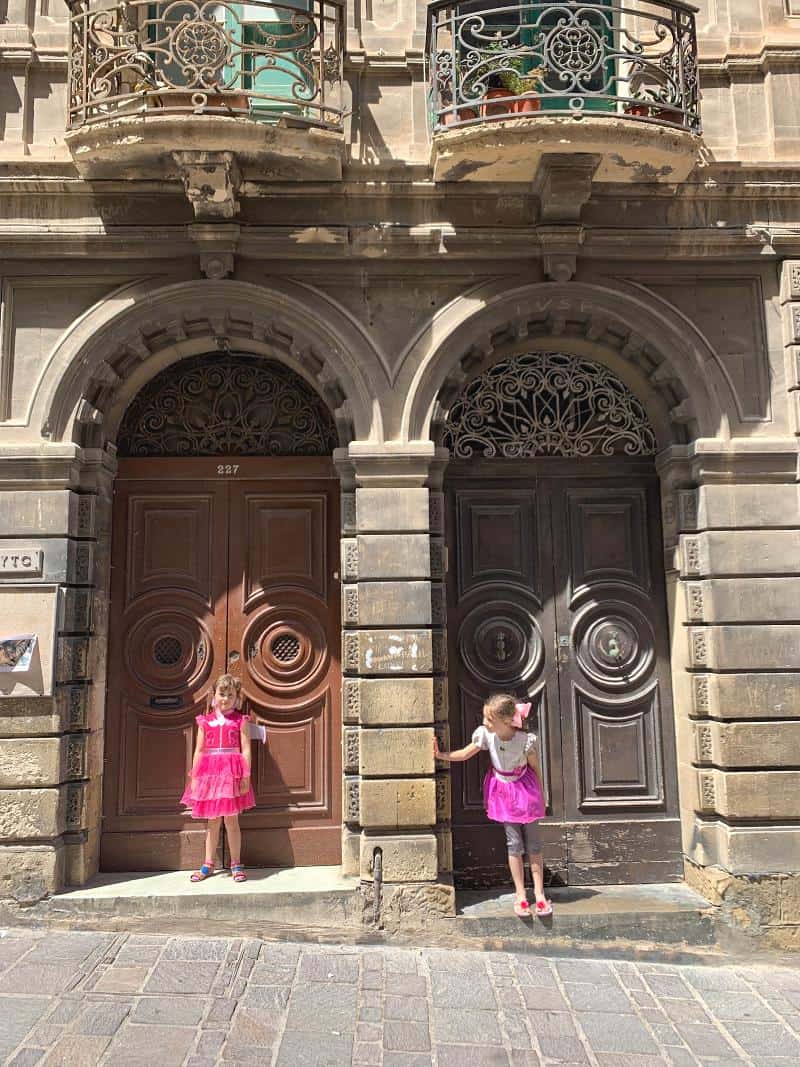 Nickelodeon Treasure Hunt Show
Well, on this occasion, I really should not have worried, as Nickelodeon had it covered for us and it all started with the live Nickelodeon Treasure Hunt Show in Valletta.  Families poured into the open air theatre at Pjazza Teatru Rjal to see a fun packed show with all their favourite Nickelodeon stars.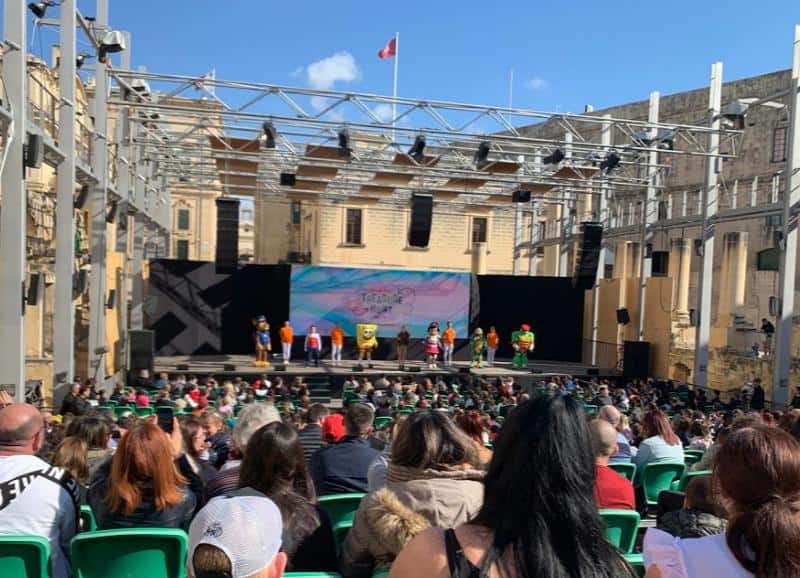 The Nickelodeon Treasure Hunt Show bought to life the mission that the children were given in their free Nickelodeon Treasure Hunt packs.  Nickelodeon pulled a fun packed high energy performance out of the bag that had all the kids dancing and singing, including mine! Pop over to our Instagram highlights for a little peek at what I'm talking about!
The atmosphere at the Pjazza Teatru Rjal, Valetta was electric as we saw high kicks from the Teenage Mutant Ninja Turtles, charming performances from Nella the Princess Knight and her friends and of course Sponge Bob Square Pants and Brook's personal favourite Nickelodeon stars, Paw Patrol.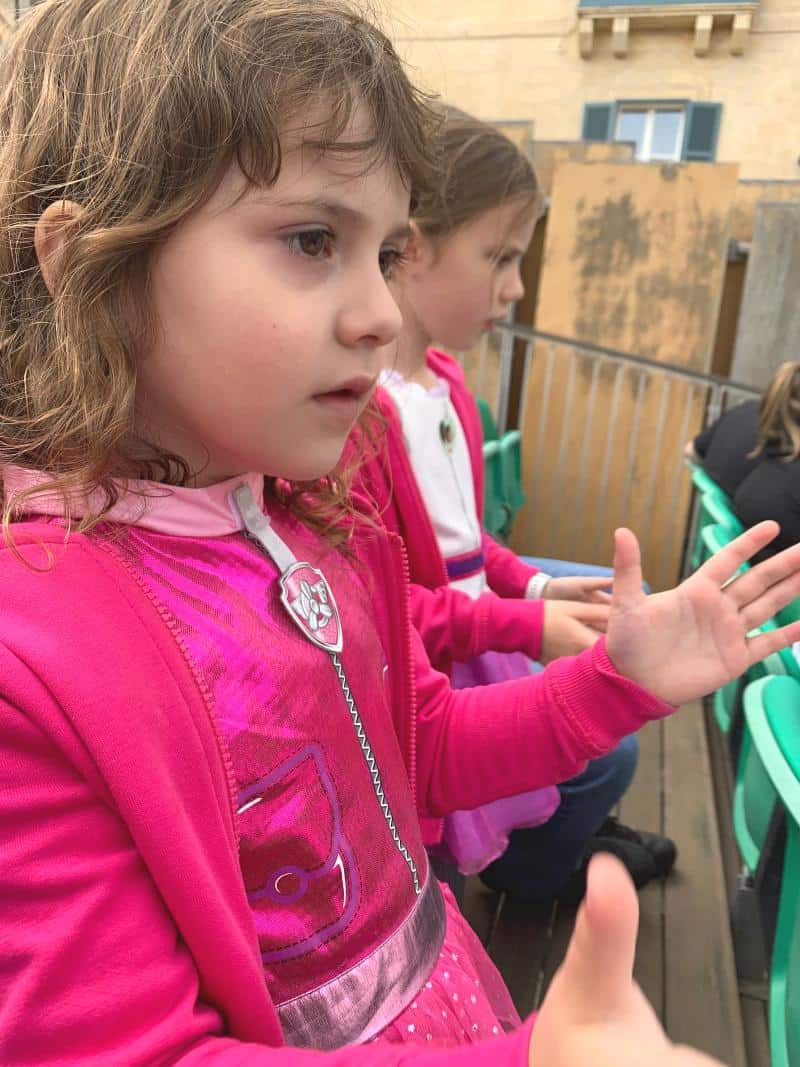 The Nickelodeon Treasure Hunt Show lasted around 40 minutes and was absolutely free to attend, all you needed to do was register online to get your tickets and turn up and enjoy all the Nickelodeon fun.  It really got us in the mood for the Nickelodeon Treasure Hunt in Malta and excited about visiting the different locations.  The kids were beginning to fall in love with Malta just as much as we were, thanks to the Nickelodeon magic touch.
Nickelodeon Exhibition at Spazju Kreattiv
I'll put this straight out there, we didn't have particularly high expectations of the Nickelodeon Exhibition in Valletta, but it turned out to be one of our favourite places to visit on the Nickelodeon Treasure Hunt in Malta.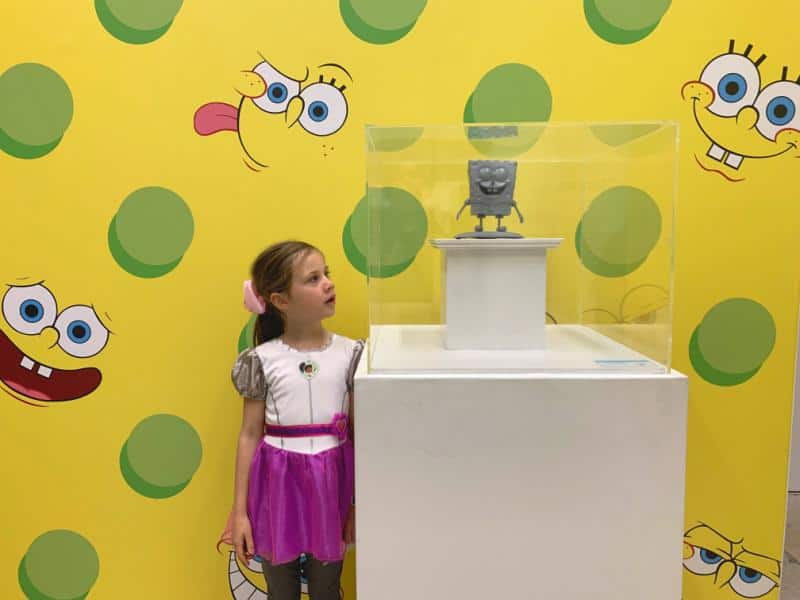 What we really loved about this Malta Treasure Hunt location was that it was aimed at everyone in the family, not just the children.  Young children could sit on the comfy bean bags and watch their favourite heroes save the day in an episode of Paw Patrol. Sponge Bob Square Pants fans could act out scenes from this iconic Nickelodeon show and there was a fantastic photograph exhibit.
This all gave us parents the chance to learn about the effort Nickelodeon go to to make a range of diverse and engaging creative content for its young audience while the kids were having fun at the same time.  This behind the scenes insight was really eye opening for us to be honest and there's a lot more involved in children's TV than you might think.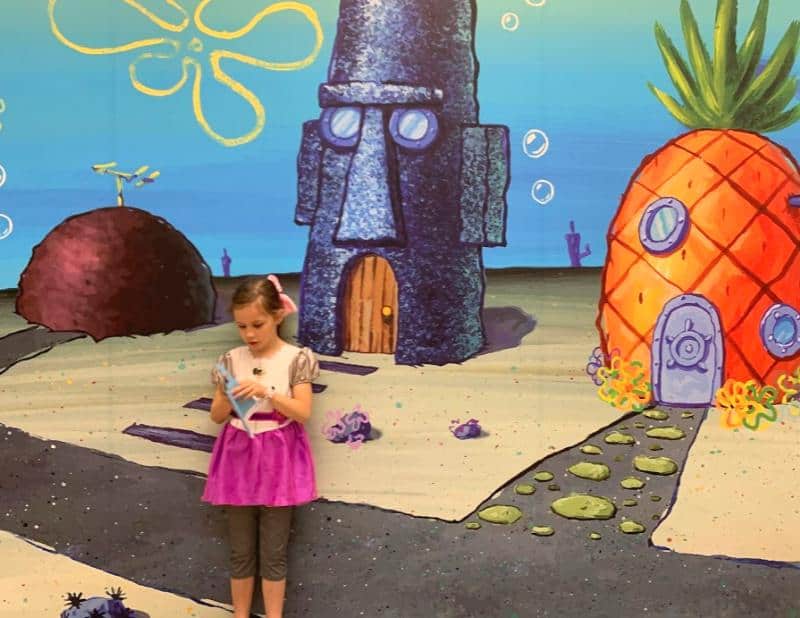 The girls were able to have their photo taken with the Nickelodeon Kids Choice Award and they even learnt how to draw their very own Sponge Bob Square Pants.   They both really loved this Nickelodeon Treasure Hunt activity and created some really awesome versions of this quirky Nickelodeon star that lives under the sea.
While they were busy drawing away, we learnt how the show was designed and created from the detailed artwork and displays featured at Spazju Kreattiv in Valletta.  It was a great exhibition and surpassed all our expectations in so many ways.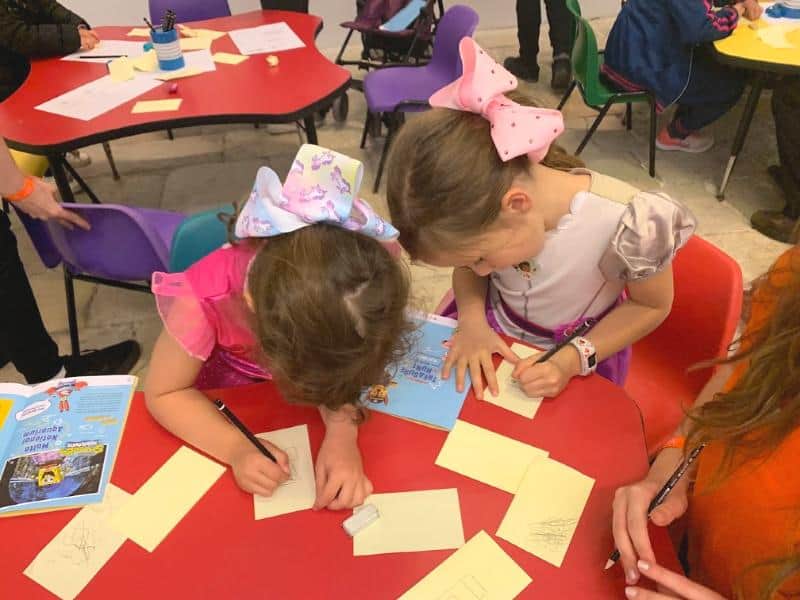 On our second visit to Spazju Kreattiv we met Indie's favourite Nickelodeon star, Nella the Princess Knight!  Our timing could not have been more perfect as Nella had just arrived at her castle and Brook and Indie were the first to greet her!  They made the most of this opportunity by playing games and dancing with her.  Brook even tried to steal her sword, cheeky little monkey that she is.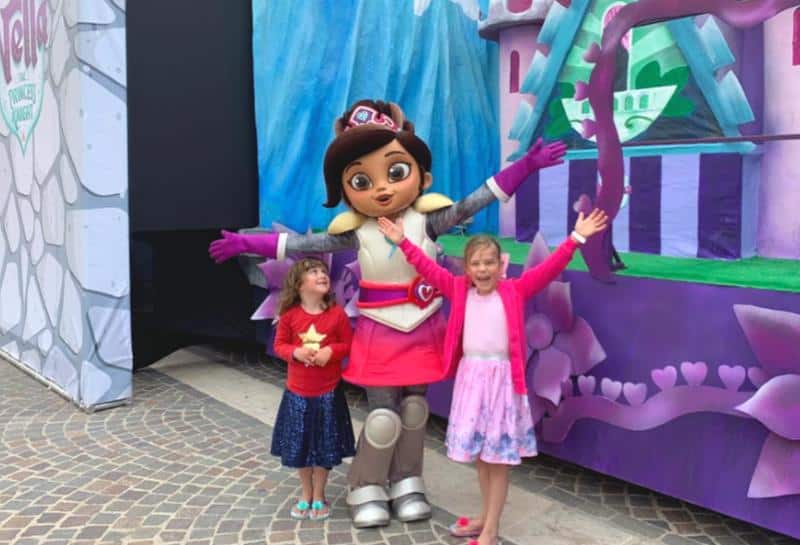 Before we had to say goodbye, Nella sent Brook and Indie to her knight school where they learned a few of her her skills.  To say the whole experience made their day is probably an understatement, but it made for the perfect treat for them after a busy day exploring Valletta.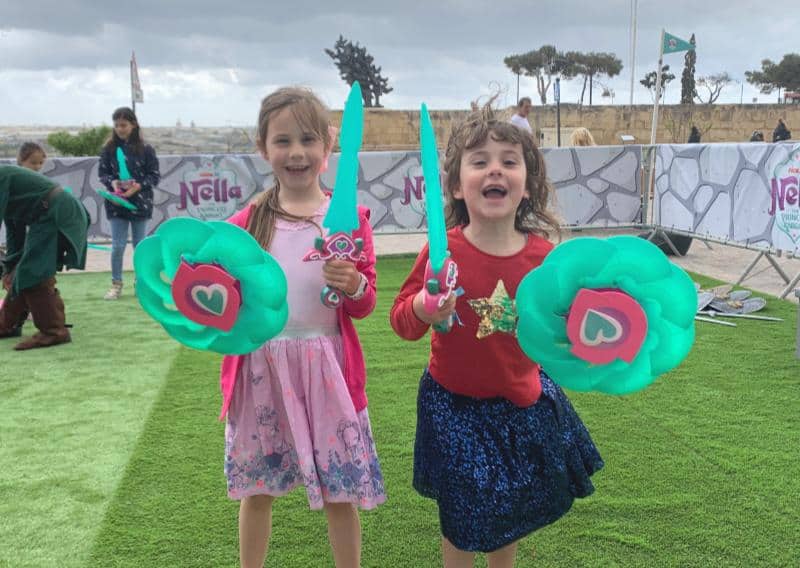 Nickelodeon Treasure Hunt Parade
One of the highlights of the Nickelodeon Treasure Hunt event in Malta has to be the street parade through Valletta.  We secured our spot and waited with bated breath for the Nickelodeon Parade to begin.
The parade started in St George's Square and made it's way towards the famous Triton Fountain where hoards of people lined the streets to get a glimpse of Nella, Sponge Bob, the Teenage Mutant Ninja Turtles and of course Paw Patrol.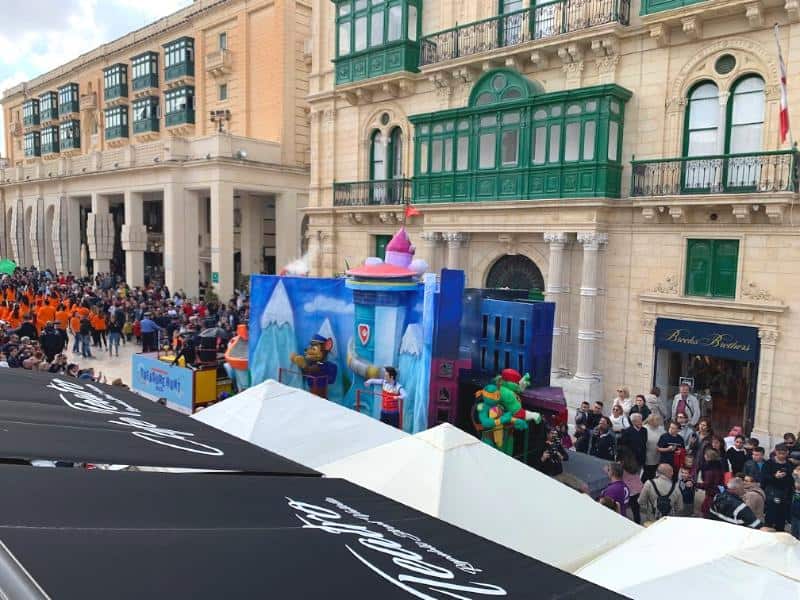 The marching band played some of the best party tunes from people like Queen, while the dancers filled the streets with a lively party atmosphere.  It was fun, up beat and best of all it was just for families!  We all loved it.  There was absolutely no doubt in my mind that Nickelodeon was bringing all the fun of the hit TV channel right here to Malta to help parents have the very best holiday possible with their kids.
Sponge Bob Square Pants at the Malta National Aquarium
There were family friendly events happening all over Malta during the Nickelodeon Treasure Hunt, and the best thing about each and everyone was that they were completely free for families to visit and enjoy.  Our next stop was the Sponge Bob Square Pants Bikini Bottom Fun Fair at the Malta National Aquarium.
The girls were so excited about the idea of going to see Sponge Bob Square Pants, especially after their visit to Spazju Kreattiv and their creative cartoon drawing session.  The fun fair was brilliant and the kids hooked Sponge Bob and his friends out of the pool, going for the biggest fish every time of course.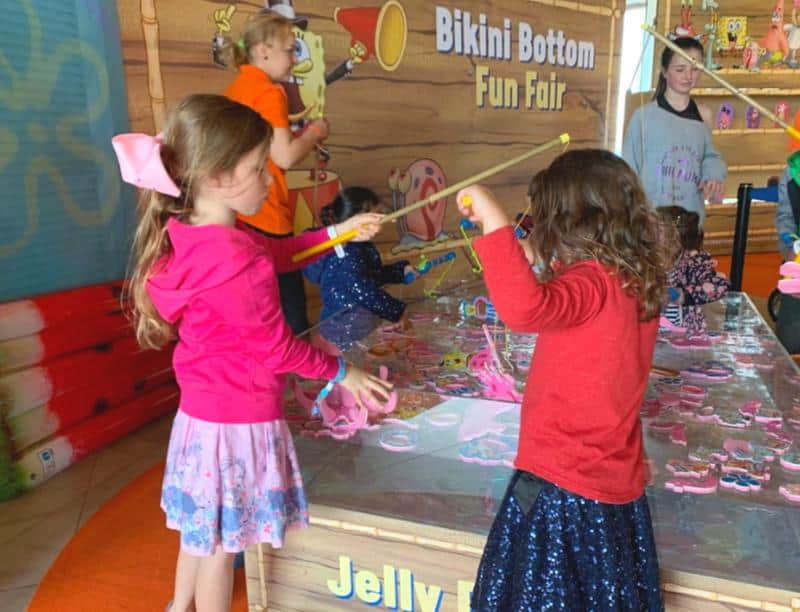 If they weren't getting carried away already, they really let rip on the Sponge Bob Square Pants Krabby Patty Toss (aka the coconut shy).  They  didn't have any problem knocking down all the Sponge Bob stars and the constant giggling confirmed the level of fun they were having together.  For a precious moment we could just stand back and enjoy their happiness.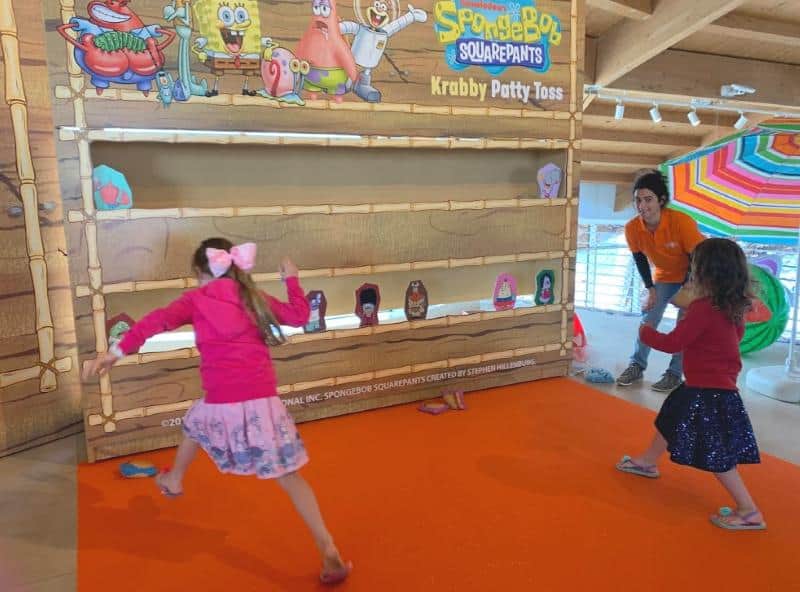 The only thing that was going to drag them away from all the fun and games at Bikini Bottom Fun Fair was a visit from Sponge Bob Square Pants himself, and right on queue he turned up for a really fun photo opportunity.  There were plenty of smiles, hugs and high fives but apparently it was too soon for kisses, they'd only just met after all. Kids are so funny aren't they?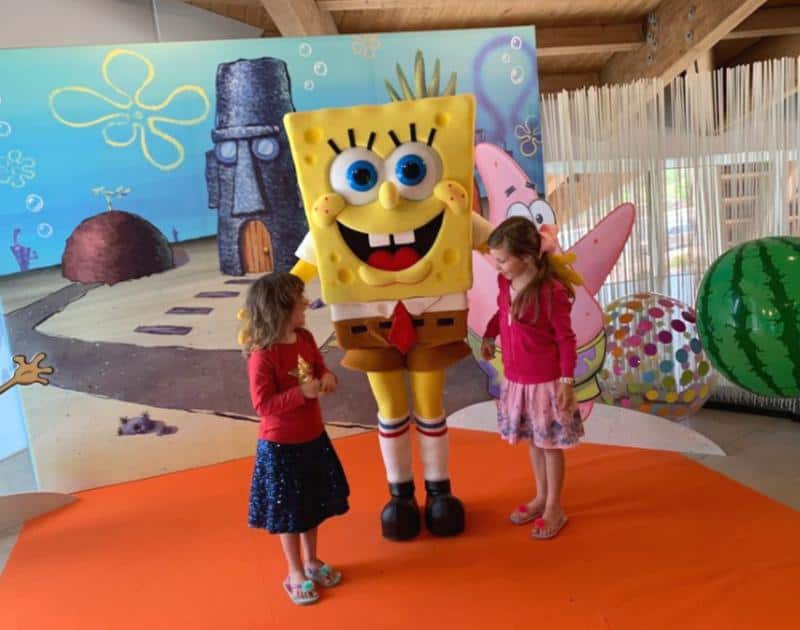 After our visit to the Bikini Bottom Fun Fair, we entered the Malta National Aquarium where the Sponge Bob Square Pants fun continued.  As well as being a real celebration of the sea life that exists around the islands of Malta and Gozo, the sea is also the home of Sponge Bob Square Pants and his friends.  It was very clear that both Sponge Bob and the Malta National Aquarium cared a great deal about the conservation of our oceans and sharing that message with their visitors.
This was a really enjoyable morning for us all, made all the better by a wonderful lunch at La Nave Bistro, the incredible sea views and the Malta National Aquarium playground overlooking the sea.
Teenage Mutant Ninja Turtles at Is Suq Tal Belt
It became apparent very quickly that Malta does food very well, so I was really excited to see the Valletta food market, Is Suq Tal Belt, as a Nickelodeon Treasure Hunt location.  It's a chic foodie location brimming with atmosphere, so ticks a lot of boxes for parents looking for a bite to eat or a nice place to enjoy a coffee and a snack.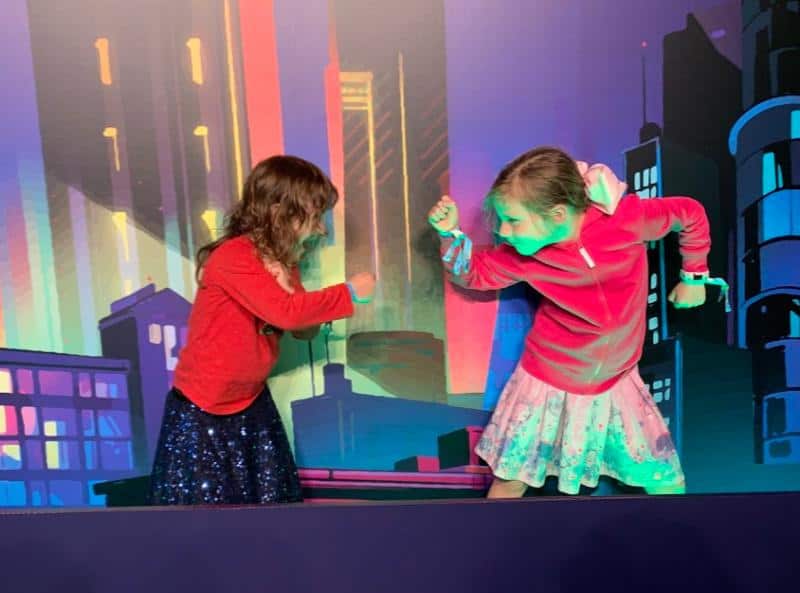 Add into the mix a chance for the kids to star in their own Teenage Mutant Ninja Turtles movie scene and meet one of the real stars from the show, in our case Michelangelo, then everyone in the family is going to be super happy!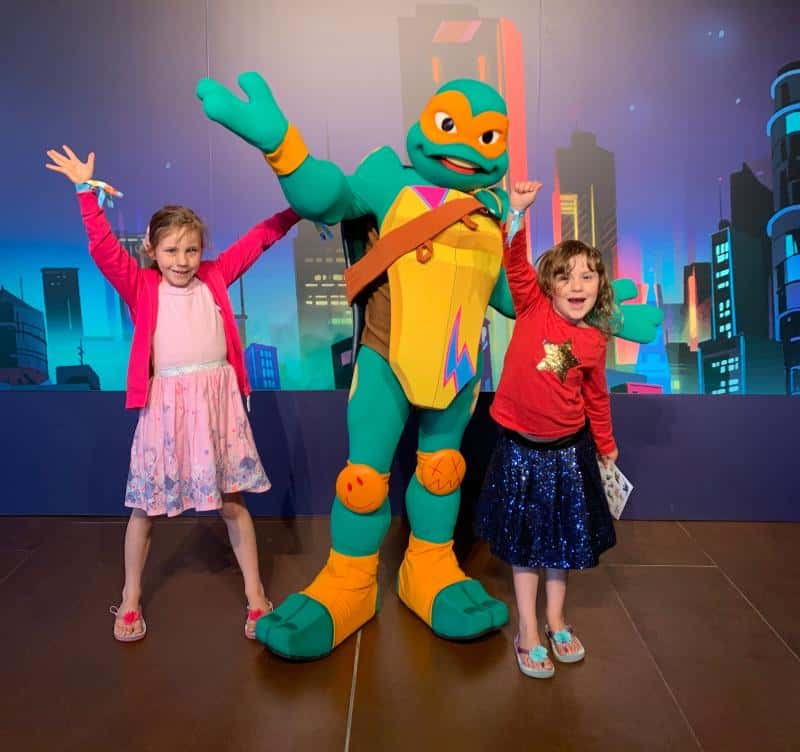 Paw Patrol at Esplora Interactive Science Centre
Our last stop on the Nickelodeon Treasure Hunt trail in Malta was Esplora, and this was such a highlight for all of us.  Brook wore her Skye outfit especially for any meet and greets she might have that day and everyone of us were in high spirits as we are such huge fans of Paw Patrol anyway.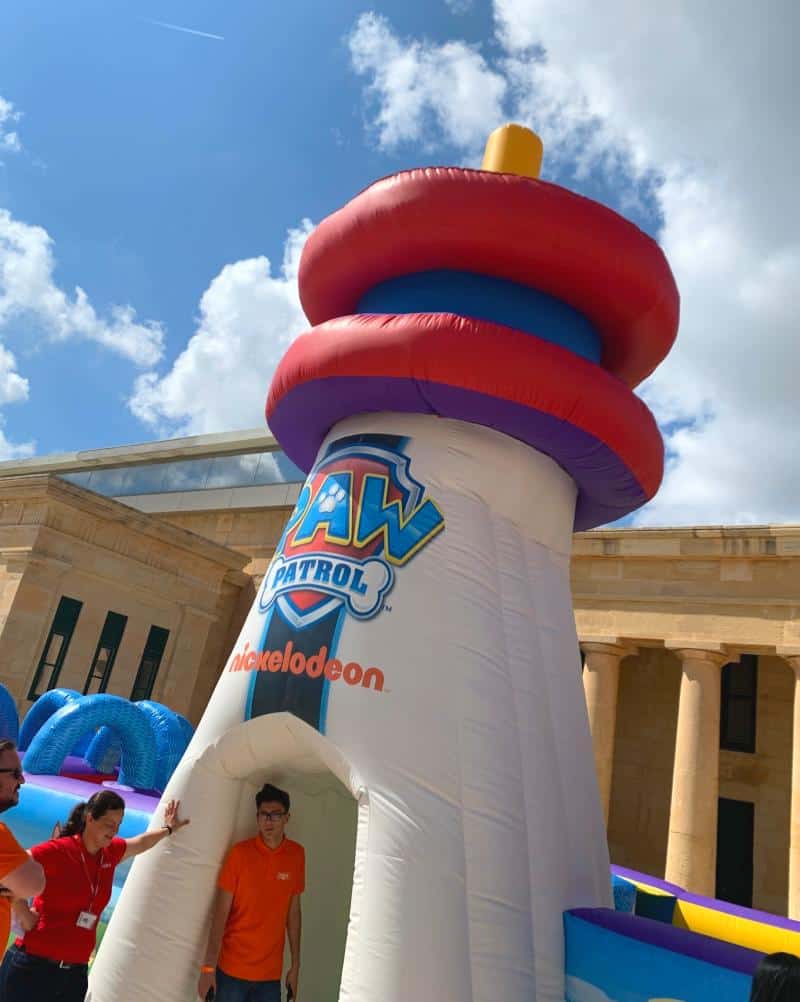 The fun was well and truly underway when we arrived at Esplora, and both the girls headed straight over for a picure with Ryder before heading into the giant Paw Patrol themed bouncy castle.  Brook called a time out because she needed a wee, a common feature of travelling with kids, right?  As she was heading towards the Ladies, who should appear, but Chase from the Paw Patrol gang.
Well, all thoughts of heading to the toilet went out of the window, and Brook made in hot pursuit of one of her favourite TV heroes.  I managed to remind her that she did need to go to the bathroom, but she was back in the queue to have her photo taken with Chase and Ryder quicker than you can say 'Nickelodeon Treasure Hunt in Malta'!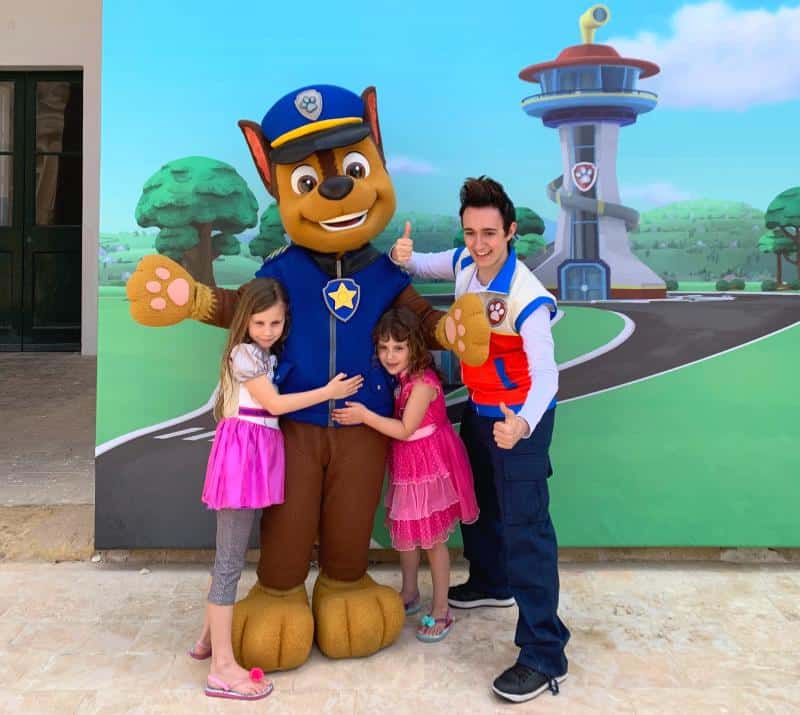 After our very important Paw Patrol photo shoot, we headed inside Esplora to see what other activities were on offer at the science centre.  I can only describe Espolora as awesome for families and a must do activity in Malta with or without the Nickelodeon Treasure Hunt in situ.  This is a full day of interactive family fun, and seeing our favourite Paw Patrol stars feature throughout the exhibitions took our day out to the next level.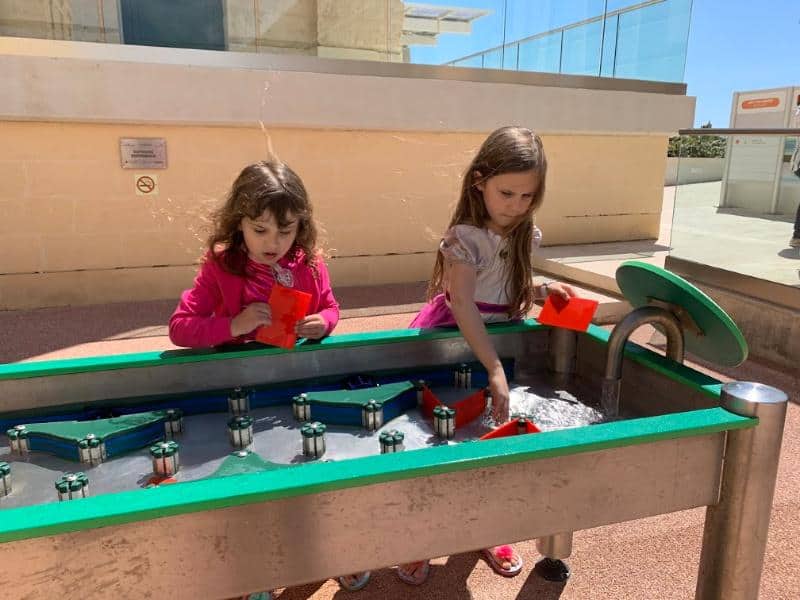 My husband is an engineer, so all the science and fun activities around gravity, electricity and the human body got him and the girls super excited.  It was a complete joy to see them sharing this experience together.  Having the Nickelodeon Treasure Hunt here was so much fun for the kids, but it also didn't go unnoticed that Esplora offers some amazing views of the bay and Valletta across the water.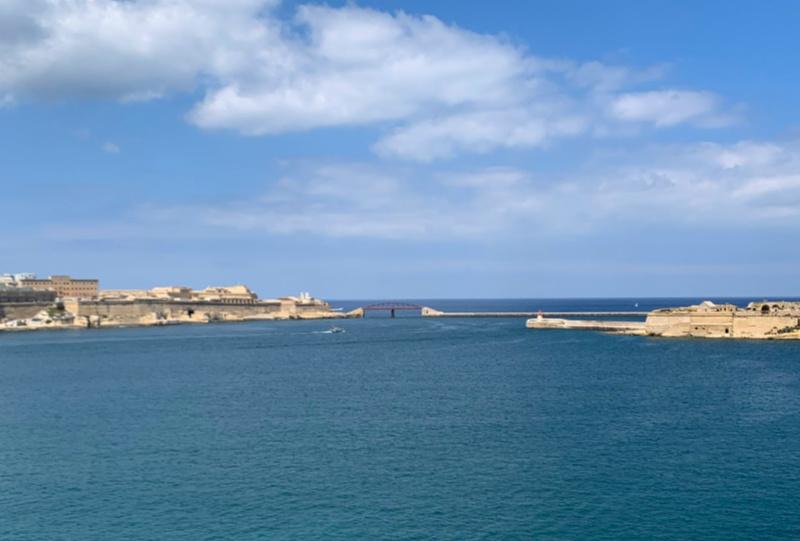 Esplora is a real testament to what Malta and Nickelodeon did so well throughout the entire treasure hunt experience.  It allowed families, just like ours, to enjoy the beauty and culture of this incredible holiday location, while the children got to see, meet and even play with some of their favourite Nickelodeon stars.
The premiere of the Nickelodeon Treasure Hunt in Malta was an incredible success from the huge live stage show to the variety of locations you could visit to collect your stamps, to meeting Marshall at the airport for a quick game of skittles before the flight home.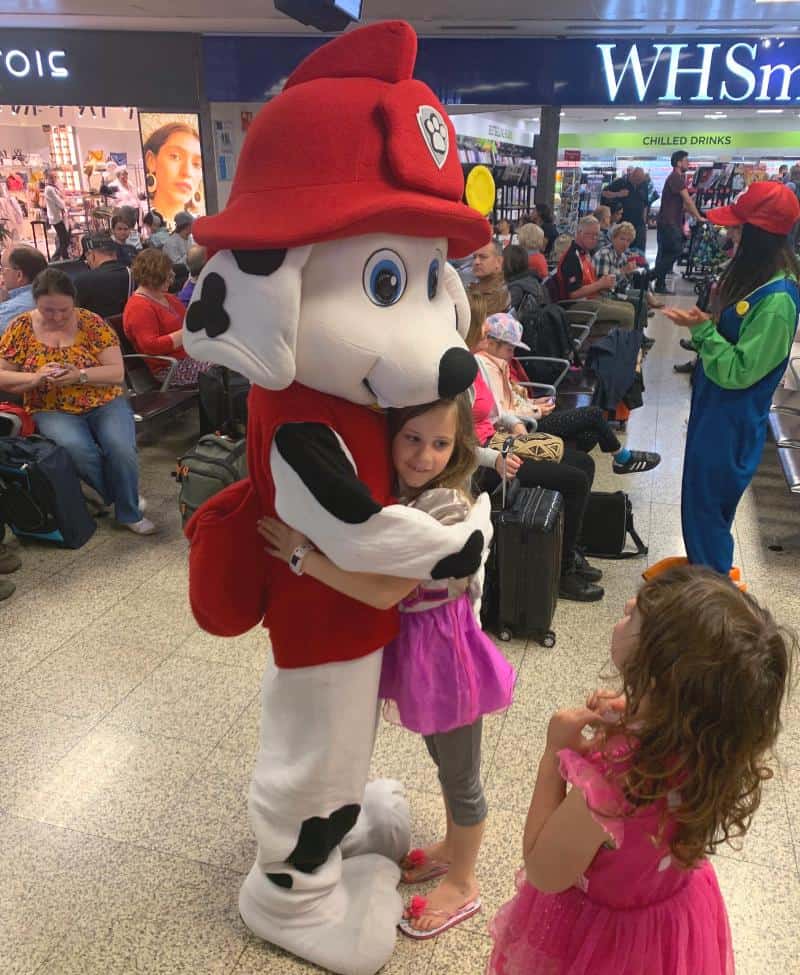 If you are planning a family holiday to Malta, my sincere advice to you would be to keep an eye out for the dates of the next Nickelodeon Treasure Hunt.  Then, just like we did on this trip, you will create a long list of precious family memories to treasure for many years to come.
We were guests of Nickelodeon UK and the Malta Tourist Authority during the Nickelodeon Treasure Hunt in exchange for providing a review of their premiere event, but as always our thoughts, opinions and kid's happy faces are entirely our own.  
Pin for Later