If you need an itinerary for seeing Amsterdam in one day you have definitely come to the right place.  This is my favourite European city, and even with just 24 hours in Amsterdam you can experience the best of what this popular European destination has to offer.
Amsterdam boasts a vibrant culture, many inspiring places to visit and some of the best architecture I've seen in Europe.  It's a city I've visited lots of times in the past, maybe 5 or 6 even, and I've been desperate to get back there both with and without my family.  It's one of those cities that can easily be explored in a short city break.  If you want to see Amsterdam in a day, with a carefully planned itinerary you can cover a lot of ground.
Amsterdam is a very compact city and is incredibly easy to navigate making it perfect for a quick visit.  Invest in an Amsterdam travel pass like the iamsterdam card, and you will be off to a flying start.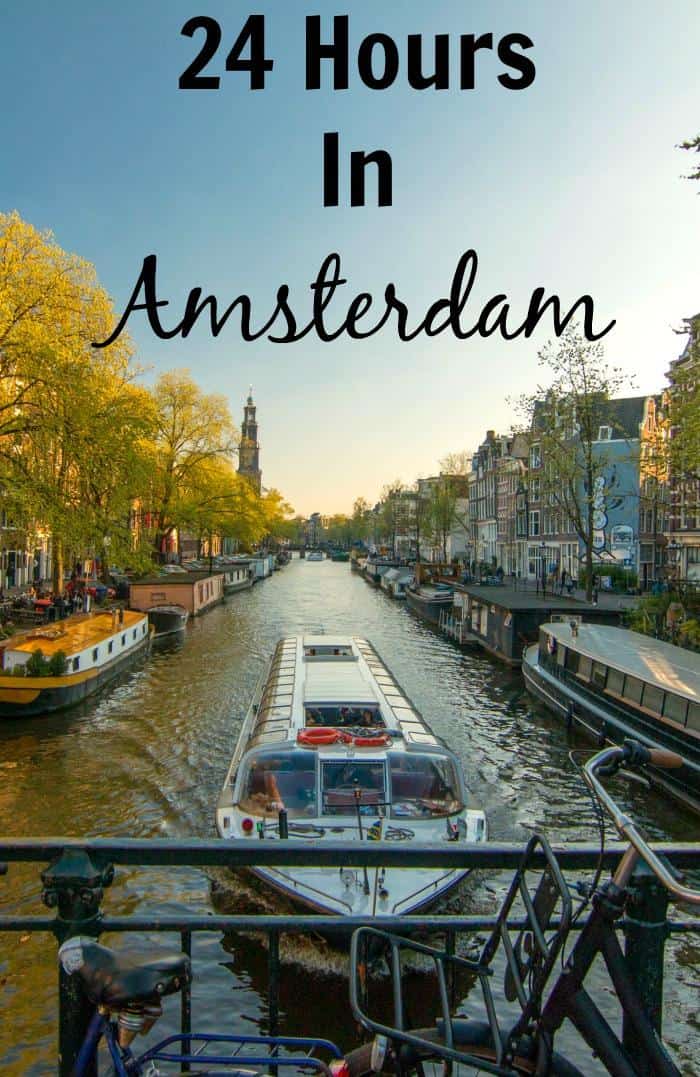 How to Spend One Day in Amsterdam
Central Library (Openbare Bibliotheek) Amsterdam
This public library is a 5 minute walk from Centraal Station, and the perfect place to start your trip.  It claims to be the largest library in Europe, and the architecture is typical of the clean contemporary style you'll see in modern buildings in the city.  Take a look around before heading to the cafe and the roof top terrace.  The views over the city are stunning on a clear day and will help you get your bearings if your a first time visitor.  Food here is also lovely and reasonably priced.
NEMO Science Centre
You will have already spotted the the green ship like building sitting on the water, and it's definitely worth a peek.  It's a favourite for families with children, but appeals to all ages with it's interactive activities and playful exhibitions, shows, workshops and demonstrations.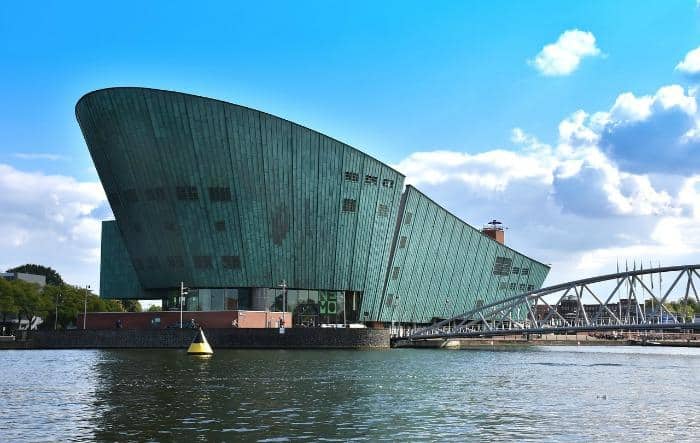 Once you've explored the 5 floors of this fascinating building, you can also get on this incredible roof and enjoy the skyline from literally a different angle.
Take A Canal Cruise
No visit to Amsterdam would be complete without taking one of the city's canal cruises.  Most boats provide cover if the weather isn't on your side, but you will still get a great view of the city via the see through roof.  Most canal cruises provide a running commentary talking about places of interest and historical importance.  It's also worth checking your Amsterdam travel ticket, as a canal cruise might be included in the price.
A canal cruise around Amsterdam takes about an hour, and can be picked up from Centraal Station or several other points in the city.  Not only are they a lot of fun, but they also provide the legs with a welcome rest, if you have been exploring the city by foot.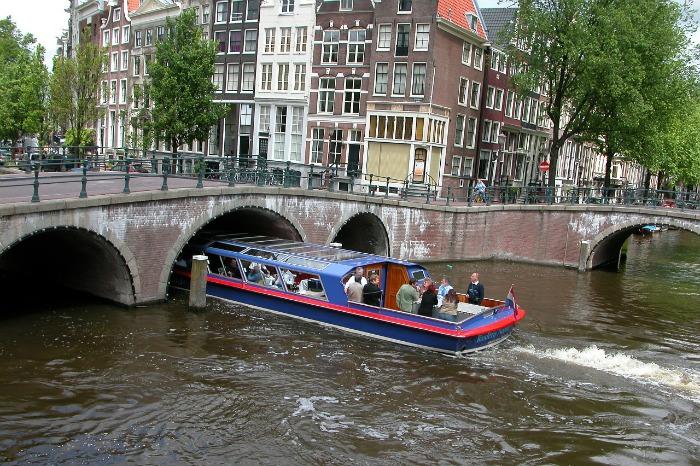 Walking In Amsterdam
I cannot stress enough how important it is to including some walking even if you only have one day in Amsterdam.  As it's a city built around canals, it's incredibly flat and easy to navigate.  There is a logic to the canal network that you will become quickly familiar with, and it will give you the opportunity to appreciate some of the architecture and beautiful houses in Amsterdam at your own pace.
Visit The Rijksmuseum
If you only have time to visit one museum in Amsterdam, make it the Rijksmuseum based in Museumplein (Museum Square).  You can either walk here, or if pushed for time take a tram which will be included in your Amsterdam travel card.  The Rijksmuseum is Amsterdam's most famous museum, showcasing the city's history in one of the grandest settings you will ever see.
Enjoy the works of Van Gough, Rembrandt and other famous Dutch artists as well as many exhibitions and artefacts dedicated to Amsterdam's rich and vibrant history.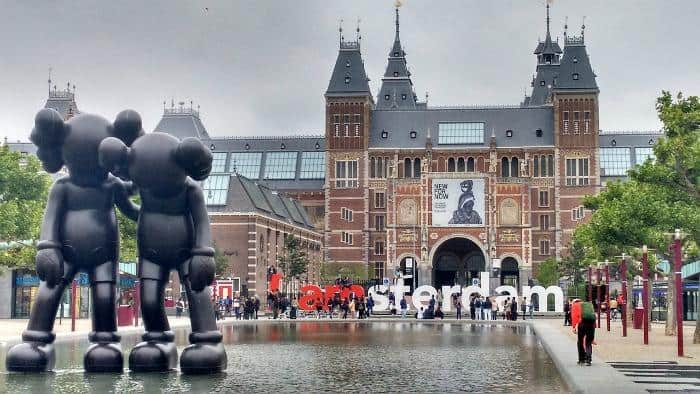 Go To Vondelpark
After your visit to the Rijksmuseum, make time for a visit to Vondelpark, which is popular with both Amsterdammers and tourists visiting the city.  On a sunny day, many flock here to relax and unwind or enjoy many of the parks interesting offerings.  There are play areas for children, open air theatre performances in the summer and several sculptures including the 'Fish' by Pablo Picasso.
Things to do in Amsterdam at Night
If you have any energy left after all that, then you will want to know what to do in amsterdam at night.  If you haven't stumbled across the Red Light district yet, it's definitely a colourful place at night, but not for the faint hearted.  My advice would be tick it off your list and go there with a tolerant and open minded attitude.
Amsterdam promises it's visitors a night out they won't forget, offering an array of live music, nightclubs and a very active LGBT community that know how to party.  With an 'you only live once' attitude you are promised some amazing memories and a hangover that will definitely feel well earned.
If you are visiting Amsterdam for a little bit longer and need hotel recommendations, you can read all about our stay at the Hampshire Hotel in Rembrandt Square.  You might also enjoy reading about how I got on when I visited Berlin for 24 hours!
For more ideas about a family holiday in Amsterdam, take a look at our list of things to to with kids here.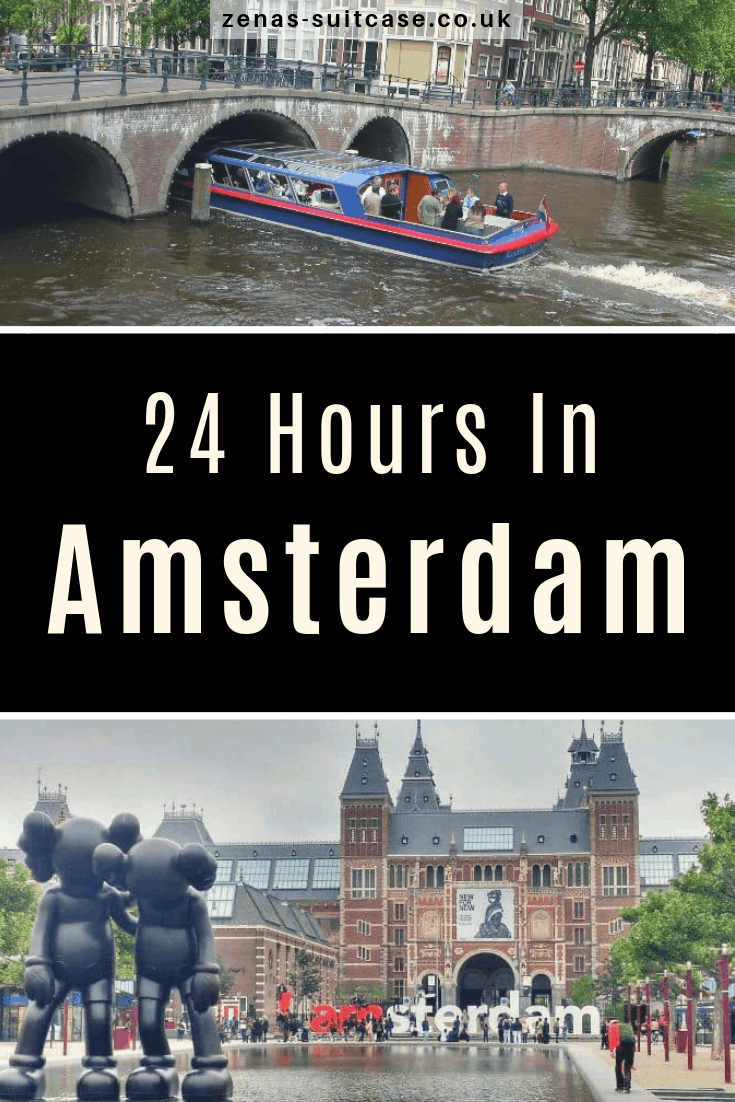 Know someone who would enjoy this post?  Please do share it with your friends and followers, as it would literally make my day.  
For the latest blog posts, offers and giveaways don't forget to subscribe to Zena's Suitcase.  You can also follow the latest updates on Twitter, Facebook, Instagram and Pinterest.  
Read about how I'm inspiring my children to love travel here.