We were absolutely delighted when Premier Inn invited us as a family to stay in their Lewins Mead Hotel in Bristol.  It's the best compliment a blogger can have when you are able to build a relationship with a brand you love like this.  You might remember, I recently stayed at Premier Inn Stansted Airport before my trip to Venice very recently and had a great experience.  Staying with Premier Inn really added to my holiday experience, but as you know, I wasn't travelling with my family on that occasion.
This time around, myself, my husband and my 2 young daughters were going to be spending the night at Premier Inn on our way to Bluestone National Park Resort in Wales.  This resort is located in Pembrokeshire in Wales, which is a beautiful part of the world, but also quite a distance from Nottingham.
We arrived in Bristol as the Christmas Markets and festive activities were getting started, which made our family visit to the city even more enjoyable. Our stay at the hotel as a family ticked all our boxes, and this is why: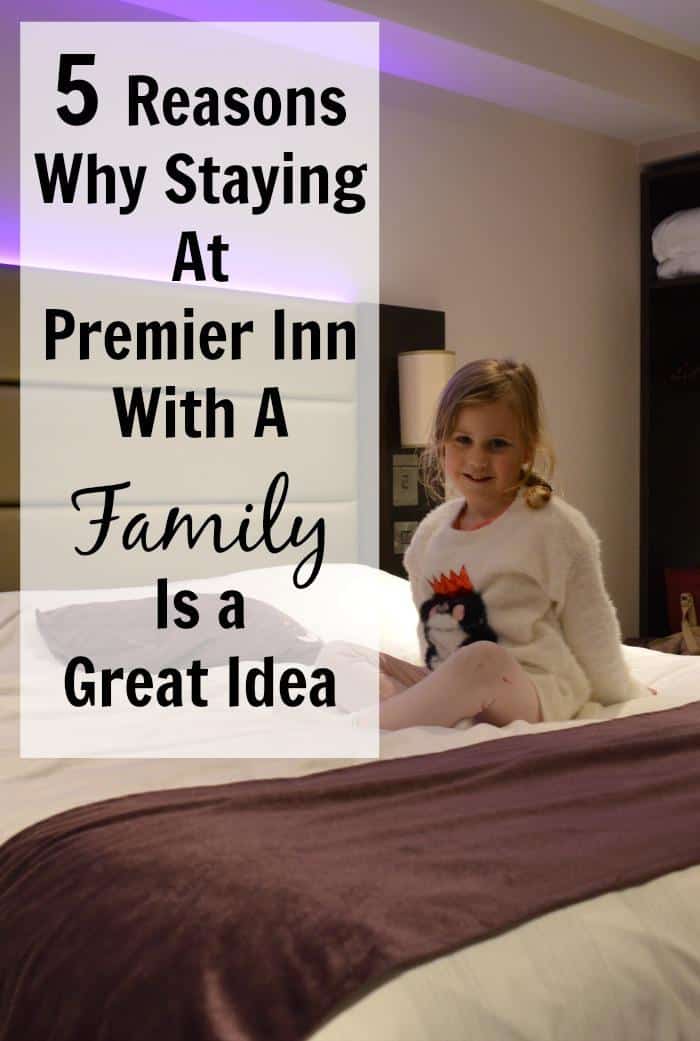 Premier Inn Hotels Are In Good Locations
The first thing to mention is that Premier Inn Lewins Mead Hotel doesn't have it's own car park, but we found an NCP carpark just a few minutes walk away.  It was a doddle getting from the car to the hotel, and Premier Inn offer a discount for using this hotel, so our over night stay cost £15.  Not bad for a city centre spot with good access to the hotel.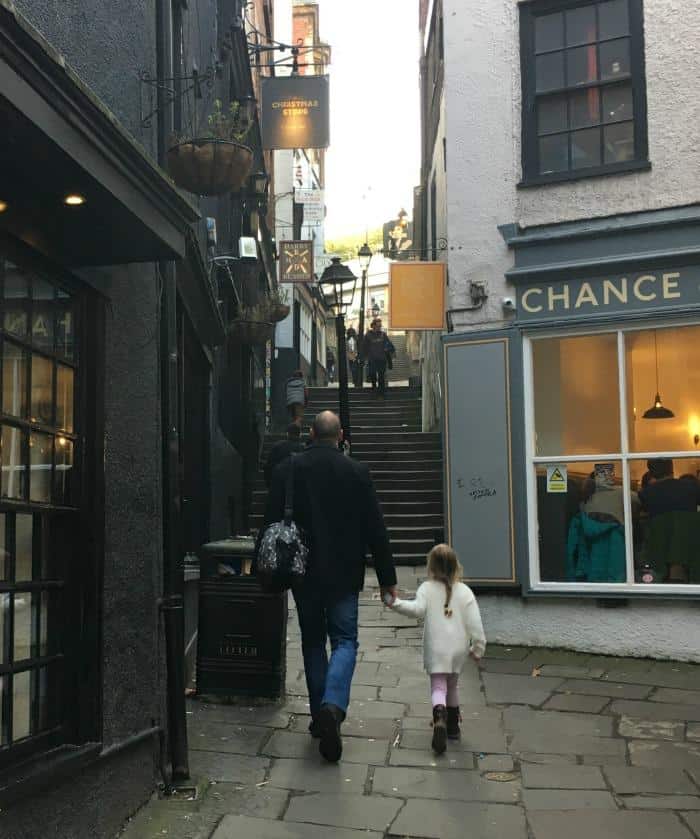 Premier Inn city centre hotels provide great access to where you are staying.  This is so important for a family with children who aren't so great at walking long distances.  We saw the quaint Christmas Steps, and got the children to walk all the way up them! We saw the beautiful Bristol Universtiy Wills Memorial Building, which is truly stunning.  We also explored the Bristol Museum & Art Gallery, which is free to enter, and has some amazing exhibits for families to enjoy.  The dinosaurs were a big hit with us.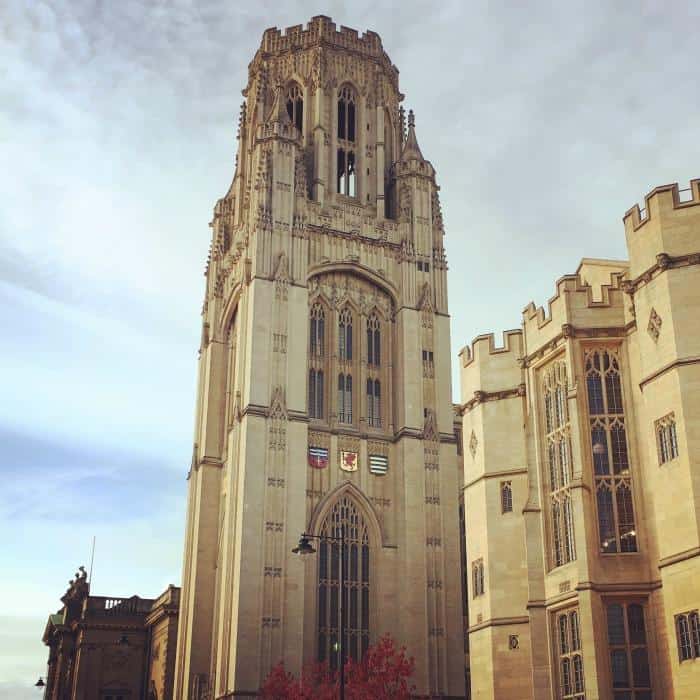 Before leaving Bristol, we also stopped by the Christmas Markets, which were just getting started for the day ahead.  Sadly, it was a bit early for a glass of mulled wine, but the children really enjoyed seeing all the stalls. They weren't quite so happy when I asked them to sit on a hay bale though.  Mummy had forgotten quite how prickly they could be for little bottoms.  If your visiting Bristol and want to do some shopping, the Premier Inn Lewins Mead Hotel is a great option any time of year, not just at Christmas as it provides excellent access to the Shopping Quarter as well as the local attractions.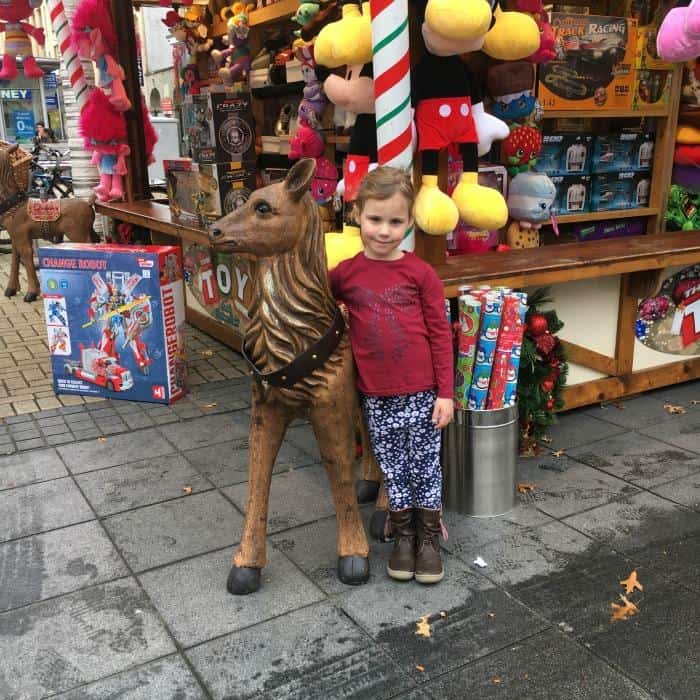 The Premier Inn Staff
The staff at Premier Inn were so helpful and friendly, from the minute we walked through the door.  We were actually a little bit early for check in, but wanted to drop our bags off.  The staff arranged for our room to be made available as quickly as possible and took our bags up for us.  We were able to take a seat in Brewers Fayre and get a quick drink while we waited.  I have to mention they do a very good small bottle prosecco for less than £5 that is perfect for getting you into the holiday spirit.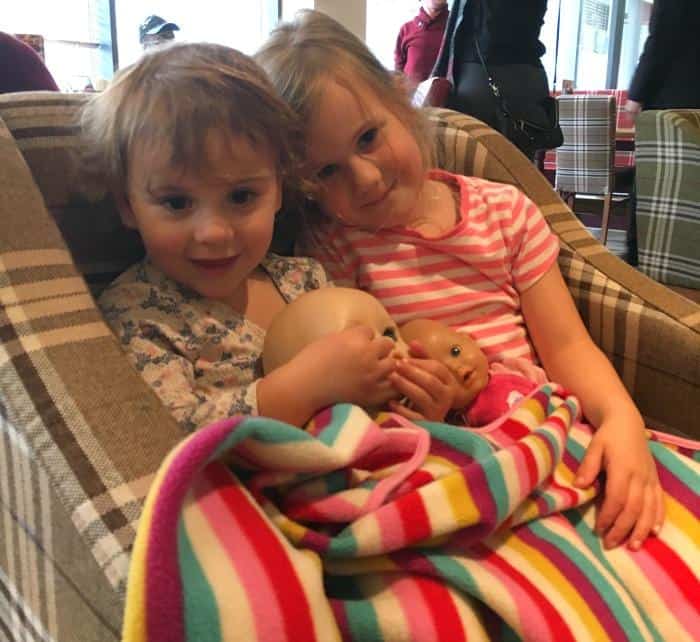 Once we had settled in, the staff gave us a map and told us where Christmas Markets were set up and how we could get to the museum we were interested in seeing.  Everything was really close by, and manageable for us to get too.
Through out the whole stay, the staff were always really friendly, especially to the children.  As we have a pair of spirited young ladies on our hands, it makes such a difference if we are all made to feel welcome and that people aren't offended when you have half a conversation with them, then have to cut off as you chase a mischievous 2 year old around the reception.  I think we provided them with a great deal of entertainment during our trip.
The Premier Inn Family Room
When you have young children, that have to go to bed at 7pm otherwise they turn into little monsters, you are inevitably going to spend quite a bit of time in the hotel room.  The Premier Inn family room is really comfortable, and very spacious and great for situations just like this.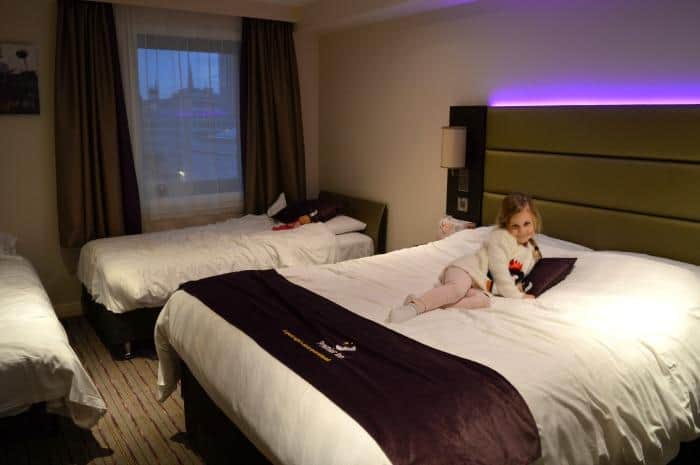 The children selected their beds, and placed there toys on them to mark their respective territory.  The king size bed was really comfortable and provide Mummy and Daddy with a very good nights sleep.  The girls made sure they gave it a through test before we used it as well.  Apparently it was very good for jumping on, sorry Premier Inn!
The room was super clean, with a modern decor and a family bathroom.  Baths in family hotel rooms work so well, as it means you can stick to the routine far easier and kids just love baths don't they, especially young ones like mine.
We had a 40″ flat screen TV to keep us entertained, either with some children's TV or something for the parents once the kids had gone to sleep.  There was a vanity station with a hair dryer, a good sized desk and the obligatory tea and coffee making facilities.
One of the highlights to the room, was the subtle strobe lighting just above the bed.  This is an act of genius by Premier Inn, and really made a difference to our stay.  It gave off a subtle blue light that was less likely to disturb the children when they had gone to sleep.  It meant we didn't have to sit in the dark until we were ready to go to sleep, which was perfect.  I have to mention the free wifi.  If there isn't free wifi, my husband gets very upset.  He's more of a geek than me and needs to have access to the internet or he gets very grumpy.  I also find it really useful for being able to keep up with my work while I'm away.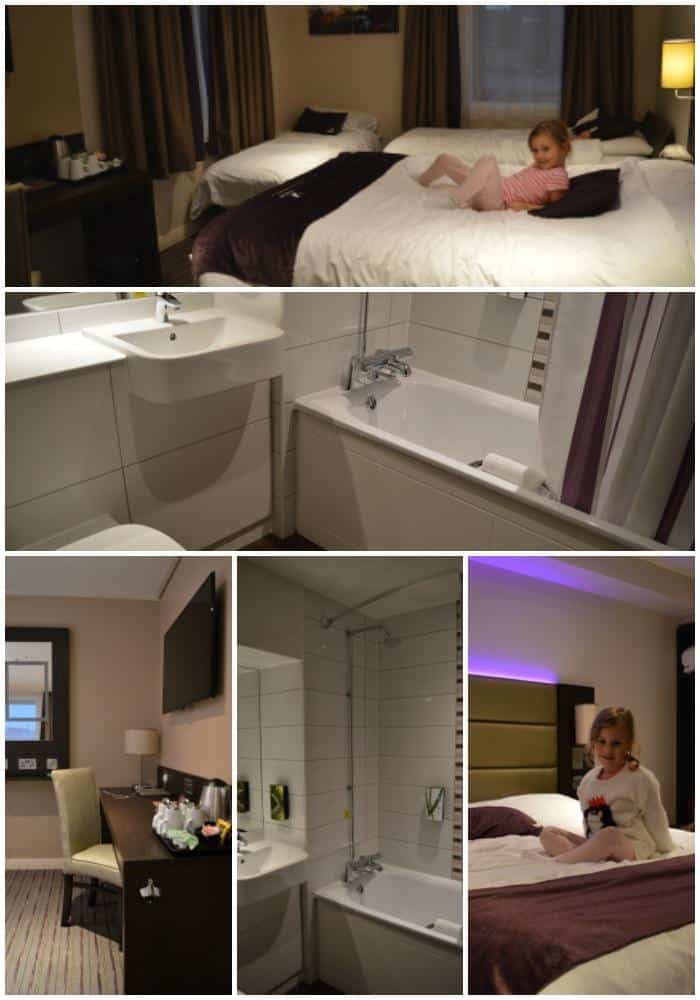 The Premier Inn family room was also super quiet.  The soundproofing was great, so we didn't hear any noise from the road outside, or from other rooms or residents in the hotel.  All in all, the Premier Inn family room was pretty much perfect, and we wound happily stay in it again.
Kids Eat Free For Breakfast
We love a good family breakfast together.  I think it's one of our favourite meals of the day.  The girls are always super hungry first thing in the morning, and Mummy & Daddy never say no to a cooked full english.  We were booked in for breakfast, and the girls got to eat free, which is brilliant.  I took them down to the restaurant in their onesies to cause havoc decide what they wanted.  Daddy grabbed a few extra minutes in bed while I had my hands full.  I get all the good jobs!
The waitress was so helpful and worked with us to make sure breakfast went as smoothly as possible.  They even provided a small bowl of apples and grapes for the girls, as this is their favourite fruit combination in the morning and save me picking them out of the fruit bowl provided in the buffet.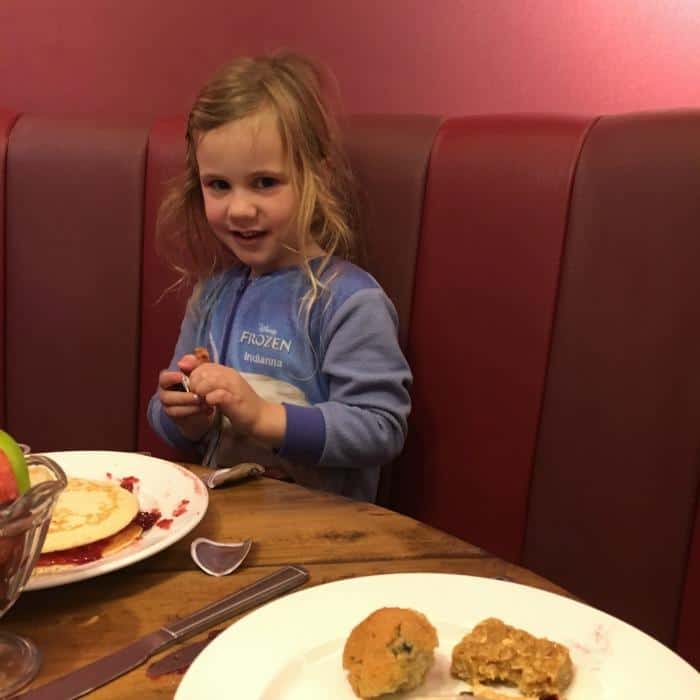 The adult breakfasts were great, just what we needed before exploring Bristol and hitting the road again to get to Pembrokeshire.  I love how you can pick what you want and it's cooked to order.  It's always that much nicer that a buffet english breakfast, no matter which way you cut it.  With everyone fully fed and topped up with juice and coffee we were ready to start the day, and leave the other diners in peace to enjoy their breakfast without a 2 & 4 year old charging around.
Makes Family Road Trips So Much Easier
Travelling with small children for long distances by car can be a challenge.  You stop a lot more with children, just with comfort breaks either to take one for a wee or change a nappy.  If you have to break for food this can also add a lot of time on to what is already a long trip.
There are so many great destinations that can be visited in the UK or Europe by car, but all of a sudden taking children there seems impossible or very stressful at the very least.  Seeing as you are on holiday, it should be a relaxed time where you are able to enjoy not only the holiday, but the journey too.
Staying at a Premier Inn can make those long distance trips a lot more doable, and make your road trip a lot more fun for everyone.  We were able to explore a city we had never visited before, and we arrived in Wales a lot calmer than we would have been if we had tried to manage the drive from Nottingham to Bluestone all in one day.
The fact that we had such a comfortable stay really added to our family road trip, and I would happily plan a holiday using Premier Inn either to break up a long journey or to visit a few UK locations to make a trip more interesting.
We were provided with a complimentary stay including breakfast at Premier Inn Lewins Mead Bristol in exchange for this post, but all thoughts and opinions are my own. 
Read about how I'm inspiring my children to love travel here.