If you need ideas of where to take kids in Amsterdam then one place I suggest you put at the top of your list is the NEMO Science Museum.  It's an interactive playground for children of all ages, and will be a guaranteed highlight for any family break in the city.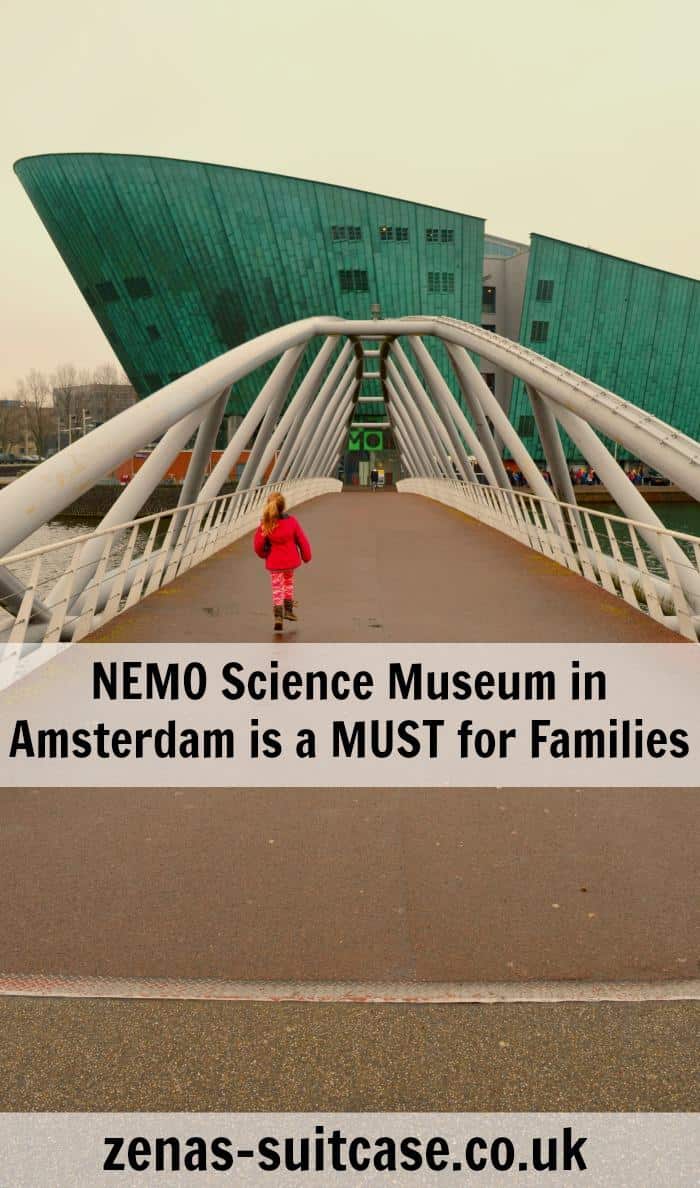 The NEMO Science Museum building itself is unmissable and will have any child curious about what's going on inside long before they reach the entrance.  It's iconic green ship like building protrudes from the water just a short distance from Central Station and is pretty unmistakeable.
Once inside, make use of the storage lockers provided as you will need all hands on deck to enjoy the many activities and experiments the NEMO Science Museum has to offer.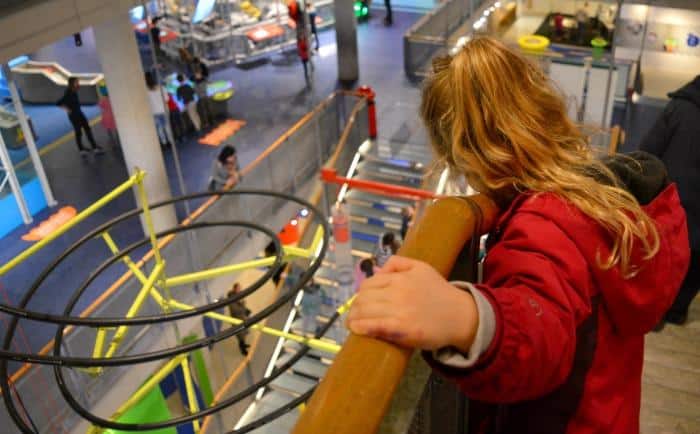 When we arrived, an experiment demonstration was taking place and quite a crowd had gathered.  It was the most elaborate design with dominos, water slides, pulleys and lots more besides. The demonstration was in Dutch, but that didn't distract from the fun of the experiment at all.
The first floor is brimming with experiments for the budding young scientist.  All the literature is presented in English as well as Dutch so we had no problems with following the instructions or finding out more about the theories behind the science.
My daughter literally didn't know where to go first as there was so much to choose from. Once she saw the ball being blown into the air by a giant wind machine she wanted to give it a go and nothing was getting in her way. Moving the ball around in the air provided her with quite a few giggles.
The chair pulley experiment was also a lot of fun.  There were three chairs and the idea was to pull yourself up using the ropes. Above you were a combination of pulleys, from 1 to 3 depending on which chair you sat on.  On the first chair, my daughter hardly moved, struggling to lift her own body weight. On the third chair she could lift herself to the top.  This was an endless source of entertainment and several goes were needed to demonstrate her new found strength.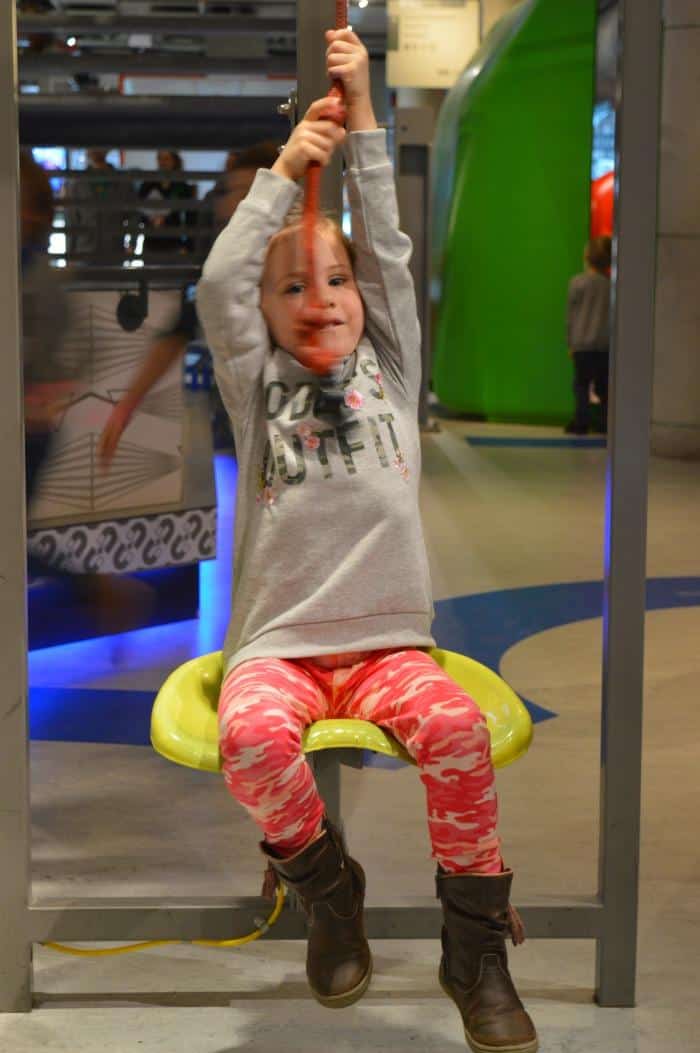 There was also a bubble station, experiments that showed her how washing machine drums worked and so much more that I can't possibly name them all in this post, but I strongly recommend you take a visit and discover them for yourself.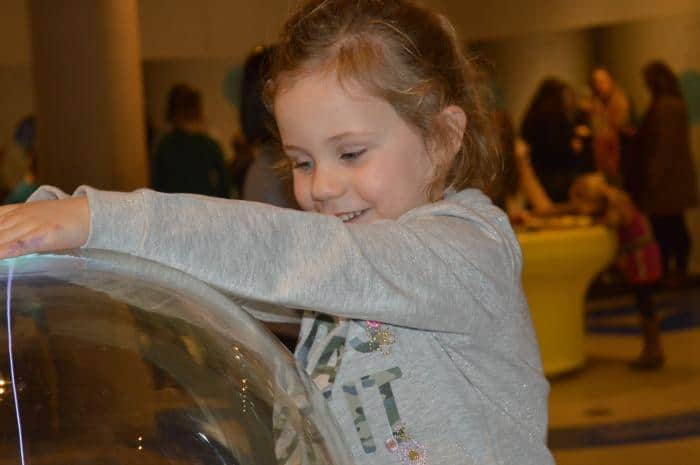 Each floor is dedicated to a different theme, and provides children with lots to explore.  I thought the most interesting was the areas dedicated to finding out more about our minds, bodies and reactions.  One experiment we did was for my daughter to make a picture from different coloured shapes. I couldn't see what she had made, but she had to describe it to me so I could recreate it.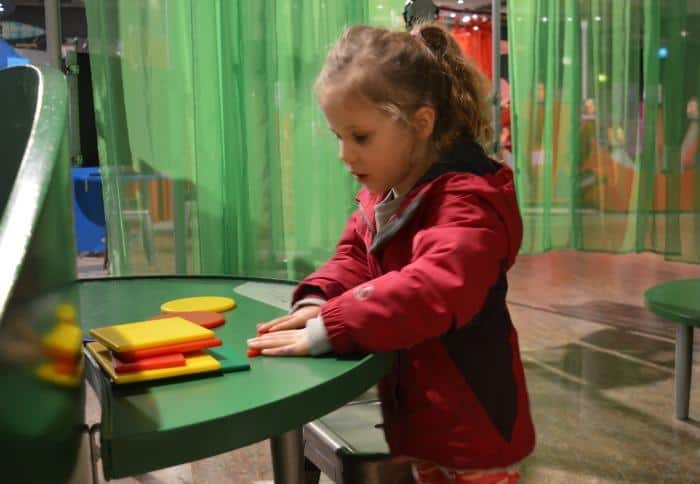 We compared the pictures and thought a lot about why the differences had occurred. There was so much learning here for her.  I particularly liked the fact there was an area especially for teenagers looking at exploring the changes they might be experiencing and other important social issues like how alcohol impairs driving through using a car simulator.
We had so much fun with shapes, weights, sounds and so much more that it definitely was one of the highlights of our family visit to Amsterdam.  We spent the morning in the NEMO Science Museum and decided to have lunch at the cafe on the 5th floor.  You can visit the cafe whether you have been to the NEMO Science Museum or not, and this would be worth doing especially on a blue sky day in summer.  The views across the Amsterdam's skyline are wonderful and a great place for that all important selfie.  There are water features that come to life in the warmer weather and the entire slopping roof provides a great outdoor dimension to your NEMO Science Museum visit.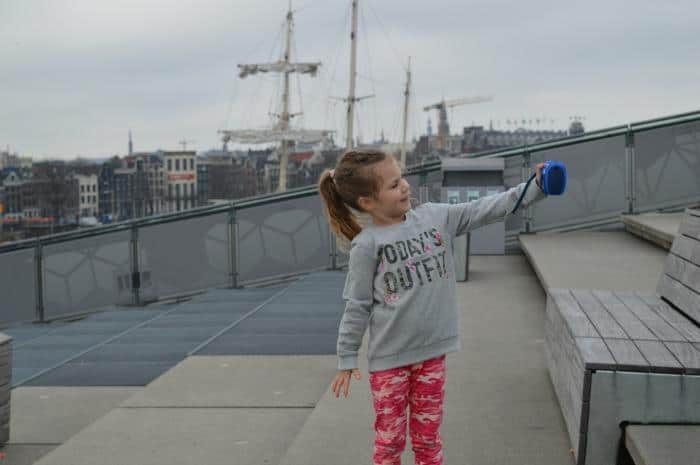 If you want to go elsewhere for lunch the Amsterdam library nearby has a highly recommended and reasonably priced cafe. This is on the 7th floor and is another great place to enjoy the views of the city.
We spent the morning at the NEMO Science Museum, but could easily have spent all day there.  Your child will be so excited running from one experiment to the next that neither of you will realise quite how much ground you've covered.  When you leave NEMO you might find that all of a sudden your child becomes much less keen on walking so you might want to factor this into your itinerary.  It might be an ideal time to do a canal cruise and there are many you can join at Central Station.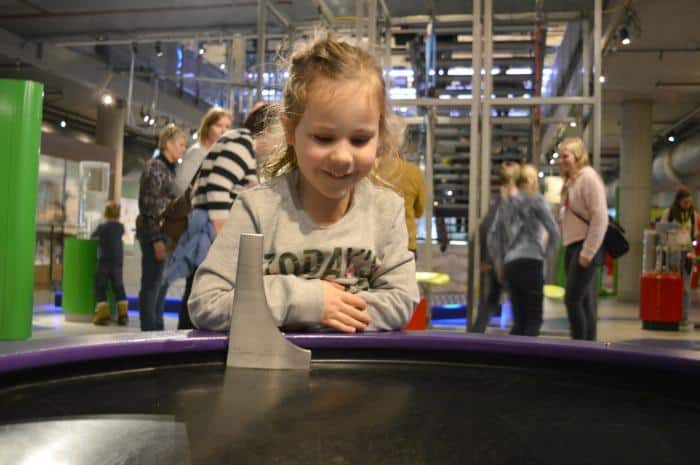 We visited the NEMO Science Museum as we had a 72 hour iamamstercard which included a visit to this attraction.  You can purchase tickets separately online for € 16.50 for visitors aged 4 and over.
I cannot recommend a visit to the NEMO Science Museum enough if you are visiting Amsterdam with kids.  It was so much fun and we can't wait to go back and enjoy it with the rest of our family.
We were provided with an iamamsterdam tourist pass, which included entry to the NEMO Science centre as a part of this campaign however there was no obligation for me to write this review and all thoughts and opinions are my own.