Let's talk about Los Angeles attractions, or more precisely things to do in LA that are going to help you create a fun and memorable trip to this part of California.  LA covers a lot of ground, ranging from the dry terrain of the beautiful Santa Monica mountains to the dramatic coastline of the pacific ocean.  There's lots of things to see and do, and this list of places to visit in Los Angeles will help you get right under the skin of the the fun and vibrant culture LA is famous for.
With plenty of sunshine, a strong connection to the entertainment industry and a friendly and welcoming atmosphere you are guaranteed a fun time if you focus on these things to do in Los Angeles.
Things to do in Los Angeles
Visiting the Griffith Observatory
The Griffith Observatory is located on Mount Hollywood in Griffith Park, and not only is it a great place to visit in LA, but it offers the most spectacular views over Hollywood and the famous Hollywood sign.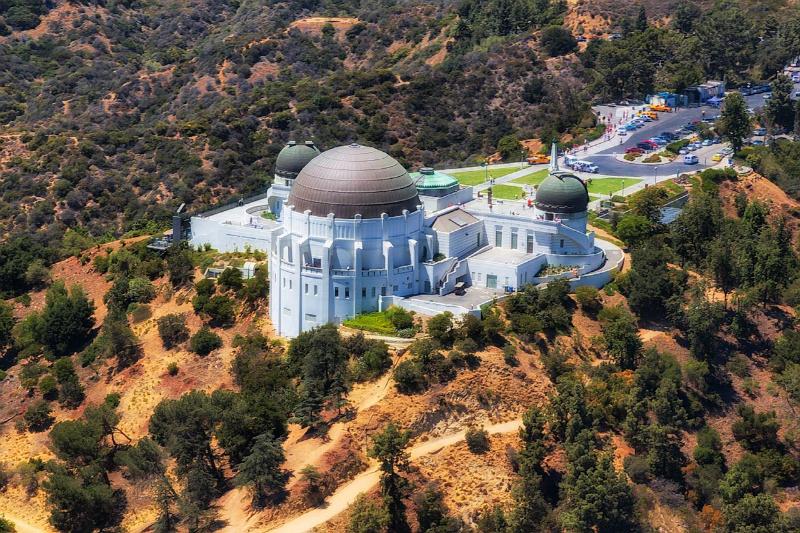 The observatory houses a fantastic planetarium as well as exhibits to explore. The planetarium is world famous, with a 290 seat theater offering presentation with a live narrator who will talk you through everything you are seeing during the show featuring their Zeiss star projector (one thing to note is that children under 5 are only allowed to view the first show of the day, and children with a fear of the dark might not enjoy these presentations since they're conducted in almost complete darkness). There are numerous exhibits to look at including the history of the human observation of the sky and amazing pictures of the stars and the planets.
The view from the Observatory is arguably one of the best in all of Los Angeles, with a sweeping panorama over Los Angeles, the Hollywood sign, and on a clear day, the Pacific Ocean. While the views are nice during the day, they really come alive at night as the lights of the city turn on. We visited just before sunset and I think this is the perfect time to visit; not only do you get to experience the views in both the daylight and in the dark, but you get to see the sun set from a beautiful location.
Contributed by Kate from Have Diapers Will Travel
Cycling Mt Baldy
If you're in Los Angeles and love to road bike, make sure you don't miss cycling up nearby Mt Baldy.
This road has serious cycling pedigree: it's ranked as the 20th toughest climb in the US and is often the queen stage of the Amgen Tour of California.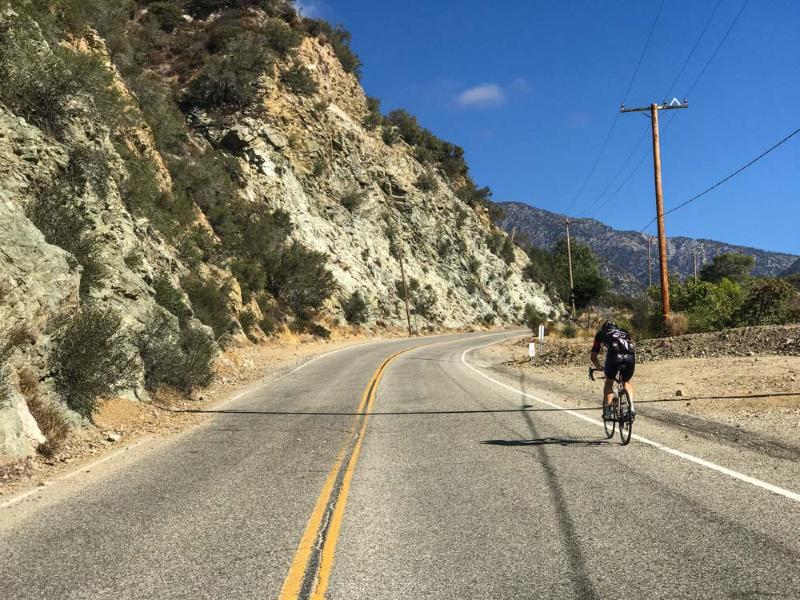 But don't underestimate this climb! It's over 20 kilometres long and the infamously nasty last 8 kilometres take you up gradients that average over 8%. The last push up to the ski lifts takes you on gradients averaging 13% over 400 metres. It's a leg burner, to be sure, but when you get to the top you'll feel a massive sense of achievement!
A final tip – rather than heading back down Mt Baldy road, try the descent down Glendora Ridge Road. The road winds across the top of a ridge and offers never-ending views across wide canyons, forested mountain peaks, rugged river valleys and LA. It's an unforgettable ride!
Contributed by Clare from Epic Road Rides 
Hermosa Beach
A great location to visit and stay in LA is Hermosa Beach.  It is located close to LAX but you'll be pleased to here it does not have much aircraft noise.  It is a great beach area, largely undiscovered by tourists so you can experience the true LA beach vibe.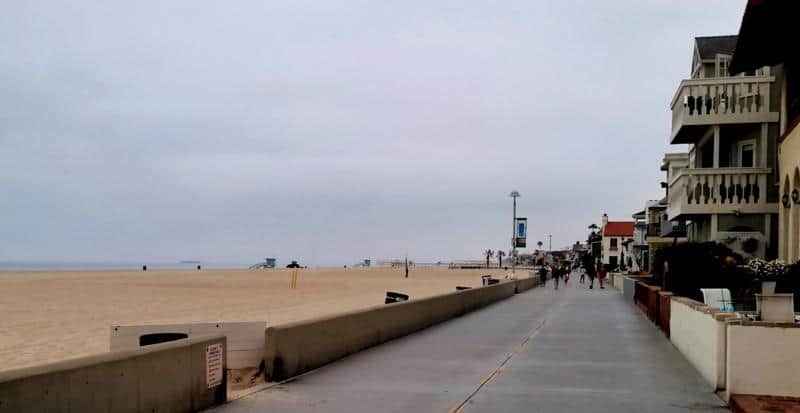 The beach area is lovely, with great options to swim and surf during the season and you can also rent a bicycle to ride along the wonderful beachside pathways – or just walk!  I also loved how there were so many great bars and restaurants around the area, so you can experience a great range of different cuisines.  Hermosa beach is a great place to relax and watch the world go by while soaking up the best of LA beach vibes.
Contributed By Anne Sutherland-Smith from Pretraveller
Visit Downtown Los Angeles
Downtown Los Angeles is full of amazing things to do, you can easily discover some of the most beautiful architecture, best art museums, and delicious eats in the city.
For architectural delights, be sure to check out Frank Gehry's Walt Disney Concert Hall, the building is open to the public with self guided tours available during specified hours of the day. The Bradbury Building which has been featured in movies such as Bladerunner and 500 Days of Summer is also in downtown Los Angeles. You can walk around in the lobby and up to the first landing however the rest of the building is not available for sightseeing.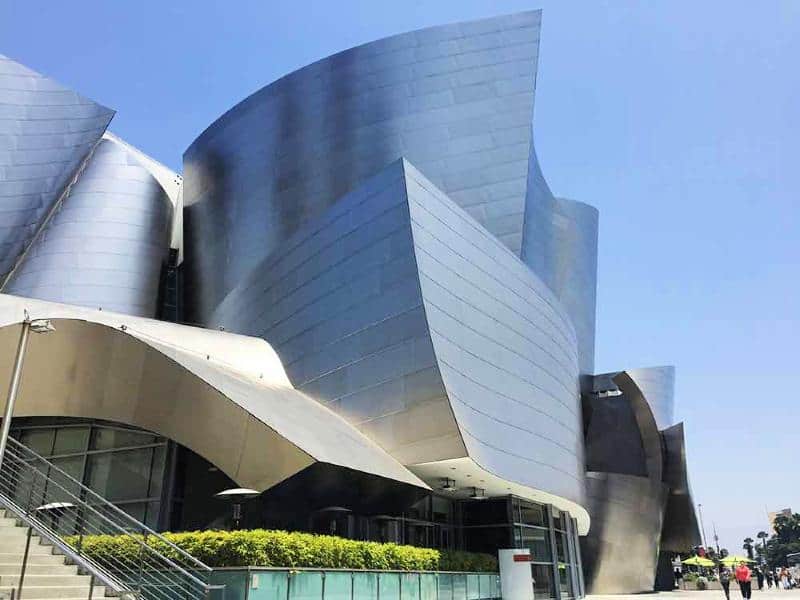 The Broad is a contemporary art museum that has become infamous on Instagram for the Infinity Mirrored Room by Yayoi Kusama. The museum is free and you can view works by other famous artists including Andy Warhol, Paul Koons, and more. The Museum of Contemporary Art (MOCA) is also a great and modern museum located in downtown Los Angeles. The exhibits rotate so you're guaranteed to see something new every time!
Foodies will love the Grand Central Market with its variety of offerings ranging from healthy fruit juices to egg breakfasts, Salvadorian pupusas and locally made ice cream! You'll be able to sightsee and fill your stomach all in one central area.
Contributed by Constance from The Adventures of Panda Bear
Spend the day at Universal Studios
One of our favourite things to do in Los Angeles is to spend a day at Universal Studios. We first visited nearly twenty years ago! I am not a big theme park fan but even I enjoy visiting Universal Studios because there is so much to see and do other than just ride rollercoasters!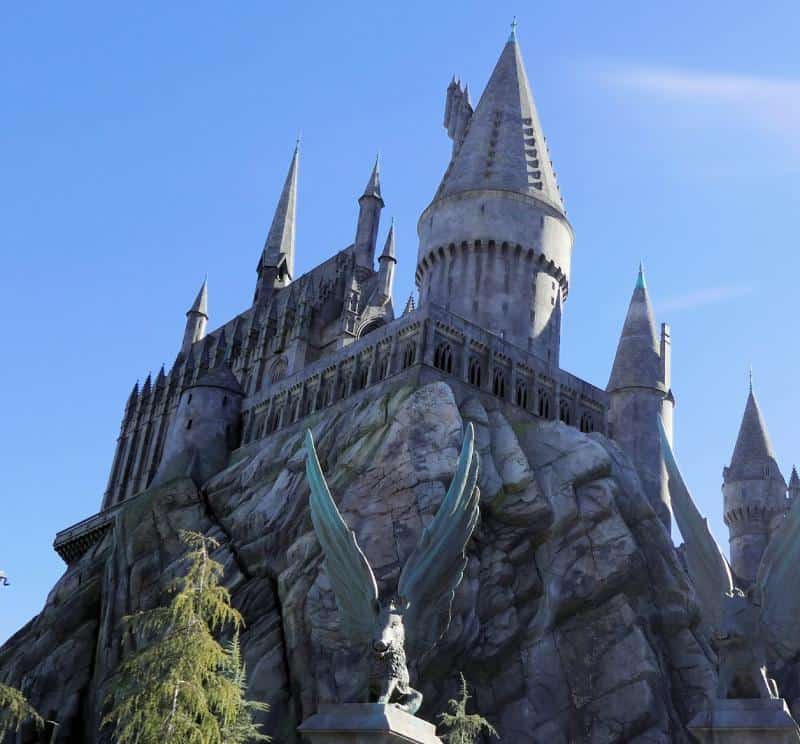 The park has an excellent mix of rides for all ages and the attention to detail on the themed streets is fantastic. There are buskers and street entertainers everywhere who help to create a lively, fun atmosphere. The Wizarding World Of Harry Potter is a must see, whatever you age!  Exploring Hogsmeade and Hogwarts Castle was like stepping into the Harry Potter films; our kids loved it. We all loved the studio tour which gets better and better each time we visit. It is a comprehensive, engaging tour which is highly entertaining as well as eye-opening!
Contributed by Sinead from Map Made Memories
Horse Riding in LA
When you think of L.A., you don't necessarily think of horse riding, but actually the hills behind Hollywood are laced with trails that are perfect for hiking and horseback riding.
Drive up past the homes of the rich and famous until you get to Sunset Ranch at the end of the road.  Here there are one- and two-hour guided horse treks available.  You will go up a wide trail to a viewpoint of the Hollywood sign (in the distance).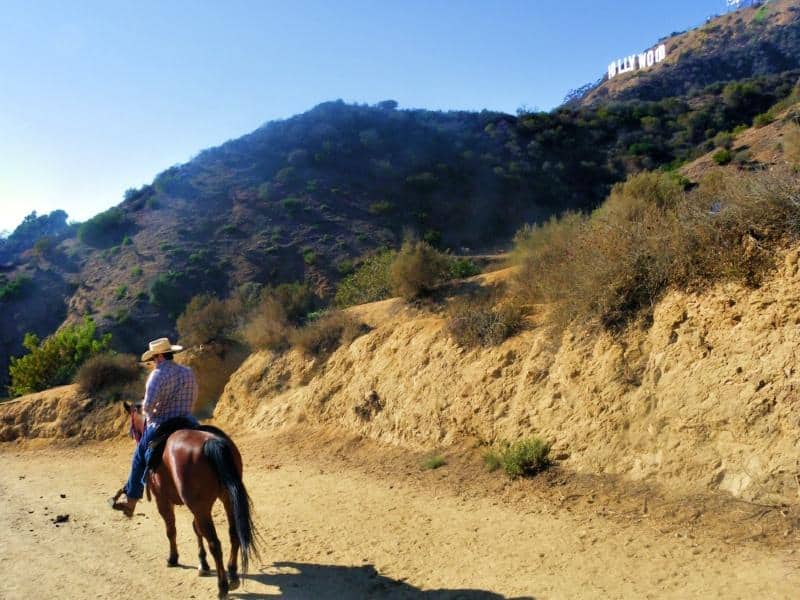 Chances are your guide is a would-be actor, so you can have a somewhat surreal experience of riding on a dusty trail while talking about "the biz" and enjoying views of Los Angeles below.   Helmets are provided and no prior experience riding a horse is necessary.
Contributed by James Ian at Travel Collecting
Visit the Walsh House in LA
Who doesn't remember the teen TV show Beverly Hills 90210? It was an incredibly popular show, which was aired in the US from 1990 -2000. However, it has been broadcasted worldwide. 
In the TV show, the Walsh house is placed in a really nice area of Beverly Hills. However, the house is actually not really located there. Rather you will find it in Altadena, an area in the outskirts of Los Angeles. The exact address is 1675 E. Altadena Drive. The area is not as high-end as Beverly Hills, however, it's still a very nice neighborhood. I went there last year as part of my road trip. We only saw the house from the outside, but it was still a fun experience.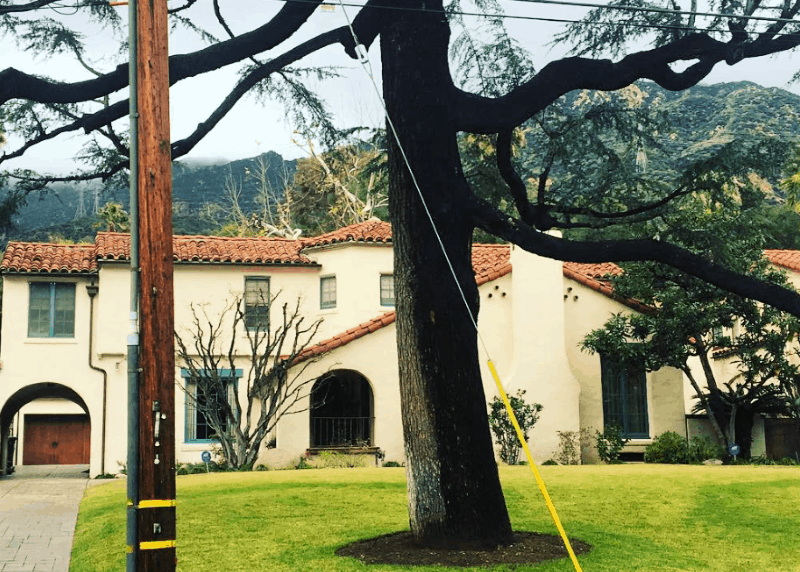 Yet, if you drive by you might be lucky enough to meet the current owners of the house. Maybe you will even be invited in. That happened for a couple who went there back in 2008. You can read about their experience here. 
So if you are or ever were a fan of this very popular TV show don't miss out! Put the theme song on while you're cursing down Altadena Drove. I promise you will feel all excited when you drive by and remember to stop for pictures. 
Contributed by Sanne from The San Sanity blog
Enjoy the food in Koreatown
If you love good food, make your way to Koreatown for the best Korean BBQ in the world!  It's one of LA's famous food hotspots, and these are the restaurants Dan from Blorg.org recommends you try.
#1 Kang Ho Dong Baekjeong (International Chain)
Located in Chapman Plaza, this is the best place for Korean BBQ in LA when it comes to price and quality! If you're new to the KBBQ experience, it's not a problem. They do all the cooking for you at your table at Kang Ho Dong Baekjeong. I recommend getting the beef combo with "marinated short rib." Try to go for lunch, otherwise wait times can be up to 2 hours at night.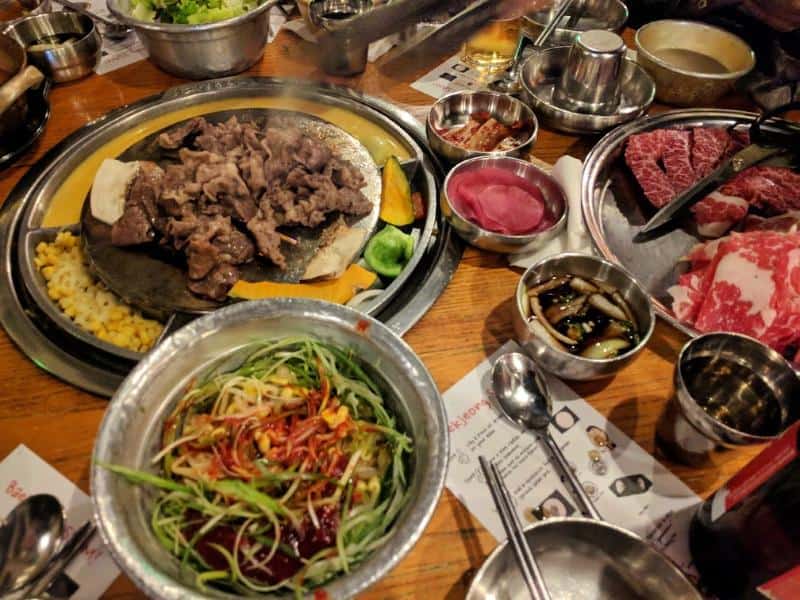 #2 Magal (International Chain)
Magal is also very good Korean BBQ, but it costs a little more Kang Ho Dong Baekjeong. They also do the cooking for you, but what makes them amazing is kimchi fried rice! You'll be full, but still want more of this flavorful and succulent rice.
#3 Go-Pocha!
If you're looking to grab a drink and Korean bar food, Go-Pocha will give you the Korean experience. It's located in a shopping plaza, but once you get inside it looks like an authentic Korean street. They specialize in Spam fries
Contributed by Dan from Blorg
Visit The Fast and the Furious Movie Locations in LA
The Fast and the Furious movie locations had been on my bucket list of things to do in LA for a while.  As I've explored Southern California over the last few years, I decided to drive north to other areas of California to find some of their filming locations.  The sights I found were the Toretto home, the Toretto market, the infamous Neptune's Net, and the Forest Lawn Cemetery.  The Forest Lawn Cemetery is not a movie location, but Paul Walker's resting place.  If you like The Fast and Furious movies as much as I have, you'll be interested in seeing these specific places.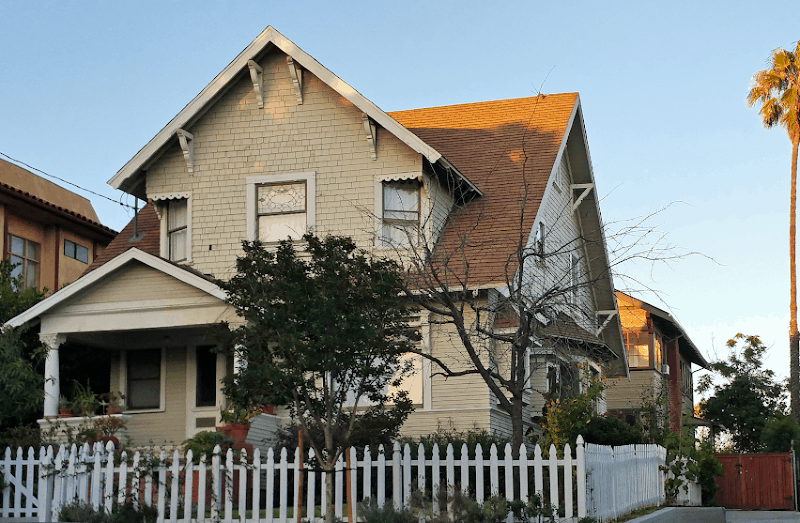 The Toretto home is in Echo Park.  The residential street is not as wide as it appears on screen.  The Toretto market is also located in Echo Park just around the corner from the home.  Neptune's Net is in Malibu, California further along the Pacific Coast Highway.  Beautiful views and great seafood await you at this historic location.  The Forest Lawn Cemetery is another eye-catching beauty located in Hollywood Hills.  You won't see a gravestone or a specific marker for Paul Walker, but you can grab a map of the cemetery at the main office to help you find what you are looking for.
Contributed by Christa Price from Navigate with Price
Take a Day Trip to Legoland California
Located only one and a half hours south of Los Angeles you will find Legoland. 
This park is excellent for the young and the young at heart.  It is such a great idea for a theme park, as every kid and adult knows and plays with Lego!  
You'll find many LEGO themed rides, from relaxing boat rides to heart racing roller coasters. Mini land USA is fascinating, with giant LEGO sculptures of famous US cities and monuments. Characters roam the park so be sure to grab a holiday snap with Emmett or Wild Styles from the LEGO Movie!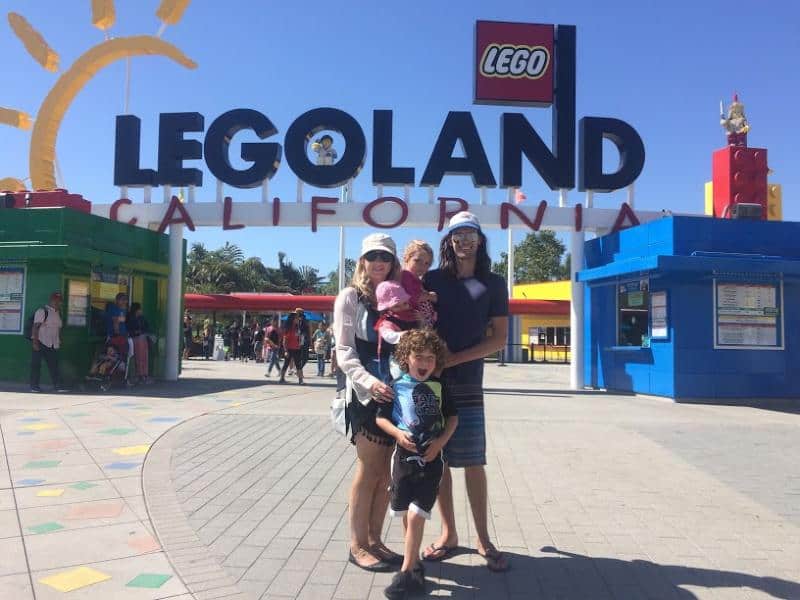 If you fancy a night away from LA, then you can stay at the Legoland Hotel. The rooms are Pirate, Kingdom, Adventure or LEGO friends themed. The hotel has a giant LEGO pit in the lobby, floating oversized LEGO pieces in the pool, a castle play area in the cafe bar, and nightly pyjama party discos.  Being located right outside the entry gates to the park, means you can head directly from the restaurant after breakfast straight into the park. You also get early admission to beat the crowds to the front of the lines. 
Although aimed at the younger crowd, Legoland Resort Park is a fun day out for all! 
Contributed by Rebecca from Chasing Summer Family
Visit Grand Central Market
If you are spending a day (or more) in Los Angeles, I highly recommend paying a visit to the Grand Central Market.
This temple of gastronomy, located in the heart of Downtown Los Angeles, has been in operation since 1917.  After more than 100 years, the market is thriving!
In the Grand Central Market, you are going to find vendors offering prepared dishes, cheese, bread, coffee, ice cream, pressed juice, produce, herbs and spices.  Festivals, trivia nights and live music contribute to the visitors' experience.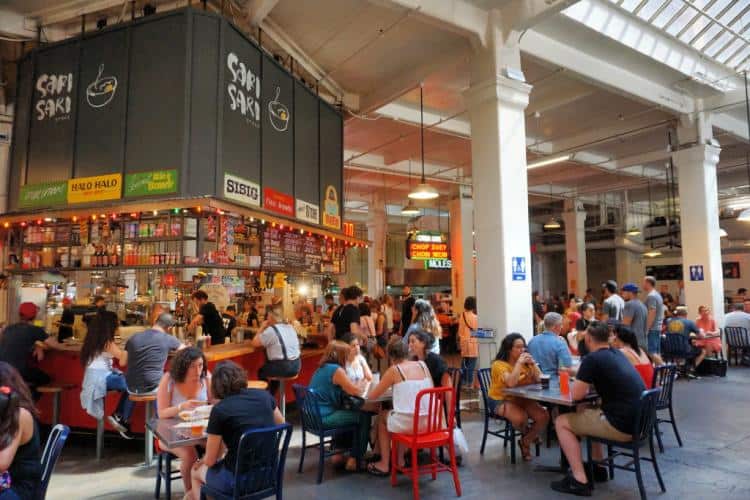 My favorite places to eat include La Tostaderia (shrimp and fish ceviche), Eggslut (egg sandwiches with a twist), Ramen Hood, Tacos Tumbras a Tomas and Olio Wood Fired Pizza.
In addition, I love to stop by DTLA Cheese and McConnell's Fine Ice Cream (you have to go!)
The market is open every day from 8:00 a.m. to 10:00 p.m.  It makes sense to visit before the lunch rush or in the afternoon to avoid the crowds. In terms of approaching the place, take a look at the different vendors before setting down on a place to eat.  If you are visiting with a group, order a selection of international dishes and share.
Contributed by Ruth from Tanama Tales
The Huntington – Library, Art Collections, and Botanical Gardens
Just 12 miles outsides of Los Angeles are The Huntington Library, Art Collections, and Botanical Gardens. What used to be Henry and Arabella Huntington's San Marino Ranch is now a beautiful and vast homage to the humanities, arts and botanical sciences.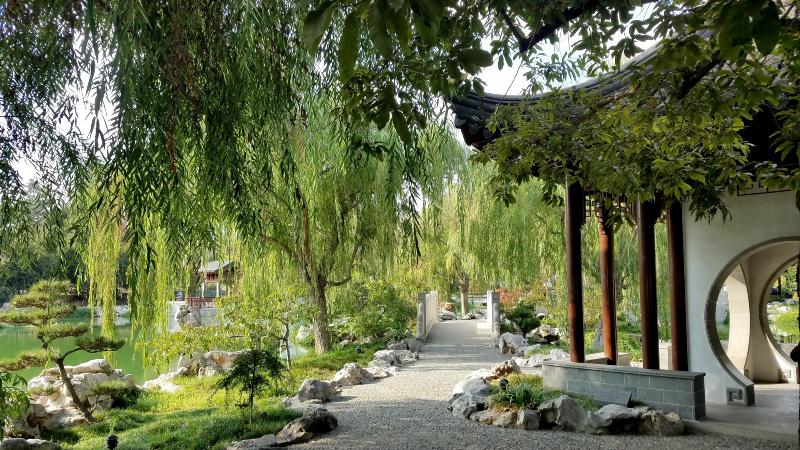 There are over 16 themed gardens throughout the grounds, some of the more popular including:
1) The Chinese Garden (aka Garden of Flowing Fragrance) is one of the largest Chinese style gardens outside of China.
2) The Desert Garden is one of the largest and oldest collections of cacti and succulents in the world, featuring more than 2000 plants over 10 acres.
3) The Japanese Garden, one of the most popular gardens at The Huntington, includes a beautiful moon bridge, koi ponds, a Japanese house, bonsai collection and Zen courtyard.
4) The Rose Garden covers 3 acres of land and contains more than 3000 plants that bloom from March to November.
The original Huntington residence now houses a collection of 15th to 20th century European Art. The Virginia Steele Scott Galleries of American Art features various works from the late 17th to mid-20th centuries.
Also known as an educational and research institution, the Huntington Library research library contains over 9 million items spanning items from the 11thto 21st centuries and is open to both scholars and the general public.
The Huntington is open Wednesday thru Monday from 10am to 5pm. It is closed on Tuesdays. Admission ranges from $13 for youths up to $29 to adults with discounts available for Groups, Seniors, Military, and Students. Admission is Free on the first Thursday of the month with advanced tickets. Parking is Free.
Contributed by Cynthia Graner of Two Day Travels
The Getty Museum
The Getty is situated in one of the best locations in Los Angeles. Just off the 405 freeway, it sits on top of a hill with views all the way to the ocean! This museum offers something for everyone: architecture, art, sculpture, gardens, photography and fun activities for kids. Best of all, the Getty Center is free! You only have to pay for parking.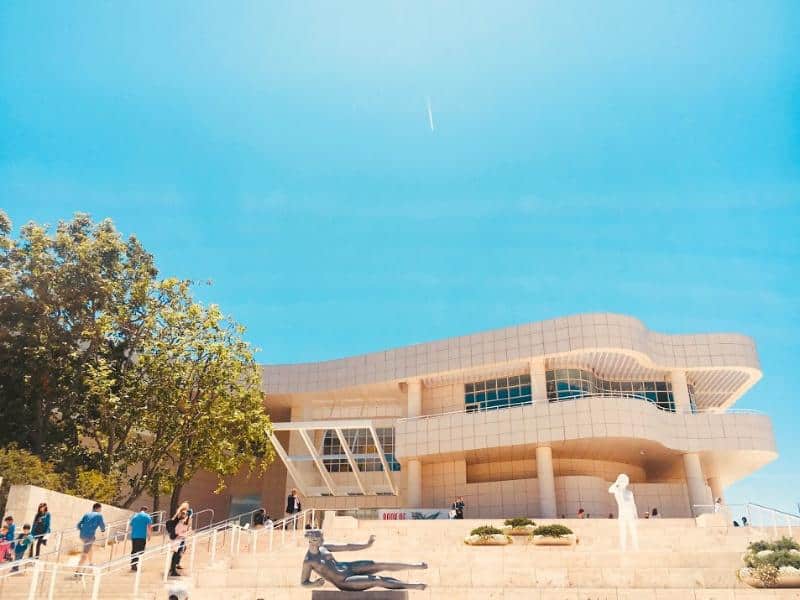 There are always changing exhibits at the Getty, so research ahead of time to see what's current. As you enter, be sure to watch the introductory film and to grab a free audio tour set to learn about the various pieces in the galleries. The permanent exhibits include Impressionist paintings, indoor and outdoor sculptures, decorative arts and photography.
There is a family room where little hands can get interactive with the exhibits! Kids can also become an "art detective" with investigative cards that encourage them to find hidden aspects of the art and architecture at the museum. Lastly, you will not want to miss the spectacular gardens! The landscaping draws you down a winding path of waterfalls and lush, vibrant gardens to the maze at the center. Make sure to pack your sunscreen and your camera, as you will want to spend much of your visit exploring outdoors. Learn more here.
Contributed by Julie Espinosa from www.familytravellifestyle.com
Visit the La Brea Tar Pits
In the middle of Los Angeles, there's an ancient spot that have been in existence for tens of thousands of years. The La Brea Tar Pits is still an active site, and its liquefied asphalt pits have accidentally preserved many trapped animals for the past 38,000 years.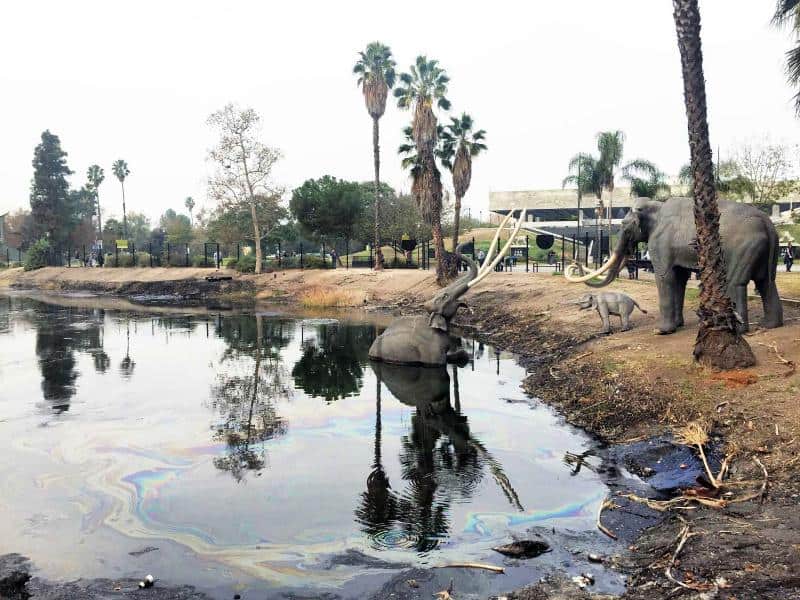 The site is a dream world for archaeologists and kids alike. Thousands of prehistoric fossils and bones of all kinds of animals have been excavated to date, including hundreds of mammoths and saber-toothed cats. While many active outdoor excavation pits exist on the La Brea Tar Pits grounds, the gem is kept inside the Museum.
You will easily spend hours here, exploring the actual archaeological La Brea pits and the museum itself.
Contributed by Halef and Michael from The Round The World Guys
Lunch on Malibu Pier
During your time in Los Angeles, head up the
California coast to Malibu
for an unforgettable lunch experience on Malibu Pier. Located right off the coast highway, it makes for an easy stop with incredible views of the adjacent beach and sprawling Pacific Ocean.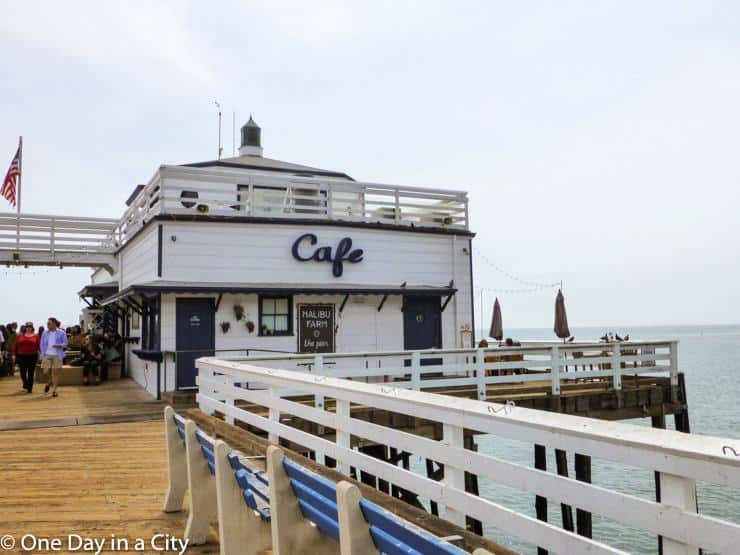 For lunch, head to the end of the historic pier (it dates back to 1905) where you'll find Malibu Farm Restaurant, a unique farm to table dining experience that uses produce from the restaurant's own local gardens and provides an airy, farmhouse-style atmosphere while you feast upon your meal. You can also get something from the counter at the adjacent Malibu Farm Cafe and take it to the sandy beach to enjoy.
Now all you have to do is choose the best things to do in LA from this awesome list.  Thanks to all the travel bloggers who contributed their ideas and experiences of visiting places in LA.  I'm feeling really inspired about travelling to Los Angeles, whose up for finding some flight deals right now?
Pin these things to do in Los Angeles to your travel board now!