Hendra Holidays asked us to visit their holiday park in exchange for this review.
I knew as I strapped the kids into the car for the drive from Nottingham to Newquay that our family holiday at Hendra Holiday Park was going to be worth the effort. We had plenty of snacks, drinks and fully charged tablets to keep the kids entertained for the trip to Cornwall and we were excited to get on our way.
It took around 6 hours for us to arrive at Hendra, and as soon as the sign at the Newquay holiday park came into view, our spirits were lifted. We had made it and we couldn't wait for our family holiday to get underway.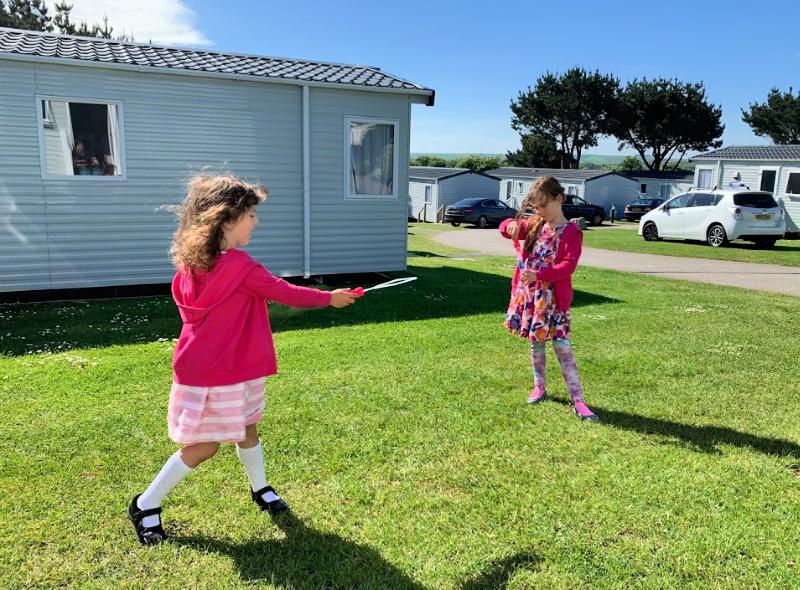 Arriving at Hendra Holiday Park
As we entered Hendra we couldn't help but notice the hub of activity around us. Children were playing on the outdoor gym, there were plenty of bikes and scooters being ridden all over and it just felt like there was a lot going on. The kids were keen to get out of the car, and being told to just hold on a few more minutes must have felt like torture for them.
I headed to the reception and got us checked in as quickly as I could. With keys, a welcome pack and a map in hand we set off again to find our holiday accommodation. Hendra Newquay is incredibly well laid out and there was plenty of signposts to help point us in the right direction. It only took us a couple of minutes to find our caravan, and we could finally release the the children from the car for some much needed fresh air and exercise.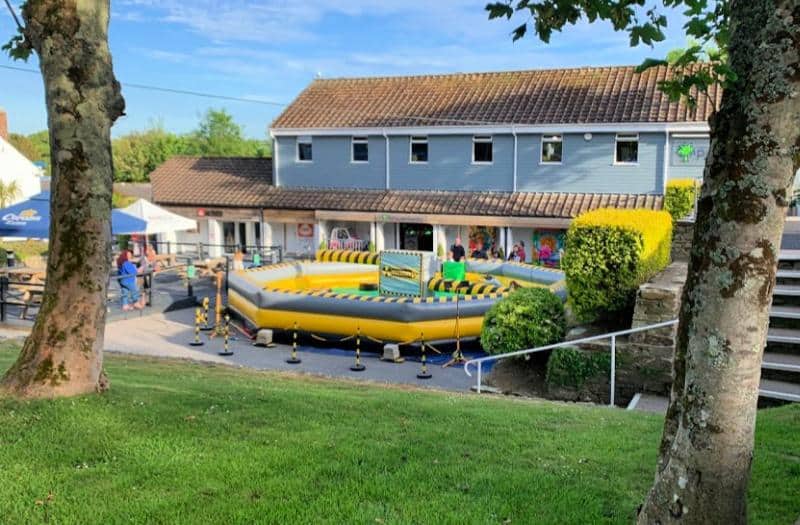 Luxury Holiday Accommodation at Hendra Holiday Park
There is a range of holiday accommodation and camping available at Hendra Holiday Park, and we were staying in a Porthminster 3 Bedroom Premium caravan in the cherry field for the week. The first thing we really appreciated was how much space we had. The caravans are spaced out very well which gave us plenty of room for parking one, or more cars if needed. There was also still enough open space for the children to play outside without venturing onto the road. The biggest danger wasn't necessarily the cars, but the bikes and scooters flying down the hill at high speed!
The inside of our caravan was clean, well presented and very spacious. We shared a full room tour which you can still view in our Instagram highlights. You'll have to let me know what you think of Indie's presenting skills 🙂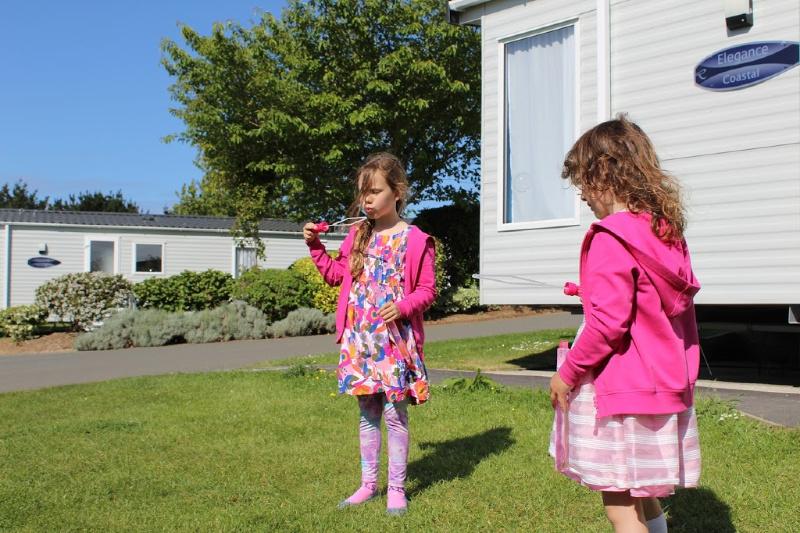 The biggest plus for a family staying at Hendra Holiday Park Newquay is that their static caravans provide high quality self contained accommodation. For a family this means comfort and privacy and the flexibility of being able to set your own schedule.
The living area was really comfortable with a large corner sofa, a flat screen and a good size coffee table, as well as an electric fire if it got a little chilly. The children were able to relax comfortably here in the day playing with toys and colouring. When the kids had gone to bed, Daddy and I were quite happy watching Britain's Got Talent (it just happened to be that time of year) or whatever else caught our fancy.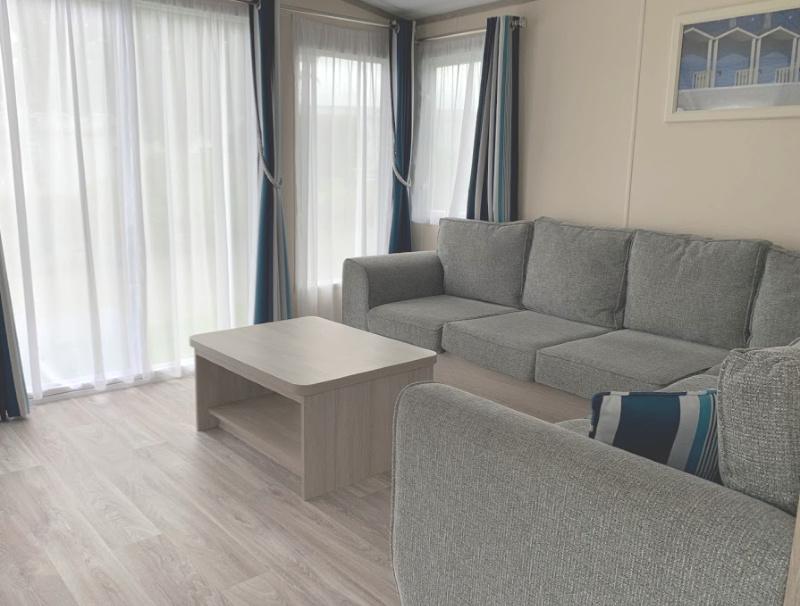 The kitchen/dining space was also very generous in size and very well equipped. We had a gas cooker, kettle, microwave, toaster and full sized fridge freezer. There was plenty of pots and pans as well as plates and cutlery. The only thing we felt was missing was a welcome pack with a few supplies to get us started like washing up liquid, bin bags, tea towels and sponges.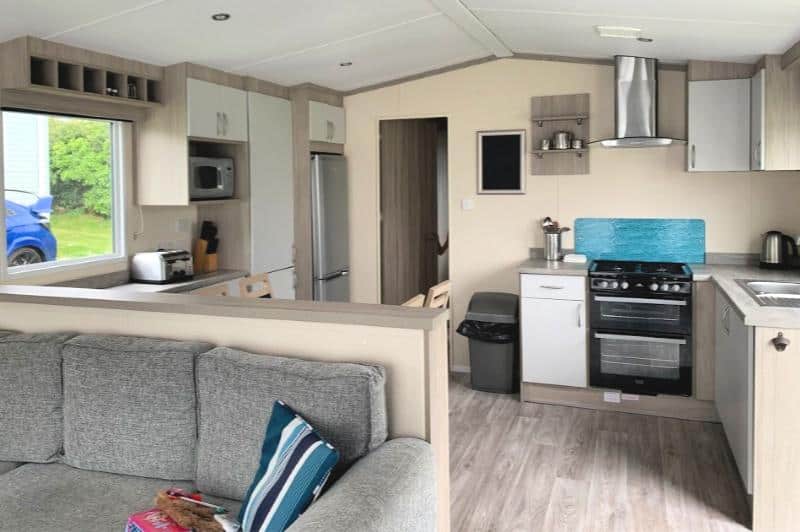 We had two twin bedrooms and a double bedroom in the Porthminster as well. The double bedroom had a wall mounted flat screen tv which was handy. There was plenty of cupboards and storage space as well. Linen was provided in the Porthminster, but we soon realised that towels were not provided and we only had our swimming towels with us.
I popped to reception to ask if there were any towels available for hire, and unfortunately there wasn't. We could pop to the nearby shops and buy some if needed, but I was a tad annoyed with myself that I didn't realise I needed to bring them. It wouldn't have been a problem to pop a few in the car, after all!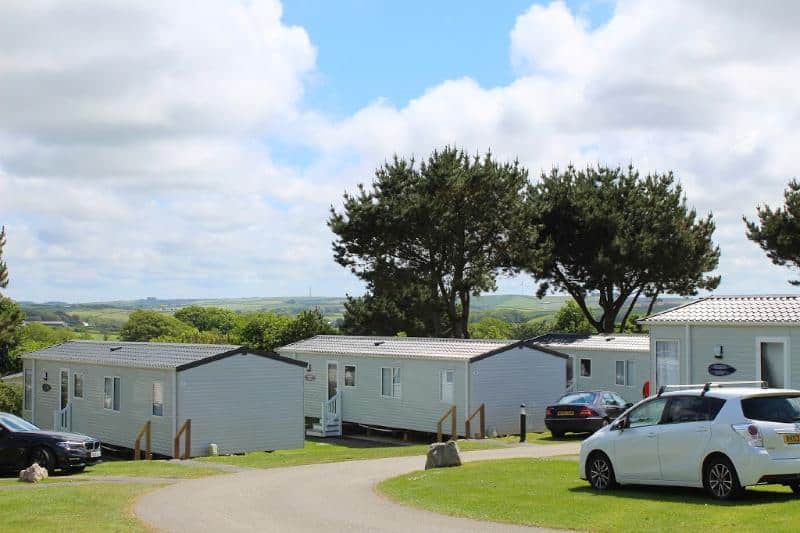 We had lots of questions about the Porthminster caravan on Instagram during our stay, and I would 100% recommend staying in this style of caravan during your Hendra Holiday. It was spacious and really comfortable for a family of four. A larger family would also have been pretty happy here too. There was lots of windows, so light could just flood in and lift everyone's mood at the start of the day.
The location of our caravan also gave us some lovely views over the rolling countryside, and I'm a huge fan of seeing as much green space as possible.
Facilities at Hendra Cornwall
Being one of the best 5 star holiday parks in Cornwall we were keen to go and explore the facilities and find out more about it. After a 6 hour drive I certainly wasn't in the mood for cooking, so we went to explore what food was available at Hendra Holiday Park Cornwall. To our delight we found a fish and chip shop and a pizza restaurant that also provided take away. They took cards as well, so we didn't have to worry about finding cash to pay for our meals.
As it was a change over day, lots of people were ordering food. In hindsight, I would probably have made sure we had tea with us, or popped to the local supermarket on the first night, just because there was a little bit of a wait. During the rest of the week, the queues were fine and the food was good.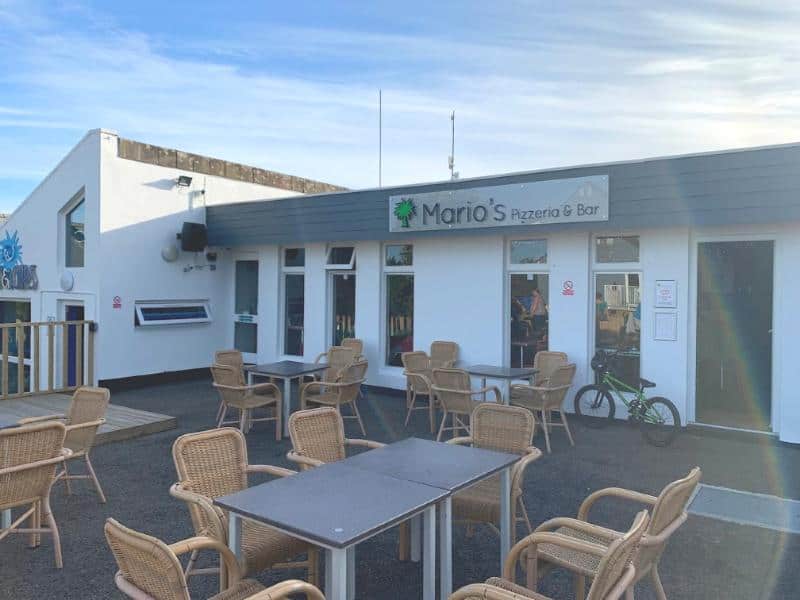 There is also a very well stocked shop at Hendra that has Co-op brand foods, local produce, camping supplies and anything else a family might need during a holiday. The prices were slightly more than you would pay in a supermarket, but it did prove handy and we popped in a few times during our week in Cornwall.
There is also the Terrace Bar and Restaurant which is a great place for bar meals and coffee and cake. It overlooks the outdoor pool, and the patio area can be covered when the weather isn't playing ball. We had a family meal here one evening, and were impressed with the quality and the portions, as well as the night off from cooking!
Oasis Fun Pool
One of the things we were most looking forward to was using the Hendra swimming pool. We used the indoor pool the most, as the weather was very mixed during our stay. When we checked into Hendra Holiday Park we were given our pool passes.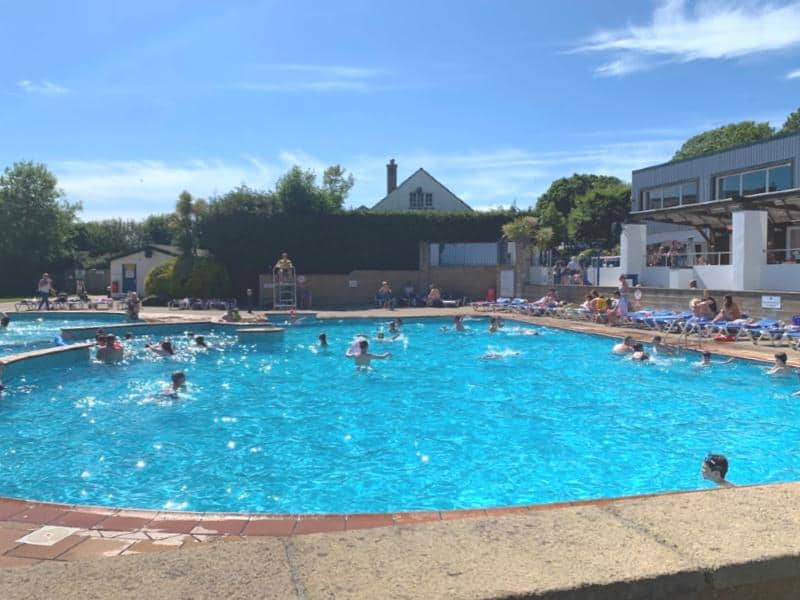 The heated outdoor pool is free to use if you are staying at Hendra Caravan Park. If you want to use the indoor Oasis Fun Pool, I'd suggest buying your pool passes in advance for the best savings. You can buy 8 pool passes for Hendra swimming for £19.50 when you book your caravan or camping holiday.
This Newquay swimming pool is great for families. There are three flumes, a toddler pool and a large swimming pool too. The baby pool was particularly warm which was lovely. The girls are still a bit nervous of flumes, but there was one water slide that they could sit on Daddy's knee for. They loved this and it made our time at the swimming pool a lot more fun.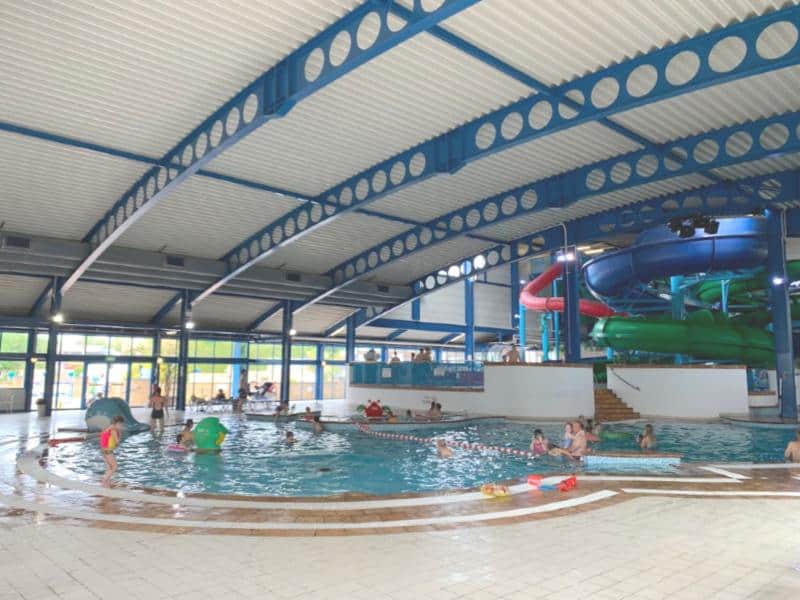 The Oasis Fun Pool is very popular and we found that either by going for a swim first thing in the morning or late in the afternoon we beat the queues and the pool wasn't too busy.
Children's Activities
We found there was lots for the children to do at the Newquay caravan park. We didn't actually leave Hendra for 3 days because the girls loved all the facilities so much. The outdoor pirate play area and gym were a huge hit with the girls. They were great facilities and kept the kids busy while we nipped to the shop or ordered takeaway.
There was a play area for younger children as well as the large pirate ship, and also an outdoor climbing wall. These facilities were free to use any time, and the only thing that stopped play was the occasional rain we experienced across the week.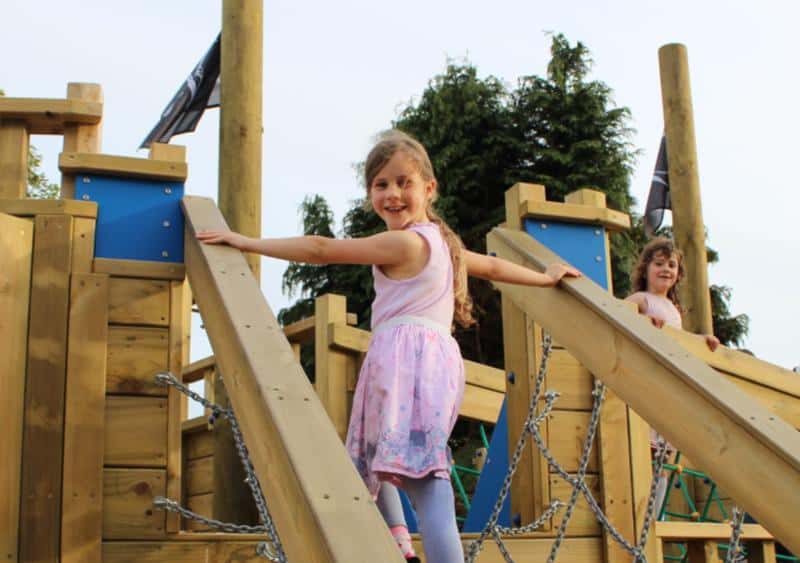 Hendra park also has an indoor soft play area, which is great for younger kids. You can access the soft play free of charge with your membership passes, and play sessions are 45 minutes long. Hendra Holidays were really good at managing their facilities so that everyone gets a chance to use either the swimming pools or the soft play area. At popular times there may be a chance you wouldn't be able to use the soft play, but keeping sessions timed and asking people to show their passes meant that everyone had fair access to the facilities.
There is a children's activity timetable and we did pop along to the kids activity club one day. It was advertised as pirates activities, but when we visited it was just a play session with paints, toys and play dough for example. You can't leave children here unattended unfortunately, so it's not a kids club in the true sense of the word, which threw some parents. It's only a small venue also, so it was a little cramped. What I would have loved to see here is perhaps themed arts and crafts sessions and we would have been more likely to use especially on wet days.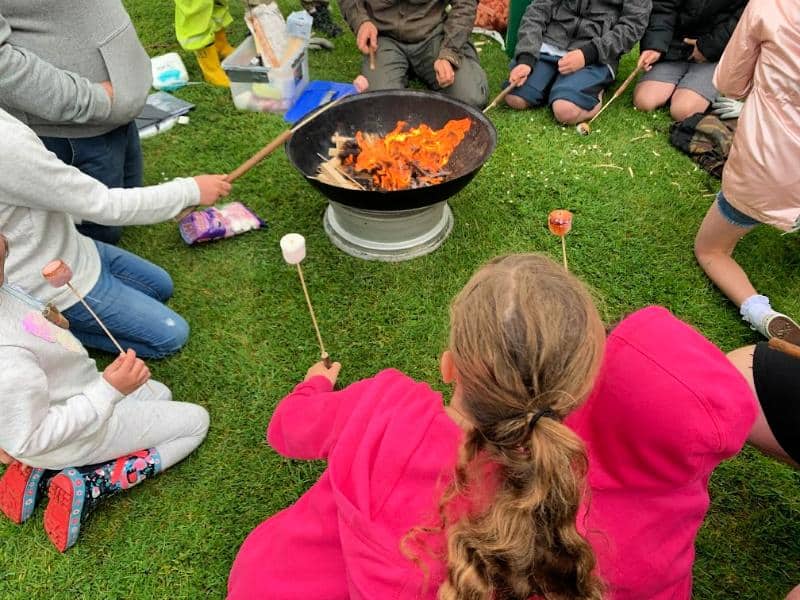 The Newquay Forest school provide a 2 hour session at Hendra Holiday Park, which is free to attend and this was brilliant. We popped along for the last hour, and the girls loved it. They sawed wood, made pendants and toasted marshmallows. It was a lot of fun, and also a very popular activity.
We also went to an animal show during our stay. It was an early evening event before the kids disco, and they got the chance to meet all kinds of exotic animals including Matilda the snake, which they held!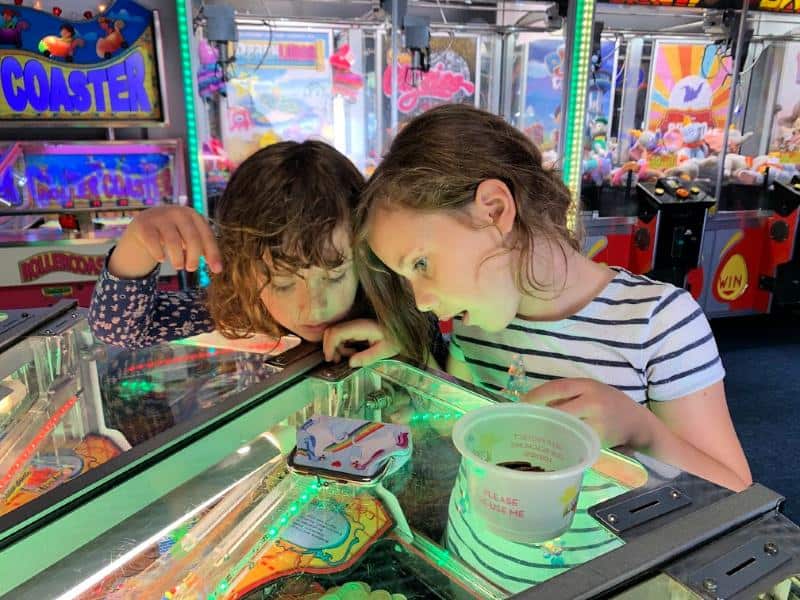 There was a kids disco and games with Henry or Henrietta the Hippo every evening, and we popped along so the kids could have a dance. The real highlight for the girls though was the 2p machines. With lots of prizes to be won, they soon realised the arcade was the place to be! Poor Henry and Henrietta didn't get a look in after that!
Hendra Holiday Park Review
If you are on the look out for holiday parks in Cornwall for your family holiday, I would have no trouble at all in recommending a stay at Hendra Caravan Park. They provide a 5 star luxury service to ensure you have a great family experience. Hendra is very well maintained, clean and such a great place for a relaxing family holiday.
It happened to be Brook's 5th birthday during our stay, and we couldn't have wished for a better holiday for her in all honesty. She definitely loved everything about it, as did her 7 year old sister. They made new friends, got plenty of fresh sea air and had lots of fun all round.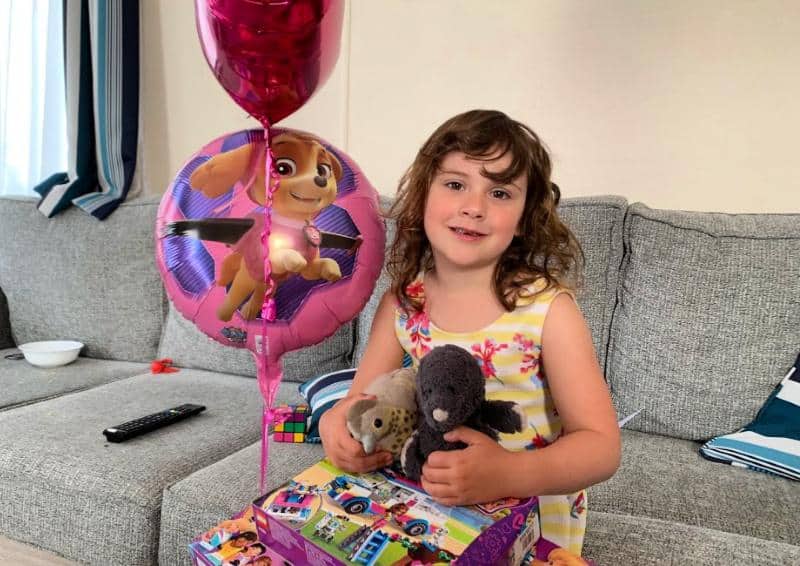 Daddy also had a relaxing family break, as firstly he wasn't having to deal with the stress of flying, which he hates, and it was the perfect place to spend quality family time together and enjoy a break from work.
Tips for Staying at Hendra Holiday Park
We had a few people ask us about tips for staying at Hendra on Instagram, so we thought it would be helpful to share them here too.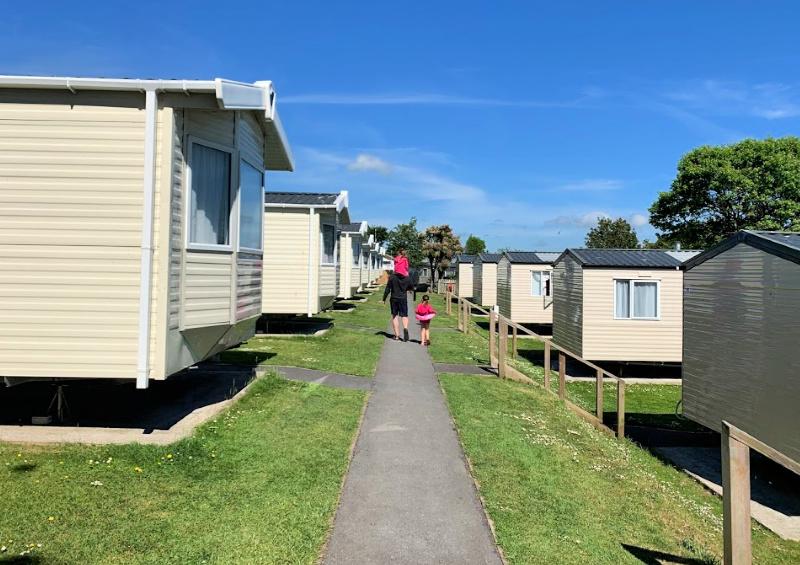 Pack bathroom and swimming towels
We didn't have a great experience with the WiFi, so we wouldn't recommend you buy it, but there is free WiFi in some of the communal areas
Visit the pool early or late afternoon to avoid the queues
Pack supplies for the kitchen like washing up liquid, tea towels, bin liners, tin foil etc
If you enjoy Bingo, get there early as it's popular and there's some great cash prizes to be won.
The takeaways and restaurants are popular on the first night, so you might want to make alternative arrangements for dinner when you arrive.
You can catch the land train to and from Newquay each day
Buy your pool passes in advance
The nearest supermarkets are Morrisons (5 minute drive) and Lidl (5 minute drive)
The nearest beach is Porth beach
Pin these holiday tips for later: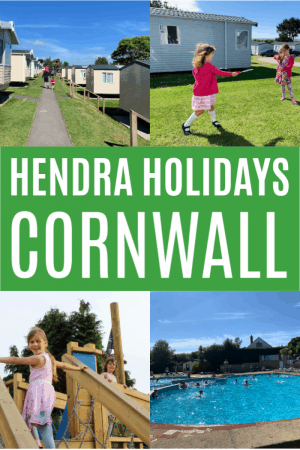 Days Out Near Hendra Holiday Park
If you enjoyed reading about our stay at Hendra Holiday Park, you might also be interested in our other reviews to help plan your visit to Cornwall:
Pirates Quest Newquay
Newquay Zoo Newquay
National Maritime Museum Falmouth
Eden Project Bodelva
Cornish Seal Sanctuary Gweek
Restaurants
Lewinnick Lodge Restaurant Newquay
The Sharksfin Restaurant Mevagissey
Harbour Lights Fish & Chip Restaurant Falmouth
Hendra Holiday Park Address and Postcode
Hendra Holidays asked us to come and review their Newquay caravan park in exchange for this review, but all thoughts and opinions are our own.
Related Posts:
Cornwall with Kids – Things to do + Holiday Tips
Things to do in Bude – NORTH CORNWALL