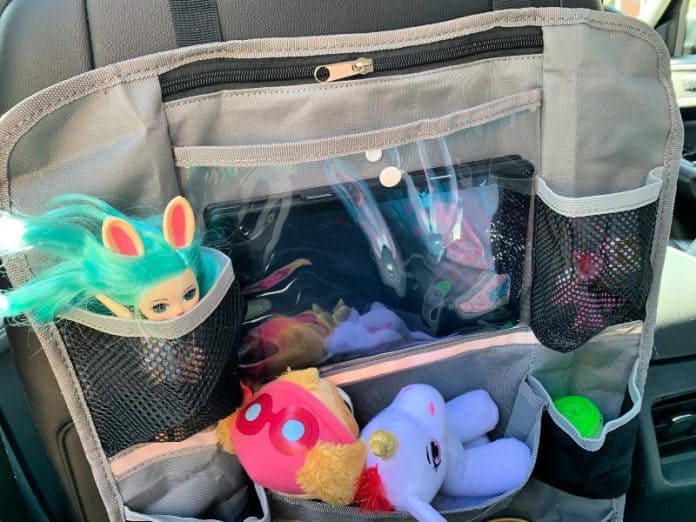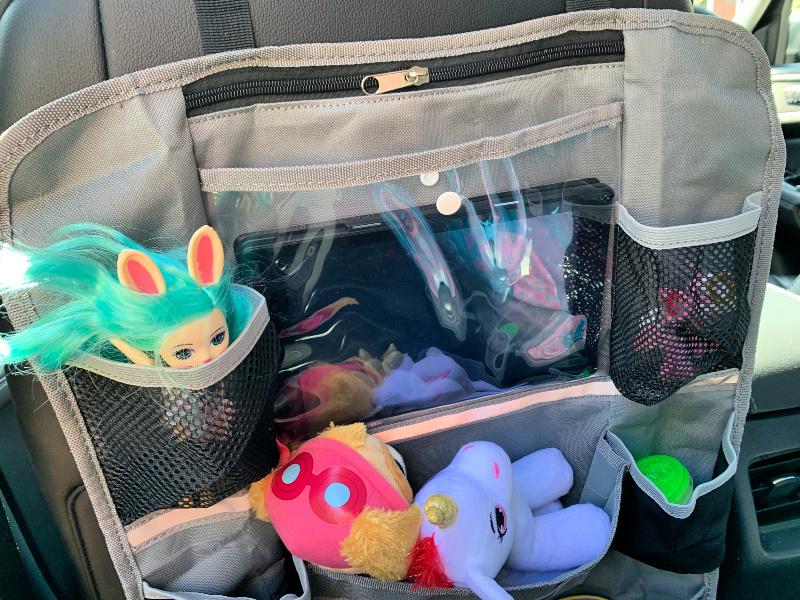 When Surdoca reached out to us and asked if we would review their car seat organiser for kids, I knew we had to say yes.  In all these years of years of going on road trips with the kids we have never had any car seat organisers for the kids.  This could be why the back of our car often looks like a small toy shop!
The back seat car organiser arrived just in time for our Hendra Holiday in Cornwall.  You might already know that the drive from Nottingham to Cornwall is a pretty long way.  Because we were travelling with kids it was bound to take a little longer, as there's always a few extra stops along the way.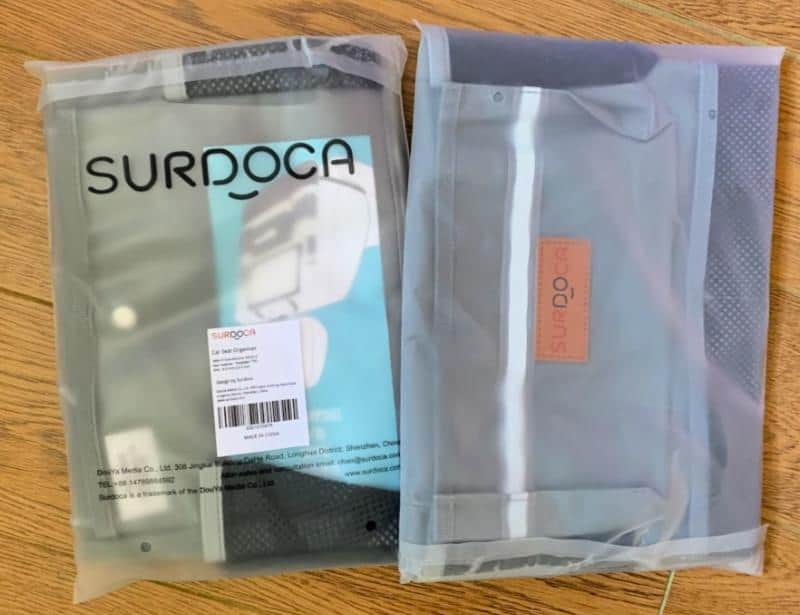 Having toys, tablets, snacks and drinks to had is really important for surviving a road trip with kids.  We would usually pack a rucksack with supplies for the kids, but we have found that this method doesn't keep the car tidy at all.
Car Organiser Review
When we were getting the car organised for our trip to Cornwall, I decided this was a great time to put the car tidy organiser to the test.  It clipped to the back of the car seat in a second, and the kids had one each to make things easier.  The kids pick their own toys, books and games to travel with so I could easily organise their things so they could grab what they wanted when they wanted it.
Car Seat Organiser with Tablet Holder
We have reached a point in the kids lives when they need to have tablets in the car.  If they don't, they often reach a point of disruption that can be come dangerous when driving.  We find tablets with games and movies stop this from happening.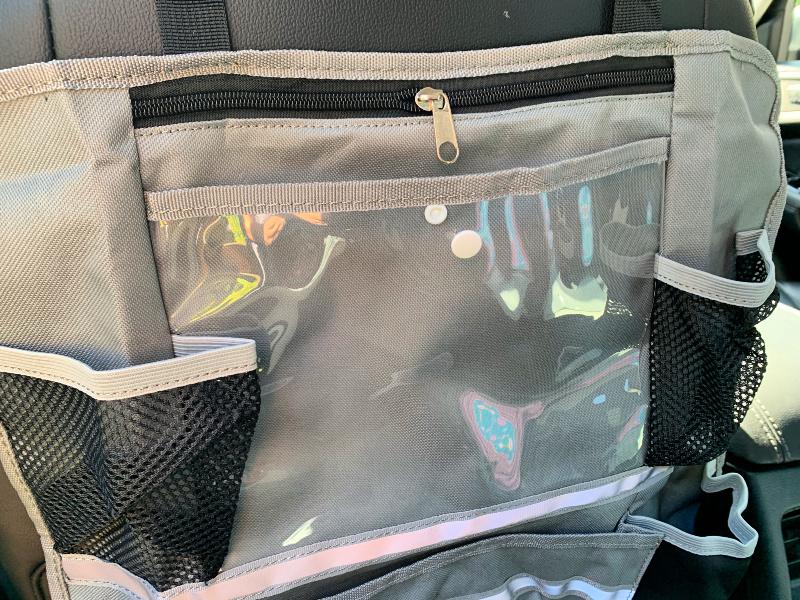 This back seat car organiser has an ultra thick clear tablet window so the kids can watch their favourite movies and shows in comfort.  There is also a handy opening in the kids car organiser to pop the headphones and charging cables through.  You can easily pop a battery pack inside one of the mesh pockets also.
At the top of the kids car seat organiser you'll also find a zipped pocket and two mesh pockets at the side.  The zipped pocket is great for popping books into or handy travel supplies like wipes and tissues.
The mesh pockets are made from a skin friendly material and are big enough to store water and drinks bottles in.  Just below that on the car seat tidy organiser are another 3 pockets.  You can easily fill these with toys and snacks.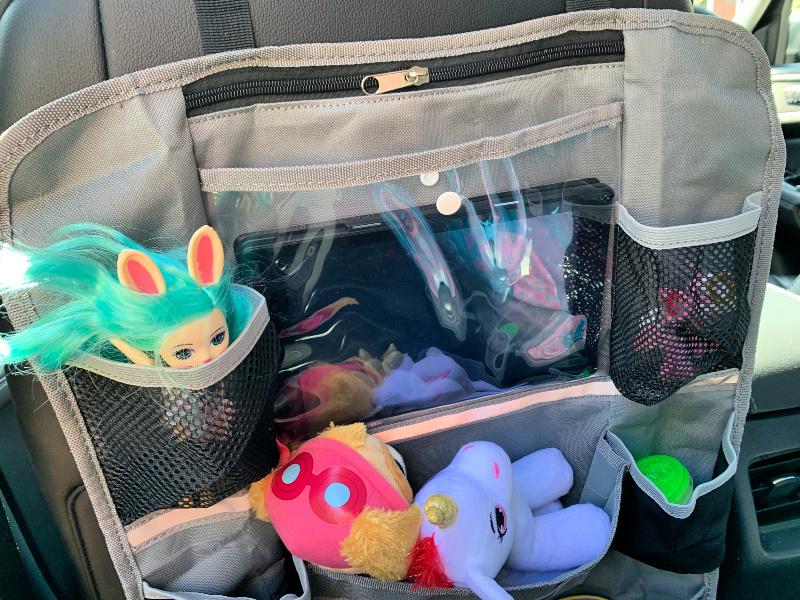 At the bottom of the children's car organiser there's another 2 mesh pockets, which means 8 pockets and a iPad holder in total.  There is lots of room to put everything the kids need and we found they actually appreciated being organised and seeing what they had.  They were also more inclined to put things back in the car travel organiser after they had used them.  It was lovely getting to the other end and not having to tidy up the back seat!
The other things that impressed us about the car seat organiser was the was the quality and the price.  The materials are excellent quality and the stitching on the children's car seat organiser seems durable.  I'm hopeful that this car organiser for kids will last us for a good while.
This car organiser only costs £12.99 and is available for free delivery in the UK on Amazon and and for Amazon Prime customers.  You can also read more Amazon reviews here.
If you'd like to see the car seat organiser on action, you can watch our video here:
Would we Recommend the Back Seat Car Organiser?
From our experience  of using the kids back seat car organiser on our UK road trip we'd be more than happy to recommend this product to other families.  It's really easy to use, has room for lots of toys and books and it's easy for kids to watch a tablet or iPad on a long car journey. It's also a great way to keep the car tidy on a long trip with kids.
If you like the sound of this car organiser, you can order it on Amazon UK for next day delivery here. If you don't like this organizer, you can check out other car seat organizer options at Elitecarseats.
We received the car seat organisers in exchange for this review but all thoughts and opinions are our own.  This post also contains affiliate links, so if you decide to give the car tidy ago, we might receive a few extra pennies at no extra cost to you.