We were so excited to visit North Cornwall when lockdown restrictions eased. We booked a lovely 3 bedroomed self catering holiday cottage near Bude that I'd highly recommend. We booked Homeleigh Barn at Burracott Farm at a reasonable price on cottages.com and snapped it up for the last week of the Easter holidays. With the holiday cottage booked, I was very excited to plan the things to do in Bude for our trip. It's the most exciting part of travel planning by far!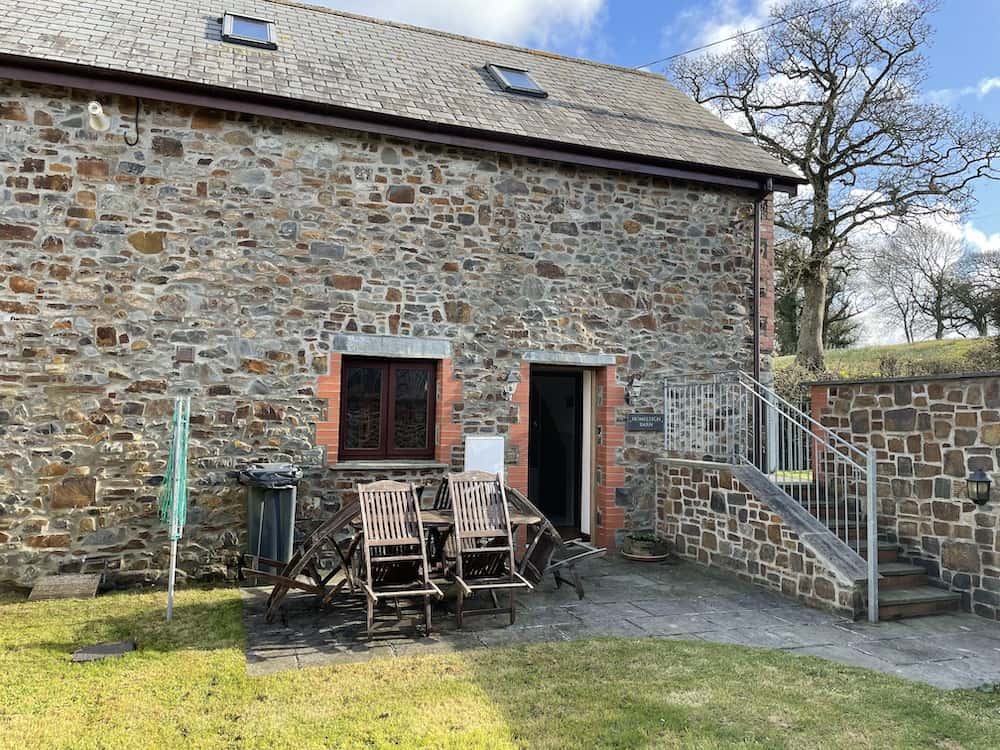 We know lots of families will be looking forward to getting away after what has been a very challenging year. We had such a wonderful time in Bude, creating very special family memories, that I wanted to share our list of places to visit in North Cornwall. If you love discovering the local area then our list of things to do near Bude will be perfect for you.
Explore Bude
Our holiday cottage was on a farm about 6 miles from Bude, so the first thing we did was visit Bude to take look around. It's an adorable town brimming with independent shops, local eateries and beautiful beaches. When we arrived in Bude we discovered that the council owned car parks were free to use until 17th May. It was a nice little bonus! Summerleaze Beach car park is a great location for exploring Bude and visiting the beach.
We strolled along the River Neet on what turned out to be a gorgeous spring day and discovered an excellent play area just on the edge of town. With the weather in Bude being so kind to use, we loved watching Brook and Indie play in the park while soaking up the sunshine.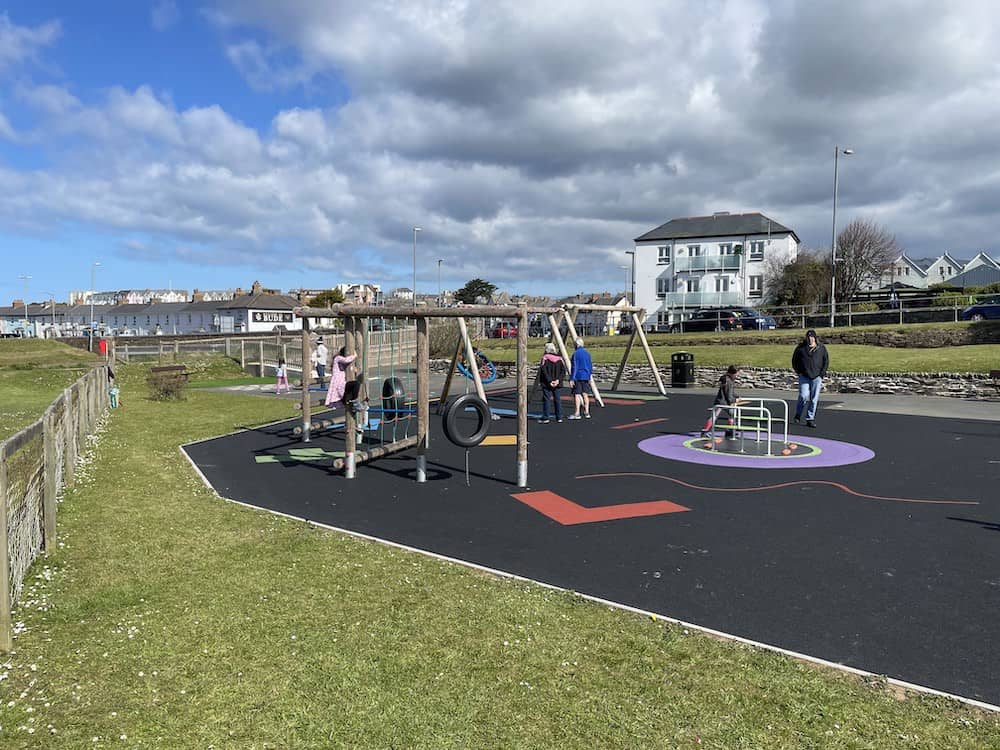 Eat a Cornish Pasty
We managed to drag Brook and Indie away from the park and went in search of a Cornish pasty for lunch. In Bude you don't have to look far before you find a bakery, and they all serve Cornish pasties! We tried a few and they were all delicious!
Visit Summerleaze Beach
We took our pasties to Summerleaze beach where the kids were more than happy to play in the sand for a while. Summerleaze beach is definitely the popular choice because not only is it easy access but there's also a carpark, toilets, beach huts, and a kiosk. We were so happy being near the sea and playing in the sand, but if you want something a little more adventurous you will find surf schools and other water sports to take part in on this beach. We also spotted a Sky trail nearby, but it wasn't open during our visit.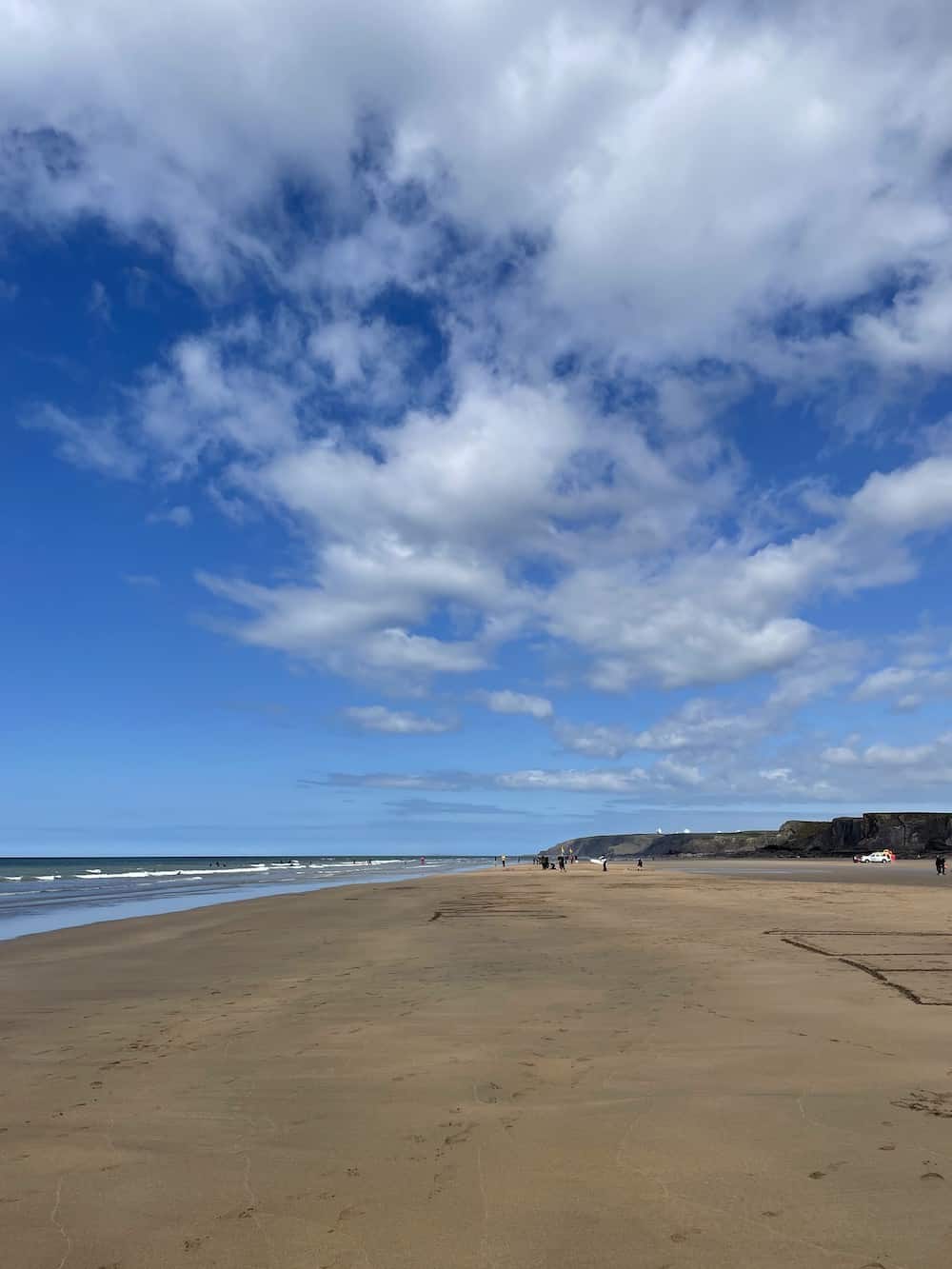 Bude Sea Pool
On Summerleaze beach you'll also find the historic Bude Sea Pool. If you want to experience swimming in the sea without the tides this is the place to be. It was a bit chilly for us when we visited but this will definitely be one of the popular things to do in Bude in Summer.
Amble Along the River Neet
If you visit the children's play area, no doubt you will walk along the River Neet to get there. Near the Summerleaze beach car park you can take a small bridge over the river where you'll find crazy golf and plenty of cafes and independent shops. At the side of Bude Castle (which sadly wasn't open during our visit) you will find some steps which take you down to the river bank where you will find plenty of park benches to enjoy the view. Go past Bude Castle and you'll discover Bude Canal where we discovered pedlos for hire, more local restaurants and plenty of places to amble with the kids.
I can see this quaint little town becoming incredibly busy in the summer months so head there early to bag a parking space and avoid the crowds.
Crooklets Beach
Just on the other side of Bude, you'll find Crooklets Beach. This is also an easy access beach with a car park and a couple of beach side restaurants. This is a rockier beach than Summerleaze beach but it's still very popular to visit. We stopped here one evening for tea after receiving a recommendation on Instagram from Four Roam to visit Rosie's Kitchen.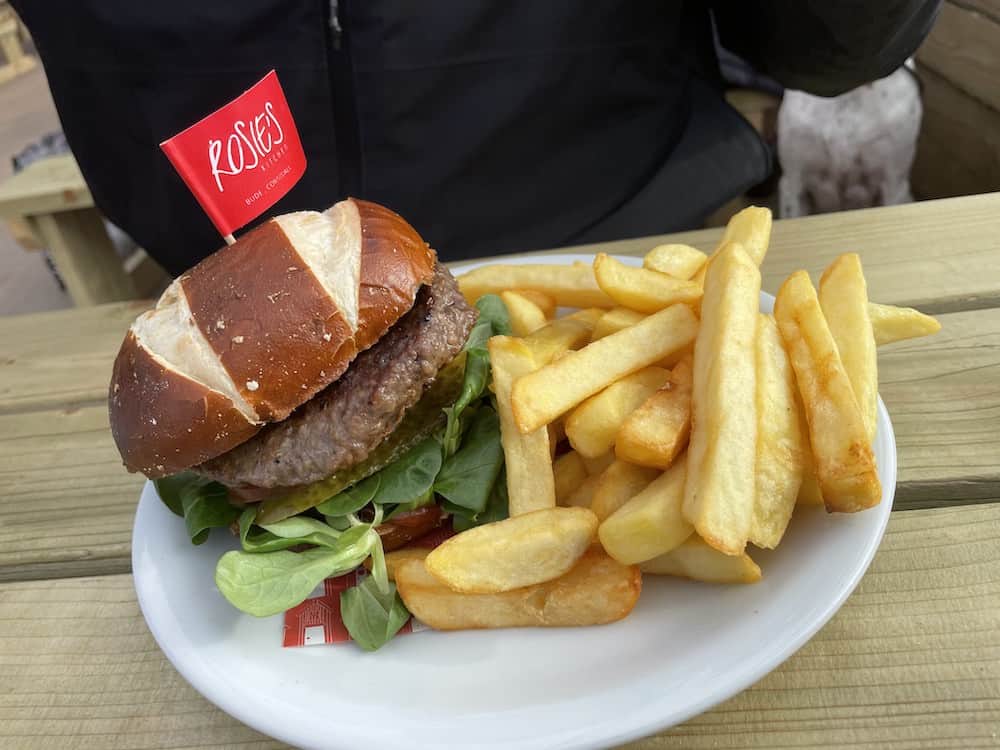 They mentioned it was a great spot to catch the sunset, but unfortunately Brook and Indie don't cope well with late nights at the moment. The food was delicious though and Rosie's also has a small play area which was helpful for keeping the kids entertained while they were waiting for their food.
For more information check out Visit Bude.
Visit Boscastle
Boscastle is a unique natural inlet and fishing village just a few miles along the Cornish coast from Bude. We discovered a car park just on the edge of the village which was perfectly placed to discover not only the village but also the beautiful Valency Valley. We headed towards the village first and spotted a duck with her chicks which got both the girls very excited. Spring is such a beautiful time of year isn't it!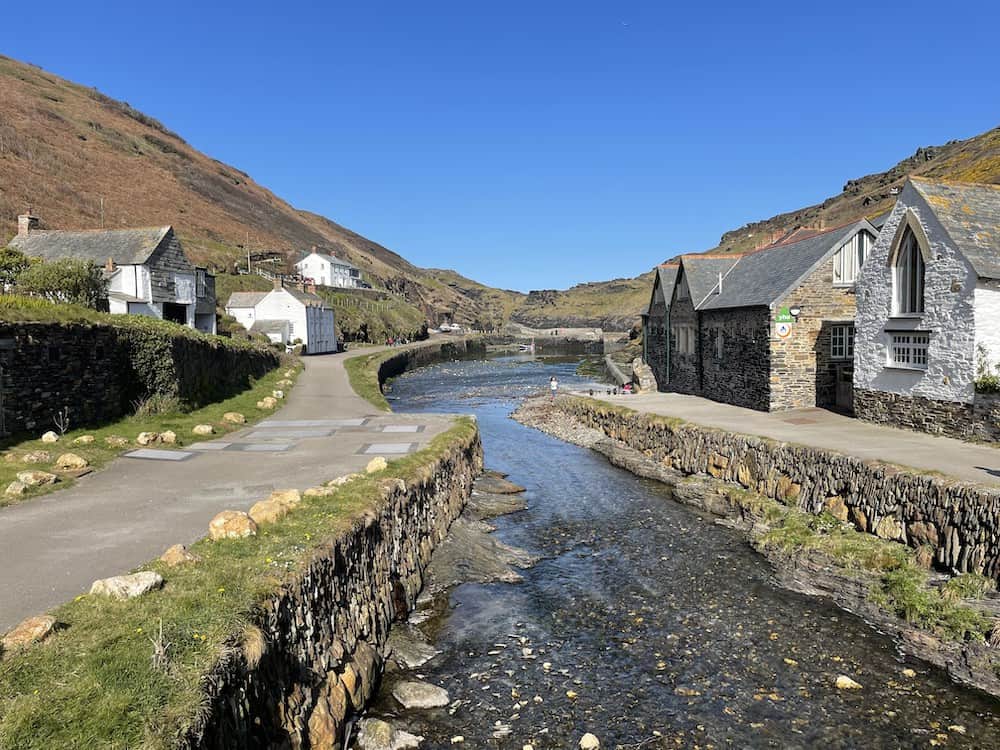 The National Trust cafe was open and the staff were offering helpful advice about exploring Boscastle. We saw plenty of seasoned hikers walking up to the headland above the village to enjoy the views on the right hand side of the inlet, but after speaking to the staff at the National Trust cafe we decided crossing the bridge and taking the path to the left of the inlet would suit us best.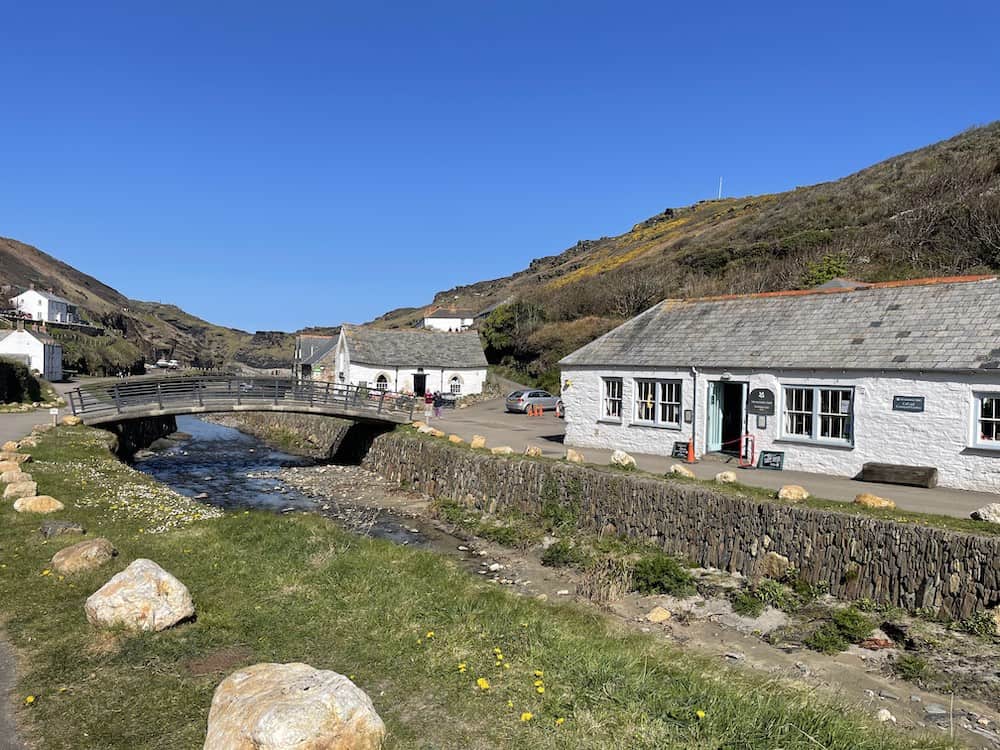 We spotted a long boat heading back into Boscastle after a trip out to the Atlantic sea so there's definitely more than one way to enjoy Boscastle if you are feeling adventurous. The glistening aquamarine waters were mesmerising as they lapped up the shoreline. The surrounding landscape in Boscastle really is a place of stunning natural beauty. It's well worth adding a visit here to you list of things to do near Bude for that reason alone.
Once we'd soaked up the scenery and enjoyed the wonderful views we headed back towards the carpark, picking up a Cornish pasty at the Boscastle bakery along the way and headed towards to Valency valley. After a quick picnic we followed the path along the River Valency as far as the stepping stones. It turned out to be a good landmark to pick to motivate the kids to walk a little further after exploring the village.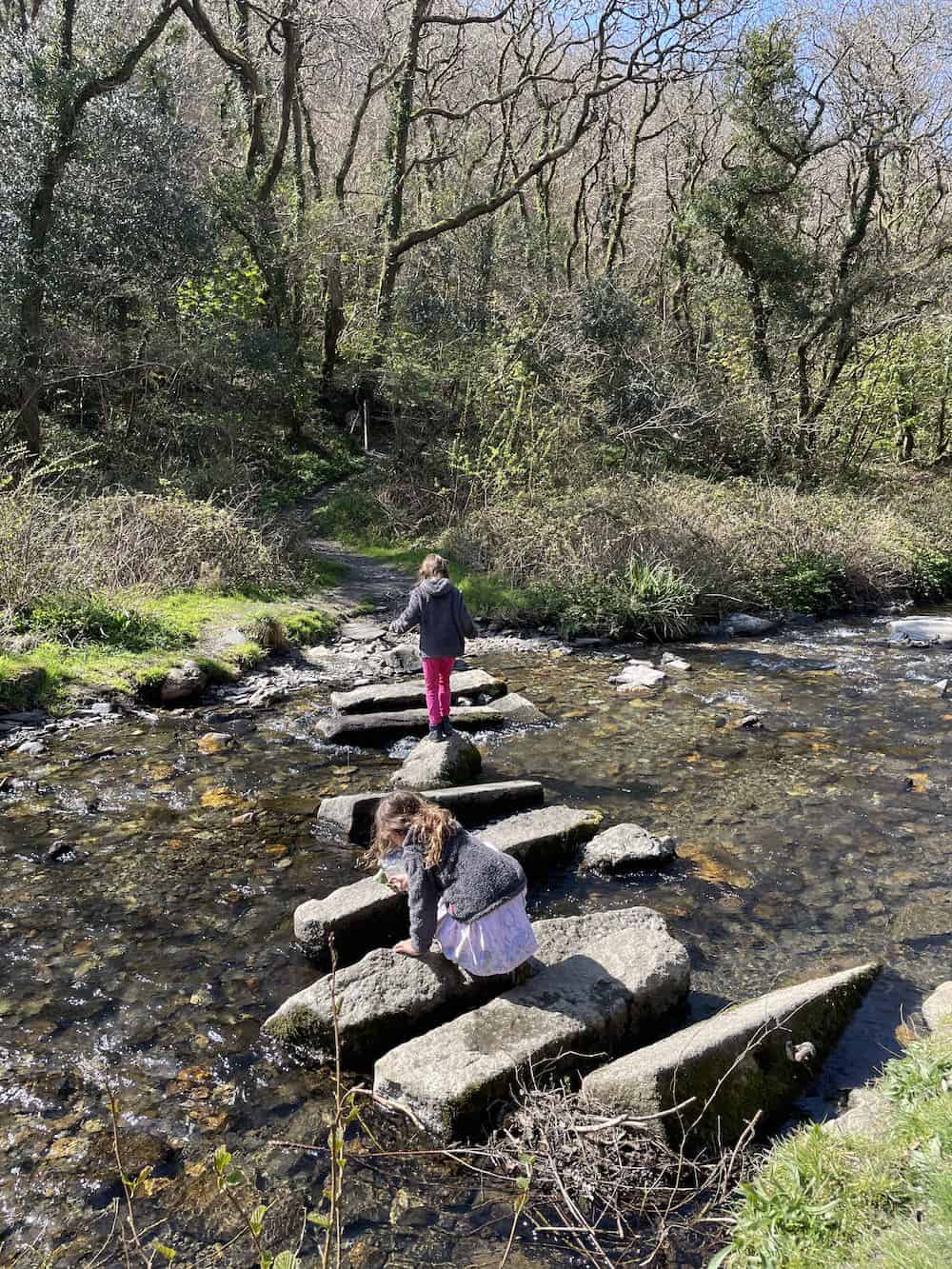 Our path was lined with bluebells and other equally beautiful wild flowers, which made for a lovely family walk. If you want to explore more of the Valency Valley the National Trust has some excellent circular walks you can follow to help you enjoy more of the area.
Port Isaac
Kids might not get excited about historical fishing villages but they do get excited about collecting sea glass and Port Isaac has plenty of it!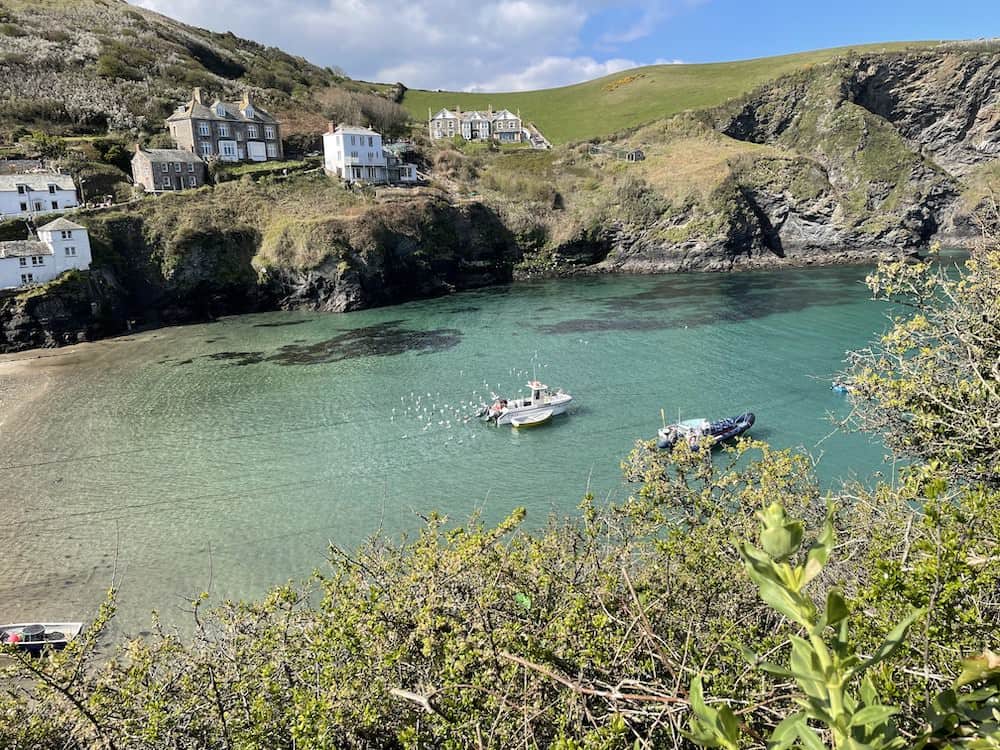 We parked at the main car at the top of the village. I read this was the best option as Port Isaac has some incredibly narrow streets you might prefer not to navigate. There are also some lovely views of the North Cornwall coast from the car park also, so it's great place to park for a few reasons.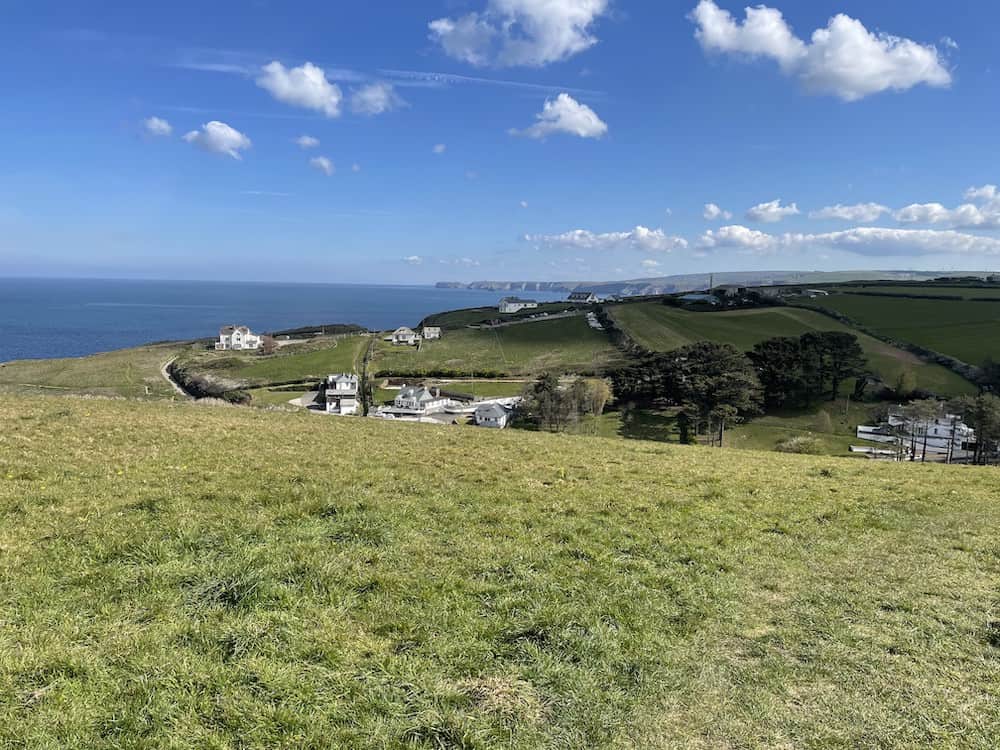 There are toilets (make sure you have some loose change), a kiosk and a children's play area here. We told the kids they could play here on the way back from the village, and this did prove helpful as it's a pretty steep walk to the harbour. The harbour is 3/4 mile walk from the car park which doesn't sound much, but walking back to the car park was a bit of a challenge.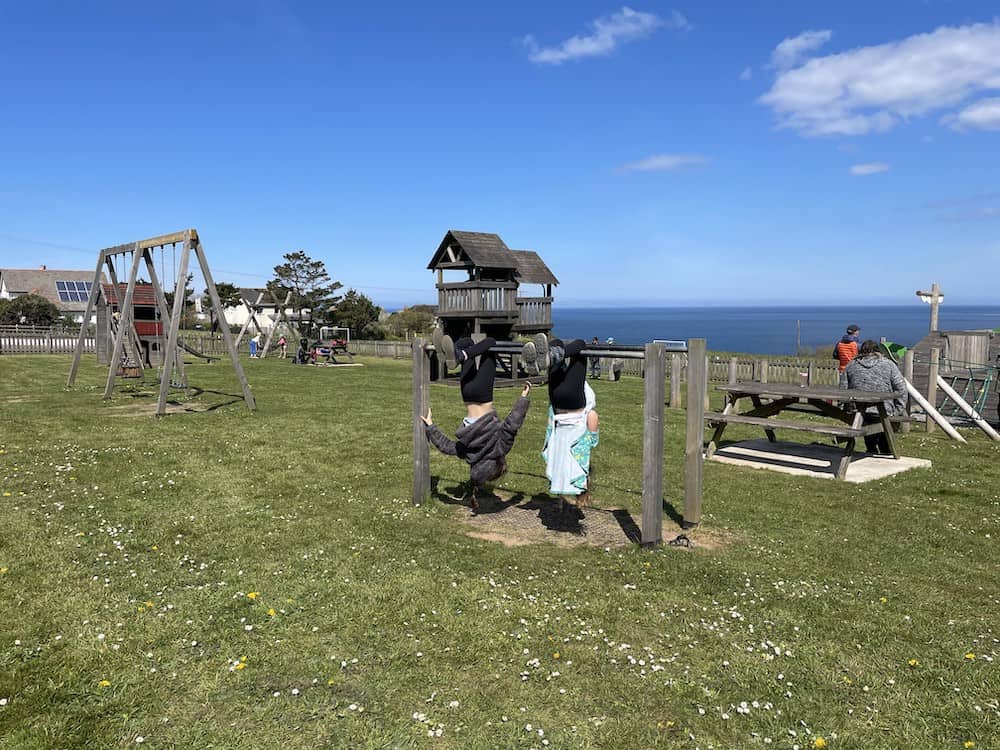 It's a beautiful well preserved 14th century fishing village and well worth the effort to visit. There are plenty of narrow streets to get lost in including one of the narrowest thoroughfares in England, called Squeezy Belly Alley. In the summer, it's a very popular tourist destination and this year it will probably see more visitors than ever. Visiting early in the morning is going to be a huge benefit or even consider going off season if you can.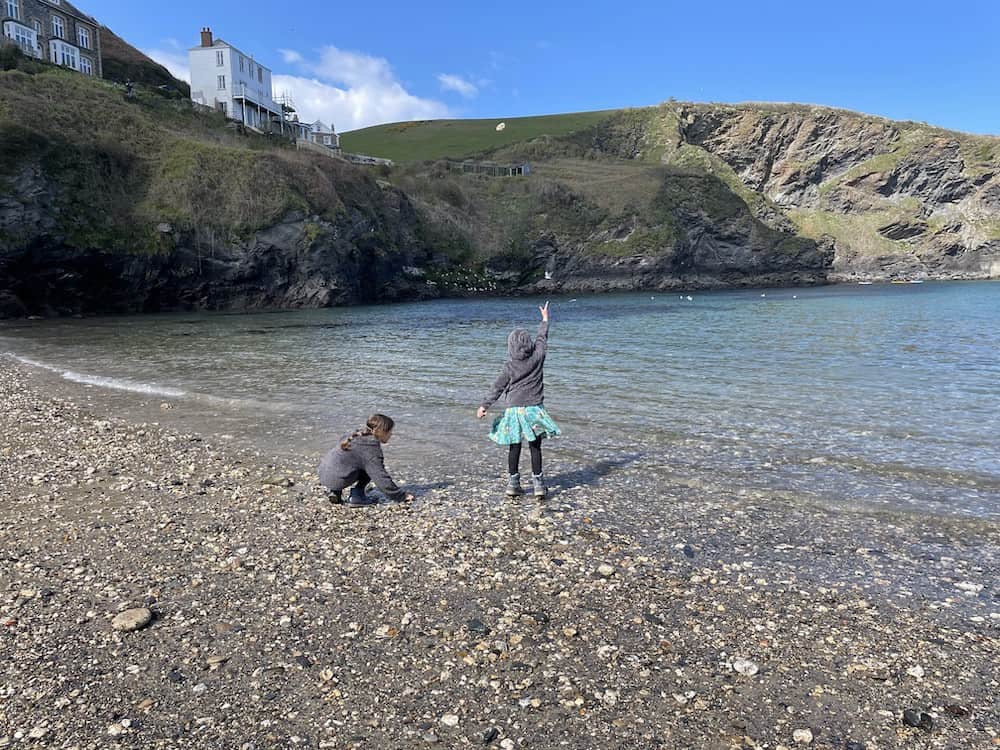 Tintagel Castle
We visited Tintagel Castle on the same day as Port Isaac, as they are just down the road from each other. In terms of walking this was a pretty busy day but I'd say it is worth doing both together if you can. Tintagel is less quaint than Port Isaac and the main drawing points are the castle and the medieval post office. Combining our visit to Tintagel with Port Isaac allowed us to enjoy a beautiful Cornish village with a stunning historic monument which really did make for a wonderful day out.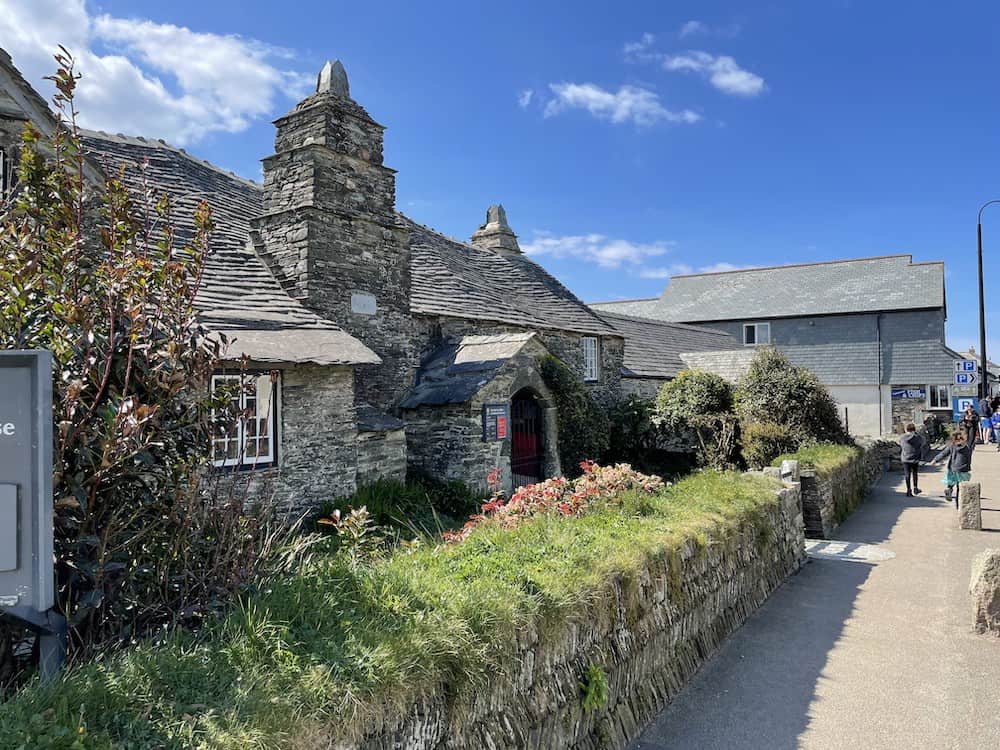 We booked our tickets in advance for Tintagel Castle as they were operating a timed entry system. Tintagel Castle is a English Heritage site, so members can visit for free. I spent a lot of time searching online to see if I could use our National trust passes at Tintagel castle, and I can confirm that you can't use them for entry at this English Heritage site. A family ticket for Tintagel Castle cost us about £42.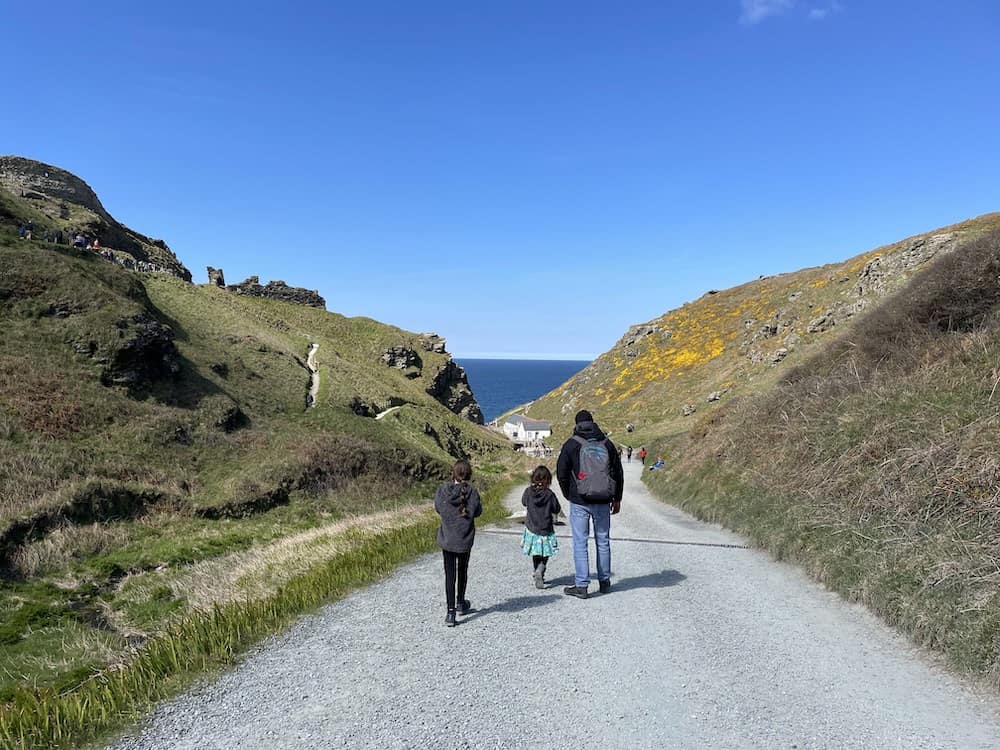 There is a lot of walking, some steep hills and quite a few steps involved in walking around Tintagel Castle. The good news is there is a land rover service that will take you up and down the hill for a few pounds per person each way. While this doesn't avoid all the walking involved with visiting here, it helps make the castle more accessible. We did use this service for coming back up to the village from the castle because a) it was my birthday and b) the girls would have moaned a lot about walking back up the hill! They thought taking the land rover back up the hill was a lot of fun so it was nice to end on a high!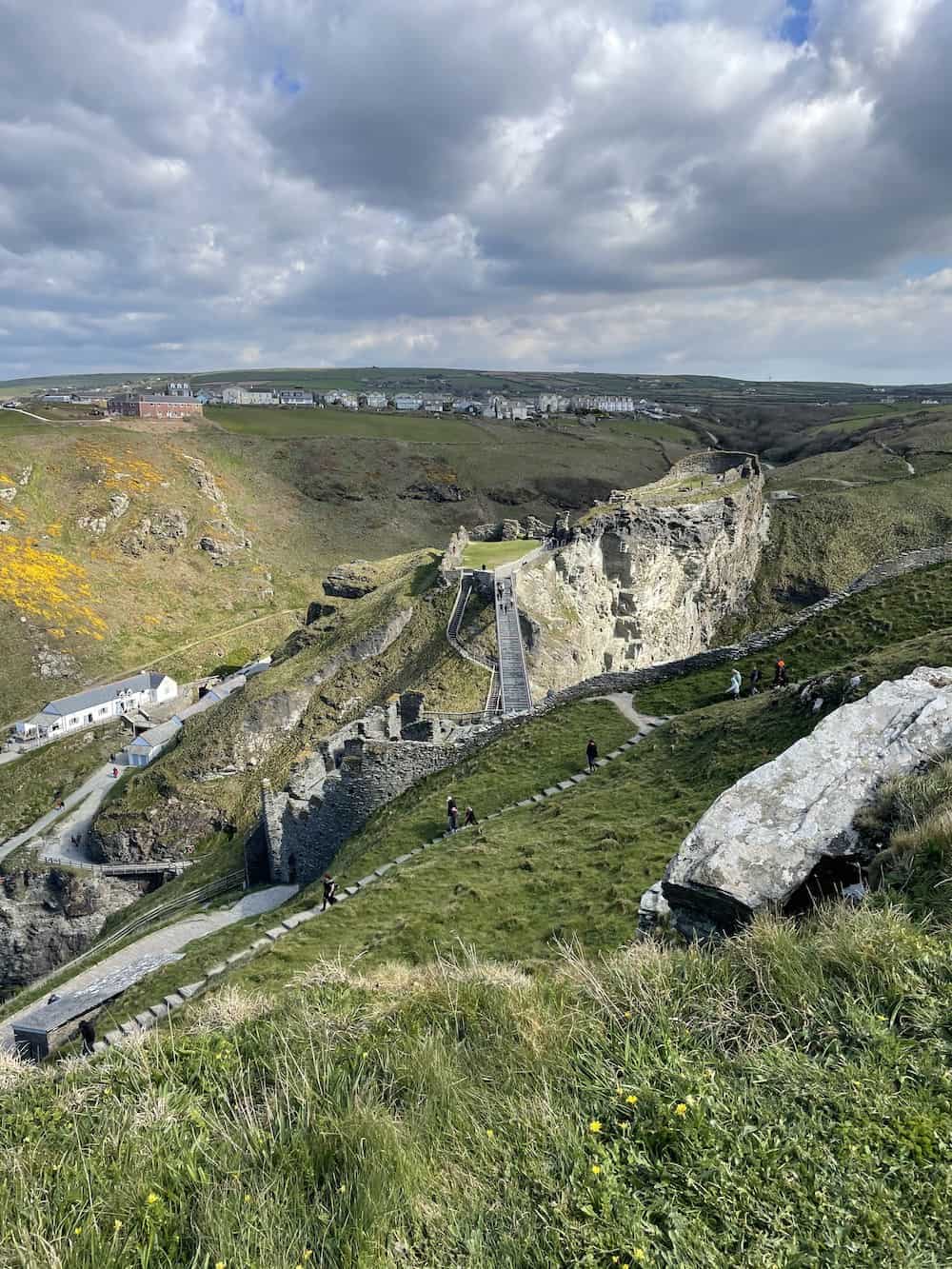 Exploring the famous castle was just incredible. Brook and Indie loved playing amongst the ruins, reading facts about the castle and seeing the incredible views. It's a really hands on experience in one of the most beautiful settings I've ever seen, surrounded by the Atlantic ocean, with birds swopping over head and rugged coastline in all directions to enjoy.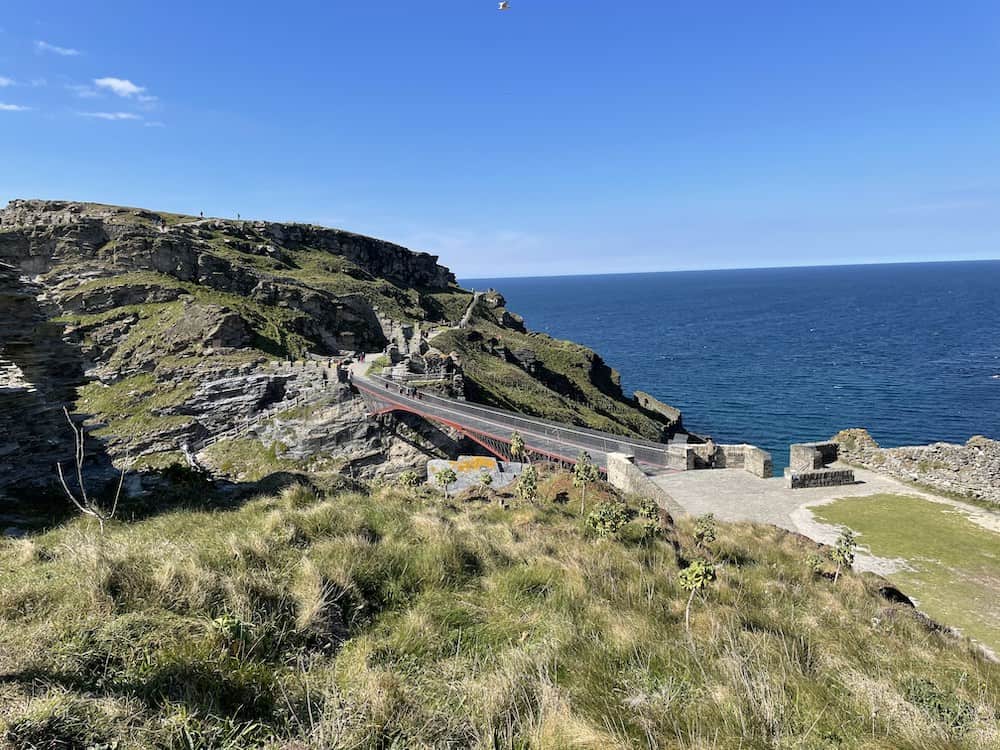 At the very bottom of the hill you'll find the beach and a cafe, toilets and picnic benches. There are steps down to the beach which end with some rocks to climb over if you want to explore what is thought to be Merlin's Cave. Fearing for me dignity I have to confess I didn't make it as far down as the beach, but you can easily see Merlin's Cave from the viewing platform.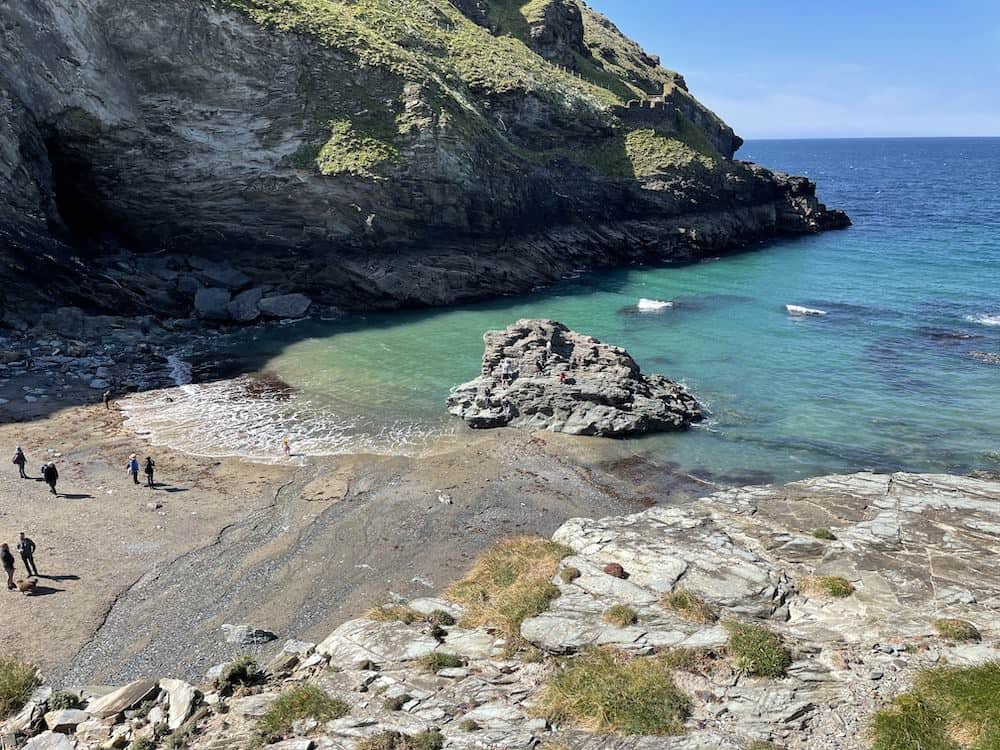 Widemouth Bay Beach
We spent a lot of time at Widemouth Bay Beach, which is just outside Bude. It was very accessible for us as it was only a couple of miles from our holiday cottage. It was also our favourite beach near Bude because is was easy access from the car park, there were plenty of rocks to climb and it was larger than the other beaches we'd visited. There is also a cafe here and it's great for surfing and other water sports activities.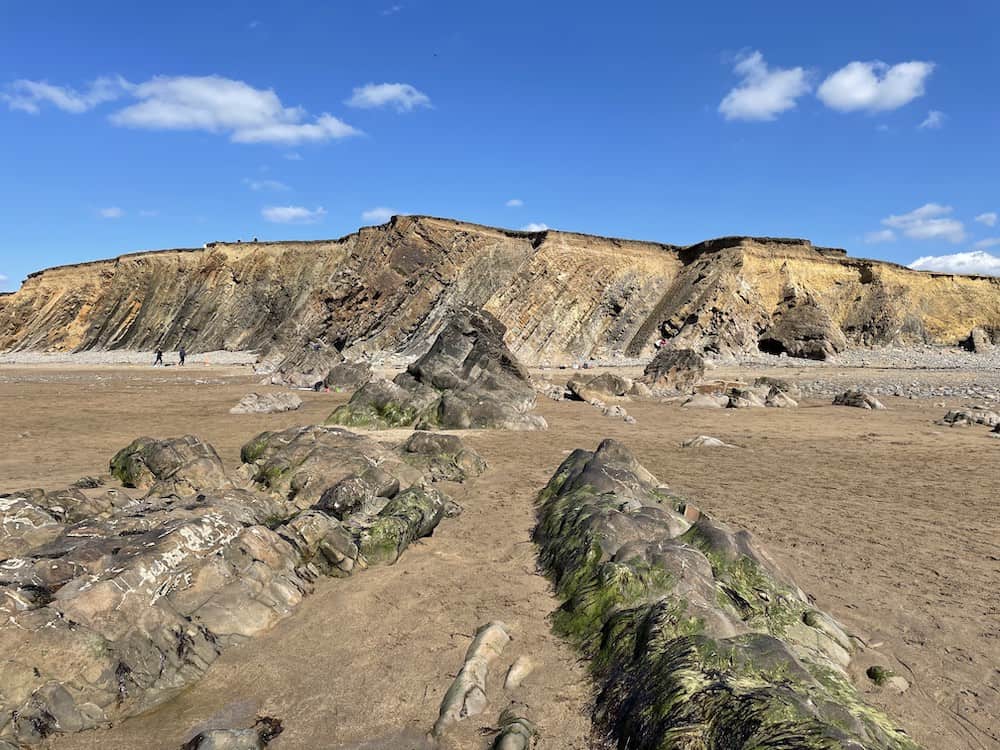 Hidden Valley Adventure Park
We really enjoy visiting places that are a little bit different and Hidden Valley Adventure Park is definitely one of those places. I looked up things to do near Bude and Hidden Valley popped up. The tag line is the brain teasing woodland adventure park, and as a family who enjoy puzzles I thought we'd enjoy it.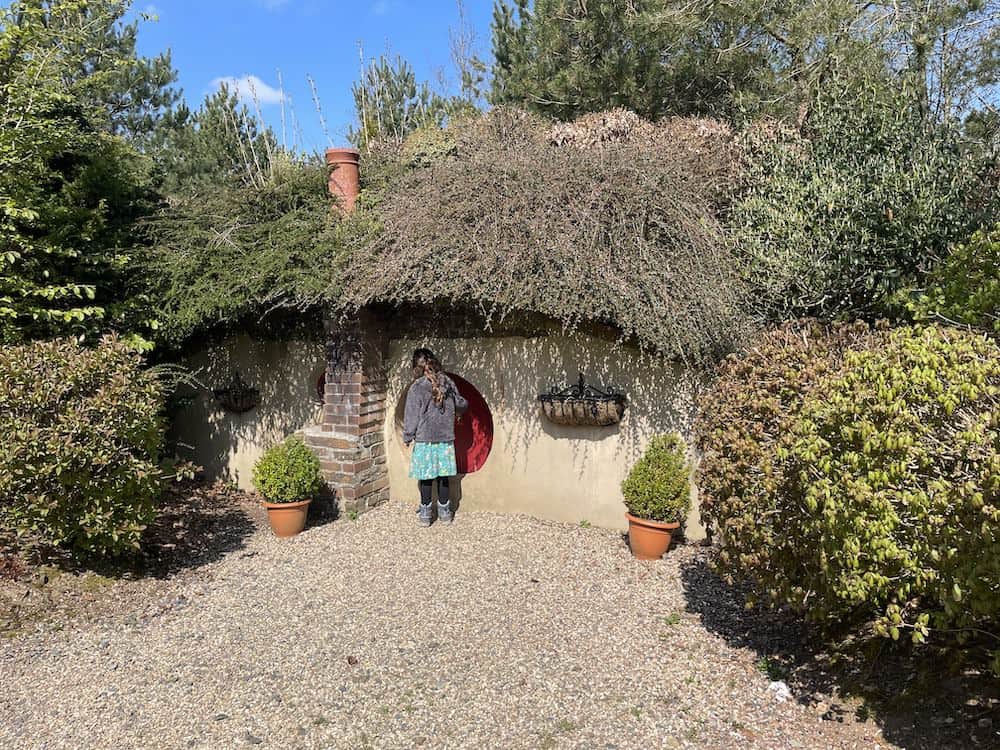 When we arrived we were given a puzzle sheet and map of the park. The clues are around the park and you record the answers on the puzzle sheet. There is an easy puzzle trail, which is a good warm up. It took about half an hour and was relatively straight forward.
The second trail is A LOT harder and really gets you thinking! You have to work together to solve the clues and a puzzle at each location. It's really fun and everyone gets involved. It's a very unique concept, but I can also see that it might not be for everyone.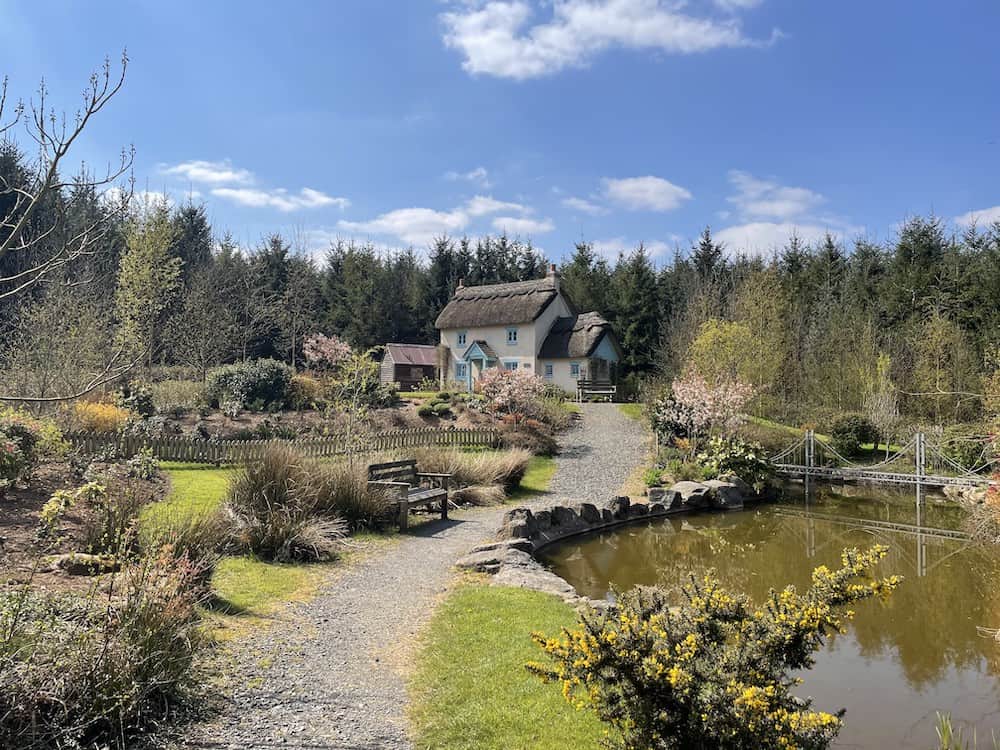 As well as the puzzle solving, there's some beautiful gardens and buildings. You can take the miniature railway around the park as often as you like. The magical village of Tremuddlewick is also perfect for smaller children. We spent quite a lot of time lost in the giant maze as well.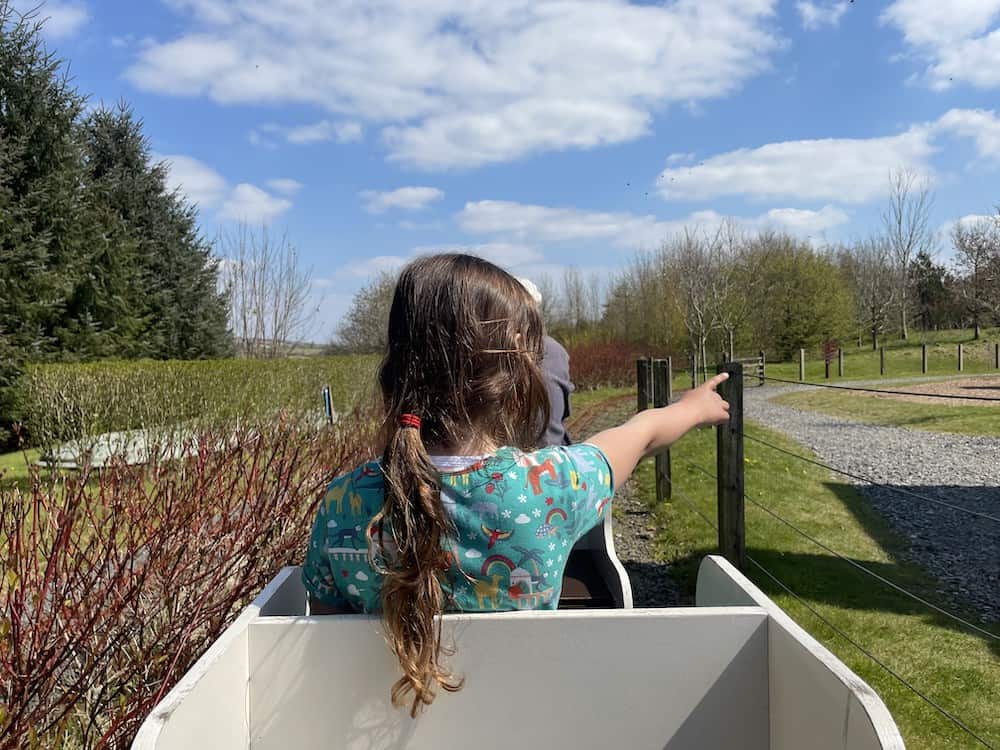 I suppose the best way to describe it is an outdoor Escape room. It's a very unique concept but somethings could be done a little better, for example where the clues are hidden gets a little repetitive towards the end of the trail. Regardless of that though, we had a really good day here and we'd definitely recommend it to people who love solving puzzles and enjoy the outdoors.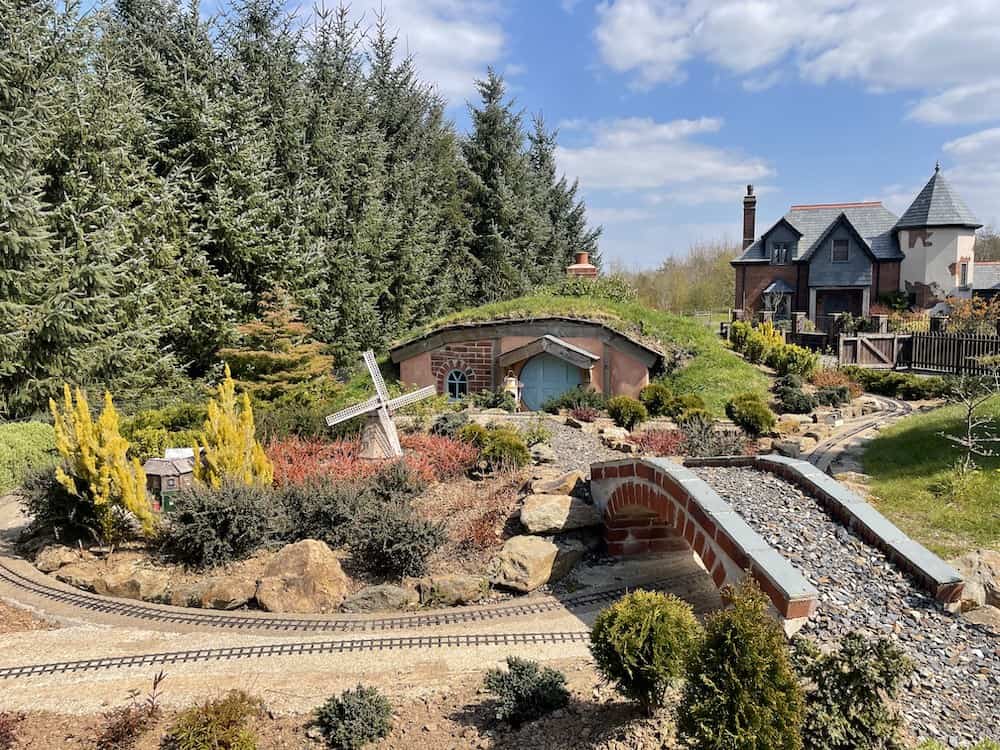 After not being able to go on many adventures for the best part of a year, we had such a wonderful time exploring Bude and North Cornwall. The dramatic coastal scenery and the local history really do make for a wonder holiday experience. We hope our list of things to do in Bude has inspired your holiday plans. Do tag us on social media if you visit any of our recommendations!
Don't forget to pin this post to your travel board or share it with your friends and family. We love helping people plan their holidays and your support really does mean the world to us!
If you have any more suggestions for things to do in Bude, leave them in the comments below! I know our readers will appreciate it.
Related posts: