Things to do in Seville contains affiliate links.
If you are wondering whether you should visit Seville with kids, then my answer would be absolutely yes! We spent a fantastic week in Seville, Spain and in all honesty, it really surpassed our expectations as a family holiday destination.
There are lots of reasons we think you should visit Seville. We didn't find that it was overrun with tourists or crowds, which makes travelling with kids so much easier. It has some incredibly colourful and beautiful architecture which makes Seville a fun city to explore with kids.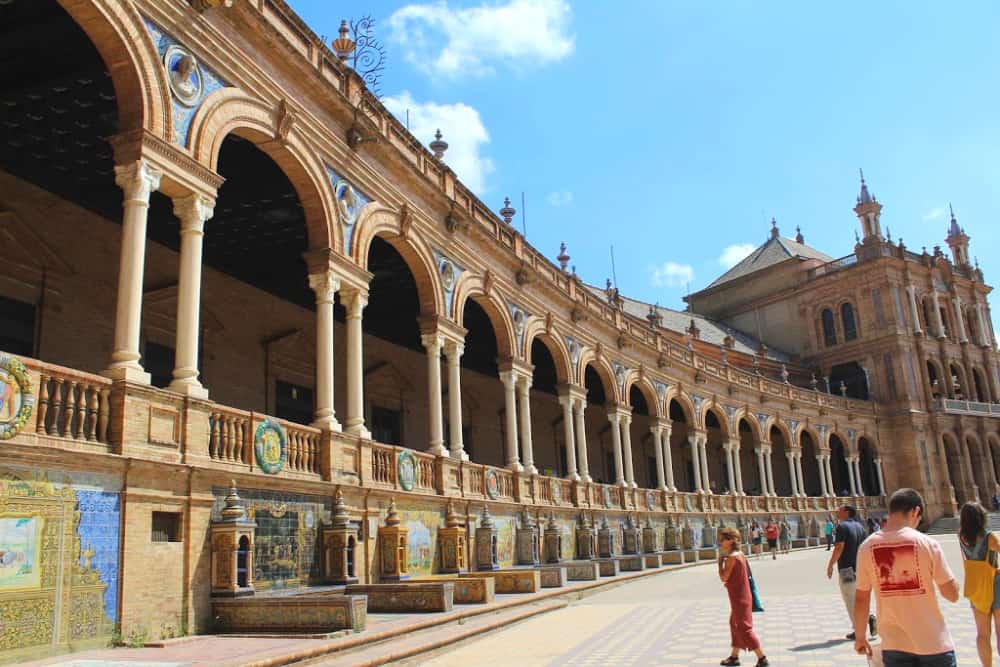 Spanish culture is so family-friendly and welcoming. This made eating out with the kids really easy and we were never too far from a playground if the kids wanted to burn off some steam.
Seville is a relatively small city, so it's really easy to navigate with kids too. The Metro system is really cheap, 0.82 cents per trip at the time of writing this Seville guide, and it's the perfect way to get around. It's also really cool, so no hot grumpy kids to contend with while you are on the trains.
I've already been asked the question, how many days do you need in Seville, and I think the answer is, it depends. We were in Seville for 7 days with young kids and this worked well for us. It was pretty hot, one day it reached 42c, which meant that the kids were tired and grumpy by the afternoon. We would go out early in the morning and visit a Seville attraction first thing, take a leisurely lunch, and then cool off in the Novotel Sevilla hotel swimming pool in the afternoon.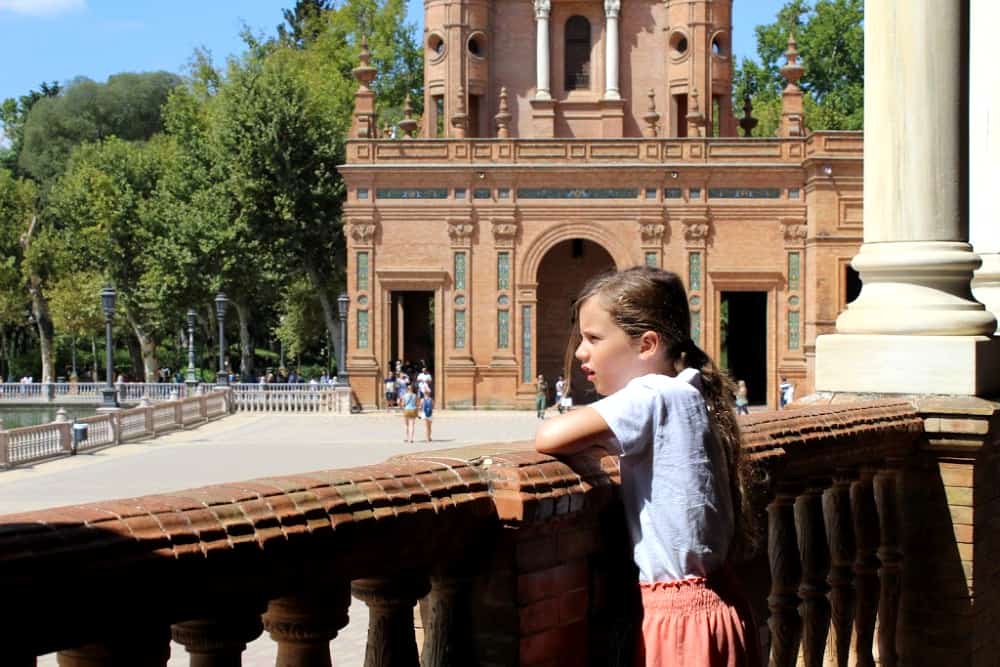 If you were visiting at a cooler time of year or have older kids, you could probably achieve more in a day. I would suggest that you need a minimum of 3/4 days to see the main Seville sights, but you could easily fill your time if you spent a week here as there are lots of things to see and do.
Getting to Seville
We found that flights to Seville were really affordable, and we went with Ryan Air from East Midlands Airport directly to Seville. You can also get a direct flight to Seville from London, Bristol, Edinburgh and Manchester. Flights are available with British Airways, Easy Jet, Ryan Air and other airlines.
Getting from Seville Airport to the city is really easy as well. You can easily catch a train, which we did look into. Uber was also a really affordable option and we choose to do this. It cost 15 Euros each way and was super-easy with 2 young kids in tow and our suitcases.
The trip from Seville airport to our hotel in Nervión took around 20 minutes. If you were staying in the centre, this trip would take you around 30 minutes and probably cost you a little bit more, but it's still very competitive compared to booking an airport transfer.
Things to do in Seville with Kids
Seville is a historical and cultural city, but kids will love visiting here just as much as you. Kids enjoy seeing and doing new things and are often full of questions and curiosity when they travel to a new city. Just make sure you have plenty of drinks, snacks and sun cream to hand and Seville will take care of the rest. If someone is flagging while you are sightseeing, we find that an ice cream works wonders in these particular situations.
Plaza De Espana
This was the first place we visited when we arrived in the city, and I think it should be on everyone's list of things to do in Seville. Nothing could have prepared us for quite how beautiful Plaza De Espana is. We loved it so much we ended up visiting twice!
If you arrive by Metro, you will probably get off at San Sebastian station. The park here has a lovely shaded kids play area which makes for a great pit stop either going to or on the way back from Plaza de Espana. You will probably want to arm yourself with some insect repellent. We did get a few bites, and even though I can't be 100% sure it was here, I'm pretty sure it was.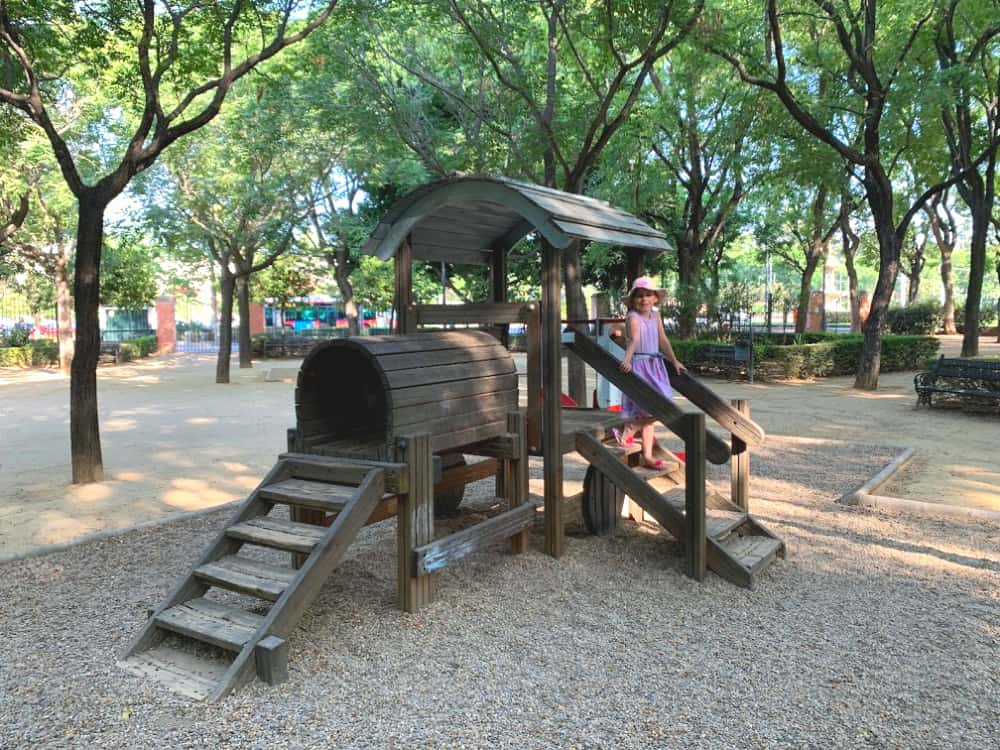 Once you've torn yourself away from the swings, walk straight through the park and cross the main road. You will arrive at the Plaza de Espana and Maria Luisa Park, both of which are excellent things to do in Seville, Spain. Just be aware that it's best to keep your belongings safe and be prepared to have people approach you and offer you gifts in exchange for a few Euros. We never felt unsafe and there wasn't an issue, but it's something to be mindful of when you have kids with you.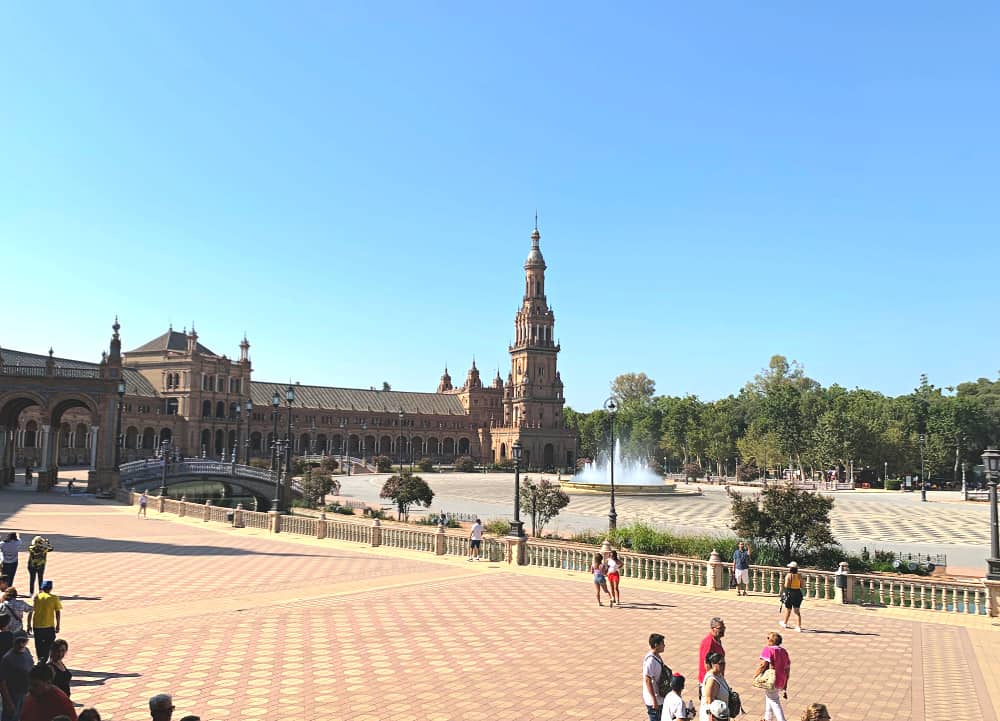 Plaza de Espana is huge, and you can spend a long time here playing in the fountains and exploring the beautiful Moorish and Renaissance architecture. It's so incredibly detailed at every angle we just wanted to soak it all up. If you walk under the cover around the semi-circle of the building, you can visit the Military Museum, which is free of charge. You can also go up to the balconies if the legs are willing and enjoy the view over the plaza.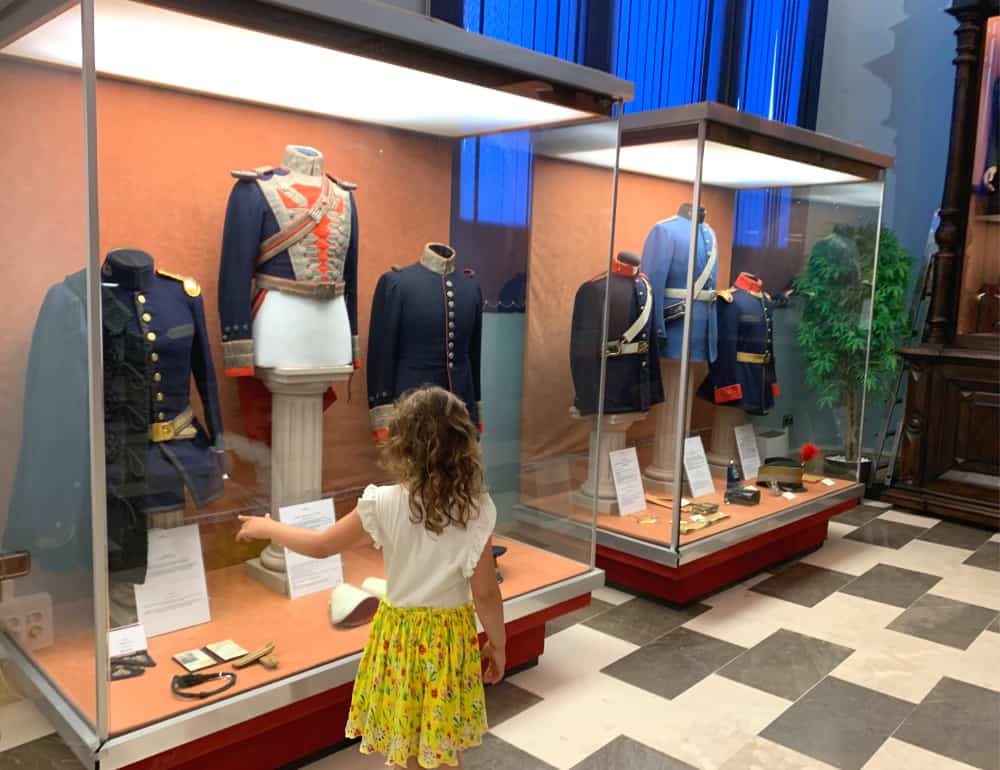 Each area of Spain has a tiled alcove and bench featuring a map and tableau. There is a lake where you can hire a rowing boat, and the horse and carriage rides begin and end in Plaza de Espana.
You can hire bikes, including 4 seater ones, and ride around the park and beyond if you wish. It was 10 Euros for 2 hours. We would have done this if Brook and Indie's legs had reached the peddles, but we feared we would have been left to do all the cycling!
When we went back to Plaza de Espana on Sunday, we found even more family-friendly entertainment here. We watched the flamenco dancers give an incredibly lively and passionate performance of the famous local dance. The girls also enjoyed chasing bubbles in the square when they spotted this particular street artist.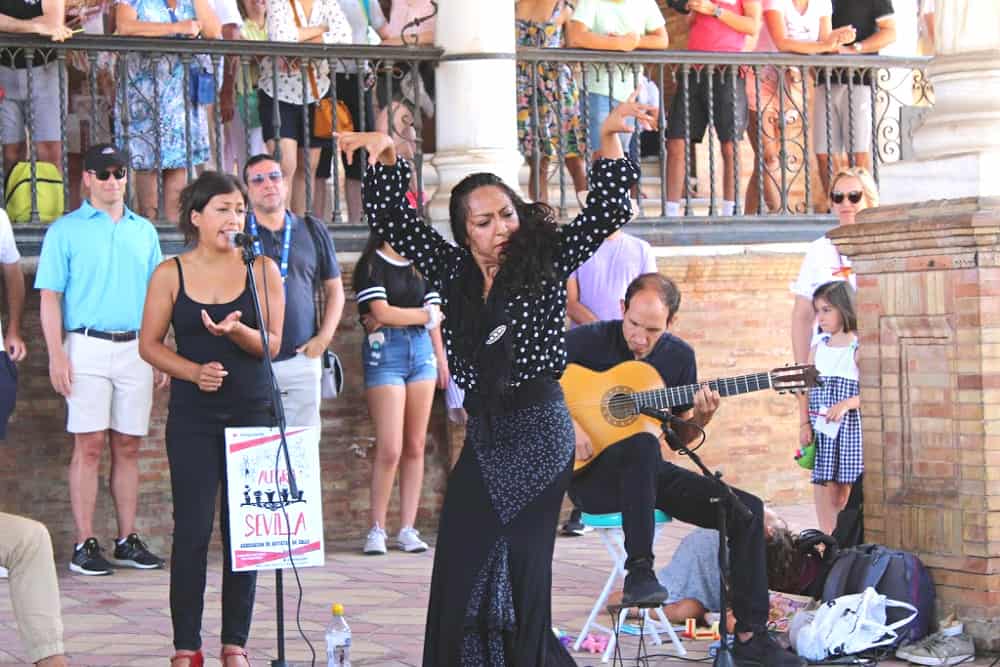 I would also recommend you avoid eating at the restaurants at Plaza de Espana, as they are not the best. We got caught out and ate at the Citreon Cafe because the kids were tired and hungry. I wish we had of gone a little further and found a nice Taberna as it was a little disappointing, but it was our only negative experience all week.
Sevilla Cathedral
Seville Cathedral and Real Alcazar are right next to each other so they are perfect attractions for visiting with kids.  I'd recommend walking around the entire cathedral from the outside, as the architecture and detail is very impressive. There are lots to see and talk about just by doing this.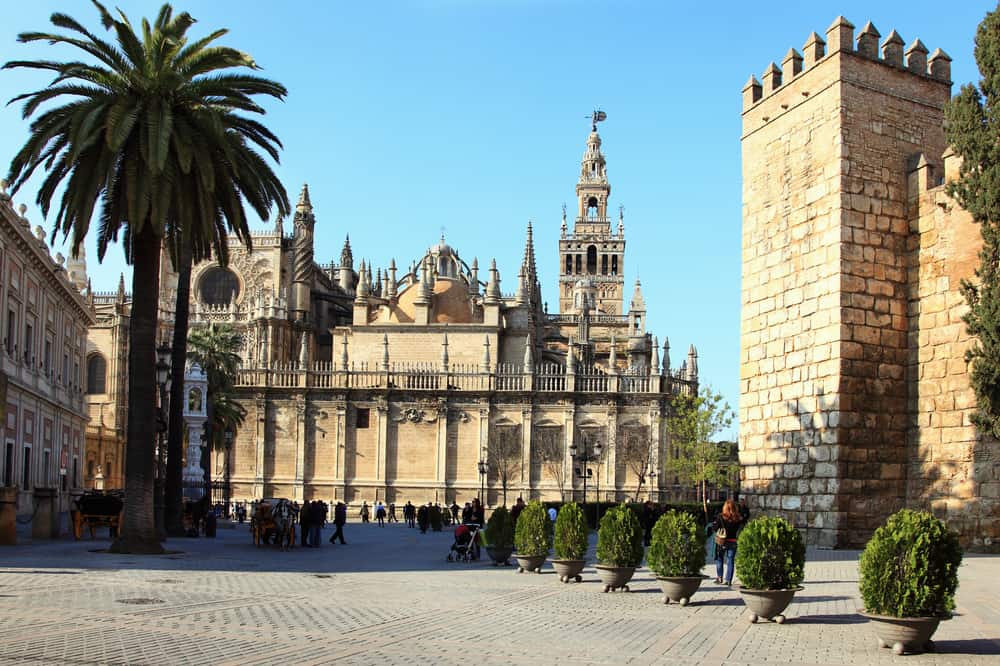 The kids enjoyed looking around inside the cathedral, and so did we. Seville Cathedral, as well as being the largest Gothic cathedral in the world and a registered UNESCO Site, it is also the resting place of the famous explorer, Christopher Columbus.
It's a really interesting place to visit but you probably won't spend longer than an hour here, so hopefully, the kids' attention span will last for the duration.
Real Alcazar of Seville
I would recommend booking your tickets for the Real Alcazar of Seville online ahead of your trip. You can enter the palace 20 minutes before your time slot if you are early, but not before. We found this out the hard way.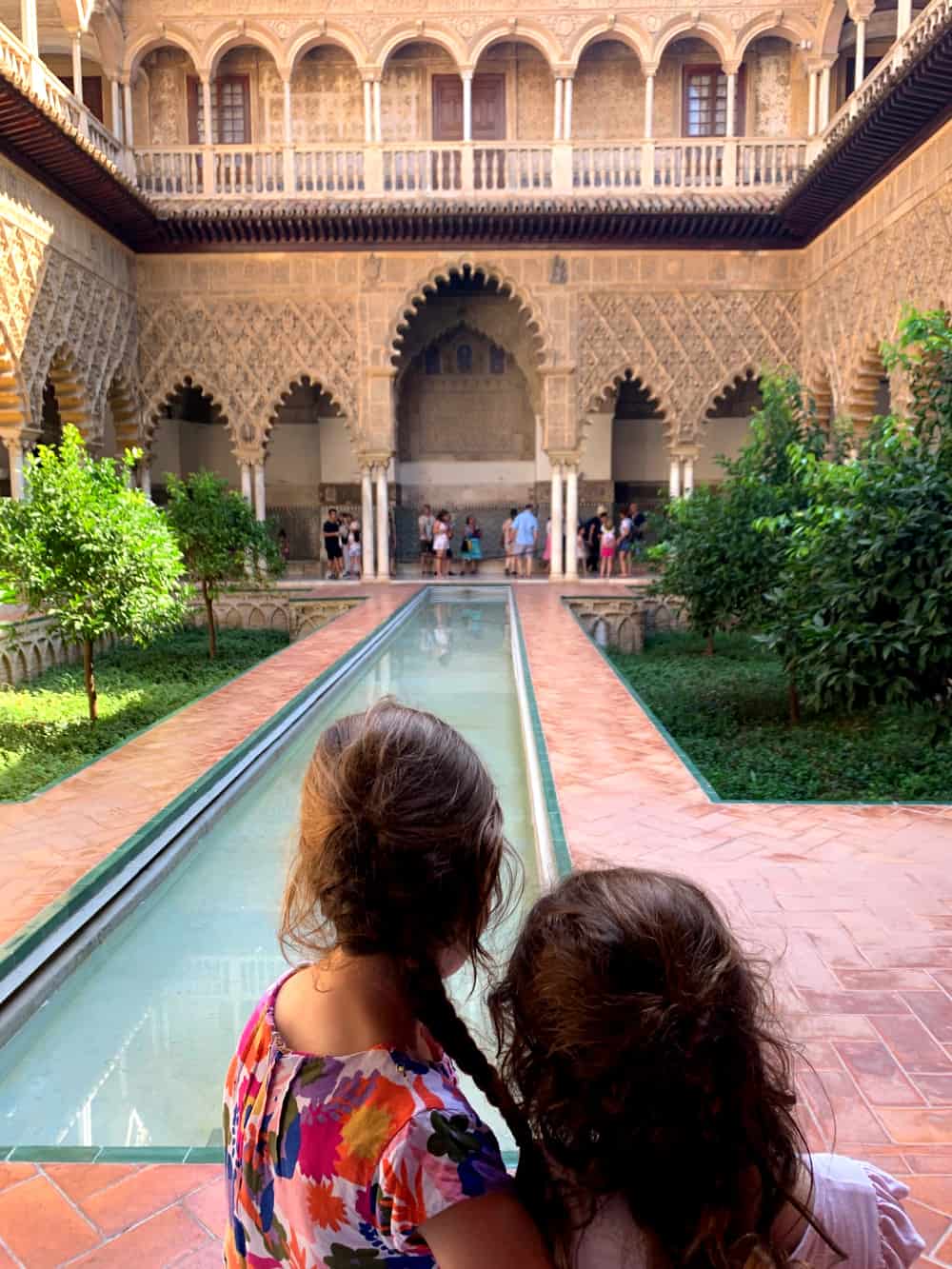 I had slots booked for 11 am, and we ended up arriving at 9.30am because of our keenness to get out before it got too hot. They would not let us enter the palace until 10.40 despite pleading with them it would be better for the kids. Fortunately, it gave us a great opportunity to visit the cathedral which helped us to tick another Seville attraction off our list.
When we did get in, it was really worth the wait. Real Alcazar is a must-see attraction in Seville and with very good reason. We enjoyed exploring the labyrinth of rooms and gardens, the exhibits, with the antique fans being a particularly big hit with the girls. The Moorish designs and features did not go unnoticed throughout the palace either.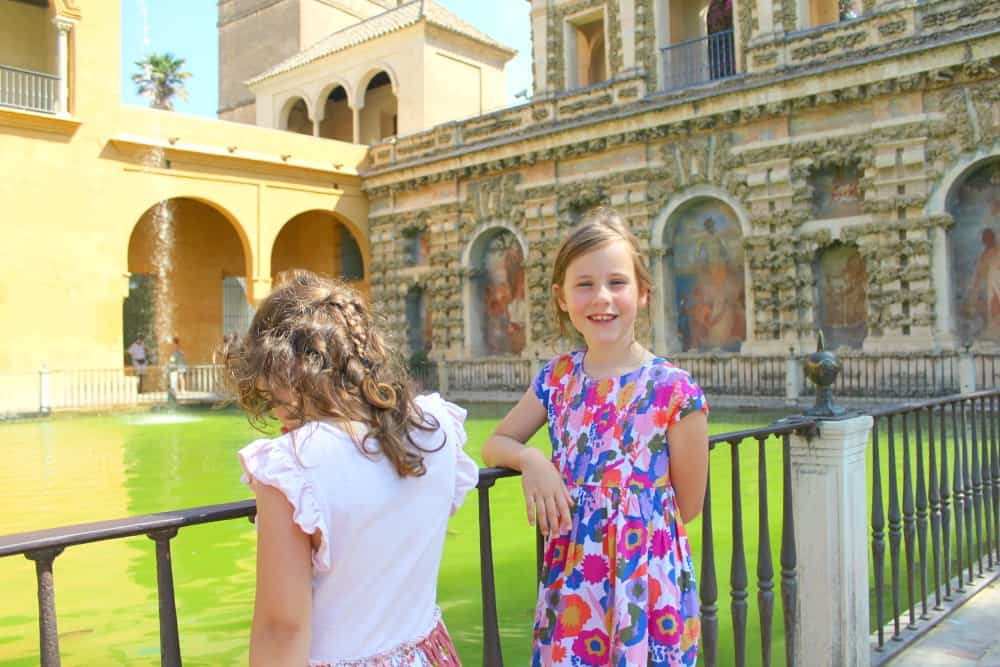 The gardens are great for kids to explore and you will also find fish and water fountains here. We didn't get to explore them all, as the girls were tired and it was getting hot, but I can imagine they are all incredible given what we did see.
This is a popular thing to do in Seville so I would advise booking an early timeslot and getting in the queue at least 20 minutes before you are due to enter. You can turn up for tickets, but you will have a slightly longer wait to enter the palace.
Hop-On and Off Bus Tour
Before the trip, I booked the 48-hour hop on and off bus tour for Seville. We used our tickets halfway through the week when the kids' energy levels were beginning to drop. We caught the bus at Plaza de Espana and did the full loop.
We didn't make it off the bus, which was a shame, but we decided that it was not the day to push the kids. Instead, we stayed on board, and listened to the commentary and enjoyed the ride. We saw Seville's largest Skyscraper, went along the river and saw most of the major locations, even if we didn't get off to explore them in more detail.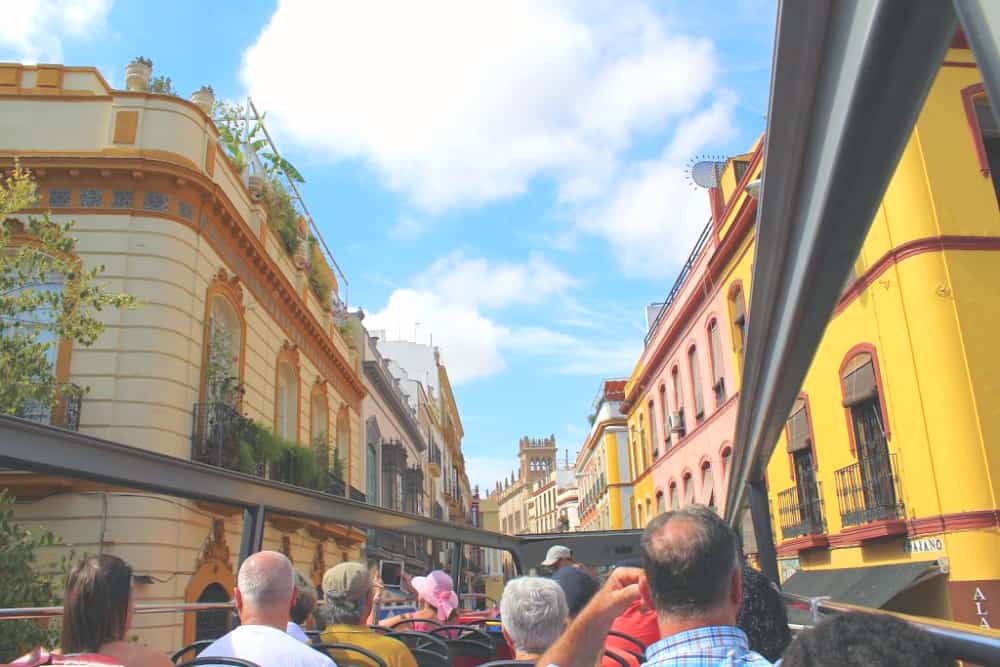 For us, we only needed a one day ticket. Seville isn't a very big city and one loop is probably around 1 hour 30 minutes. If you were going to be getting off at different locations, then this would take longer and the tickets would be more worthwhile. If it hadn't of been so hot, we also may have got more out of this experience. We did enjoy the trip and the chance to see more of the city and seeing an open-top bus ride is always fun for everyone.
Explore the Old Town
I really wanted to visit the Old Town, but I didn't make a conscious effort to plan it into our itinerary as if it did not happen, I would have been so disappointed. We took the Metro to San Sebastian, as we did most days, and walked through the gardens just outside the Real Alcazar wall. On the weekend the gates are open all day, and it's a lovely walk. You will find a children's play area at the far end and some interesting statues and gardens here.
We were going to visit Metropol Parasol, and after checking Google maps we decided that, given that it was first thing in the morning, the girls could handle the walk and it would give us chance to see more of the city by foot.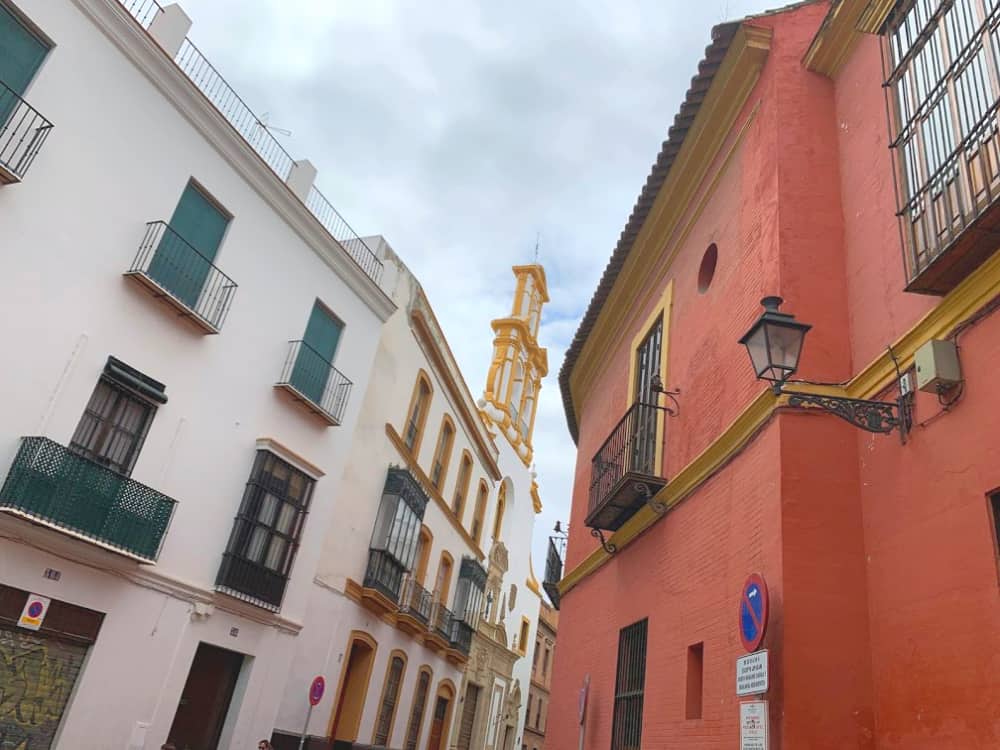 As soon as we headed through the first narrow alleyway I knew where we were! We enjoyed the colourful buildings, the narrow streets and the wrought-iron balconies that are synonymous with Old Town Seville and there was a real sense of adventure for the kids too.
We spotted a play area surrounded by cafes that would make the perfect pitstop for lunch on the way back as well, and after exploring the Metropol Parasol, that's exactly where we headed for a cold glass of Cruzacampo and some tapas while the kids played on the park. I have to say I'm a huge fan of some of the Spanish rituals, and a leisurely lunch really is one of them I'm particularly fond of.
Metropol Parasol
I also had the Metropol Parasol on my list of things to see in Seville, as I thought this would be a lot of fun for all of us. It's a giant mushroom-like structure and it's incredibly unique. It costs 3 euros to go up and you get a free drink at one of the bars and a postcard from the gift shop included with your ticket.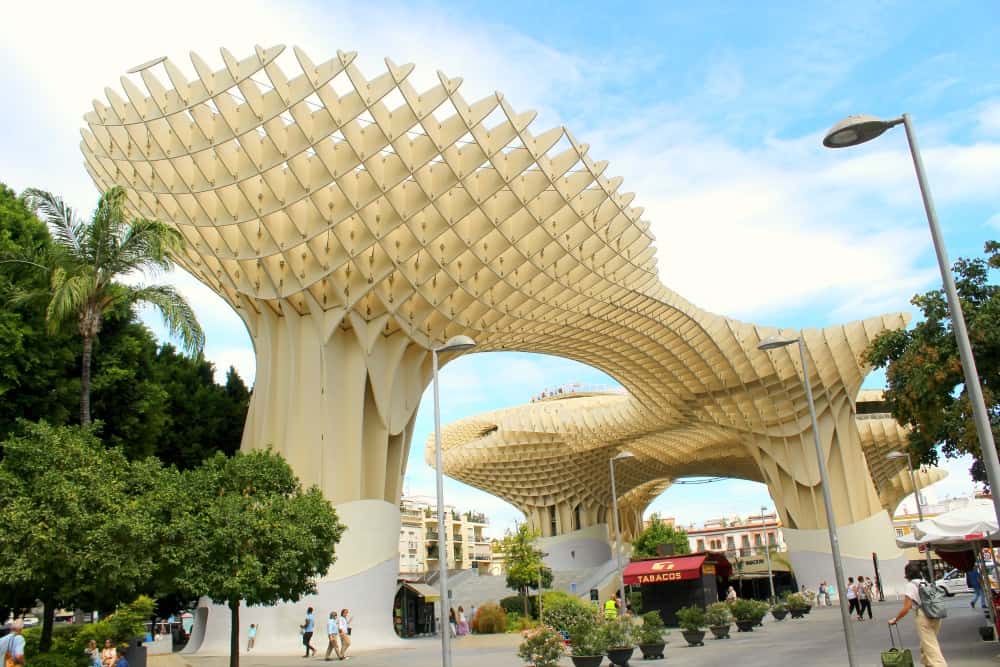 The girls were both free, but I think technically we should have paid for Indie. The cashier was very relaxed and we agreed they were both around 5 years old! There's a walkway around the entire structure which gives you the most interesting view of the city.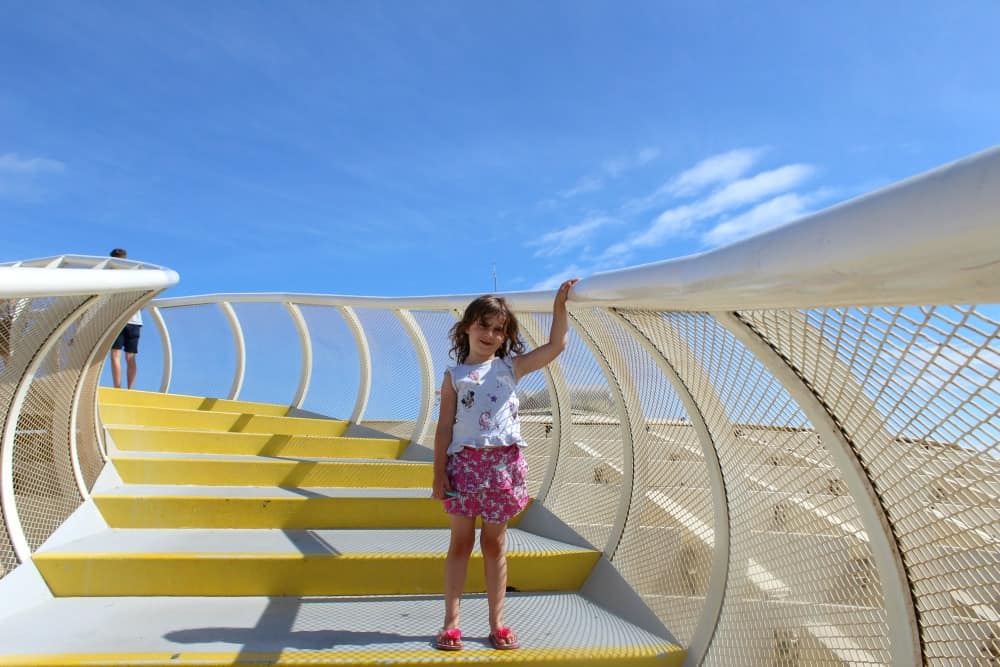 The design blends into the skyline incredibly well and it's hard to tell where the sculpture ends and the city of Seville begins. The kids loved running around the structure, and we really enjoyed the views and experience of it all.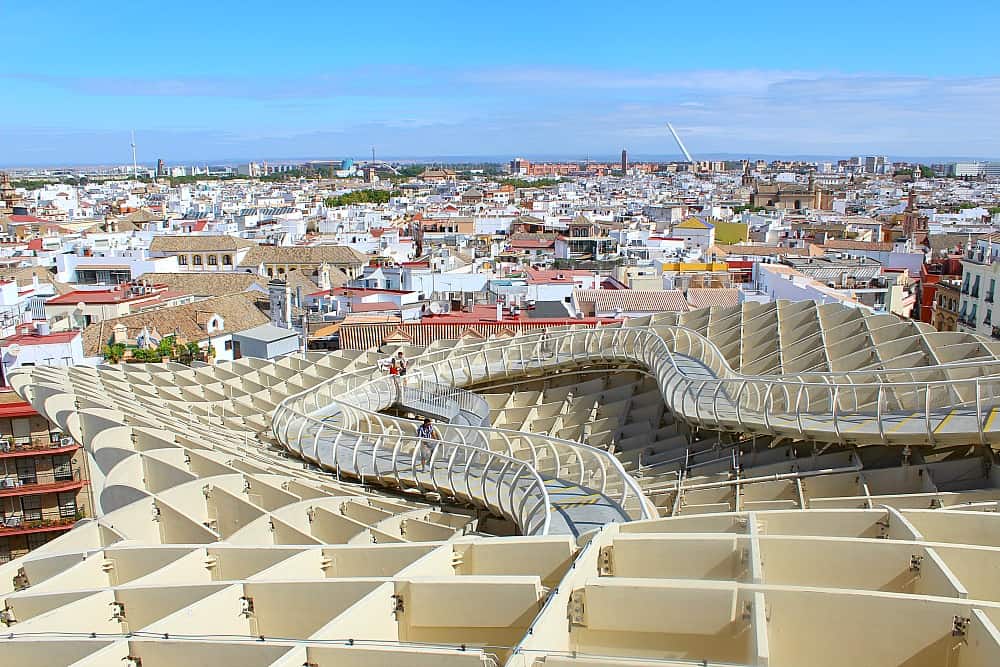 Underneath the Metropol Parasol is an archaeological museum which is only 2.50 euros to visit, but they only accept cash. We didn't make it inside which was a shame as through the glass windows it looked like a great exhibit, but the challenge of finding a cashpoint and avoiding the kids having a meltdown was just too much by that point in the day.
Our next destination was the playground we found in the Old Town and a cafe so we could have lunch before the walk back to the Metro stop.
Enjoy The Local Food
I love Spanish cuisine, it's my favourite food by far. I also love tapas, and this particular style of eating came from Seville. What I will say though is that not all tapas are created equal, and some places in the main tourist spots are overpriced and some are lacking in quality.
My advice to you is to look for a traditional taberna, as that is where you will find the best experience and the best prices. We ate out for lunch every day, but we just grabbed snacks from the nearby supermarket for the evening.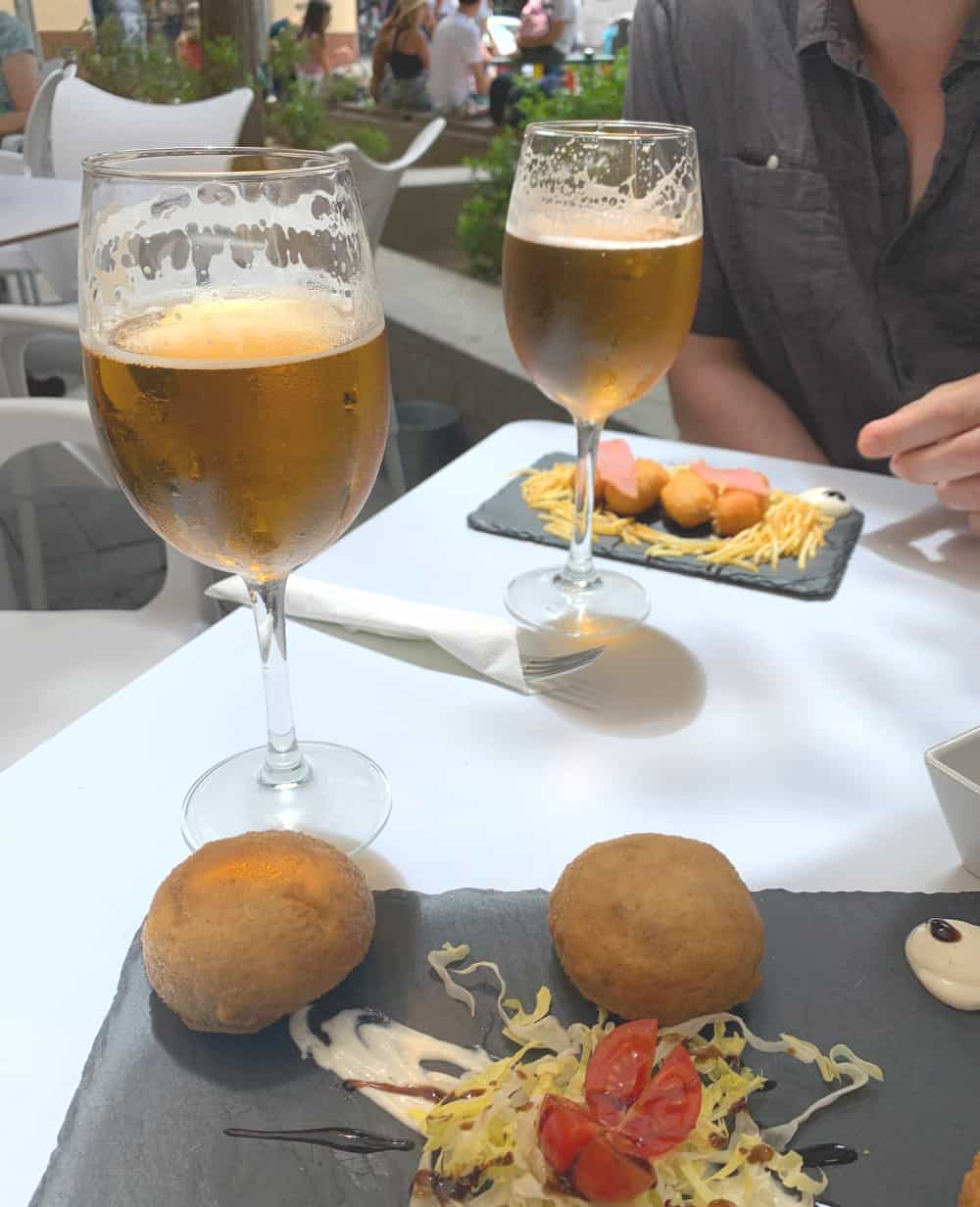 A lot of Spanish restaurants don't open until 8.30pm at night, and the girls just can't handle late nights just yet. A relaxed lunch worked best with our routine, and we only had one not so great experience the whole trip which we mentioned earlier.
We found an excellent taberna near our hotel that specialised in mushroom paella which was delicious and they also did a great plate of calamari. We could mix and match the plates of food and the girls did try a few new things too, which was great.
Seville Aquarium
This was one of the most expensive Seville attractions we visited, but it was totally worth it. A family ticket was about 42 Euros, but it really was an excellent aquarium and we all thoroughly enjoyed it.
We were going to visit the Science Museum that day, but we had left this decision until Monday, and it turns out most museums are closed in Seville on Mondays. In fact, this is true of most places, so it's worth bearing in mind to check these things out. This was the downside of having a fairly loose itinerary I guess!
We decided that we would visit the Seville Aquarium instead which gave us the chance to walk through Maria Luisa Park again. The aquarium has an excellent collection of fish, amphibians and even sea turtles in its tanks. You do get the opportunity to see them from various angles as there is a tunnel, various portholes and a viewing theatre in the aquarium.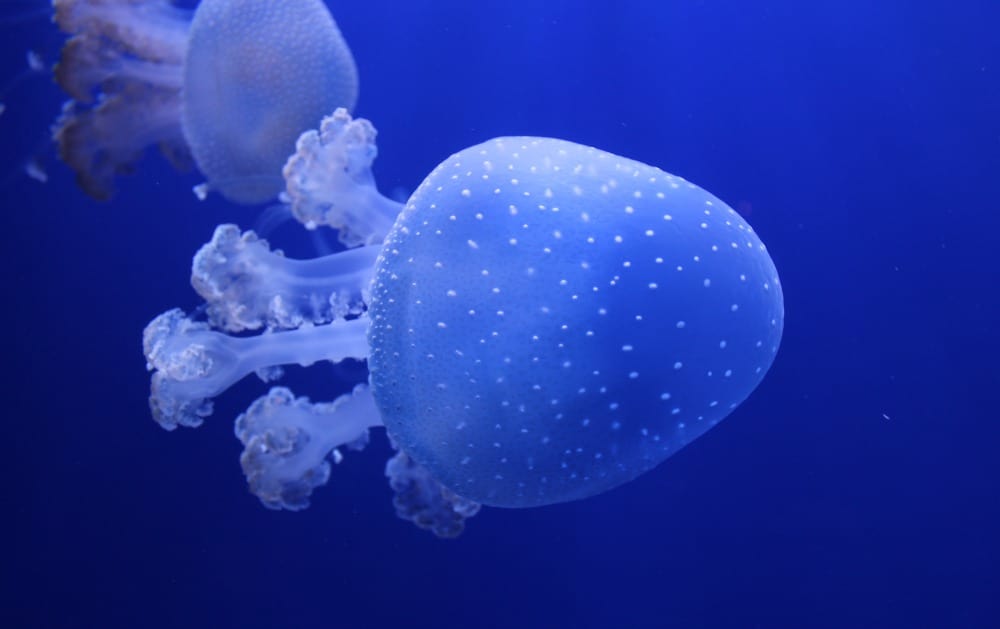 What we really enjoyed about the Seville Aquarium was the way they educated visitors and raised awareness of the issues currently affecting our oceans. I learnt that sea turtles can't tell the difference between a jellyfish and a plastic bag, and I personally found this quite jarring. Sea turtles should not have to know the difference between a plastic bag and a jellyfish as one of them really shouldn't be in the sea in the first place.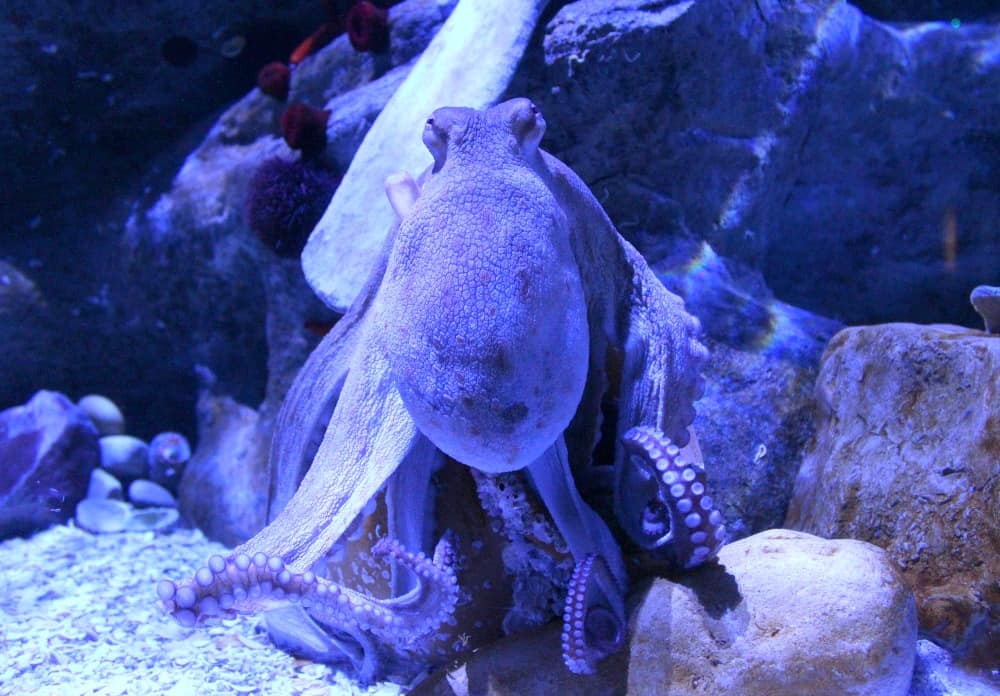 I hope we have given you lots of ideas for what to do in Seville. Its a really beautiful and interesting city with a lot to offer families. If you haven't thought of visiting before I really hope Seville is on your radar now.


We found it wasn't too busy, but remember we were out early most days and perhaps we missed the busiest times for tourists. This list of things to do in Seville will get you started when it comes to the planning your holiday! All you need to do now is check out the flight prices, as they are really affordable! If the heat is a concern, I would look at visiting in October, the winter months or even around Easter, as it will be a lot more comfortable in temperature around those times. Would you consider going to Seville with kids?
Pin 'things to do in Seville' for later