We were invited to Puy du Fou as their guests in exchange for this review, but all thoughts and opinions are our own. 
Have you heard about Puy Du Fou?  If not I really want to put it on your radar today.  It's a theme park in the Vendee region of France about a 1-hour drive from Nantes International airport.  It's not just any theme park though, firstly it's multi award-winning and with very good reason!  It has received the Hall of Fame award in Orlando (2017) and was crowned the 'Best Theme Park in the World' twice because of its unique and original approach to entertaining its visitors.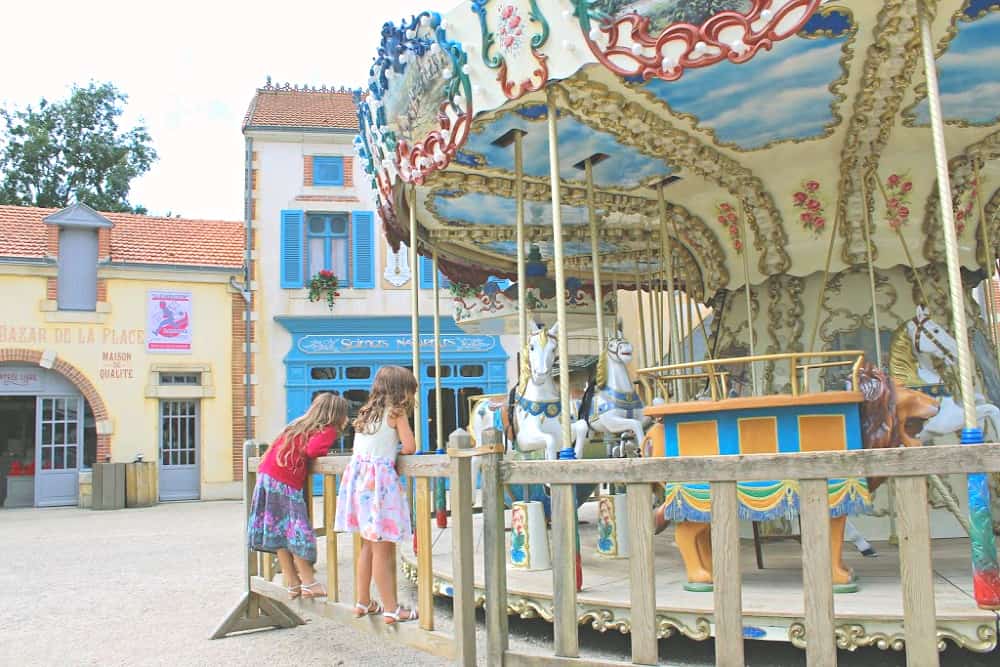 Secondly, it's a theme park without any rides, well maybe one, a beautiful carousel in Le Bourg period village, but that is it!  I know, how can that be?  The thrills and excitement take the shape of epic shows and immersive experiences based on famous events that have taken place throughout history.
Is Puy du Fou a fun place to visit with kids?  Absolutely!  We were all captivated by the entire experience from the minute we arrived at our hotel to the moment we left.  I highly recommend that you pay Puy du Fou a visit if you are looking for a different type of theme park experience with your family, and I'm going to fill you in on why a bit more later in this post.
How to Get to Puy Du Fou
First off, I'm going to talk about the logistics of getting there.  If you are planning a trip to Puy du Fou, that's got to help, right?  We flew from East Midlands Airport directly to Nantes.  These flights are only available in the summer, but you can also fly from London or Manchester.  If you wanted to drive you could catch the ferry to St Malo, and drive from there.
The drive from Nantes Airport to Puy Du Fou was very straight forward.  There a few routes to choose from and the most direct takes you through a toll road.  The fee is around 6 Euro, and I'd suggest having cash ready as we couldn't see an option to pay by card when we went through.
We were staying at a Puy Du Fou hotel for 2 nights for this particular trip.  The Puy du Fou hotels have a different entrance to the main theme park entrance.  I was following my husband's instructions, so we ended up in the main park to start with. I realised the mistake and followed the signs for the hotels which took us straight to the free car park for La Citadelle, so all's well that ends well, or so they say!  Mental note to self, don't follow my husband's instructions when travelling!
Staying at the Puy du Fou Hotel  – La Citadelle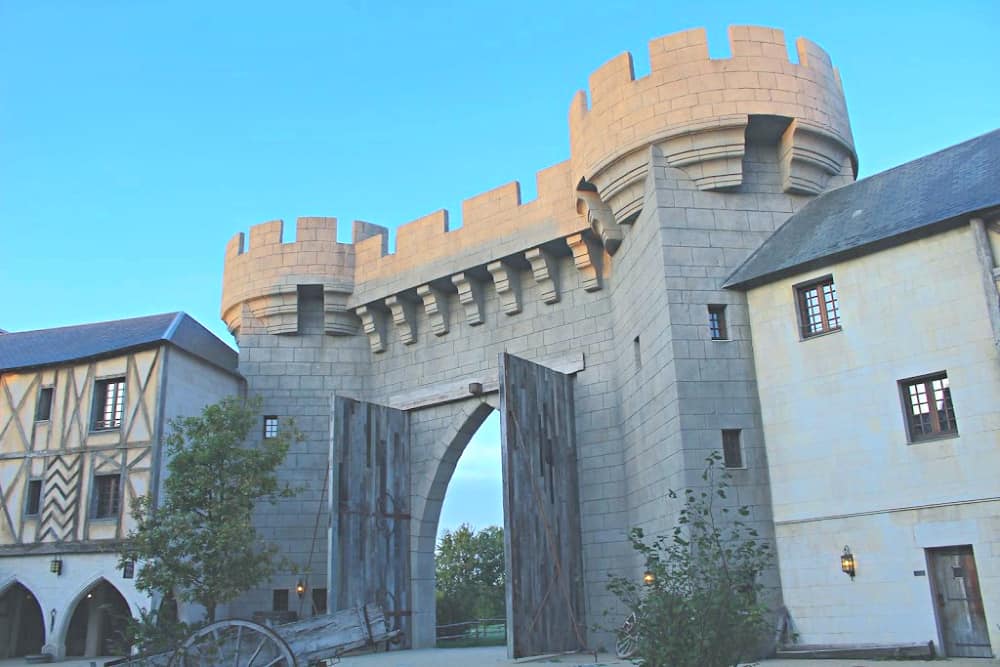 We arrived at Puy du Fou in the early evening. I knew this was going to be special experience when we arrived at the entrance to the hotel.  My husband dropped the suitcases and pulled out his phone to take a picture.  This is a pretty rare event in itself.  He's pretty hard to impress by all accounts.
He's quite a funny man as he's not all that interested in anywhere we go until we actually arrive. When it came to visiting a Puy du Fou I knew that was going to work in my favour.  I had a feeling that he was going to absolutely love this trip.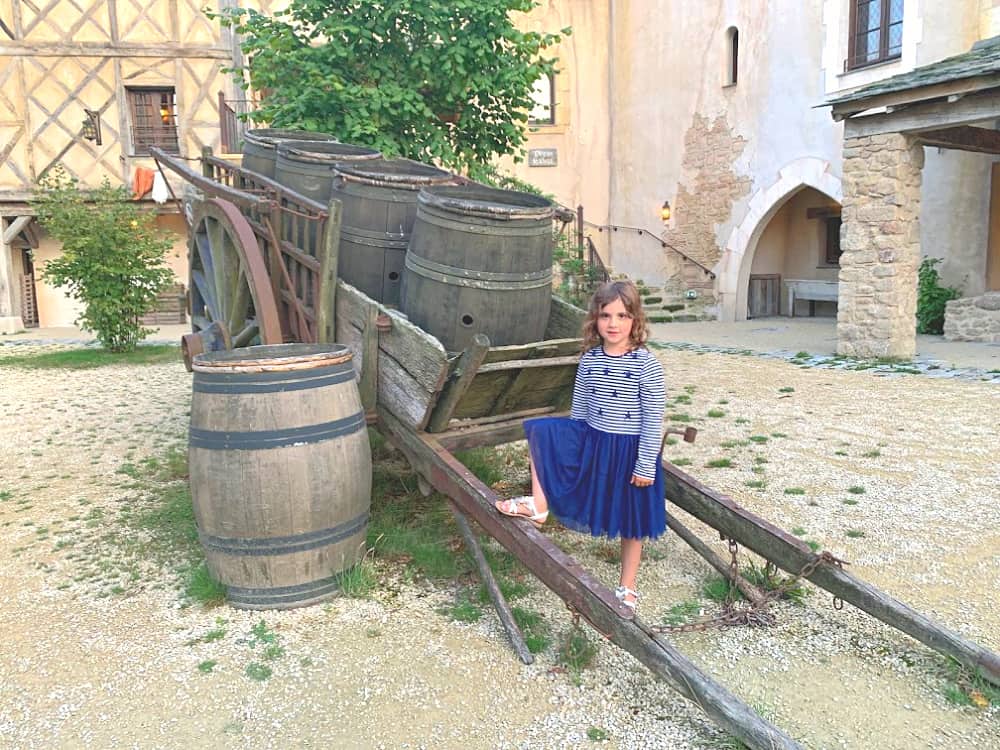 I would definitely recommend that you stay at one of the hotels at Puy du Fou if you are planning a visit here.  Firstly, you need at least two days to fully experience Puy du Fou, but I'd actually recommend 3, especially if you are visiting with young children.   The hotels also set the scene perfectly for the whole experience, as each is themed to a particular period in history.
La Citadelle is set in the Middle Ages, and the exterior details are very impressive indeed including laundry hanging from the windows and wooden carts in the courtyard.  The theme continues throughout the hotel and into the family hotel rooms.  It was spacious and a little more luxurious than it would have looked in the original time period I'm sure.  The girls had a room with wooden bunk beds to themselves, which they thought was just magical.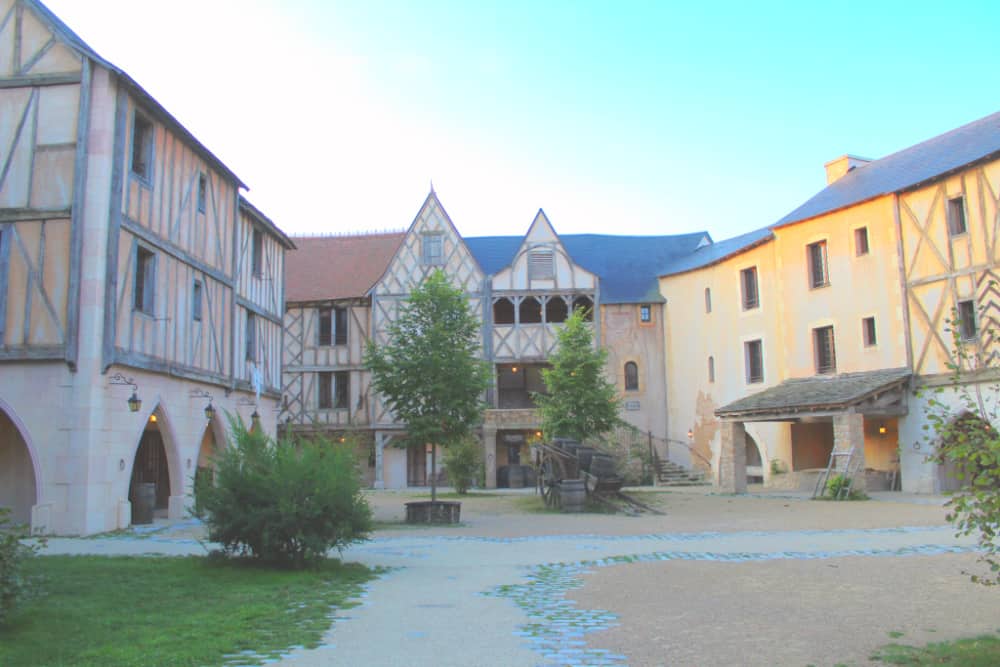 The main bedroom had a wonderful king-size bed and seating area as well as a TV and coffee table.  I personally loved that even the toilet and separate shower room was styled in the same way as the rest of the room. Some toiletries were provided, but it's worth mentioning that Puy du Fou cares about the impact on the environment so natural products are provided and they are kept to a minimum in an effort to reduce plastic waste.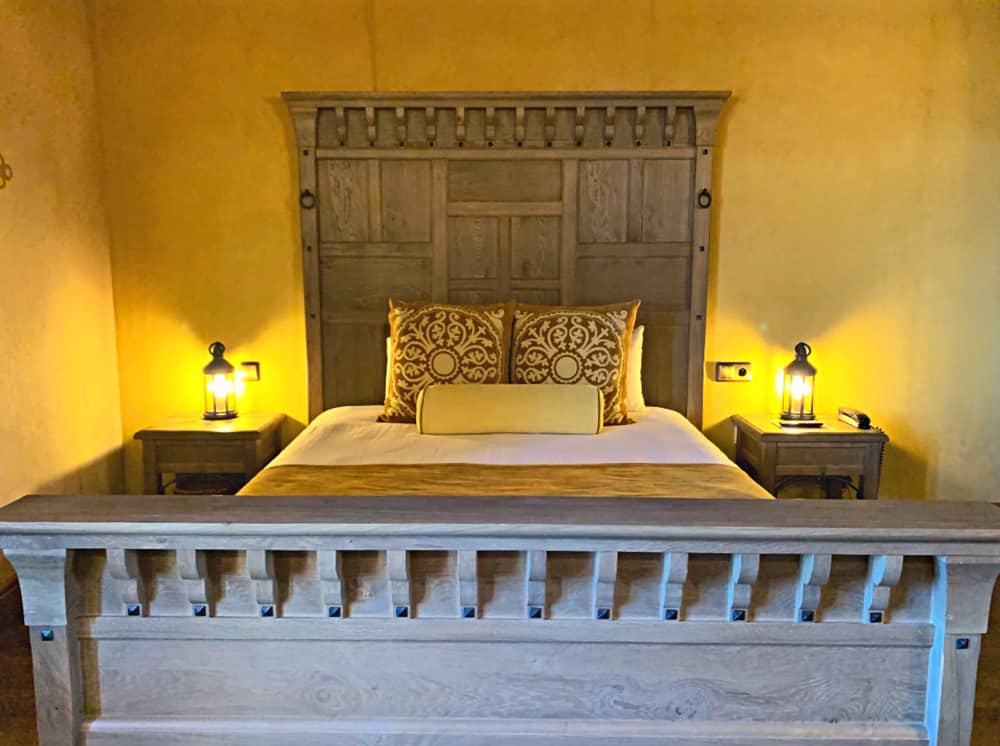 The hotel receptionist gave us a lovely welcome and explained everything we needed to know about staying at the hotel and visiting Puy du Fou. She also directed us to La Villa Gallo-Romaine, which is the Ancient Roman themed hotel at Puy du Fou.  We were booked in the Les Deux Couronnes restaurant for dinner that evening and after a busy day travelling, we dropped off our bags and headed straight over for our evening meal.
It costs from 23.50 Euro for an adult and 11.50 for a child to eat at Les Deux Couronnes restaurant and in my view, this is well worth it.  It was possibly my favourite restaurant of the entire trip.  It's an all you can eat buffet, but the quality is exceptional.  There was an excellent selection of roasted and barbecued meats, vegetables and salads. Dessert included macaroons, lemon meringue pie and many others.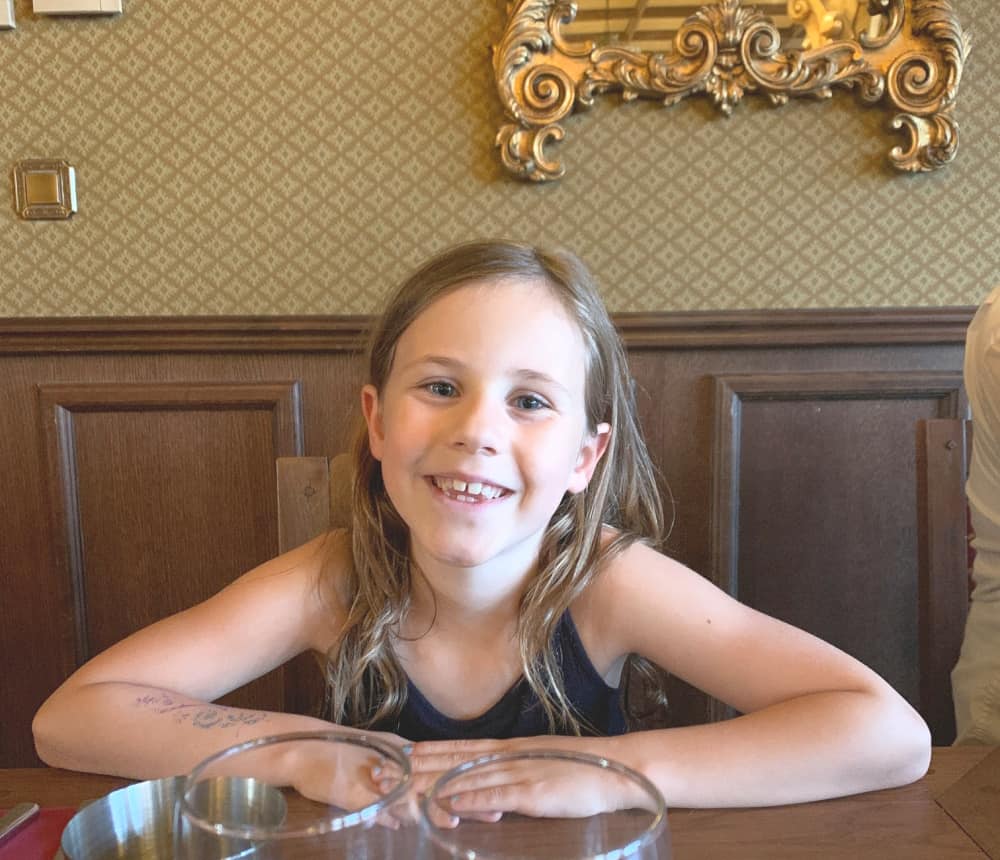 The waiters and waitresses were dressed in period costume, and the entire atmosphere was calm and relaxed.  We very much enjoyed sitting and dining together here.  We had plenty of space, we could take our time and the food was delicious.  We went back to La Citadelle very happy and relaxed that evening, fully prepared for an exciting day at Puy du Fou the next day.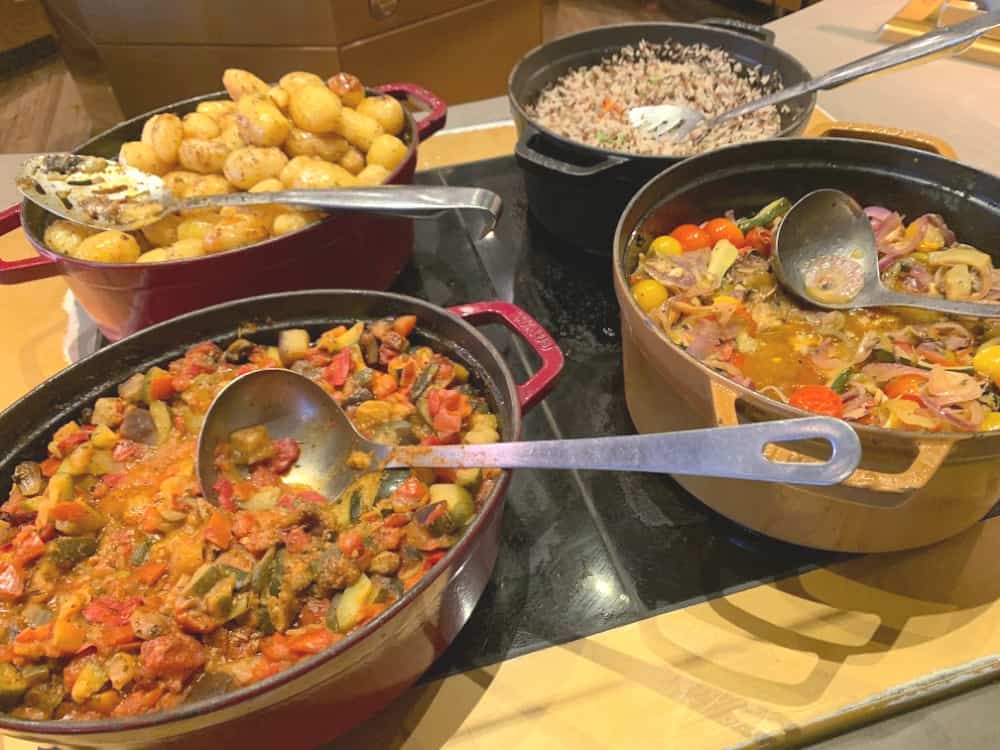 In the morning I was the first person awake, so as not to disturb the children or Daddy, I went down to the courtyard to take some more pictures and enjoy the setting.  It just so happened I was the first person to breakfast also, and it was lovely to be able to enjoy a moment to myself.
Breakfast at L'Ecuyer Tranchant was just what you would expect from a French hotel.  There were freshly baked croissants and choc au pain, pancakes, cheeses, meats and plenty of fresh bread in many varieties.  It was an excellent way to start the day, and when I was eventually joined by the rest of the family they very much enjoyed it too.
I was also really impressed to see a real effort by the hotel to reduce the amount of plastic waste in the serving of breakfast.  Jams and honey were served in jars and you just put what you needed in a small paper cup. There was also a lack of disposable plates and cutlery.
Exploring Puy du Fou
It's just a short walk from the La Citadelle hotel down to the Puy du Fou entrance.  As you walk inside you literally step into not just another world, but another place in time.  The Medieval Village was most certainly my favourite of the period villages at Puy du Fou.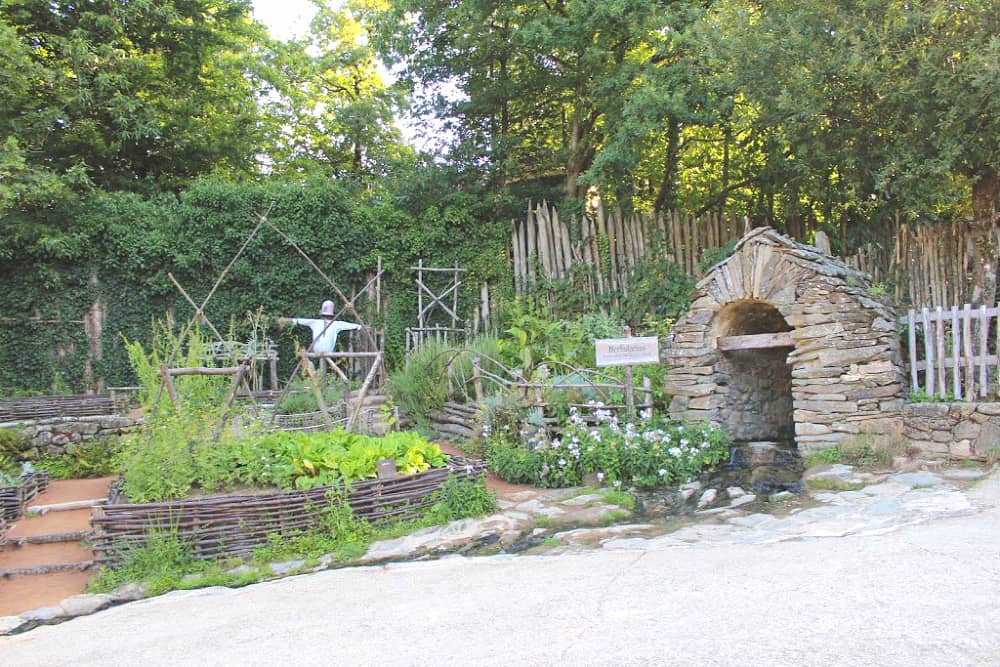 The buildings were authentic and the whole experience was calm and tranquil as we explored the herb garden and artisan shops. One thing you will not find much of at Puy du Fou is plastic tat.  The gifts and souvenirs they sell are great quality and a lot are handmade, which makes them extra special in my opinion.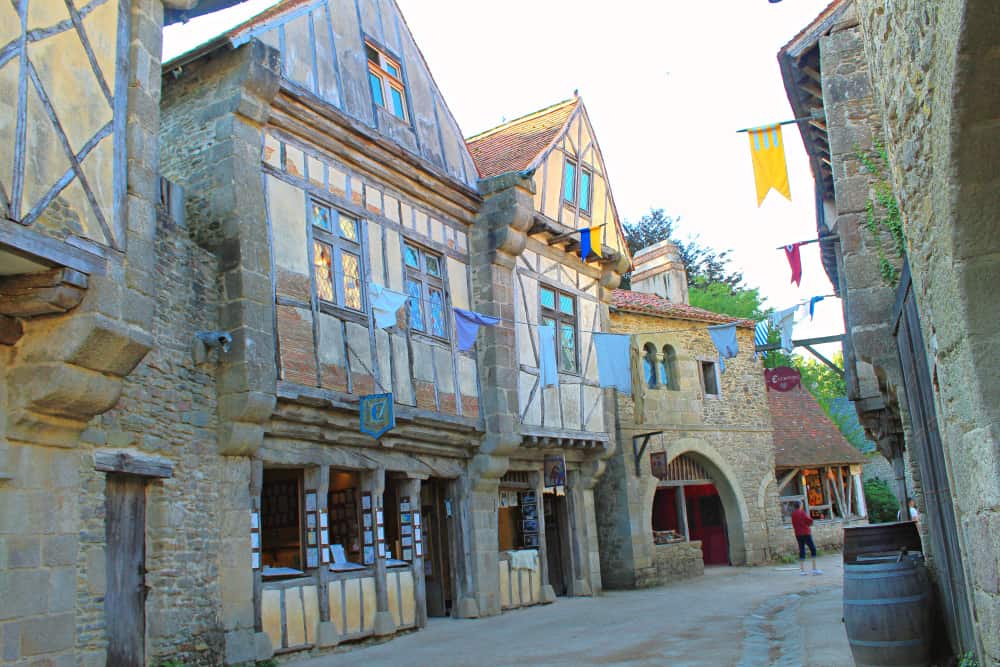 Le Bal des Oiseaux Fantomes
Puy du Fou prides itself on giving its visitors an excellent experience through dramatic and intense storytelling so we left the village behind to visit our first show.  The hotel entrance to Puy du Fou is perfectly located to visit Le Bal des Oiseaux Fantomes.  I cannot stress enough quite how impressive this show is.  Alienor wakes up in the ruins of the chateau, and her memories make the birds appear literally from the sky.
This show, as with all the shows at Puy du Fou, is in French, but it didn't affect how much we enjoyed each and every one them.  Each show is so visual, that the language barely matters.  The historic events are going to be familiar to most adults who visit, so the storyline is easy to follow.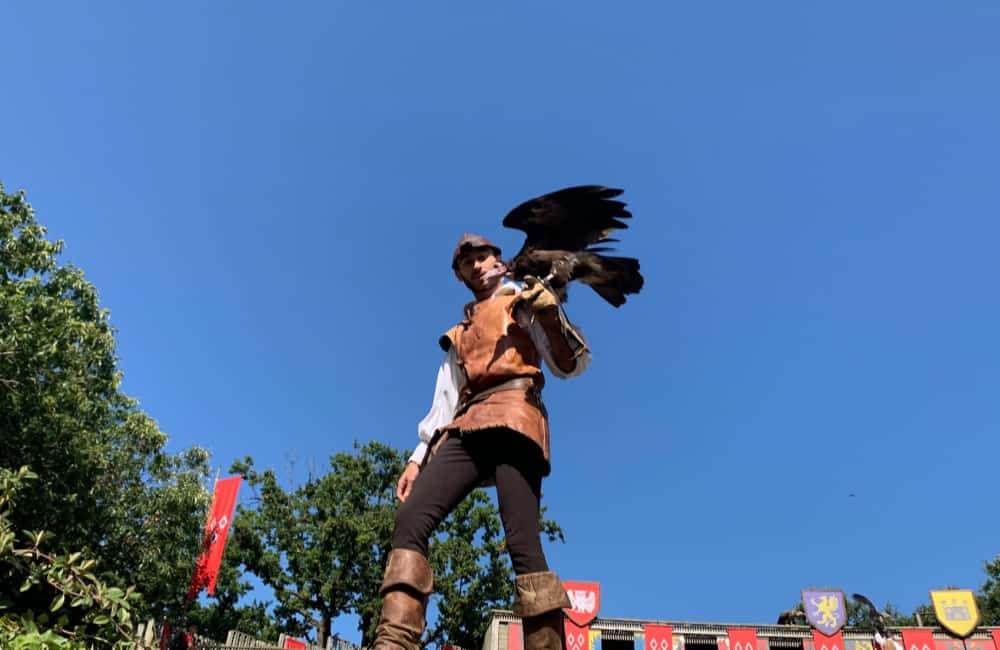 You can download the Puy du Fou app, and as long as you have a pair of headphones, you can follow the story with a simple English translation.  We didn't actually use the app once, but perhaps if we didn't have the children with us, we may have used this.  The girls were certainly not phased at all by the fact the shows were in Franch, and I was happy for them to be exposed to the language in this way also.
But back to the show! I can honestly promise you that you will never have seen falconry like this before.  The show starts relatively gently, with a few birds swopping overhead.  You may be inclined to duck on occasion as some fly very close, almost touching peoples heads!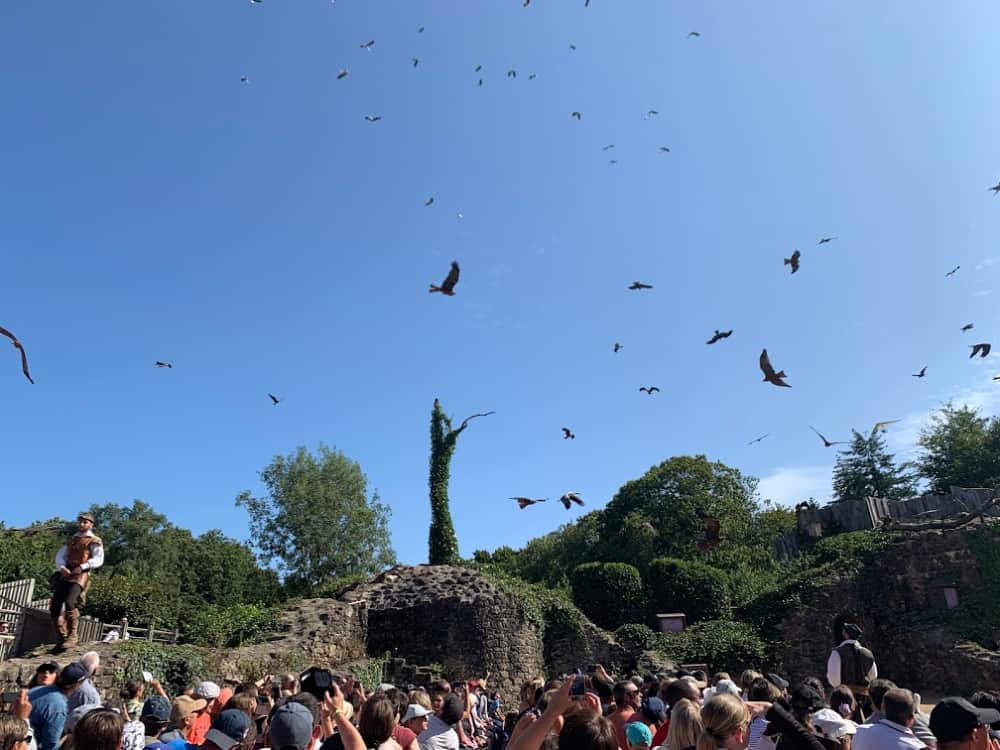 As the story develops more and more birds appear, including owls, vultures and falcons.  Just when we thought there can't be any more to come, a flock of birds were released from a balloon in the sky and made their way down to the audience to dance in the sky above our heads.
If that wasn't impressive enough, more were drafted in with a hang glider until over 200 birds have filled the sky.  I only have one word for this experience, incredible! You have to go and see it to believe it. This show is a real testament to the talent and uniqueness that exists at Puy du Fou and is one of the many reasons we would recommend you visit here during your next trip to France.
Les Chevaliers de la Table Ronde
This is the story of Arthur and the Knights of the Round Table, and is a must-see show for all visitors to Puy du Fou.  It's shorter than some of the main shows, but still, incredibly impressive.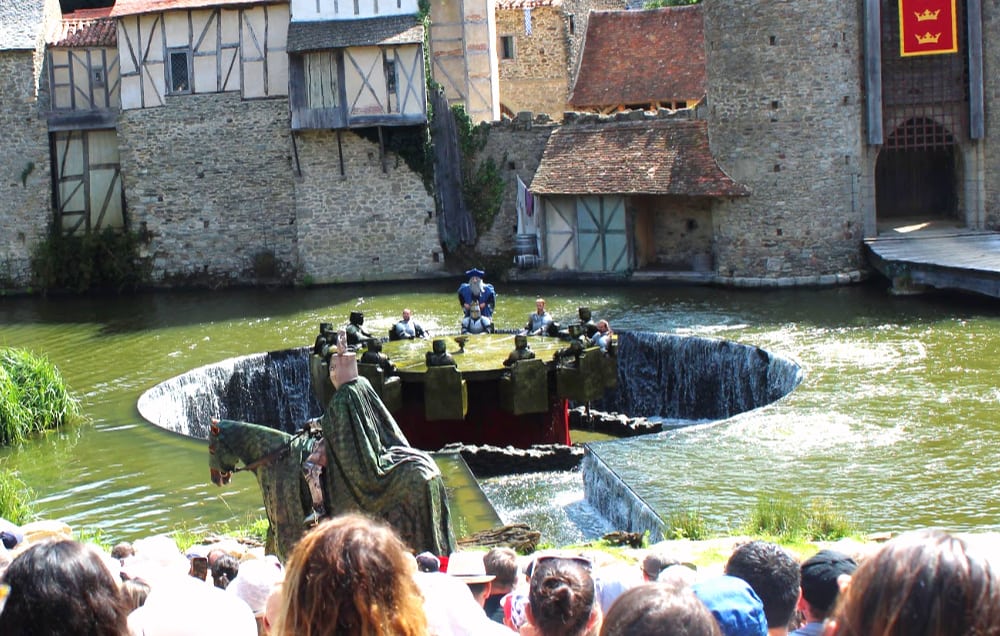 We watched Arthur pull Excaliber from the stone as this legendary tale unfolded under the watchful eye of Merlin and the Knights. A mermaid appeared in the lake which was a particular highlight for the girls, but I think to see a horse emerge out of the water really stole the show.
It was another moment at Puy du Fou to add to the list of, 'how do they do that', which was a feeling we all experienced a lot over our two days at the park.
Lunch at La Mijoterie du Roy Henry
There are several places to eat at Puy du Fou, each serving traditional french food.  When we arrived at La Mijoterie du Roy Henry the children were very hangry, they had just had quite a long play at The Children's Den, and I think Daddy and I were flagging a bit with the heat.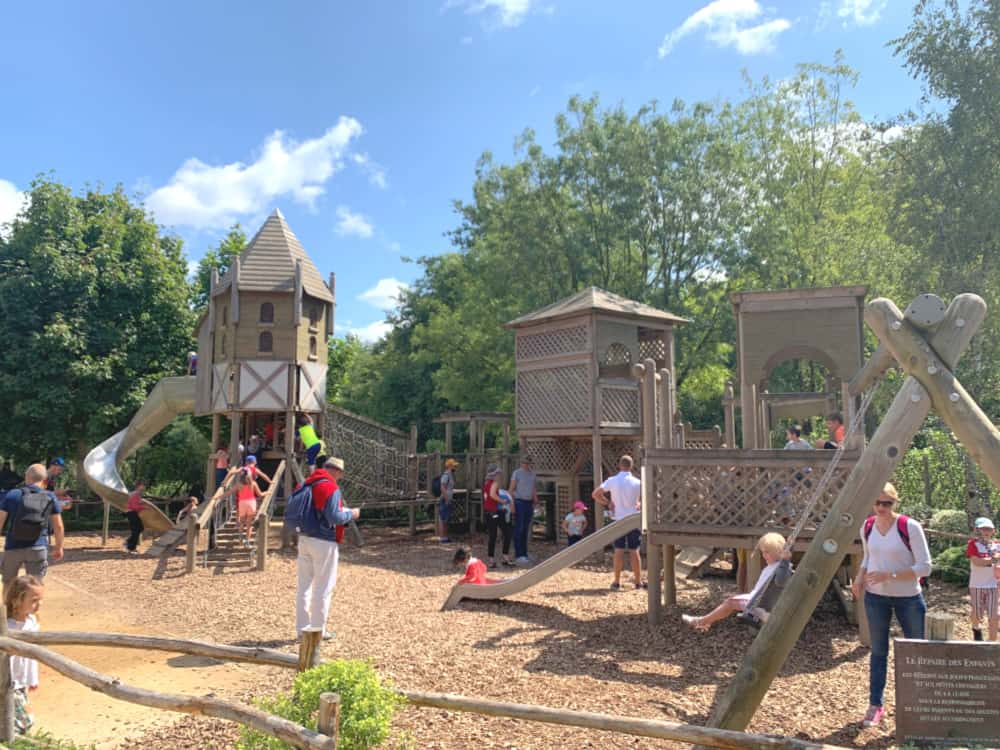 I think it didn't set us up very well for a particularly positive experience in this restaurant.  Knowing what I know now, I would have checked on the Puy du Fou website or app what dishes were available (there's lots of helpful information on both of these for arranging your trip, so definitely pop over and take a look) and made sure I was familiar with what the arrangements were.
We were given wooden strays (the kids had baskets) with 3 holes to place the starter, main and dessert.  The restaurant was self-service but we didn't find the layout very intuitive and all the signs were in French, so we felt even more confused.
The main meal is served in a pot with a lid, so we couldn't really see what we were getting.  We both ended up picking the black pudding, and unfortunately, we don't like black pudding and we weren't sure if we could change it.  The restaurant itself felt cramped which can be hard with small kids who are a bit all over the place.  We had been looking forward to a relaxing break from what had been a busy morning in the park, but it felt quite stressful and in some ways a little disappointing.  At this point I suspect a picnic or visiting one of the kiosks and eating outside in one of the picnic areas may have suited us better.
Maybe, this just wasn't for us, as I know that other people have visited this restaurant and really enjoyed it and find it good value for money, so again, give it a try and make your own mind up if the menu appeals to you.
Le Signe du Triomphe
The next major show we visited was Le Signe du Triomphe, and this was the one I was most excited about.  If you head over to Instagram and search #PuyDuFou you'll see why! Our Emotion Pass (Fast Track) really came into its own here.  The day we visited was very busy, and the Emotion Pass allows you access to the shorter queues and special designated areas, in other words, great seats!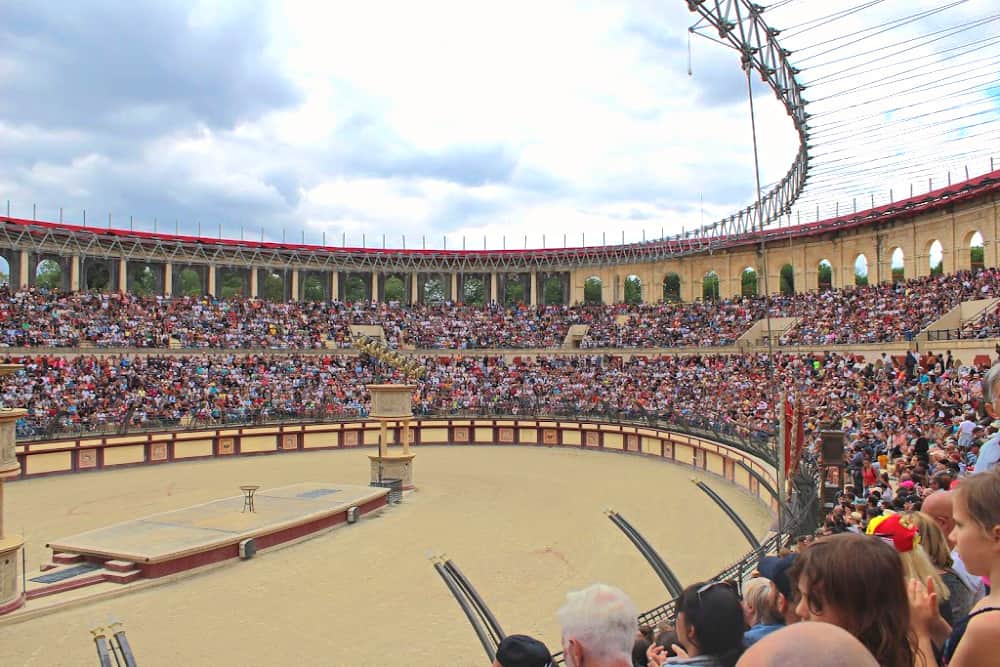 We had cut it a little fine to see this show and they were closing the queues off, but we were able to get in because of the Emotion Pass.  We also enjoyed a great view of the show in the gladiator's arena.  The atmosphere was electric and the girls were introduced to the phenomenon that is the Mexican wave, in possibly one of the best venues in the world.
The story is based around a group of prisoners that must win the circus games in front of the Roman governor to be freed.  The show is intense, with chariot racing, fighting and big theatrical performances.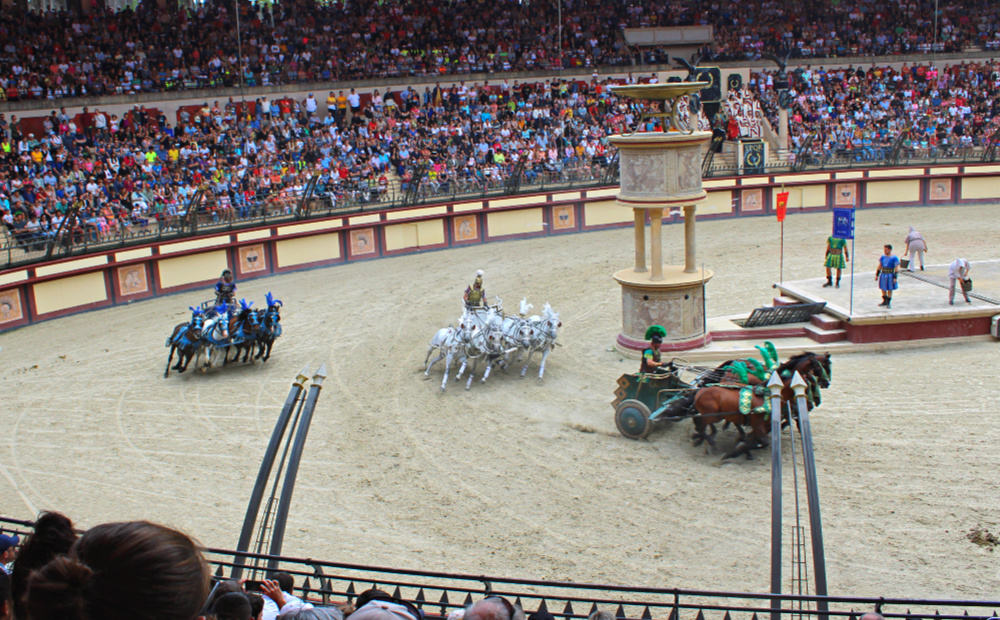 It is worth mentioning that lions, tigers and other animals feature in this show, and many others at Puy du Fou.  If you have very strong opinions about this topic then Puy du Fou may not be the theme park you are looking for.  I took the view that I wanted to go and see for myself, and at no point did I feel the animals were distressed or suffering in any way.
In fact, there is possibly an argument that the lions and tigers, in particular, were some of the best cared for I'd seen.  Puy du Fou takes its responsibility to the animals very seriously and is also involved with conservation projects around the world.  There will probably come a time when animals no longer feature in the shows, and I doubt the experience that Puy du Fou will suffer as a result.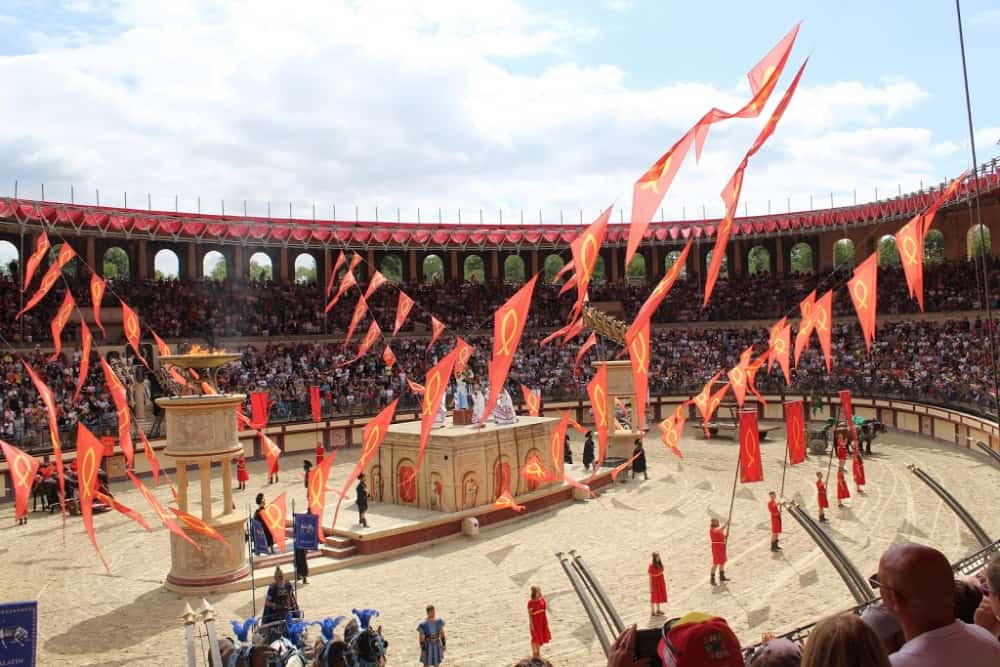 That being said, the entire show was breathtaking from beginning to end, from the tiger entering the arena to the fast-paced chariot racing and special effects. Everyone's eyes were glued on the arena from beginning to the very end when the flags rose to mark the end of the 45-minute extravaganza.
After this show, we spent some time exploring the rest of the park.  There are a variety of experiences at Puy du Fou, set in the beautiful green surroundings. There is a children's play area which we visited more than once during our time here and some amazing walk through experiences.
La Premier Royaume
This was the first walk through immersive experience we visited together, and as an adult, I can honestly say it was excellent. I would suggest that if you have a sensitive child you may want to consider if they will enjoy it.
Indie is one of those children, and despite being 7, she became a bit upset, and one of the staff members inside the experience showed us to the nearest exit.  Our 5-year-old, on the other hand, is a bit more robust, and she carried on with Daddy without batting an eyelid so it really does depend on the child.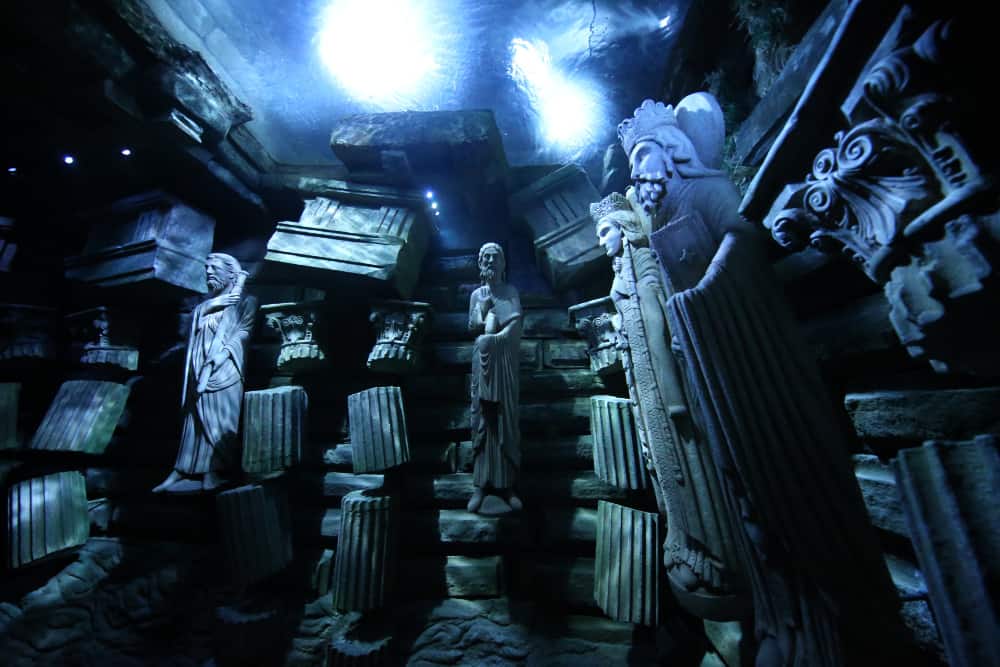 As I had to leave a little abruptly, I went back to this experience without the children and I can honestly say that Puy du Fou does an excellent job of transporting you to the 5th century AD, when the Roman Empire has fallen and Atilla the Hun's troops had brutally taken control of Europe.
The experience perfectly demonstrates how Puy du Fou takes you on a journey, not just to another place, but another time and the 21st century feels very far away indeed as you explore this dramatic period in history.
Le Cafe de la Madelon
That evening we visited one of Puy du Fou's themed restaurants, Le Cafe de la Madelon.  I was a little bit nervous about going here, as it was quite late and as you've heard me mention many times before, the girls do so much better when we travel if we keep to their routines, especially around bedtime.
I need not have worried, as they were both captivated by the story and the performance, despite being in French.  It genuinely felt like we had been invited to a wedding meal in 1914, and were part to the catastrophe's that unfolded throughout the evening.  It was packed with fun and frolics, and well-choreographed dance routines that often required our very own waiters and waitresses dancing feet to complete the show.
The food was OK, but not necessarily something to shout home about.  The salmon medallion didn't thrill any of us, and to be honest, I was just relieved that the kids ate some of the chicken and that we could ask for extra bread.  The couple sat next to us were more than happy to take what we didn't eat, so I think they ended up being quite happy we were on their table.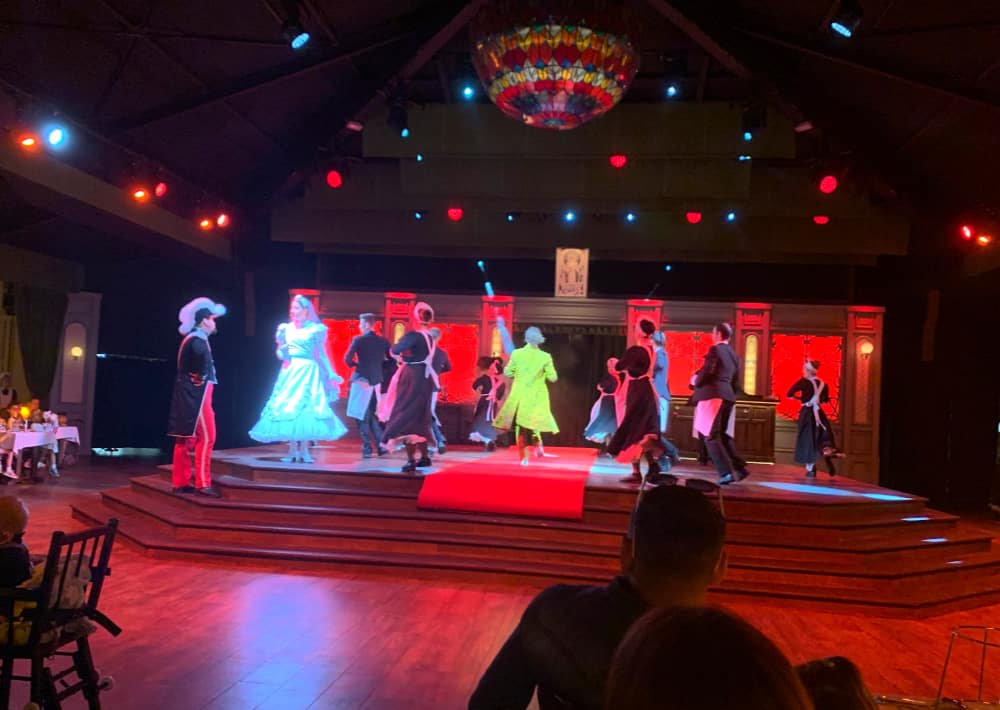 The choux bun with chantilly cream does deserve a special mention, however, and that was delicious, but unfortunately both the kids don't like cream and there wasn't an alternative available. The couple sat next to us probably thought their luck was in at this point, but one thing we don't share with strangers is the kid's desserts!
This experience isn't really about the food though and we all enjoyed a very entertaining evening here.  On the walk back to La Citadelle we caught a little of the evening show on the lake.  The crowds had already built up so we missed the special seating area designated to Pass Emotion holders, which was a shame.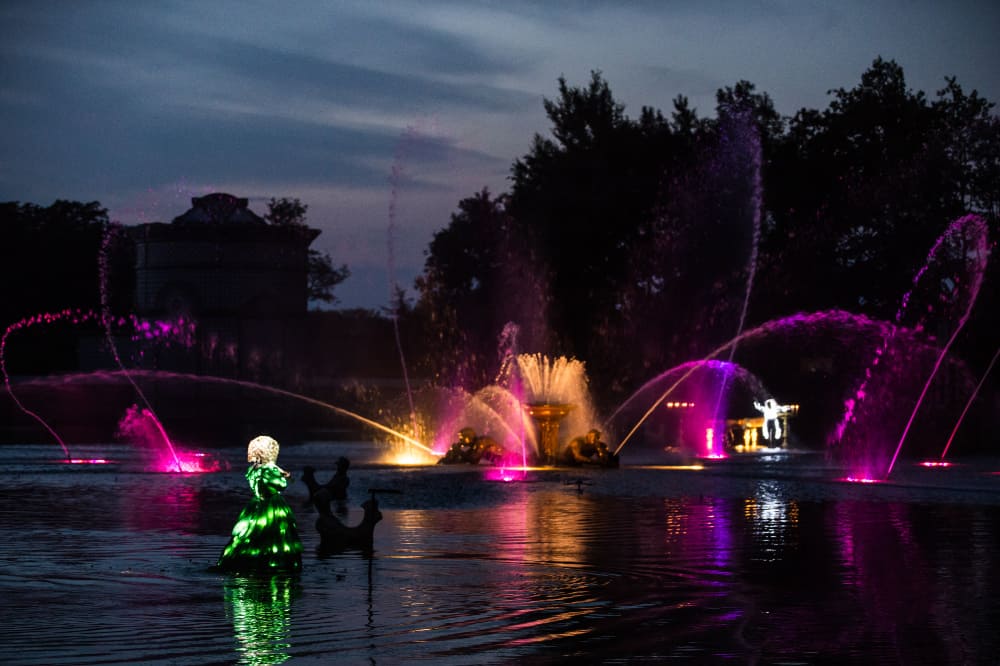 What we did manage to see was a beautiful musical and light display that included violinists swooping across the lakes and pianists immerging from the water. Unfortunately, the kids were just a bit too tired by this point and were falling asleep sat on our shoulders, so we headed back to the Puy du Fou hotel for a good nights sleep.
Mousquetaire de Richelieu
Day two at Puy du Fou began with another wonderful breakfast at La Citadelle restaurant.  Brook was making the most of having an endless supply of pancakes and Indie was enjoying tucking into the croissants. We took a stroll down the tree-lined path to the Grand Parc and headed to our first show of the day, Mousquetaire de Richelieu.
Personally I was really looking forward to this.  I grew up with the cartoon, Dogtanian and the Three Muskehounds, do you remember it?  Now, the show Mousquetaire de Richelieu is, of course, nothing like the old cartoon, it's certainly funny in parts, but mainly dramatic and far more sophisticated.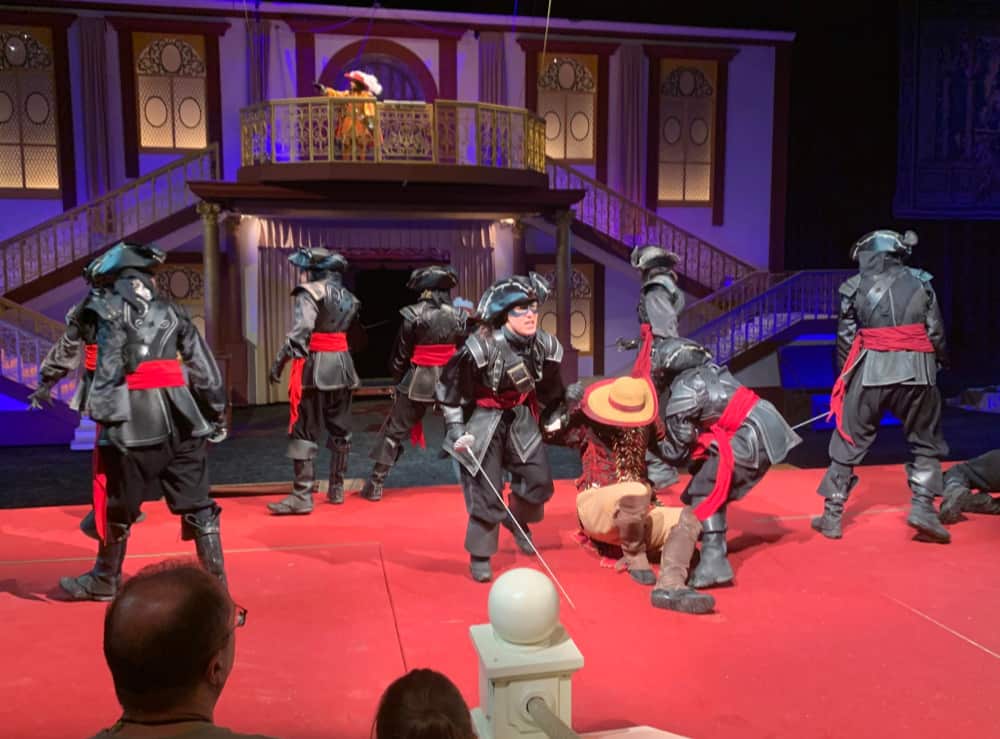 The 17th-century theatre is huge, and as we sat waiting for the show to begin, the anticipation of what was going to fill it grew throughout the audience. We began with a little slapstick humour, we enjoyed glow in the dark horse dancing (you have to go and see it to find out what I mean), swashbuckling sword fights and beautiful displays of flamenco dancing.  We were all completely in awe of the equestrian displays, and the use of water added another dimension to an already stunning performance by Puy du Fou.
Le Bourg 1900
When we left the show we were perfectly positioned to visit Le Bourg 1900, which is a quaint square near the main entrance of Puy du Fou.  It's surrounded by Victorian-style shops, features a beautiful carrousel and is home to the popular Le Bistrot restaurant.
We decided this would be a good option for us as there was an a la carte menu and of course table service, which we find easier with young children. Sometimes they just need their food put in front of them to guarantee a better chance of eating it!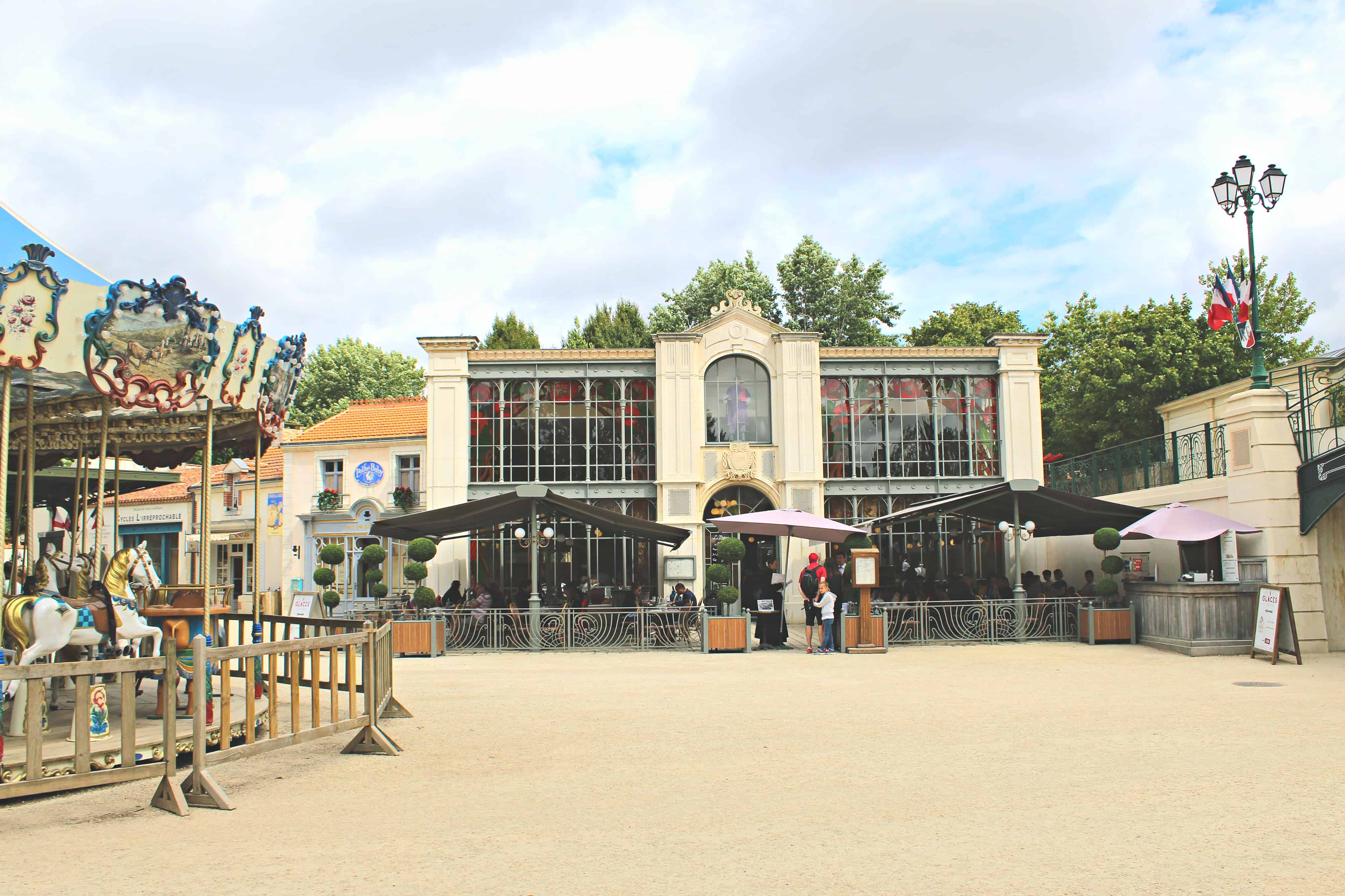 We both had the steak which was delicious, but my advice to you would be that if you like your steak 'medium', order 'well done', as the French have a different take on how to cook steaks.  We applied this theory to a different restaurant in Nantes and found that a 'well done' French steak is equivalent to a 'medium' English one.
Le Secret de la Lance
Keen to get as many shows as possible under our belt before leaving Puy du Fou, our next stop was Le Secret de la Lance.  The young shepherdess, Marguerite finds herself having to defend the chateaux, and needs to unlock the secret powers of the lance in order to win the battle.
This show features dramatic stunts and impressive jousting from the horse riders who put on one of the most impressive displays I've ever seen.  We went into each show at Puy du Fou wondering how they were going to wow us next, and each time they bought something new out of the bag.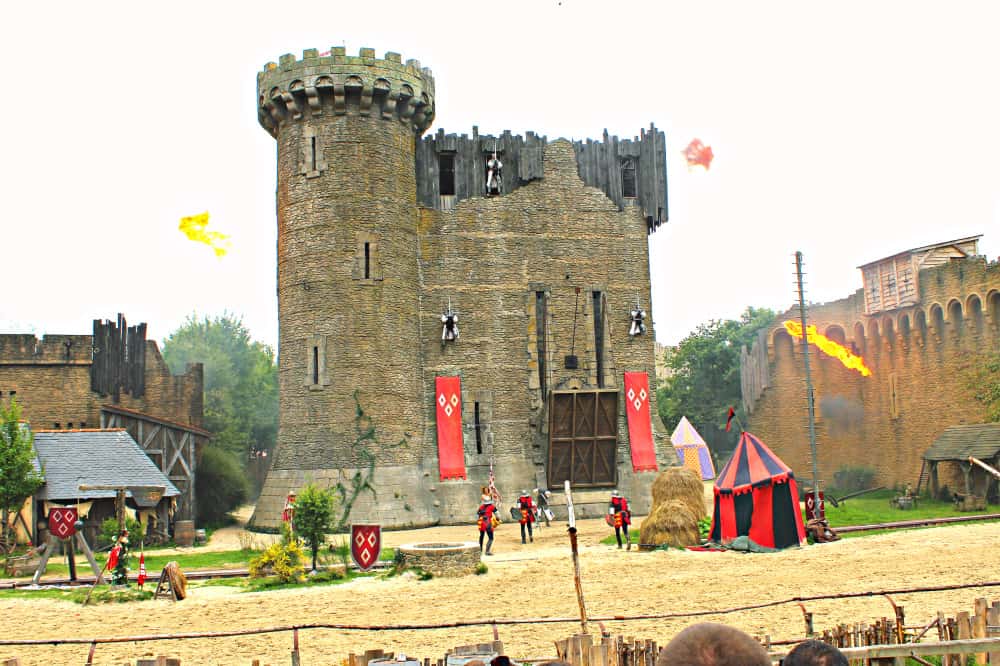 The creativity and quality of each performance were very impressive.  The sets were well thought out and I dread to think how many costumes are used across the whole park and how many people are required just to look after them! I'm sure there are some figures available on that somewhere though.
Les Vikings
Our last show before leaving the park was Les Vikings, and it was very much a high note to end on.  We were seated fairly early and in a great spot thanks to the Pass Emotion, but this did mean quite a wait before the show started.
If you are visiting Puy du Fou with young children I'd recommend having something in your bag to keep them entertained while they are waiting for the show to start.  A colouring book and pencils were enough to keep Brook out of mischief, and there were definitely points when I was glad I had them to hand.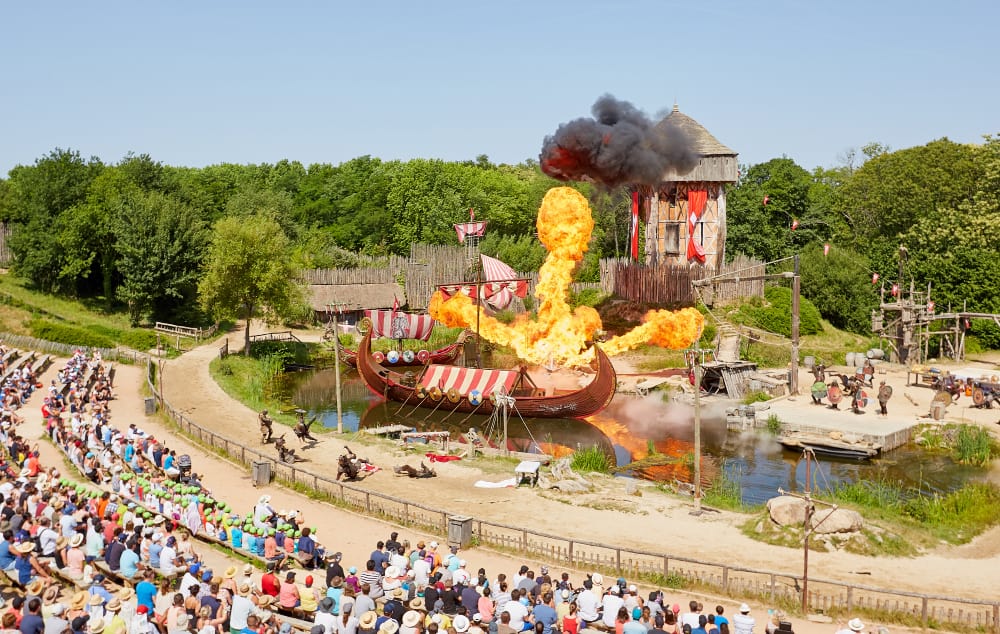 When the show began though there was nothing to worry about, as there was a lot going on to hold her attention especially when the Viking warriors launched their vicious attack on the villagers.   Watching their peaceful home ripped apart and burned to the ground while Viking longships emerge from the water is going to hold anyone's attention, even a 5 year olds!
What we loved about Puy du Fou
From the moment our trip to Puy du Fou was booked, I knew we were all going to enjoy our visit here.  Daddy got as much out of the shows as the children, which in my book was a huge win.  While we were at Puy du Fou, I also couldn't help but think that it would have been an excellent place to bring their big brother as well.  Being 21, it's very difficult to find things to do together that we would all enjoy, but Puy du Fou would very much make it onto that list.
If you are looking for a place to take children of a variety of ages, this would definitely be the place, as everyone will enjoy the visual entertainment here. I also noticed lots of people visiting the park with grandparents or older relatives, as Puy du Fou is a great options for multi-generational holidays too.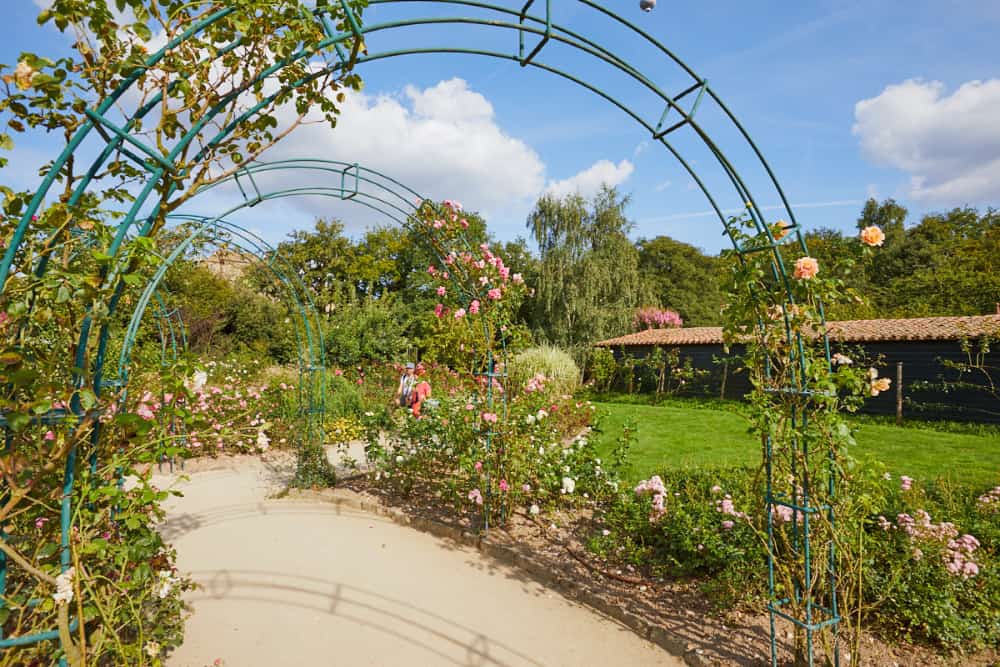 Puy du Fou isn't only accessible for people of all ages, but also for anyone who has a disability or mobility issue that may prevent them from enjoying a more traditional theme park.  The park itself is accessible by wheelchair in the majority, if not all places.  In the shows, spaces are allocated especially for people with disabilities to watch the show.  And of course, there isn't anything they can't see or go on, as so they can feel as much a part of the Puy du Fou experience as anyone else does.
I know I've touched on this already, but the performances, stunts, sets, details and everything else that has gone into making each show at Puy du Fou is just incredible. If you love the theatre in any of its guises or live entertainment, I think you will enjoy Puy du Fou.  They really have taken history to a whole new level, and even if it's not something you think you are interested in, I would defy you not to leave this park with at least a healthy curiosity for the events that have shaped the world we live in today.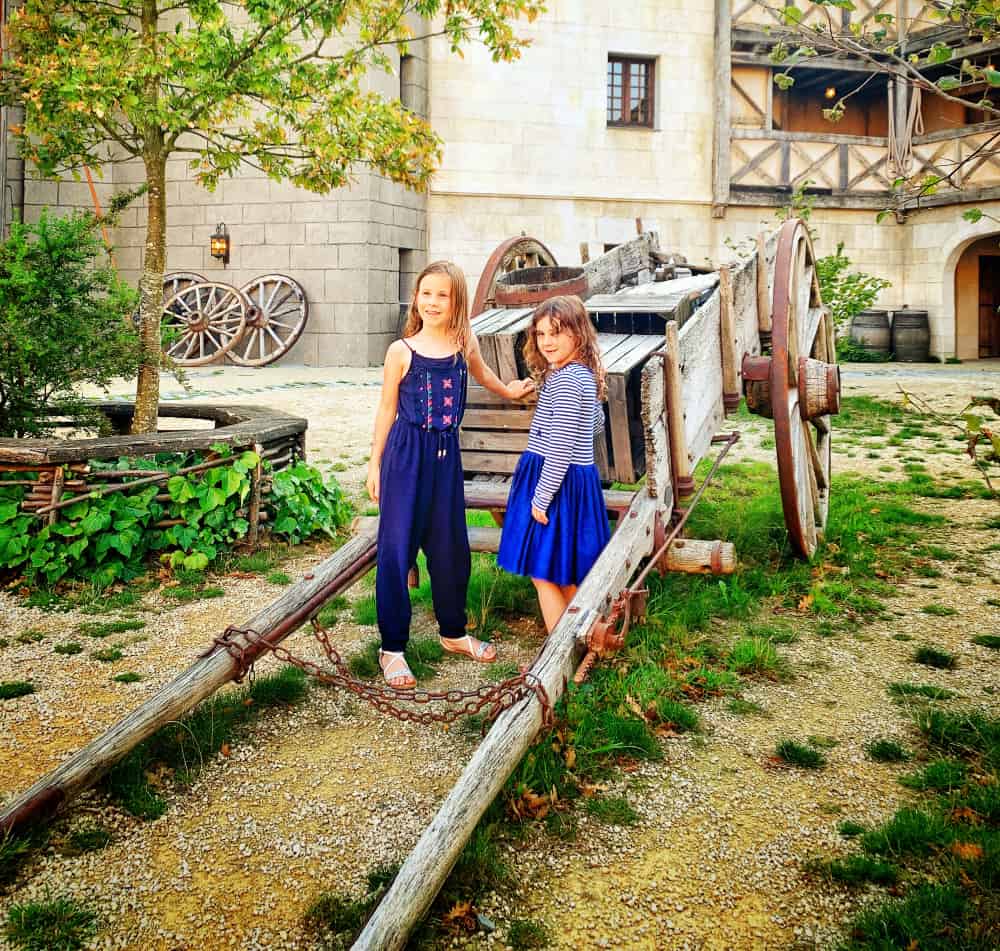 Even though Indie and Brook are just 5 and 7 years old, they were curious and asking questions about everything they saw at Puy du Fou.  Our 2-day experience at Puy du Fou really did allow us to spend quality time together as a family in a fun and unique way. It's an experience we would happily repeat as the park adds new shows and experiences every year.
If you would like to visit Puy du Fou, then I would suggest visiting the website now, as it's packed with lots of helpful information and will give you even more insight into what you can expect.  However, nothing will replace going to the park and experiencing it with your own eyes.
If you are interested in a similar break at Puy du Fou, a 2-night B&B family stay (4 sharing) at one of the five themed on-site hotels is available from €590, including 2 days' entry to the Park. Day passes start at only €36/€26 (adult/child); Emotion fast track passes €15pp per day. Puy du Fou is open now until 3 November 2019. Further information from Puy du Fou visit www.puydufou.com/en
Visit our Instagram stories now too see even more content from our experience at Puy du Fou!
Want to visit Puy du Fou? Pin for later