Contains affiliate links 
A neighbourhood scavenger hunt is a really fun way to explore the local area with kids.  If your kids are anything like mine they never feel inspired about the idea of going for a walk.  If I say we are going on a scavenger hunt they seem to get a lot more excited.
I've seen scavenger hunts work on days out we've been on time and time so really wanted to create one that Zena's Suitcase readers could use whenever they wanted.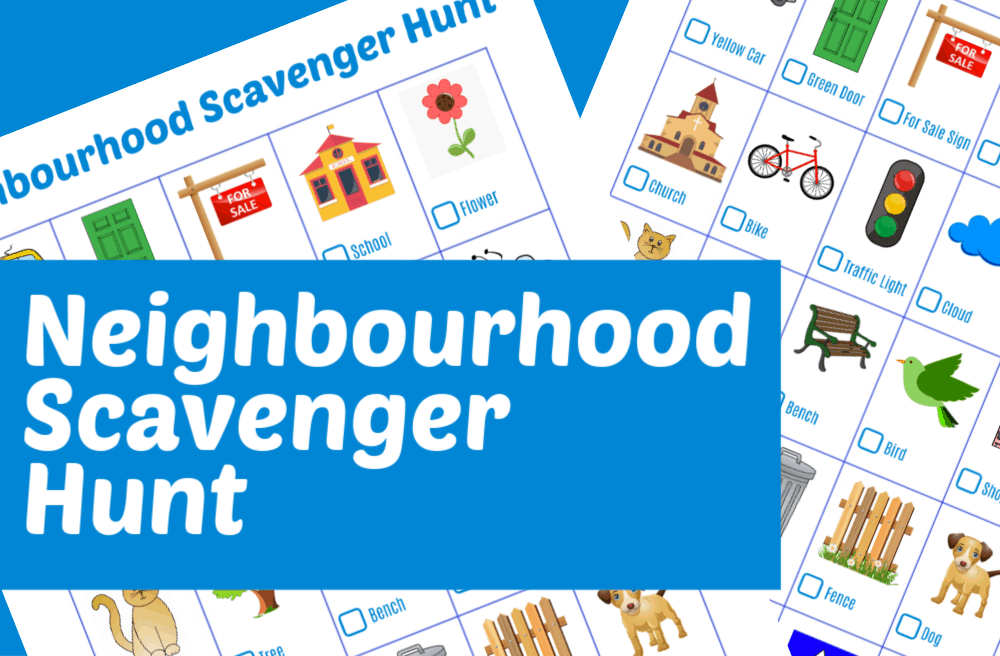 I really wanted to design an outdoor scavenger hunt that everyone could do as soon as they left the house and I'm delighted to announce it's ready to share with you all.  You can download this outdoor scavenger hunt for kids completely free and have it ready to go for your next family walk.
My kids love looking for the clues and ticking off what they find on their scavenger hunt list.  This printable scavenger hunt has both pictures and words so it's suitable for all ages.
>> CLICK HERE FOR THE NEIGHBOURHOOD SCAVENGER HUNT <<
You could challenge your kids to complete a line or two at a time, or if you are keen to make the most of your time outside, try and find all the clues on the list in one outing.  There are 25 clues altogether so I hope it will keep the family busy for a good amount of time.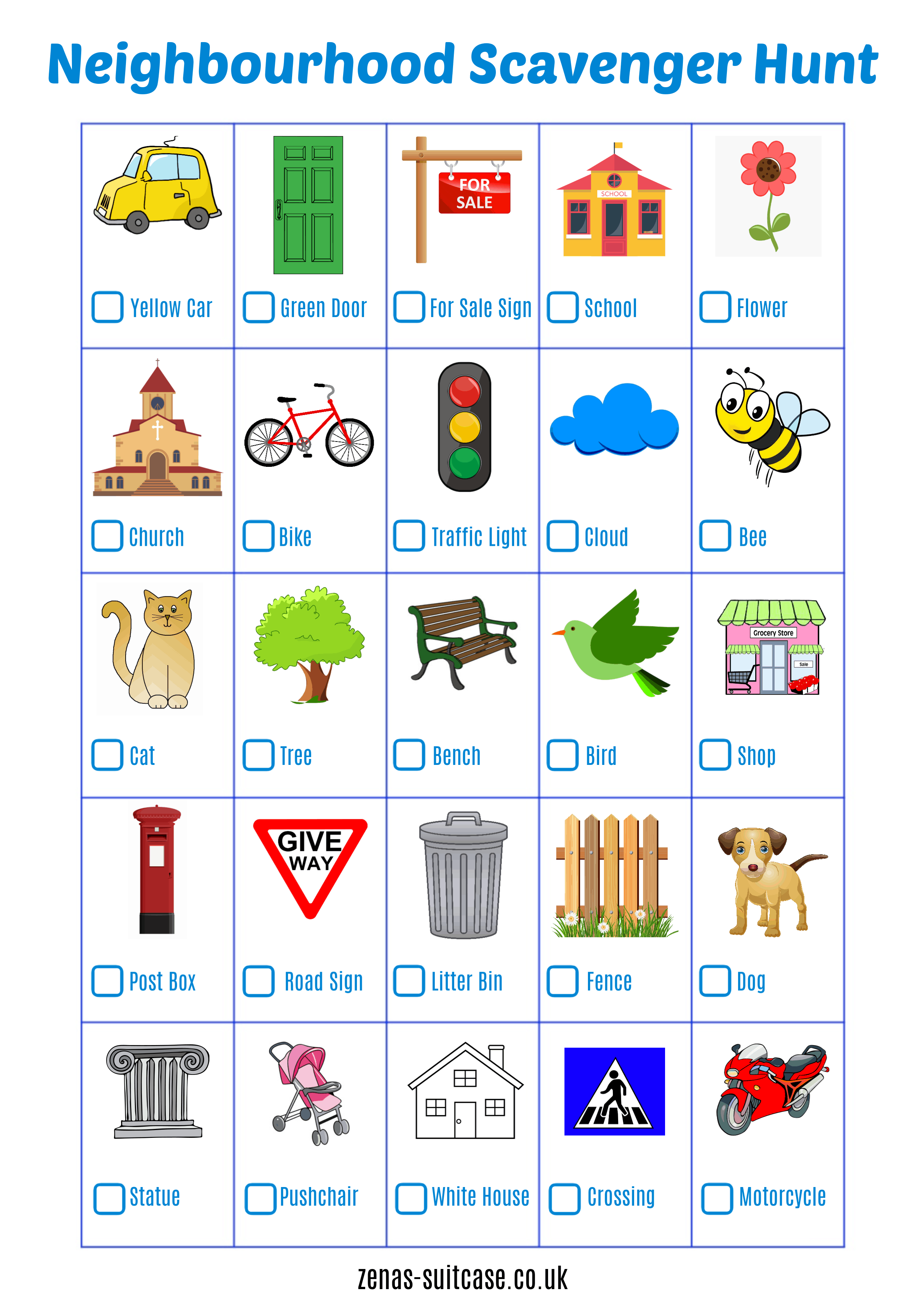 I'm sure lots of people are going to be searching for outdoor scavenger hunt ideas over the next few months as we head towards the warmer weather.  We really hope you enjoy this free printable scavenger hunt when you are looking for fun ways to encourage the kids to leave the house.  I hope that it will encourage your kids to be more observant about where they live and there's guaranteed to be some interesting discussions about what you find.
As well as the neighborhood scavenger hunt, I've also been working on another exciting project while we have been at home.  I have created another website called Arts & Crafts Kids Do.  I'm sharing resources and activities that the kids have been doing at home on my new site as well.
>> FREE PRINTABLE NEIGHBOURHOOD SCAVENGER HUNT <<
You will find an awesome nature scavenger hunt over there if that's something you are interested doing with the kids.  We visited the local nature reserve with this printable scavenger hunt and we had a lot of fun completing it together.
If you would like to see more of what we get up to at Arts & Crafts Kids Do you can follow and support our brand new social media channels here:
Arts & Crafts Kids Do Facebook Page
Arts & Crafts Kids Do Twitter Feed
Arts & Crafts Kids Do Instagram Page
Thanks so much for your continued support and for following Zena's Suitcase and hopefully our new Arts & Crafts Kids Do channels too.
If you love our neighbourhood scavenger hunt please tell your friends and share it with your followers so their kids can enjoy it too!
Not ready to print the free scavenger hunt just yet?  Save it to your favourite board on Pinterest now: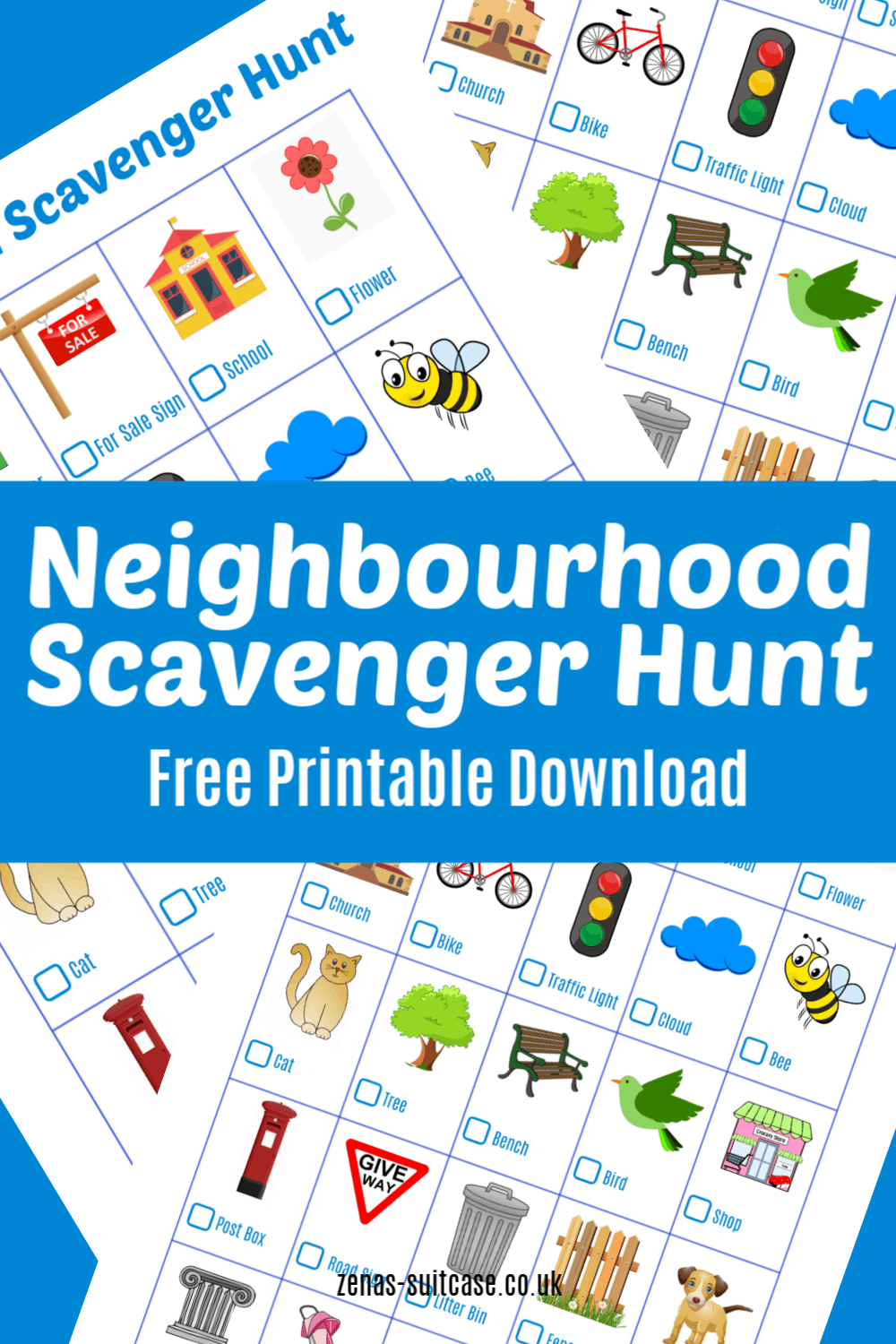 Readers are also shopping these products: