It's been all over the headlines this week that recent research has suggested that one of the benefits of breastfeeding is increased  IQ later in life.  The study also suggests that the breastfeeding advantages may include having a higher earning potential and study for longer when the baby grows older. These are interesting facts, that clearly cannot be ignored.
I have watched bloggers in their droves take to their posts proclaiming that they had formula and they are OK, lets not pressure Mother's any further into thinking breast is best.  I urge you all to stop for a minute, and think about the research and how important reporting a story like this is.
As a news article, was this in the public interest to share.  Of course it was important to share these benefits of breastfeeding.  This is one of the most significant studies to date, researching 3,500 subjects across various social and cultural backgrounds.  Further research is needed, but you cannot deny the results are important.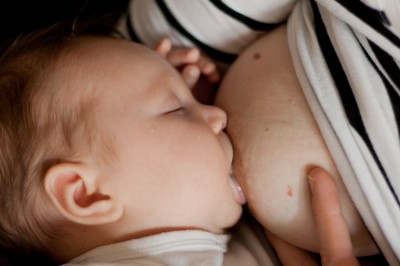 I was formula fed as a baby, and I'd consider myself to have a reasonable IQ.  My son was breastfed and he has an exceptionally high IQ, higher than I did when I was his age.  Is my small study of 2 credible?  Of course it isn't, but when you carry out a detailed program of research that suggests by the age of 30 you will be a higher earner if your Mother chose breastfeeding then you have to give it some weight.
Why is research into the benefits of breastfeeding like this carried out?  Similar studies take place all over the world, including here in the UK.  One of the reasons is to understand the breastfeeding advantages for children, and often Mother's too and sometimes other groups like employers or health services.  Understanding the positive outcomes that can be achieved for these and other groups  from breastfeeding will help inform several government policies around the globe.
Where findings into the benefits of breastfeeding like this are so significant, it may also encourage current or future governments to increase funding to support Mother's to breastfeed. We might also see other incentives and campaigns to combat the negative attitudes that still exist towards breastfeeding in this and many other countries.
Studies highlighting the importance of breastfeeding help inform policies that will raise awareness for generations to come so that we do not repeat the formula generation that was created in the 50's and are infact still trying to undo.
I am certainly not surprised by the findings of the research, as breastmilk is designed to fuel a growing babies developmental needs in a way that formula milk simply cannot reproduce.  That is a fact, and we cannot dress that up or skirt over it.
Do I think that support is needed to encourage Mother's to try breastfeeding, and maintain it?  Yes, without a doubt.  Do I understand that sometimes it simply isn't the right thing to do to breastfeed if Mother's or baby's health is going to be adversely affected.  Of course!
Should those Mother's be free from guilt when they have had to make an incredibly difficult decision, yes!  Unfortunately, they will never be unless they set their own boundaries.  Part of becoming a Mother is about wrestling with an element of guilt.  It drives us to be the best possible parent we can be.
I hope the research into the benefits of breastfeeding is used by the UK government to understand the importance of supporting Mothers effectively.  I suspect that if there are credible links between breastfeeding advantages and a positive impact on the economy, then some things might start to change.  New Mothers who are struggling with breastfeeding need more help, and they might not fall into a high risk group or live in a deprived area.  Being a new Mum can be a challenge for anyone, and breastfeeding a newborn is not as easy as it looks but it's a positive things to do because there are so many benefits of breastfeeding!