Dear Teen,
Sometimes having a big age gap family is tough.  I know you are great with your sisters and help out loads around the house with jobs but I'm guilty of letting you get on with things by yourself sometimes, including your A levels.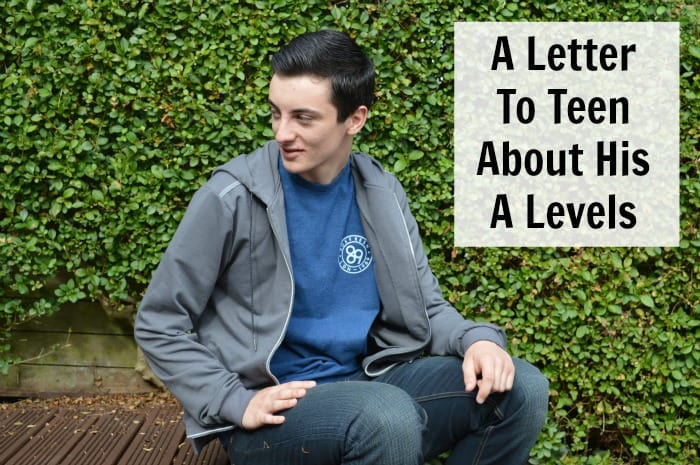 You know how intense the girls are, they require a lot of attention.  You saw that for yourself when they treated your parents evening like a playground and we could only stay for one meeting.  In retrospect, I wish I had left you and the girls at home, but it's a difficult one isn't it.  It's important that you hear what's being said, and I had no childcare for the girls.  Unfortunately it really didn't go to plan.
I was disappointed that your A Level marks are going up and down so much and with some of the feedback we received.  You are such a talented young man and we know that you are capable of top grades.  I get the impression you think you can just walk the exams and you'll pull it out of the bag at the last minute.  It just doesn't work like that when you are doing your A Levels.  I can say that with the bitter voice of experience.
I know how much you want to go to the University you have chosen, and you just need to get your head down for a few months and it will be in the bag.  I know your annoyed with me about putting restrictions on your internet use, but you are gaming far too much and it will cost you the grades.  There is a little immaturity there that you need to reflect on, and you need to take some responsibility for this.
I have never watched over you and made you do the work, it has been your own efforts that have got you this far so please don't mess this up at the last hurdle.  I am your Mum and I just want the very best for you.  It's such a tough one for me as I know what ever you do, you will do well.  You will get better grades than most whatever happens but I also want you to have the grades you deserve.
I'm not strict, you don't have a curfew and things are pretty relaxed around here.  I have always encouraged you to take responsibility for you education and I know you have ambitions to do well in life.  I just want to support you with that.
I wanted you to work with us about how we can make sure you are putting enough time into your school work and keeping organised and it's a shame you didn't take that opportunity.  'I don't care' is an answer you need to leave behind now your are an adult, because you do care, I know you do.  What you are doing is resting on your laurels a bit and this is my metaphorical kick up the backside from your favourite Mother 😉