This Christmas more children than ever will be getting computers, tablets or phones that can get them online.  I've been catching up with O2 and the NSPCC about their latest research into online safety and they have found that digital technology is a becoming an increasing feature in young children's lives.  Their latest research shows that 55% of the parents they spoke to are planing on buying a connected device for children 4 years old or younger.  Is your child going to be online this Christmas?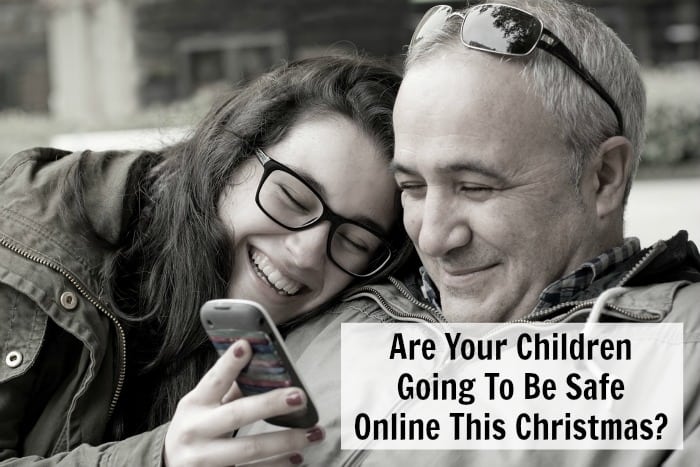 My Children And The Internet
My teenage son has been accessing the internet for well over 8 years, and when he first went online I had no idea about parental controls or safety settings.  The internet was as new to me as it was to him in many respects. I had actually read a few reviews and a really helpful child internet privacy guide, which put my mind at rest for a while.
My daughters are already accessing the internet with parental supervision and are exposed to digital devices and online activity at home and at nursery.  Being quite a geeky family, we have quite a lot of technology around us and for them using apps and watching their favourite TV shows on an iPad is quite normal.
Why Do Parents Need To Think About Online Safety?
I'm very aware of how much the internet has changed and how easy it is for children to get online.  It can be a fantastic experience and really helpful for a child's education.  We are currently using apps to help my daughter with her phonic alphabet ready for going to school.  It can also be a dark place too, and children need to be aware of how to set boundaries and keep themselves safe online.
As parents we can support them with this by talking to them about what apps they are using online and how to set boundaries.  Sharing on the internet, for example isn't always a good idea.  We can also help by using effective parental controls on connected devices, but I know some parents can feel very overwhelmed by todays' technology.
Get Help With O2 and The NSPCC
That's why O2 and the NSPCC are working together to support parents in this new digital age.  If you are feeling overwhelmed and you would like some help with how to talk to your children about online safety or set up the parental controls on your new digital device, you can ring the O2 helpline for impartial  free help and advice.  You do not have to be an O2 customer either!  You can ring them free on 08088 005 002.  Lines are open Lines are open from 9am to 7pm Monday to Friday and 10am to 6pm on weekends.  There is also advice available online here.
If you'd rather get some face to face support, you can also pop into your local O2 store and speak to an O2 guru who will also be happy to help you make sure your device is safe for your child to use on the internet.  With Christmas being such a busy time, why not delegate this task to O2 who are ready and willing to help.  With all the best will in the world children can stumble across things on the internet without intending to, so this could make sure those kind of accidents don't happen.
If you have a Minecraft fan in the house, you might also find this new video from the NSPCC and O2 helpful.
I am supporting the NSPCC and O2 to raise awareness of internet safety but there was no obligation for me to write this post.