You may already be aware I've been fortunate enough to breastfeed both my children, with varying degrees of success.  If you'd like to find out how this old cow got on, you can catch up on my nursing dramas here.
Also, who could not notice the pictures hitting social media from the American campaign When Nuture Calls highlighting the reality of what happens when a Mum is asked not to Breastfeed in public.  Pictures like these really hit home and I'm convinced this happens in the UK despite the anti-discrimination legislation we have in place.  Some people just feel to self-conscious to breastfeed in public and probably resort to a locked toilet cubicle.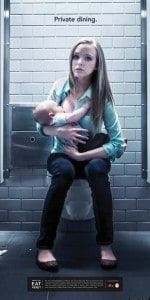 With baby number 3's arrival imminent, breastfeeding is something that will feature on the blog more and more.  I hope this will help other Mum's on their journey and help increase confidence when it comes everyone feeling they can  nurse in public.
I also firmly believe in the power of Mum's supporting Mum's, and that this can have a huge impact on whether a Mum feels she is able to start or sustain breastfeeding their baby.  To help support all breastfeeding Mum's I'll be hosting a new Linky called 'The Breastfeeding Diaries' in the very near future.  The details will be announced shortly to celebrate the arrival of baby number 3 who's due date is 20th May, so please keep an eye out if you want to get involved.
Today though, I wanted to share with you the reasons why I feel breastfeeding is so good for Mum's, so if you know anyone who might find this helpful please do share it and let them know this is a place they can come to find out what other Mum's are experiencing.
10 Reasons Why Breastfeeding Is So Good For Mums
It's free.
It gets your uterus back in shape, you can literally feel it working.
It uses 500 calories a day!
It protects you from some female cancers and illnesses.
Only you can do it, it creates a special bond that no one else will have with your baby.
Once you've cracked it, which may not be straight away, you'll feel a huge sense of achievement.
No getting bottles ready for going out or night feeds.
It can protect you against post natal depression and help you feel relaxed as breastfeeding helps you release the hormone oxytocin.
It may delay the start of the menstrual cycle, mine didn't return until Princess was 10 months old.
You know your providing exactly what baby needs.
If you have have any other reasons please share them in the comments below, and I'd love to hear from you if you'd like to take part in 'The Breastfeeding Diaries' so I can keep you posted.