There comes a point as a parent where we start to think about how to make the home safe for baby.  I've sat and listened to many new parents who are desperate for baby to start rolling over, crawling around and get on the move.  I completely understand how parents want to see their children develop but there really is no rush.
As soon as baby is on the move you are faced with a whole new set of challenges.  They are into everything and a complete danger to themselves as they still aren't able to follow instruction and do not understand the consequences of their actions.  At this point you literally need eyes in the back of your head.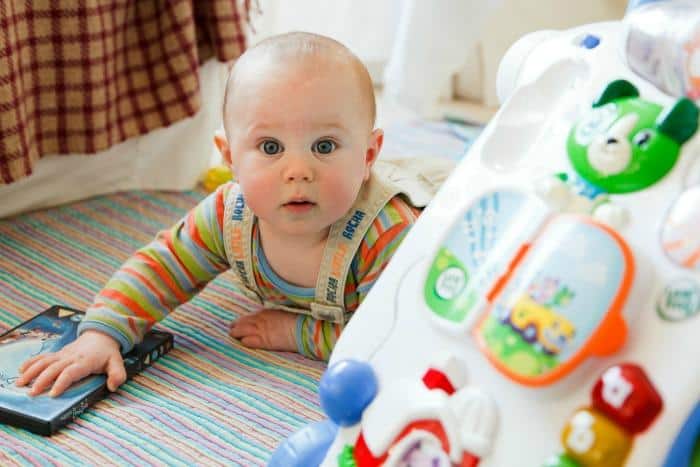 Child safety and baby proofing the home is a huge priority for parents from the moment they start moving until around 3 years old.  There are of course, still dangers after 3 years old but they are a little bit more in control of their actions and start to understand the concepts of getting hurt and dangerous in a different way.    As they talk more they can also indicate to parents better what they understand so risk in the home is easier to measure for a parent.
When my son was born, there seemed to be a lot of information around for parents about how to make the home safe for a baby and toddler.  We had a lot more contact with our health visitors and more information was provided back in those days.  Things seemed to have changed in recent years, and we didn't receive the same level of information about baby proofing our home when the girls were born.  Perhaps they didn't think we needed the support in this area, but it dawned on me that my husband hadn't been around small children before and wasn't aware of some of the dangers.
I was aware of the things we needed to do to our home to make it safe for a moving baby, but my husband really didn't have a clue.  I remember going into the kitchen and finding all kinds of hazards that were dangerous for the children.  These were some of the things we had a chat about to make our home safer.
Pin For Later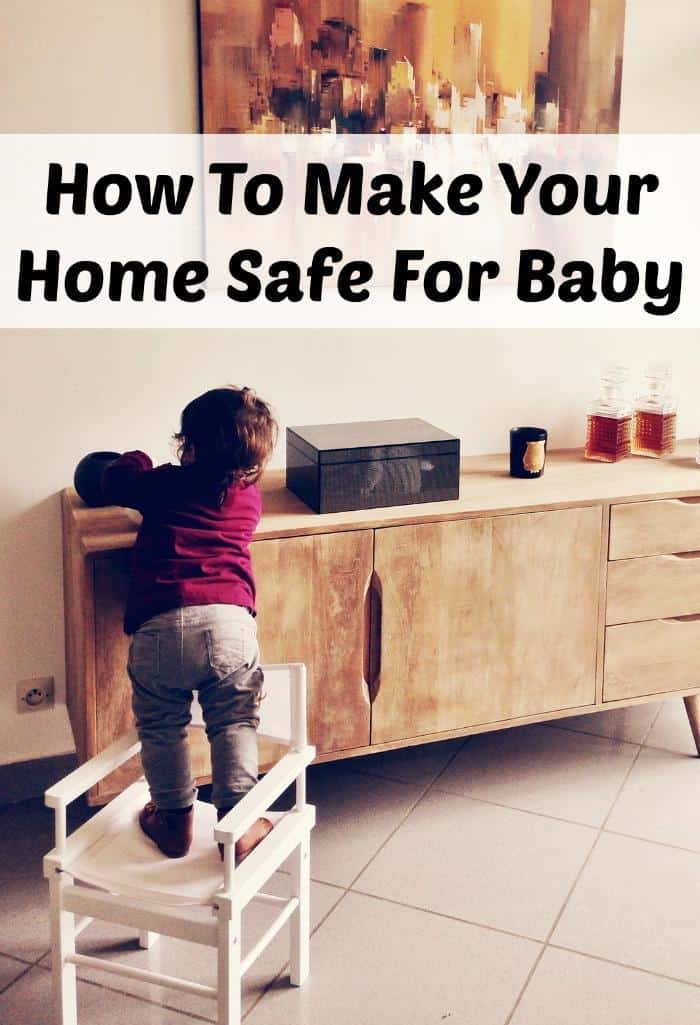 How To Make Your Home Safe For Baby
Turn pan handles in when cooking, just in case little people get into the kitchen.
Keep knives, hot drinks or containers and kettles at the back of the kitchen work surfaces or out of reach.  It only takes a second for a curious child to pick something up that is dangerous.  I turned my back for a second in a holiday home we were staying in and my daughter was walking towards me with a hot cup of coffee in her hand.  Fortunately no harm was done, but it made me think how we have to be extra careful in new surroundings.
 Kids love plug sockets don't they.  They are just at the right height, and perfect for sticking things in.  Socket covers are essential for making a home safe for baby.
Check that furniture is stable and secured to the wall where necessary.  There have been a few horrific cases of children losing their lives or being seriously injured by falling heavy furniture.  We had a second hand chest of draws that was on legs.  It was top heavy and my son tried to climb it. Fortunately no harm came to him, but it was down to luck and some quick reactions on my part.
Make sure chemicals are out of reach or locked in cupboards.  Pay particular attention to capsules used for detergent that are brightly coloured and very attractive to children and babies.
Start educating your child about safety from the very beginning.  As soon as they are on the move, teach them how to get off sofas backwards or come down the stairs safely.  As much as we keep an eye on our little ones, we can soon get distracted by another child needing something or someone at the door and hazardous situations can arise very quickly.  Teaching them how to stay safe can help reduce accidents in the home.
There are lots of things to think about in every room in the house when you start looking at baby proofing.  Every home is different too, and what works in one, might not work in another.  For example, we have a stair gate to prevent our children going in to the kitchen.  In an open plan kitchen you would need to put looks on the cupboards to make it safe and move everything dangerous to the back of the work spaces.
To help parents make their home safe for baby Sunlife have devised this fantastic tool that takes you through all the rooms in the house and the things you might need to do to make it safe.  I think it's an excellent idea to help baby proof the home and a perfect tool to help Dad's become more aware of baby proofing if they missed the home safety talk or didn't see the leaflet from the health visitor.