Today I'm sharing with you a guest post from a wonderful family travel blogger, Rachel from Children of Wanderlust.  Pre the current travel restrictions they were exploring Europe in their Hymer van with their 3 children.  Whilst travelling, they became a family of 6 and Tiago was recently born in Spain.
If anyone knows how to make a holiday in a van with children work, it's definitely Rachel and her husband John.  Let's find out what they have to say…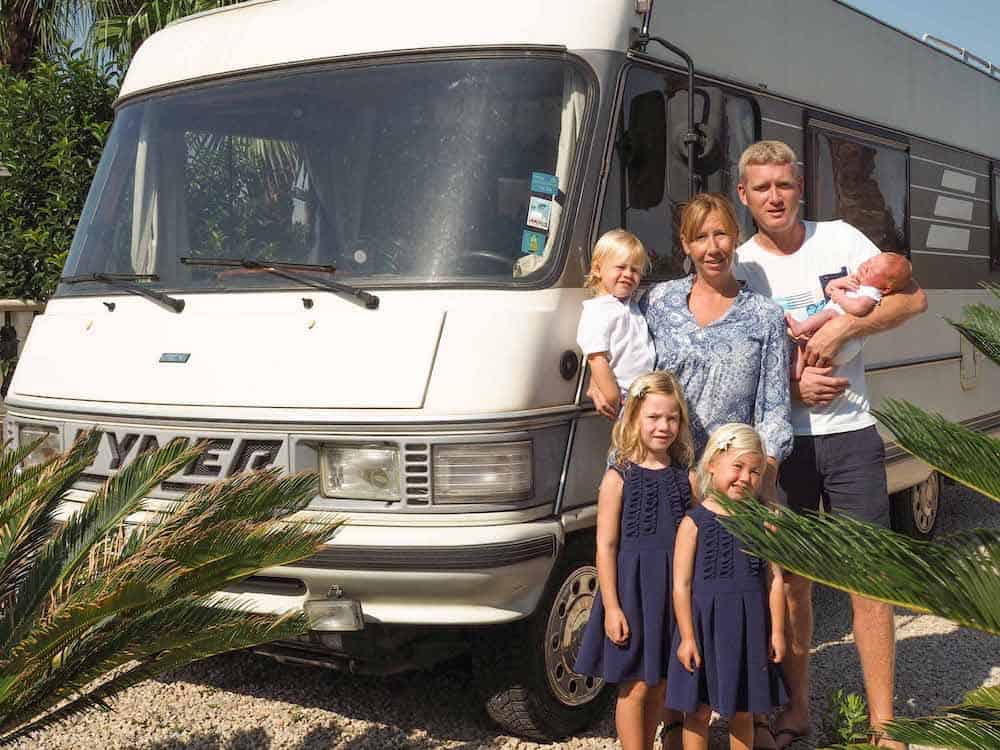 With continued restrictions on international movement this year (the lockdown hangover), there has been a surge in demand for holidays at home, or 'staycations'. In particular, sales of campervans and camping equipment have gone through the roof. Those who gain a taste for this way of living may dream of being able to keep on doing it for longer.
Until being stopped in our tracks by a strict Spanish lockdown, we've has been living full-time for the past year in our classic Hymer motorhome, travelling around much of Western Europe and Morocco. With a 4th child just born, we are now planning for more van adventures together in the future. Here we give some valuable insights and top tips for trips away in a van with children…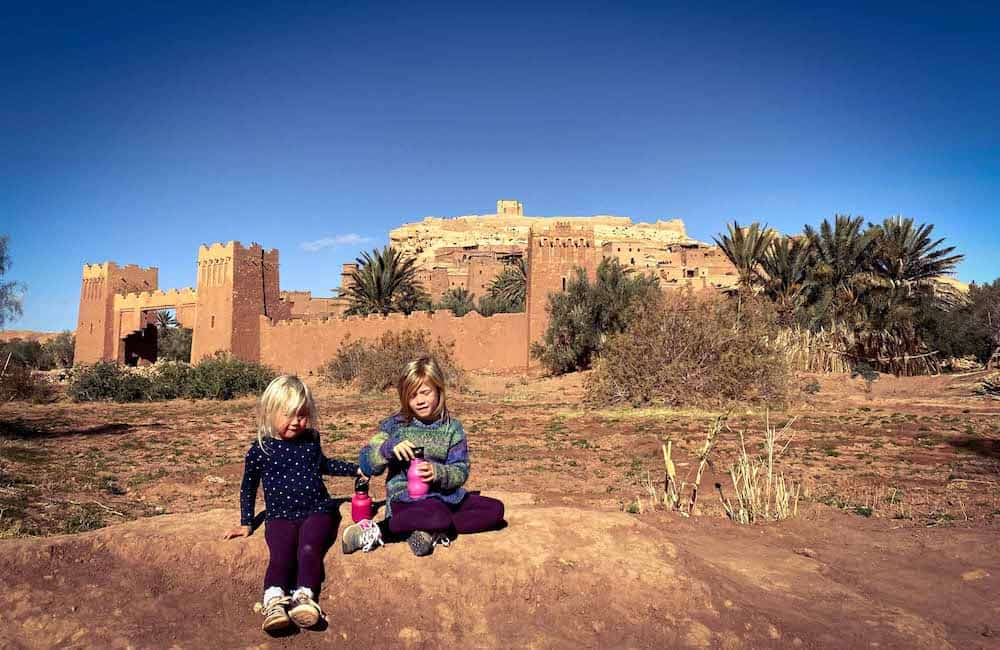 Living in a van full-time is not the same as going on holiday. Holidays are a great form of escapism. Daily chores and mundane housekeeping jobs (like clothes washing – ugh) can be put on hold. When living full-time however, such things catch up with you and need to be factored in. Another big consideration is budget. Whereas on holiday you can typically be pretty free-spending, enjoying nice campsites and regular meals out, when living full-time you need to be thinking more thriftily and looking to spend money more wisely, so as to try and stretch it out. There is definitely plenty to think about when planning to become a full-time travel family.
That said, this way of living can be incredibly rewarding. To know why we love it so much, take a look at some of our top reasons for choosing full-time family van living. In order to ensure an enjoyable time away for yourself, you need to plan and organise your time away effectively. Speaking from experience, here are some of our top tips for things to consider.
Careful Packing
When leaving on any trip, the temptation is always to try and take as much stuff as possible. Anyone with children will know the endless clutter that seems to surround them. Imagine trying to pack up your whole house to fit inside a van! This is obviously not possible, so things must be chosen selectively and with care. There will be some absolute essentials to pack, but also a lot of other things that would be 'nice to have'. Although it is nice to have some things to remind you of home (particularly for children), it is amazing how quickly you begin to realise how little of all this 'stuff' you actually need day-to-day. It can feel surprisingly liberating.
Pay attention to packing any specialist items that may not be so easy to pick up while on the move. Remember, you'll have no chance to get Internet deliveries like you can so easily at home. For example, we ran out of small gas cylinders for our BBQ and struggled to find any for sale for ages, which was a right pain. Otherwise, it is not often that you'll find yourself completely off-grid for any great length of time, so if you do really need something later on, you can usually buy it locally.
Weight should also be a consideration, as all vehicles have a maximum payload allowed. If you consider multiple passengers, along with bikes, pushchairs etc., it is surprising how heavy your home on wheels can become.
Organisation
Along with aiming to pack light, good organisation is key to peaceful compact van living. Everything that you pack must have a use, as well as a place to 'live'. Things always need to be put back in their same places, so that you can find them again in future. Children (and husbands!) may need considerable reminding of this, but they get there in the end. It is also a good idea for children to have their own specific things, such as a plate, cutlery, refillable water bottle etc. That way, they learn to take responsibility for their own things (some of the time at least). Most importantly, it reduces the otherwise constant arguing over who gets the pink cup.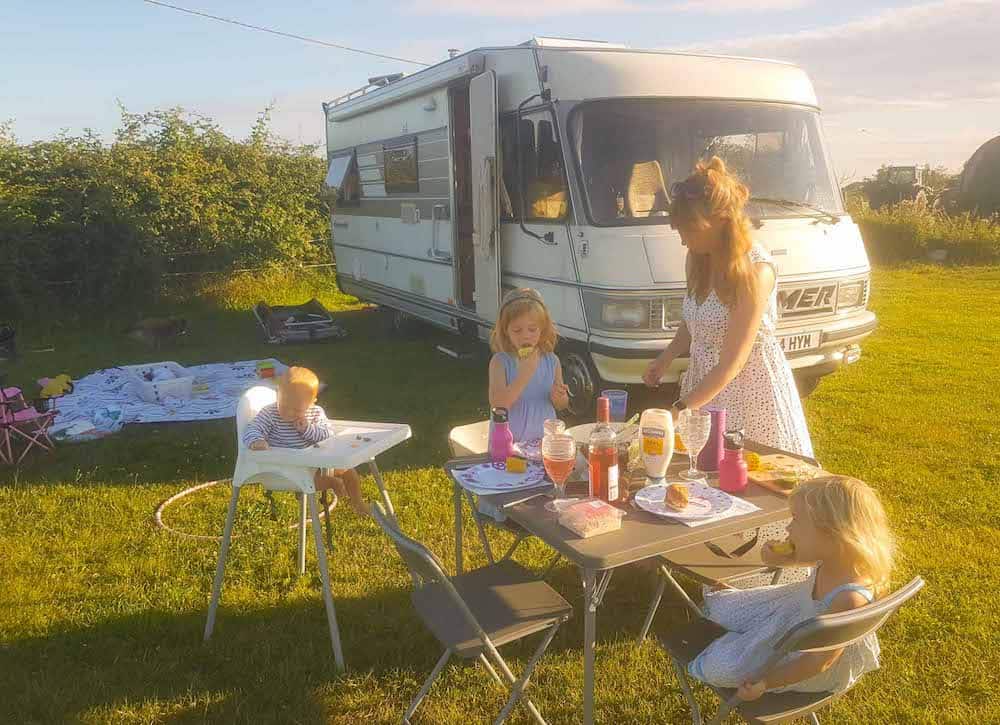 It is good to group similar things together. We keep all our waterproof coats together in a bag, so we can get at them quickly when it's raining (sadly it can never be sunny all the time). We do the same with wellies and with other shoes and flip flops, that all 'live' in a basket by the door. If you know where to find things, it makes getting everyone ready and out a much swifter operation.
Setting Up
Although van living does present an excellent opportunity to escape many of the mundane routines of everyday life, you will no doubt inevitably find yourself slipping into new routines while away. This is particularly true when it comes to the process of re-configuring the van and setting up camp each night. The addition of car seats, pushchairs etc. that kids bring, also makes this more of a job than it would be otherwise. It is therefore a good idea to develop a system for doing this (one that will evolve over time).
When setting up camp (wherever that may be), it works well to assign jobs to the children, so that they can help out and feel involved. Otherwise they're just under your feet getting in the way. The more times you perform this process of setting up, the more streamlined you'll get at it. Jobs for children could include things like collecting water, helping to put your outdoor chairs and table up, putting up lights, unfolding a rug on the ground etc. You'll know what is appropriate for them. You'll all be experts at it in no time!
Entertainment
After all, it is meant to be fun, right? If your children are anything like mine, they'll seemingly require constant entertainment. Tales of my long, hot car journeys across Europe on holiday as a child are met with blank expressions. They'll never get it. So, here are some of my thoughts on keeping little ones entertained.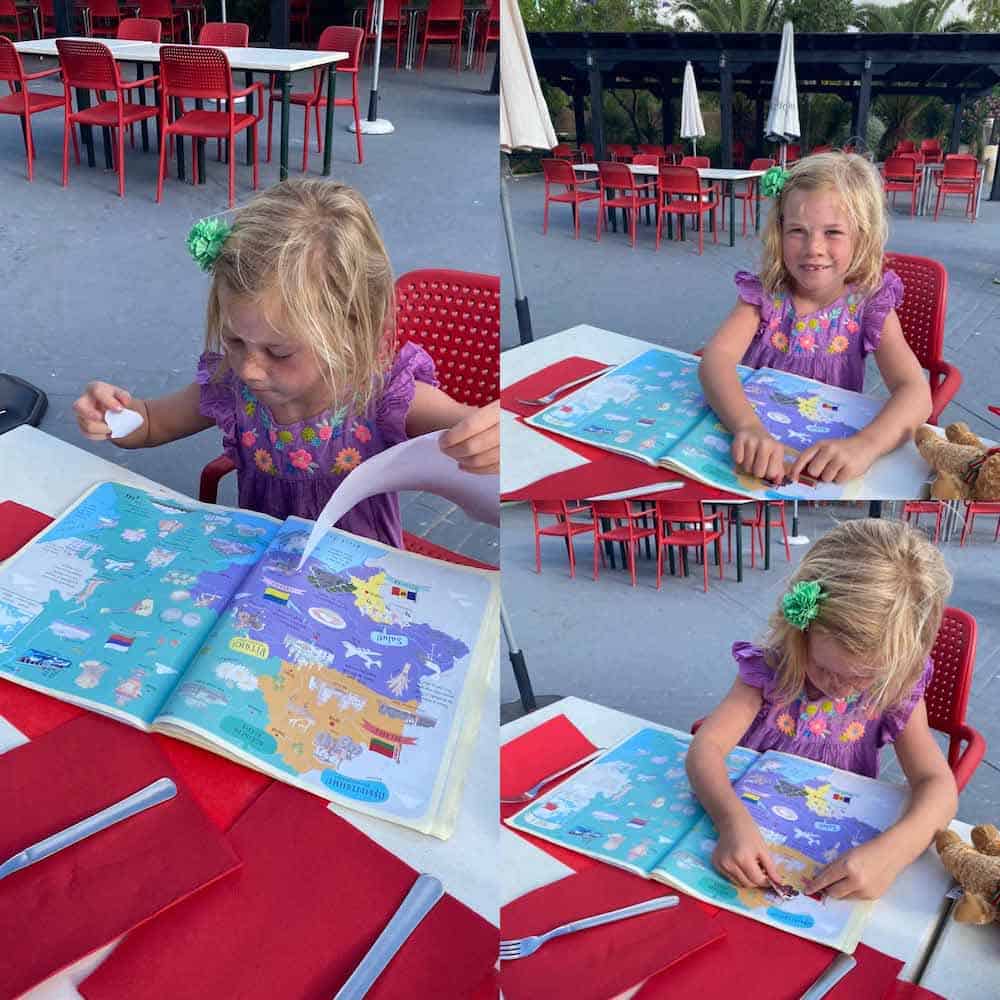 We try to keep travelling time to a minimum each day if we can. After all, one of the beauties of this life is that we rarely have to be anywhere in particular, by any given time. Obviously though, a life on the road (by its very nature), does bring with it plenty of regular driving journeys. I'd love to say that my children never watched any screens. Unfortunately, I am yet to find anything better for keeping them good on journeys. Just watch out for any sections of winding roads, or else you'll end up with some green faces and with you rushing around with bowls at the ready! We try to limit their screen-time otherwise, so I'm usually willing to let them do as they please when driving – anything to keep them happy! My girls like watching films on my iPad, or on their cheaper Amazon tablets for kids (when they can be persuaded to use them instead). Where possible, I also try to encourage them to do some educational apps on them instead, so the time is not completely wasted. For some ideas for which of these we find good, see my 5 top apps for homeschooling.
Some alternatives to looking at a screen when on journeys include things like:
Eye Spy – the classic car game. Use colours instead of letters for smaller children.

Alphabet Game – trying to spot things that begin with a certain letter along the way.

Looking for different types/colours of cars.

Names – trying to think of a name that begins with the last letter of the name just said.
There are also plenty of other books available for travel games, colouring, stickers etc. that can be useful to keep together in a bag and gradually worked through on a journey (why can children only concentrate on each thing for 5 mins?!). We like to try and go for things with a travel theme when we can, to suit our current lifestyle, like some of our top activities for inspiring wanderlust in children. These things can also obviously be used once you get to wherever it is that you're going. Having them all together in an 'entertainment bag' (as our children know it as), means you can quickly grab them to take out with you to restaurants etc.
Once set up somewhere, we like to enjoy the timeless activity of playing games together as a family in the evenings (until inevitably someone loses and storms off in a mood – small kids don't make great losers!). We carry a selection of simple games around with us. For some great ideas, see our 5 best compact travel games for children.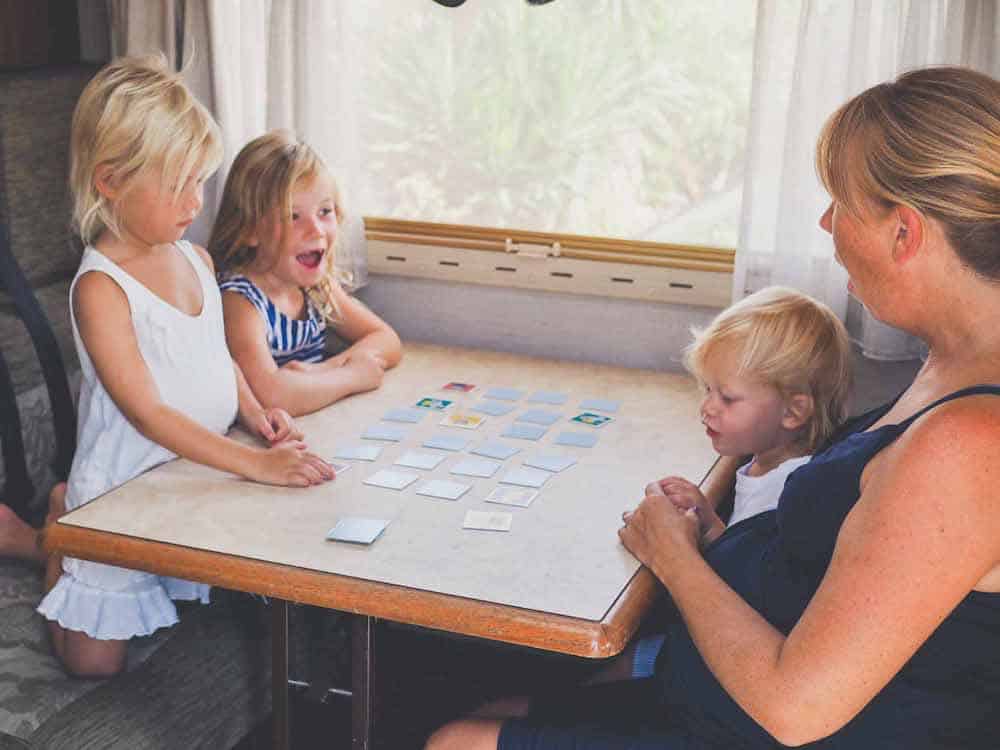 While we try to visit historical, cultural and UNESCO World Heritage sites while we travel, it is good to also fit in some activities aimed more for the kids, like beaches and swimming pools. On rainy days (tragic as it sounds), we have found that shopping malls can present good, cheap options – often complete with fast food and play areas. If you're lucky you might also find a cinema showing English language films (in Portugal at Christmas we even managed to find Frozen 2 – imagine the excitement!).
In Summary
Van living as a family provides us with so many amazing opportunities and experiences that we would never get if we were still just living back at home. Although it presents its own challenges on some days (children can still be annoying, no matter where you take them), for us, the rewards far outweigh any problems that we face.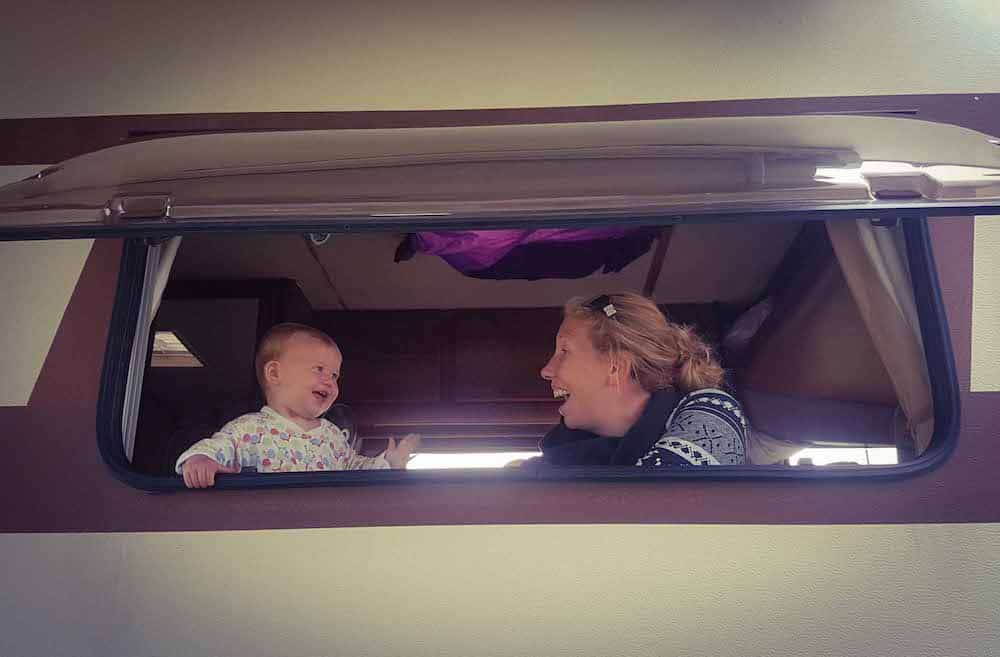 This lifestyle is unbeatable for enabling us to both explore and experience nature and all it has to offer, as well as helping us all to reconnect as a family. Although some days I'll admit to feeling like I need a break, I remind myself of how lucky I am to be able to properly witness my children growing up and developing, rather than just the highlights that I'd get at home around jobs and childcare.
If this all sounds like a nice way to live, why not give it a go sometime yourself? It needn't be forever, after all. Based on all of our experiences and adventures from this last year, I'd totally recommend it.
About the Author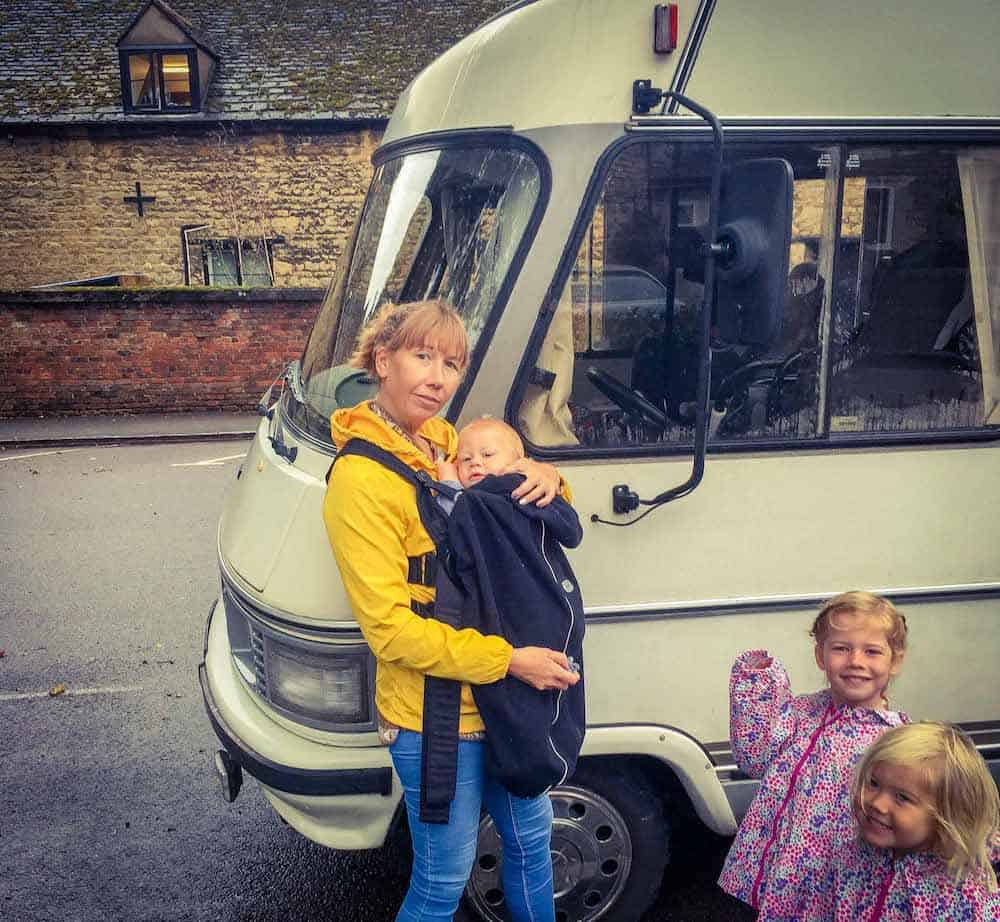 I am Rachel from the UK, known online as Children of Wanderlust. Together with my husband, John, we are a couple with a passion for travel and exploration. Nowadays, that means bringing our 4 children, Savannah (5), Aurora (3), Easton (1) and Tiago (new baby!) along with us. For more from our family adventures around the world, see our website, Instagram, Facebook, or Twitter.
Pin these family travel tips for later!