Camping with kids is fun and exciting but it does comes with some challenges of its own. When planning your camping trips work consider the needs of your children to make for a fun and stress-free camping vacation – this way the whole family will have a great time. These tips for camping with kids can help you solve many of the common challenges parents face when staying in a tent.
Simple Tips for Camping With Kids
Practice the Camping Basics
A great way to prepare for your trip is to practise camping safety with your kids before you go. Teaching your children to stay away from the fire among other important safety reminders is a great way to help ensure that your child remembers basic safety.  Pitching your tent in your garden or at a campsite close to home is a great place to start.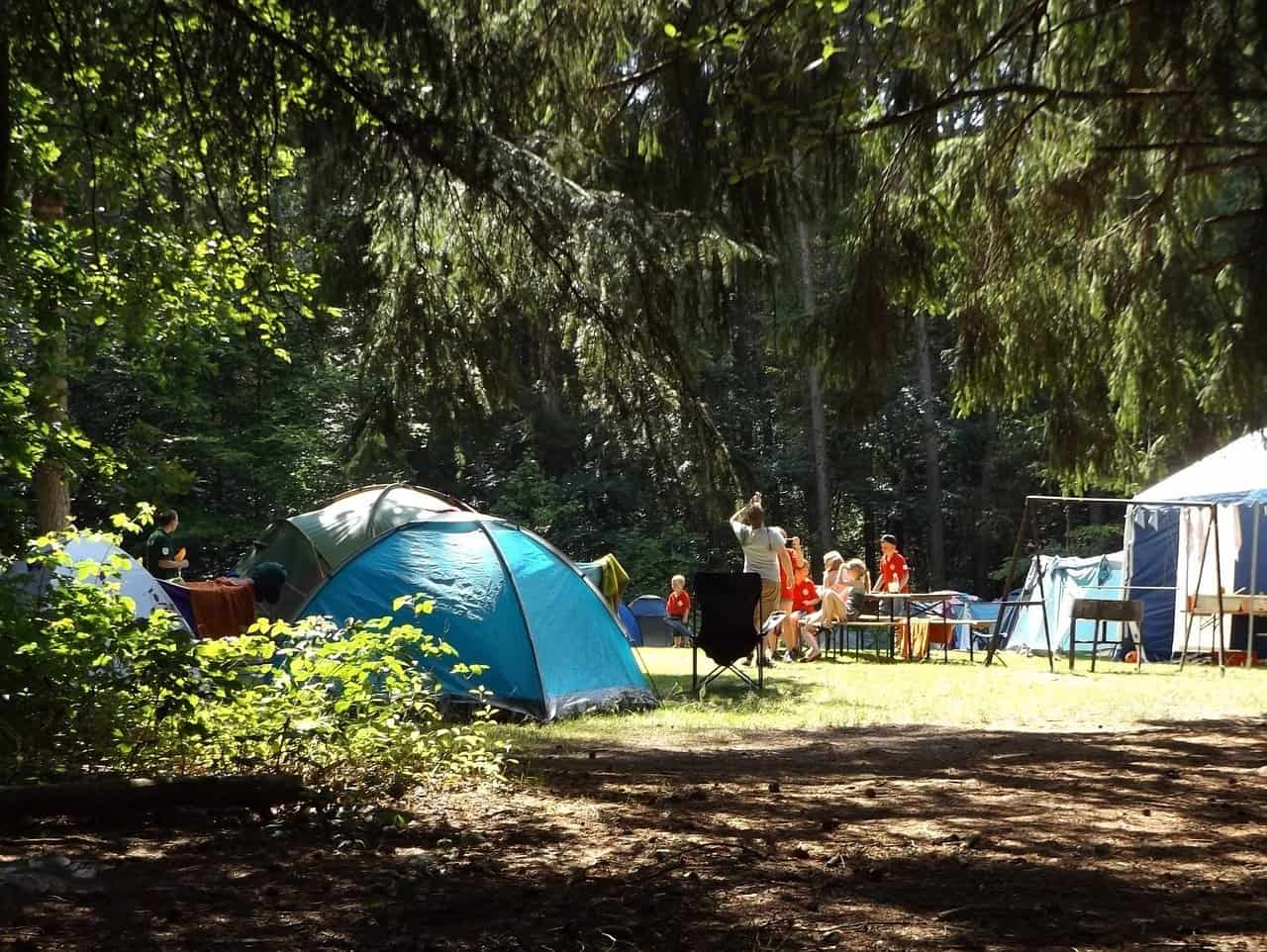 Pack Extra Snacks
Kids tend to eat a lot more when they are out enjoying the fresh air and running around. After all, that takes a lot of extra energy to do. When packing for your camping trip be sure to pack extra snacks and plenty of water to help fuel the fun for your kids. Stocking up before you go is a lot cheaper than shopping at the campsite.
When planning your meals and snacks stick to easy to make and no-cook options as much as possible for your children. This makes it easy for them to eat when they are hungry even if you do not have to stop and make them something while they fuss.  A great tip is to make daily snack bags they can dip into through the day packed with healthy treats.
Don't Forget the First Aid Kit
This is an essential item when camping with kids. Kids tend to find themselves getting hurt at the most unlikely moments. Keep a first aid kit stashed in your camping equipment with plenty of plasters, antiseptic wipes for cleaning scratches, and antibiotic ointment to tackle any injuries that might crop up. Bug bites can put a damper on your camping trip too! Be sure to pack calamine lotion along with bug spray to prevent insect bites in the first place.
Screen-Free Entertainment
Pack plenty of things for the kids to do both inside and outside of the tent.  If you find yourself camping in the rain the kids will quickly get bored if you haven't thought to bring an activity bag.  We always take a bag filled with books, board games, coloring books, and plenty of art supplies.  Being prepared to make the most of your time inside the tent will help everyone enjoy your camping trip with your kids.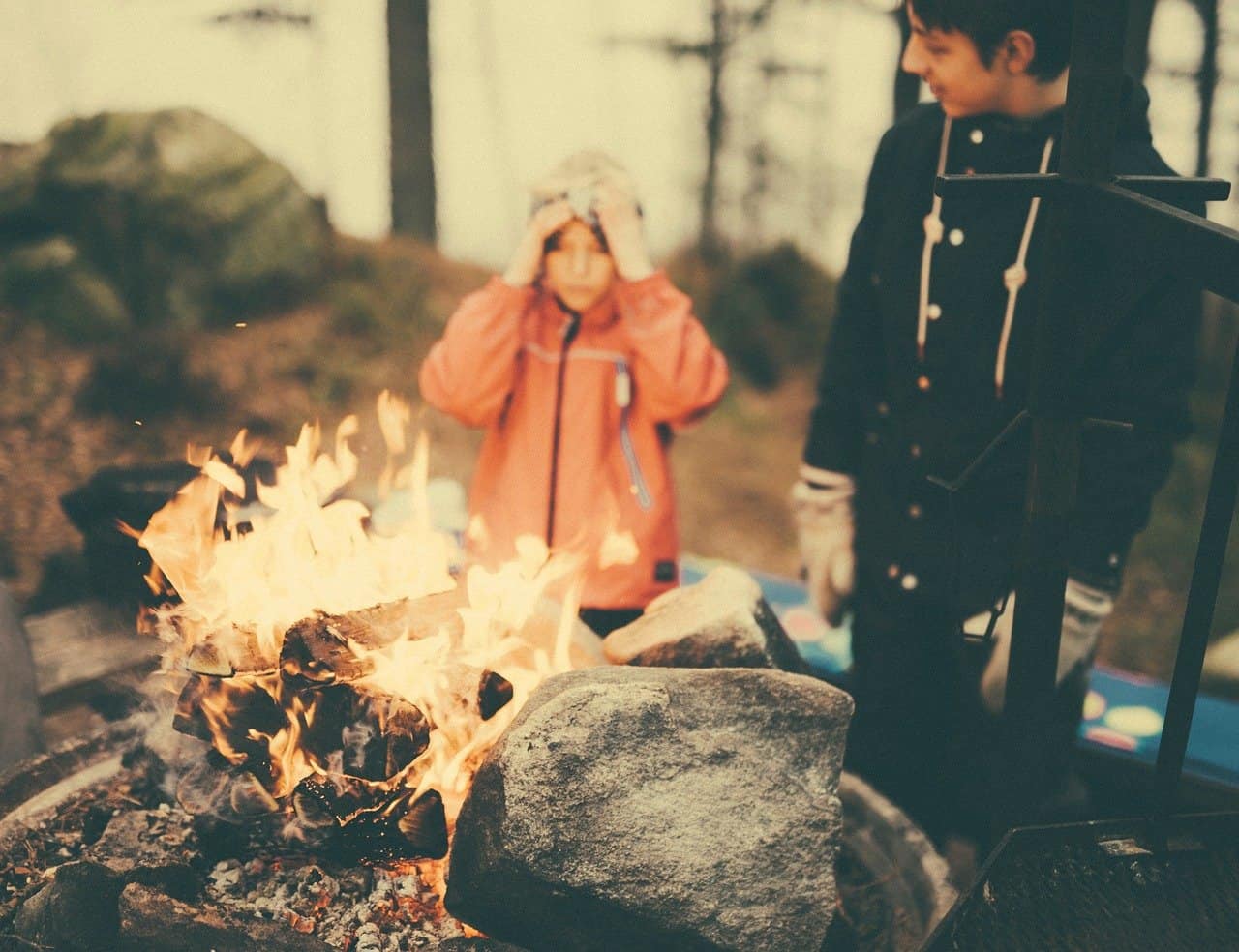 Pack Chargers for Electronic Devices
While your overall goal should be to let your kids enjoy plenty of screen-free time – you never know when you may need to let them have their devices if things do not go as planned.  Having chargers to hand is also essential for your own phones and devices.  Camping is a great way to disconnect but you never know when you might need to contact someone in an emergency.
Plan Activities For your Camping Trip
When choosing the perfect camping location for your family look for one that offers plenty of great activities that you can take advantage of during your camping trip. While adults are often content camping, sitting around the fire to chat, and relaxing – children enjoy being active and having things to do.
Work in Naps
This is super important if you are camping with young kids.  When you are planning your day allow for naps in your schedule. All of that running, playing, and fresh air not only makes kids hungrier than usual, they will also get tired. Planning for naps will allow you to ensure that the kids can recharge their batteries and rest.  The parents will be able to enjoy some quiet time and you'll also avoid cranky kids later in the day.
Choose a Kid-Friendly Tent
When camping with kids it can be a great idea to choose a tent that has rooms built into it. These larger tents are perfect for families as they give you and your children some privacy whilst also keeping your kids close by at night.  It's a much better camping option than putting the kids in their own tent where they may end up feeling afraid at night.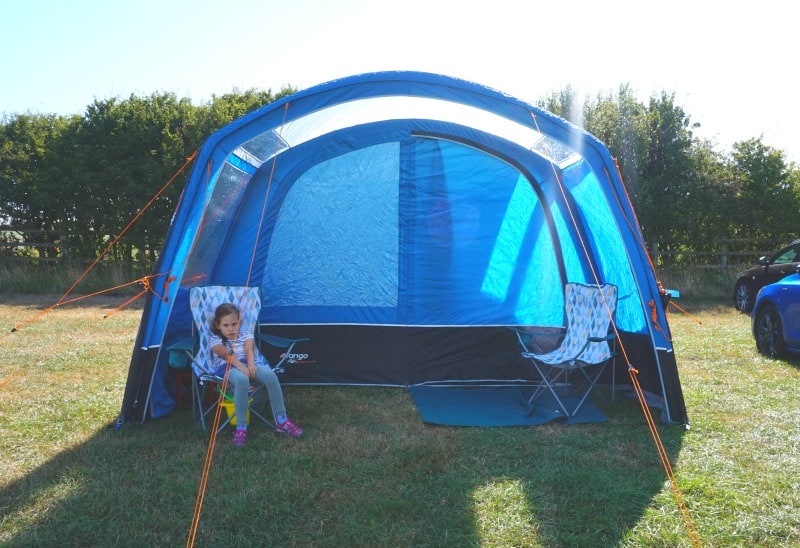 Pack an Extra Tent
Having an extra tent or a pop-up gazebo to use for play and a relaxing space for your children while camping can also help prevent issues arising. This will give them space out of the sun or rain to play quietly without getting their sleeping space or the rest of the tent dirty or cluttered with toys. 
Take along Kid-Size Camping Gear
From sleeping bags to camping chairs, packing kid-size camping gear gives them all of the creature comforts they need at just the right size for them. Not only does this help keep them more comfortable but it also makes them feel special that they have their very own camping gear to use on your trip.
Pack Extra Clothing and Blankets in Waterproof Bags
Kids tend to get muddy or get wet without really thinking about it when they are having fun outdoors. Pack some extra clothes on top of what you think you will need and a spare blanket in a vacuum storage bag to save space.  This will help you make sure that you always have dry clothes and warm blankets should things not go as planned. 
Keep your Camping Trip Simple
While you should have activities planned to keep the kids busy, try to avoid things you have to schedule and be prepared to slow down and just relax whenever the kids are willing to do so. Trying to pack too much into a camping trip can take the fun out of it for the whole family. 
Camping is a Great Learning Opportunity for Kids
It's a great idea to use your camping trip as a learning opportunity for your kids. From teaching your child to observe nature to basic survival skills like starting a fire you can use your camping trip as an educational and enriching experience.  Not only will you create happy memories but your children will learn to appreciate the outdoors with lessons that actually stick!
Pin these camping with kids tips for later: