Noughts & crosses is one of the easiest games to play, which makes it perfect for road trips and long car journeys. Anyone of any age can play this printable noughts and crosses printable game. With it being so easy and quick to play, it's a great time filler if kids are getting fidgety and bored.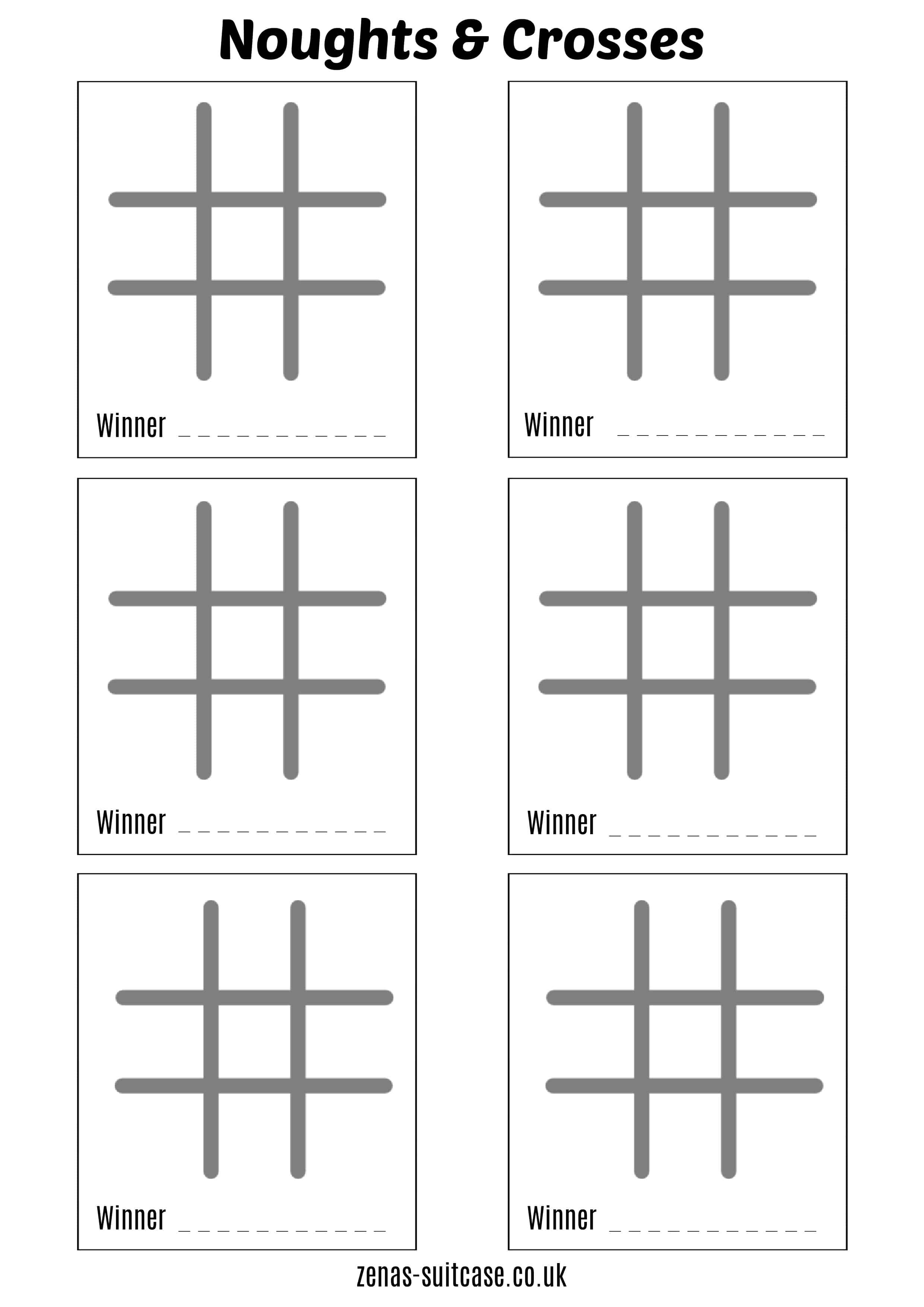 How to Play Noughts & Crosses
I you haven't played noughts and crosses before, it's one of the easiest games to learn and teach.
Sometimes called Tic-Tac-Toe, you have two players.
One will be noughts and one will be crosses.
Players take it in turn to place their nought or cross on the grid.
The player who manages to get three in a row either horizontally, vertically or diagonally is the winner.
It's not uncommon to draw in noughts and crosses.
It's a game where you can easily play a number of rounds, keeping a tally of the winner each time. The player who winds the most rounds is the overall winner!
Tips for Playing Noughts and Crosses on a Road Trip
You can easily print out a number of games of noughts and crosses and add them to your pack of road trip games. It's really easy to make this games reusable too!
My first tip is to laminate as many games as you think you will need. As it's a two player game, if you have a big family, you may want a few noughts and crosses games laminated for your trip. If it's time to stock up on laminator pouches, check out the latest prices here.
Just get some wipeable pens and you have a game the kids can play again and again.
My kids particularly love playing using magnetic counters. When they have the game on a metal tray, it all stays together, which is great for not having lots of things drop on the floor during a car trip! They either pick a colour to play, or we pop a little sticker on the counters for the noughts and the crosses. They find this really novel and it keeps them playing the game longer.
If you are planning a road trip, or any type of holiday for that matter, download my free printable noughts and crosses/tic tac toe game now. We also have lots more road trip games free to download too to help keep your children entertained.
>> Free Noughts & Crosses Game <<
Don't forget to Pin out free printable noughts and crosses game to print out later!