Road trip games are an essential addition to any long car journey with kids. Even if you have screens, they will enjoy taking a break from their devices with these free travel games and activities.
These free printables are perfect for kids of all ages. I've included games that two children can play together such as noughts and crosses and battleships. There's also activities for children to enjoy by themselves including a word search, crossword, word scramble and may more.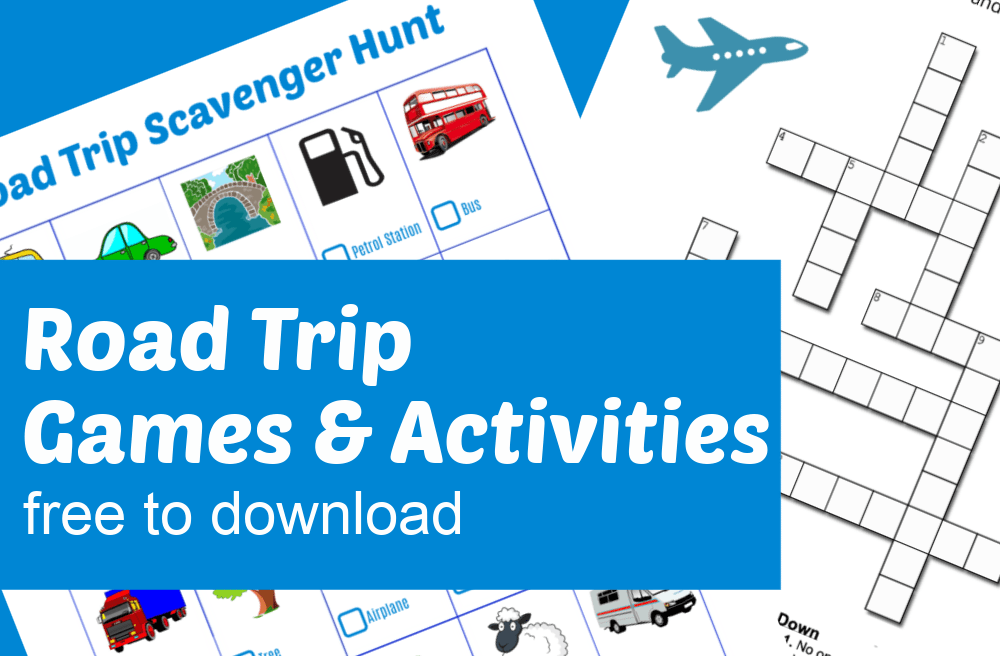 There is nothing worse than driving with bored kids in the car. It can make everyone very stressed, especially the driver. Downloading these car travel games and popping them in your back seat organiser means you've always got something to hand when the kids get bored.
These travel activities aren't just for road trips either.  If you are flying or taking any kind of long journey with kids, print off this bumper pack of free games and activities to keep them entertained.
We think you'll also love: 101 FUN Kids Trivia Quiz Questions with ANSWERS
Battleships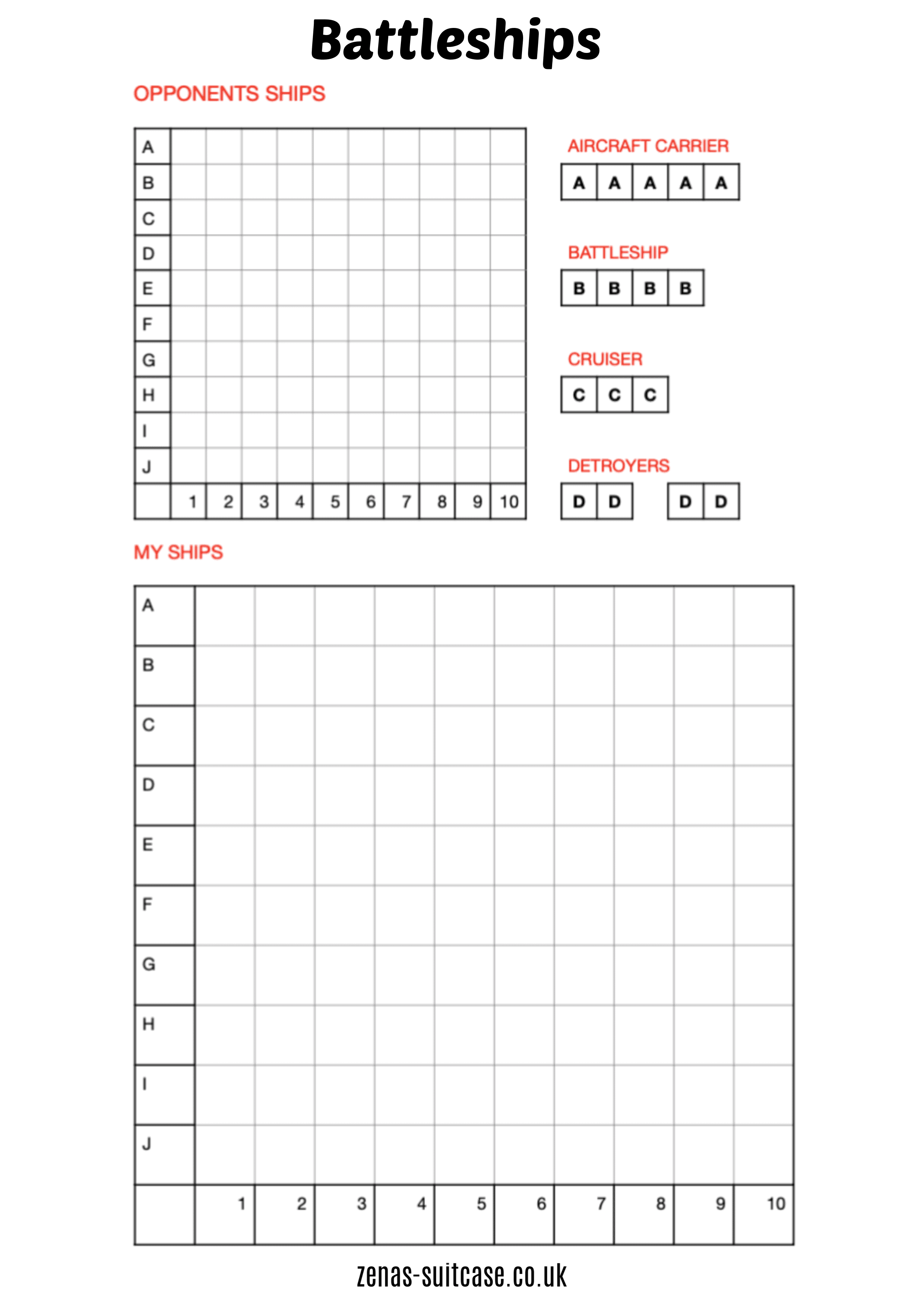 Battleships is a popular game to play on road trips. Download and print at least 2 battleships grids, more if you expect more games to be played. Each player begins by putting their 5 ships in their grid. each player then takes turns in calling out sets of co-ordinates to sink their opponents battleships. Record the outcome on your grid called 'opponents ships'. The last person with battleships remaining is the winner.
Download free Battleships game here.
Noughts & Crosses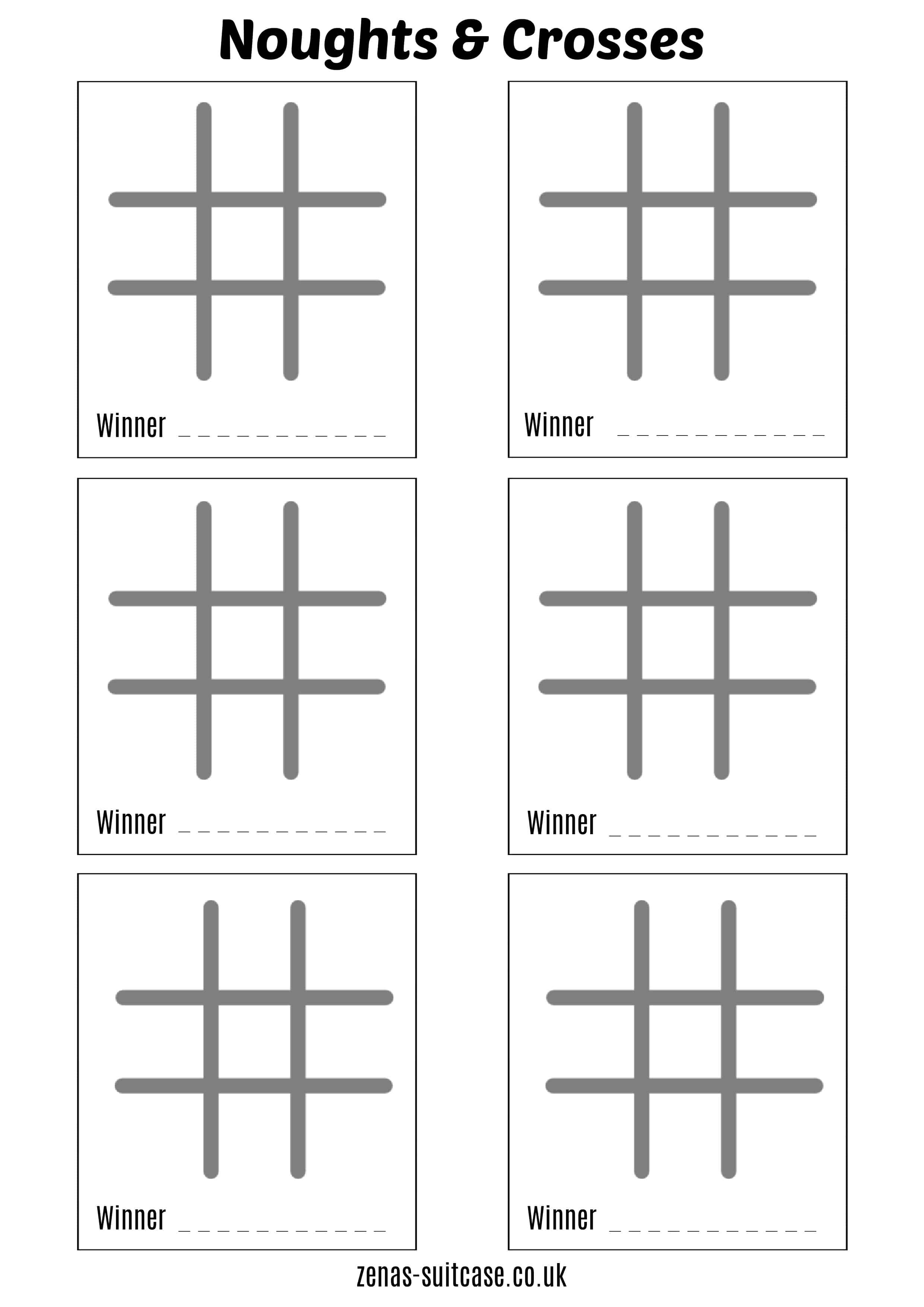 Noughts & crosses is a popular travel kids games that anyone can play. This is a perfect activity sheet for laminating and using again and again. You can even keep track of who wins each game during your trip!
Free printable noughts & crosses template
I Spy Game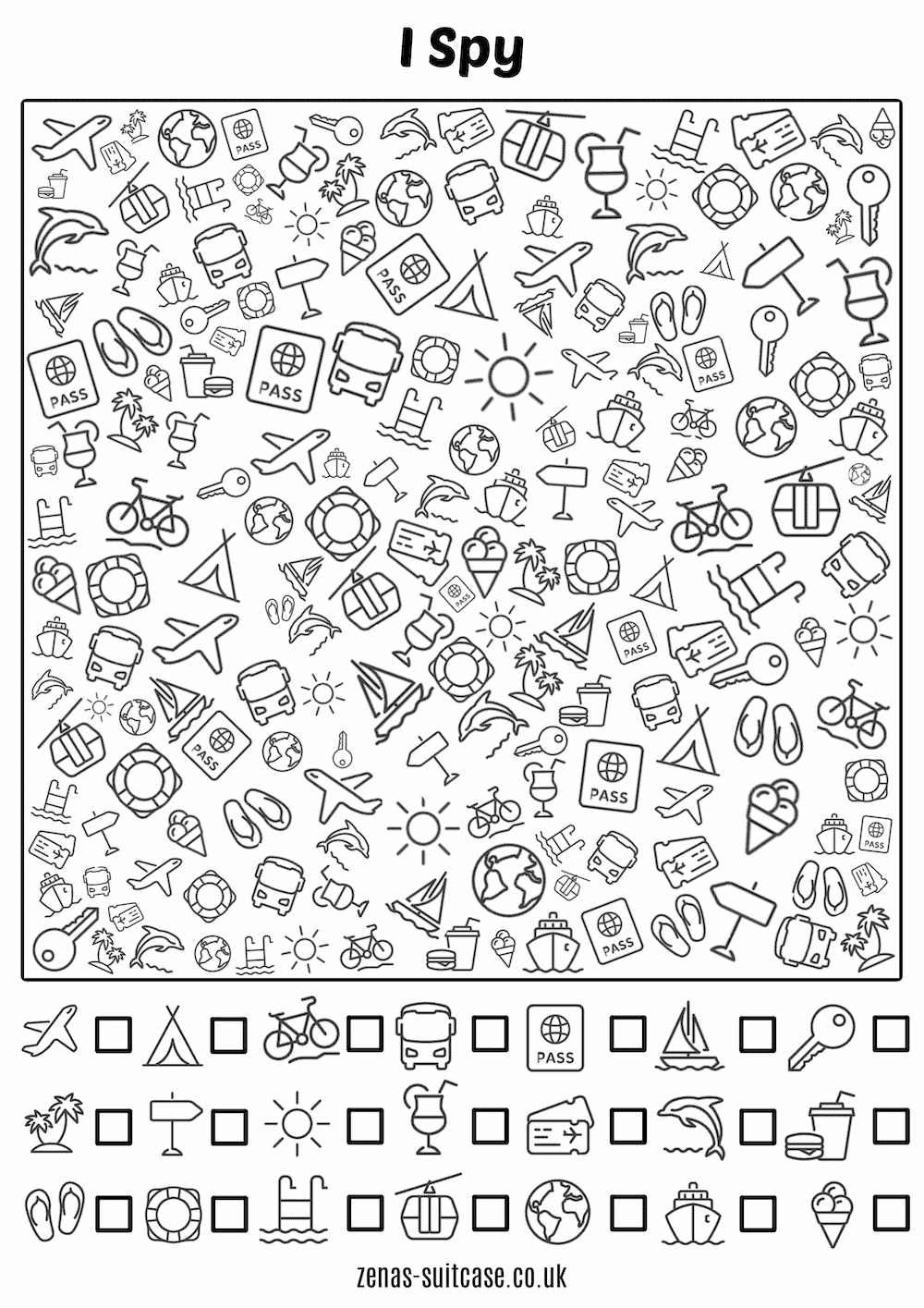 Test your observations skills with this fun travel game of I Spy. It's one of those kid travel games that will keep them entertained for hours while they try to find the total number of each picture hidden in the frame. Pack some colouring pencils for this one!
Click here for free I Spy game.
Dots & Boxes Game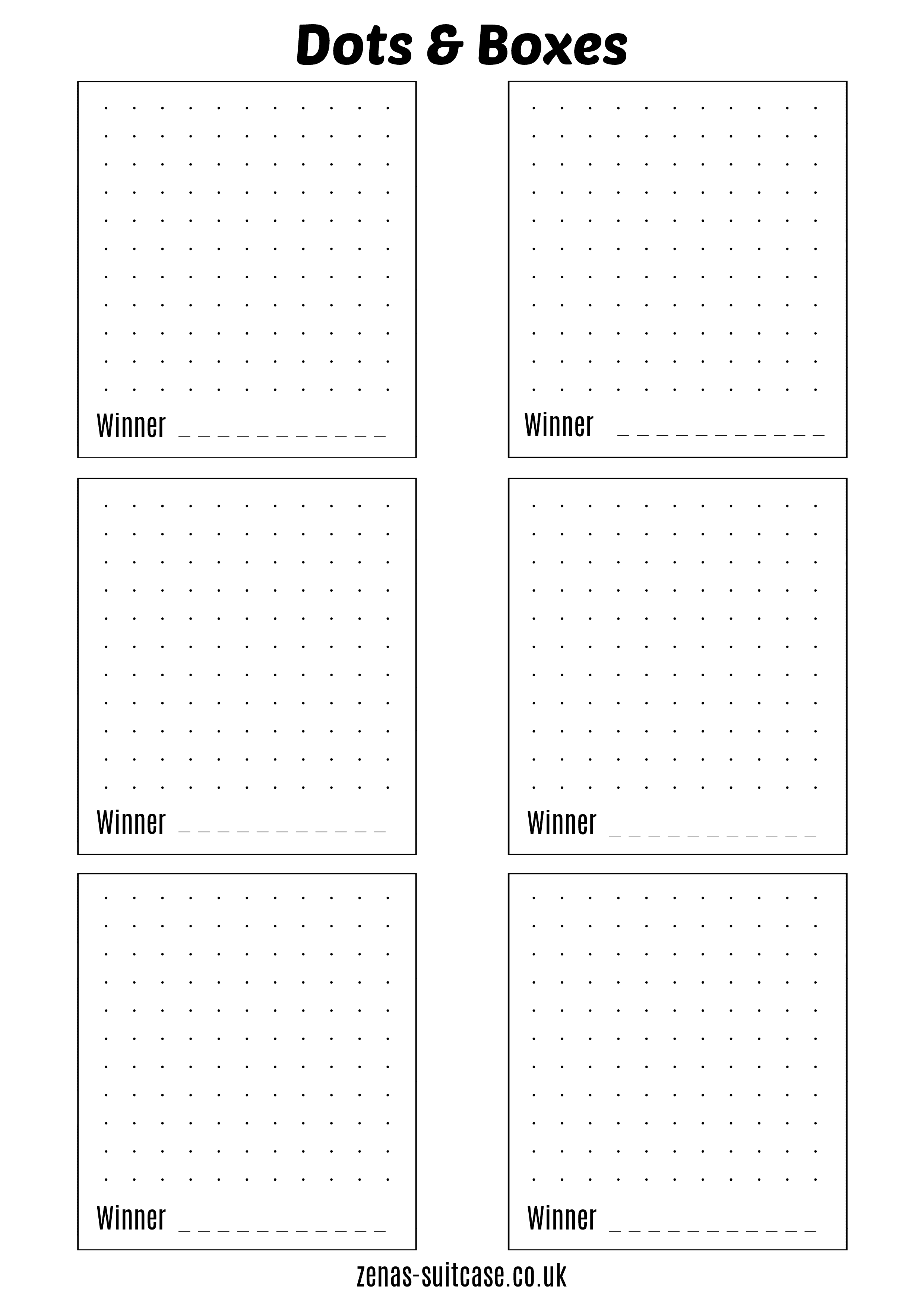 Dots & Boxes had to be included in our road trip games for kids pack because it's really easy to play and super addictive. Each player takes turns in adding a line to the grid to join a pair of dots. When you make a box, put your initial inside it. You also get another turn each time you make a box. At the end of the game each player counts up the number of boxes and the one with the most wins.
Free Crossword for Kids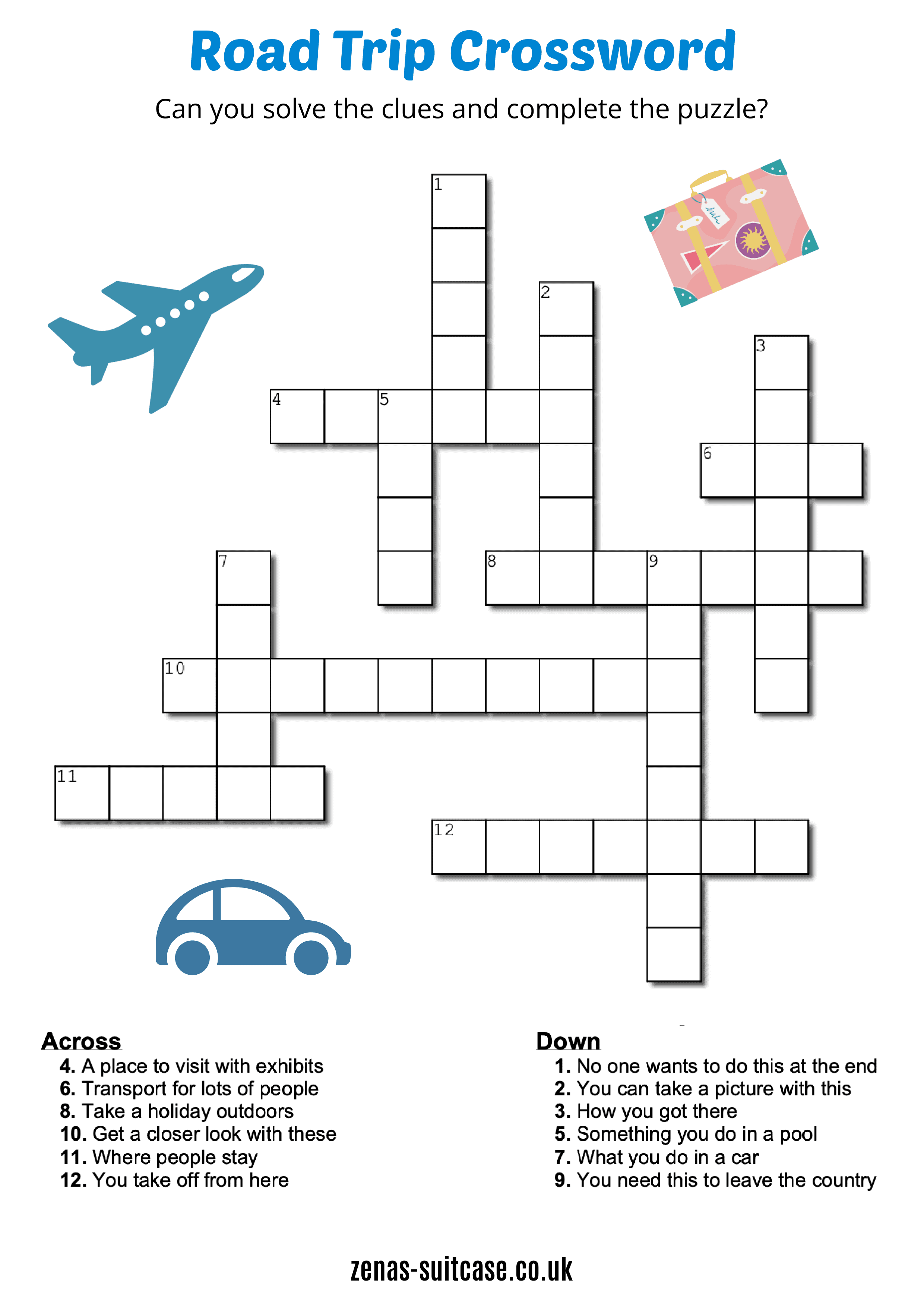 Word puzzles are great for kids. They are really fun and educational too. This travel and holiday themed crossword will not only keep the kids busy but also get them in the holiday mood. Download this free crossword and add it to your car activities for kids pack.
Road trip themed crossword puzzle for kids
Road Trip Scavenger Hunt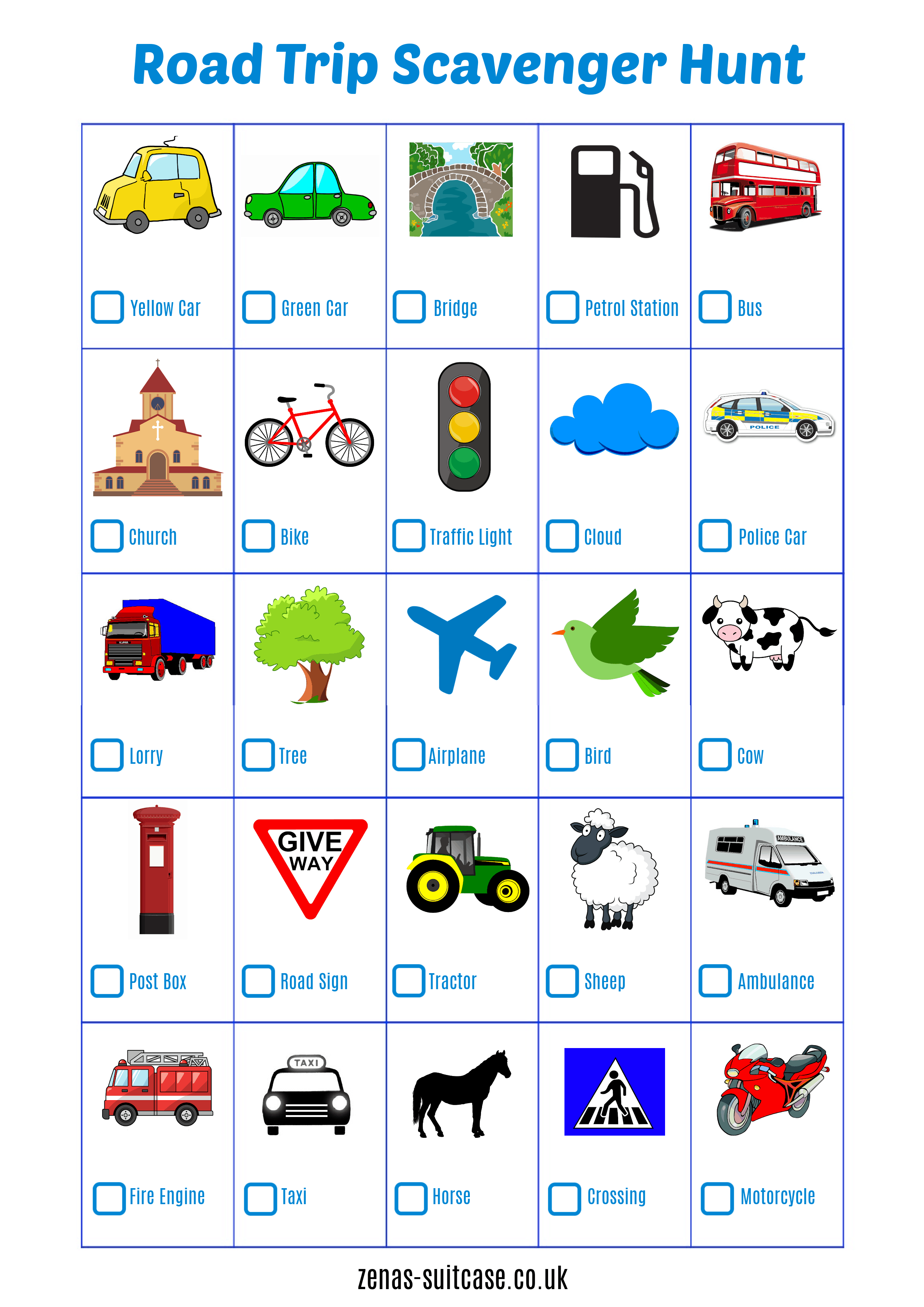 We love scavenger hunts and road trips are just perfect for this activity. Our road trip scavenger hunt has lots of things you might spot on a long car journey, but will you be able to tick them all off? If you like this kids activity you might also enjoy our nature scavenger hunt or neighbourhood scavenger hunt.
Road Trip Word Search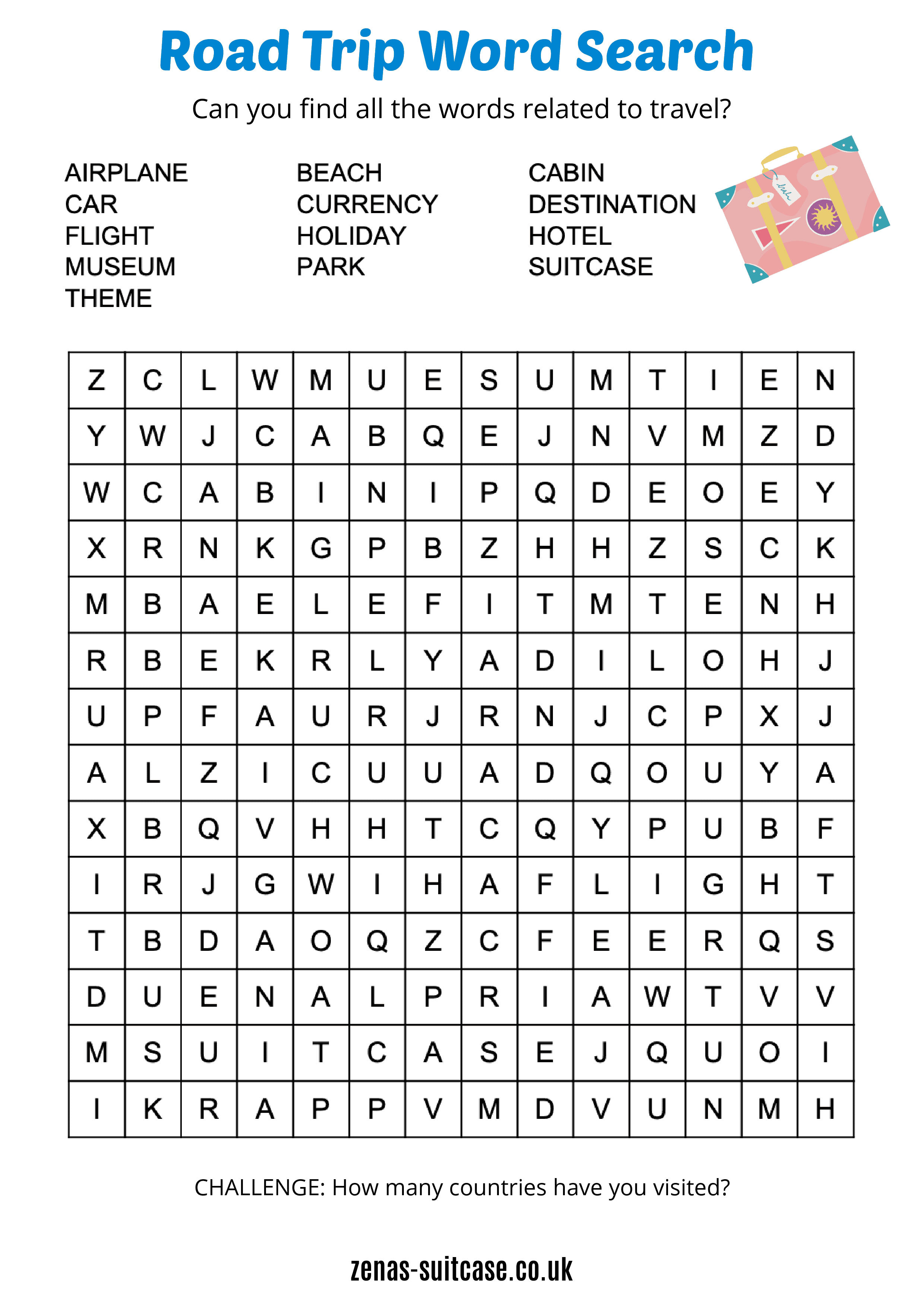 Word searches are great travel activities for kids. They are super fun and really help with spelling and word recognition. We have a great collection of kids word searches here if you want to take some more on your trip.
>> CLICK HERE FOR MORE FREE WORD SEARCHES <<
Road Trip Colouring Page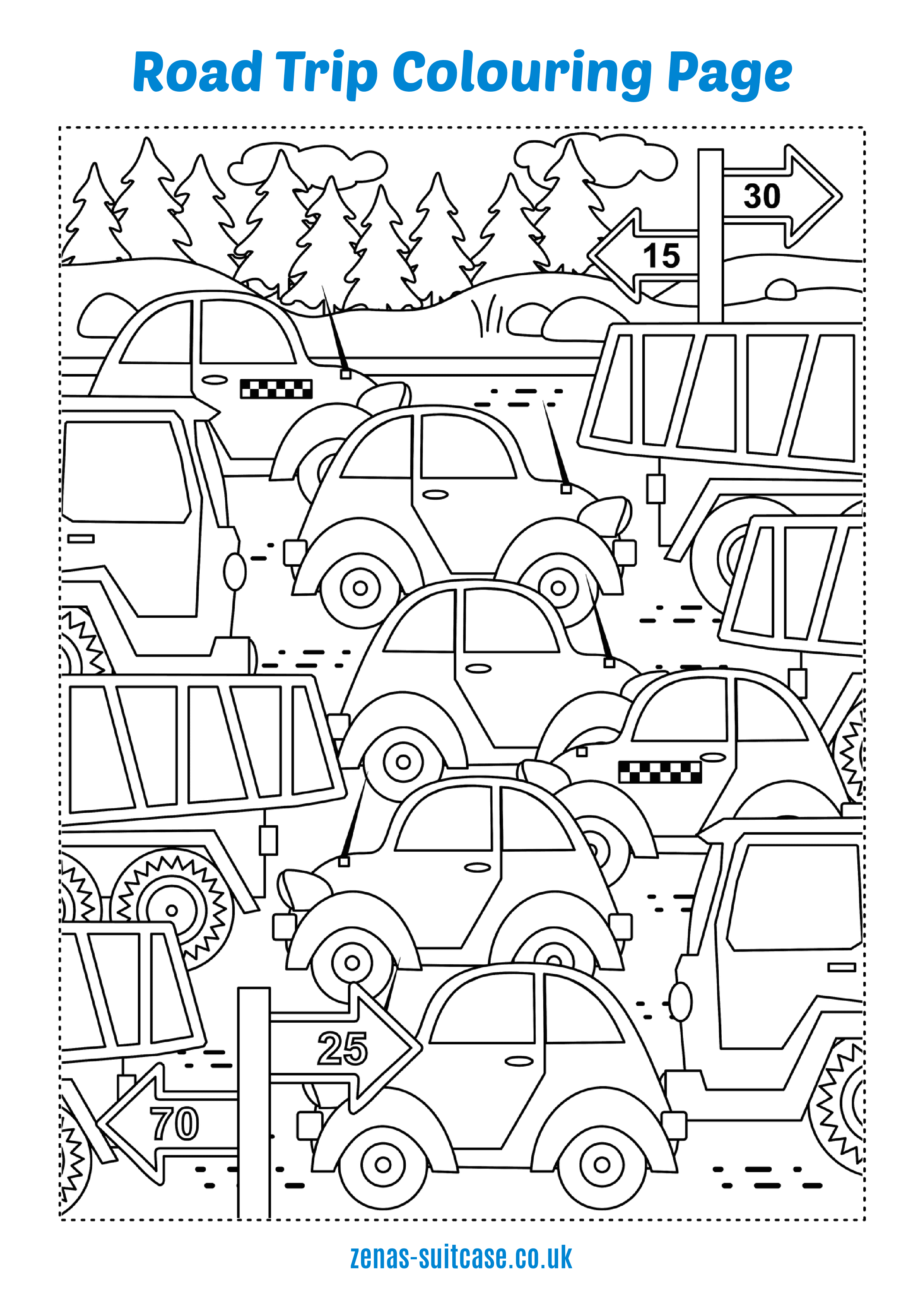 I know who much creative kids enjoy colouring so I had to include these travel themed printable in the free travel kids activities pack. I'd love to see the finished picture on social media so don't forget to share this colouring page and tag Zena's Suitcase on your favourite platform.
Free Car Colouring Page for Kids
>> CLICK FOR FREE OCEAN COLOURING PAGES <<
Road Trip Word Scramble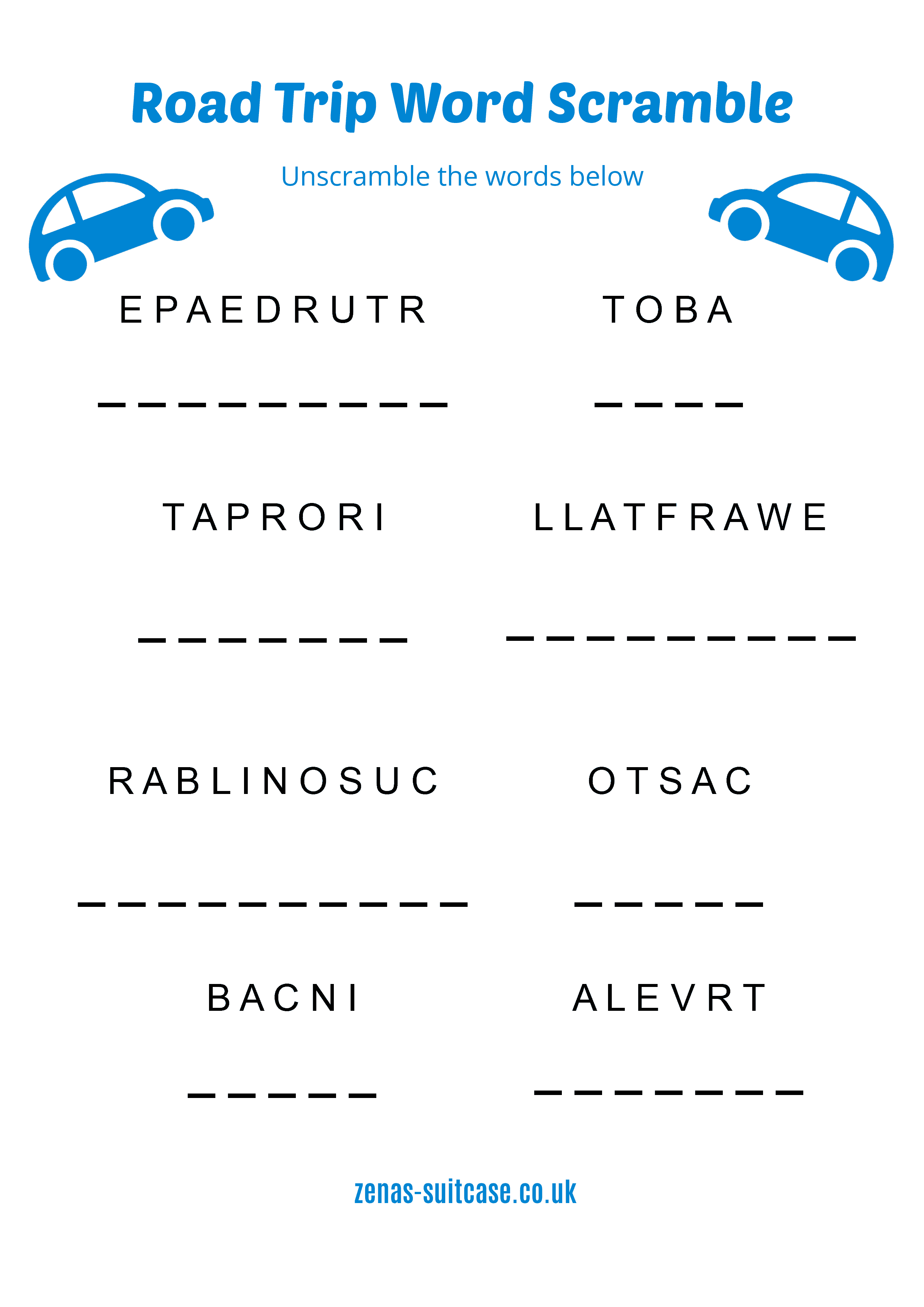 I've got another word puzzle for this list of activities for kids in the car that I hope you'll love. Learning should be fun and this travel themed word scramble will help with spelling and problem solving. They won't even realise they are learning.
Free Maze for Kids Download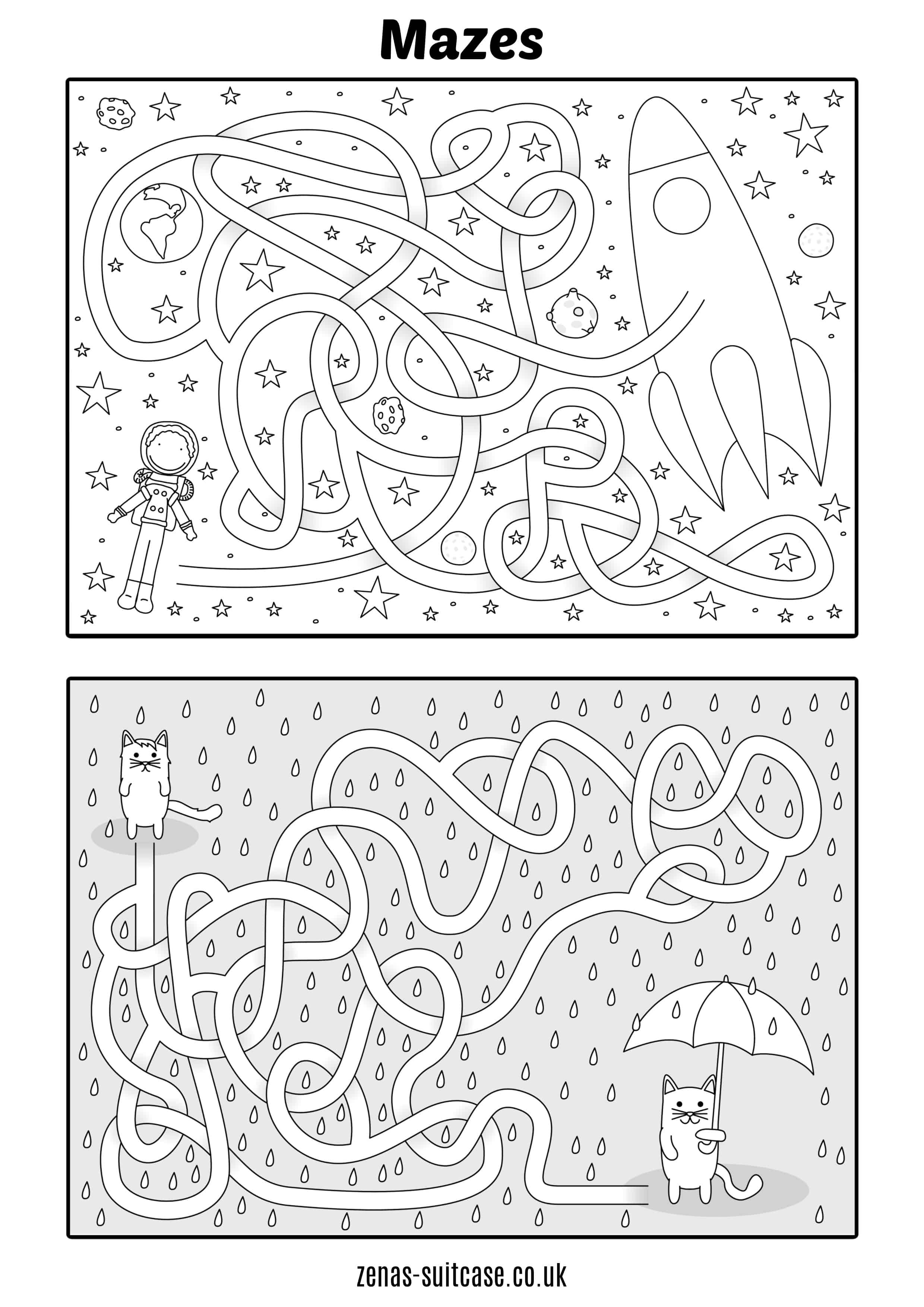 Mazes are one of my favourite kids activity printables. They are super fun puzzles for little ones and really help with pencil control. There's 2 mazes on this printable download to keep your kids entertained while they are travelling.
Download your free maze puzzles here
Free Spot the Difference Printable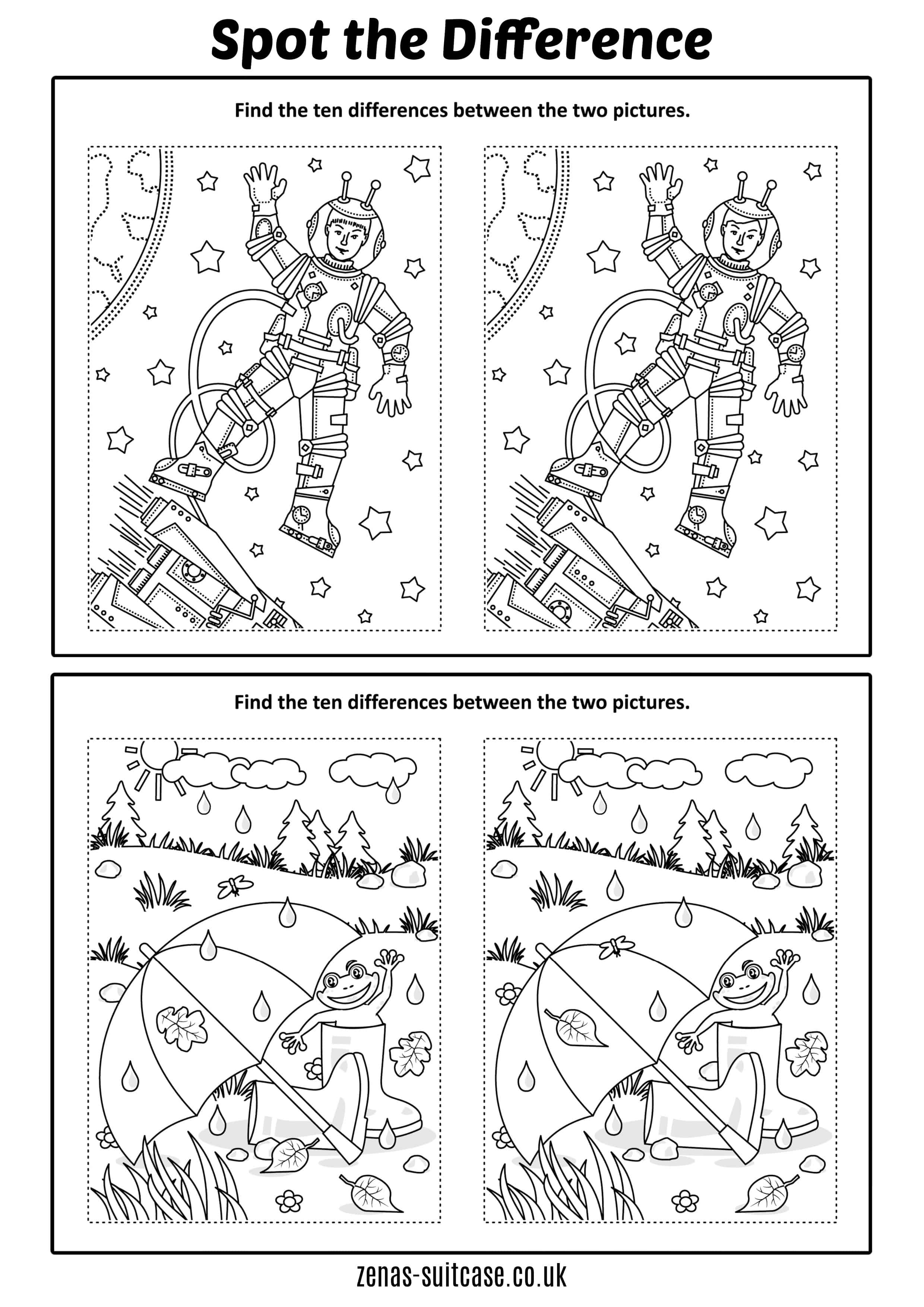 Spot the Difference printables are perfect for kids to do on long car journeys or whilst they are travelling. We hope you kids will enjoy finding the differences in these two spot the difference puzzles during their road trip. They could even colour them in for even more more!
Whether your travelling now or later I hope you will enjoy using these free road trip kids games and activities to keep your little ones entertained. If you use these free downloads please do share them on social media and Pinterest. We'd love these activities to reach as many children as possible and it really helps my website.
You can pin these road trip games and activities to Pinterest using the image below!
Thanks so much