Going away on holiday is meant to be an enjoyable experience, but for children with a disability, it can often be a frustrating experience if the accommodation isn't accessible. So, what should you look out for?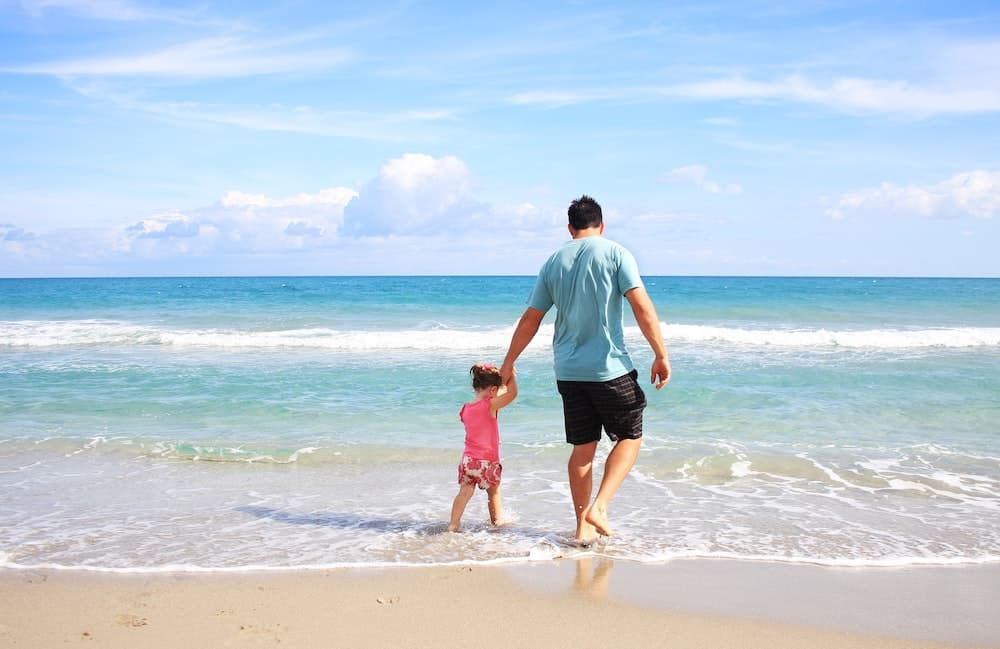 Collaborative post with affiliate links
Taking a holiday with children is sometimes pretty stressful, and this can be even more so if your child has a disability. Although we're making strides as a society to provide ample accessibility, it's not always easy.
For starters, finding a hotel that provides the right accessibility and support is a must on your holiday. Of course, if your child's disability was caused in the hospital, a birth injury solicitor can help with getting compensation, which may help with funding your trip. But, there are also plenty of practical considerations to look out for too.
From accessible entrances, including lifts and ramps, to bathrooms with grab rails and walk-in showers, there are several things to consider when booking a hotel for someone with a disability. So, to avoid your child becoming impatient and disgruntled this summer, here are the key features to look out for…
10 Features to Look Out for When Booking a Hotel for the Disabled
Booking System
First and foremost, when booking a room online, always take a close look at the hotel's website. Is it immediately obvious if the hotel has accessible rooms available?
If you're having to call the hotel and ask them about their options, they probably don't have enough of the facilities your child requires. All the best hotels will already have this information readily available on their website. 
Entrances
This may seem like an obvious one but making sure your child can easily access the hotel is of paramount importance.
Sounds pretty basic, right? Yet, unfortunately, it's a key accessible feature that several hotels still lack. Double-check all the entrances and exits to make sure each one has a ramp.
Lift Access
Another feature you'd assume all hotels have but sometimes don't is a lift. Ask yourself if it's going to be large enough to fit you, your child and the wheelchair inside.
It's all well and good having a lift to reception and the bedrooms, but make sure to find out if there is sufficient lift access to other areas of the hotel, such as the swimming pool or games room. 
Handrails
Children are known to take a tumble at the best of times, let alone when they have a mobility disability. Having secure handrails on the walls of your room will help your children to steady themselves and manoeuvre easily. They're also a great help for children who are blind and partially sighted too!
Walk-in Shower
Walk-in showers are essential when looking to make your child's holiday as stress-free as possible. Regardless of whether your child must use a wheelchair or not, walk-in is super handy and offers additional space.
If not, all reputable accessible hotels should offer shower chairs as an addition to larger shower space.
Large Buttons
Ensuring telephones, TV remotes, and other devices have large buttons can be beneficial for all types of children; most notably, those who are blind, have compromised sight or have a learning difficulty. Although this sort of feature sounds a little unnecessary, it's worth suggesting to a hotel, as many elderly guests would also benefit from these sorts of designs.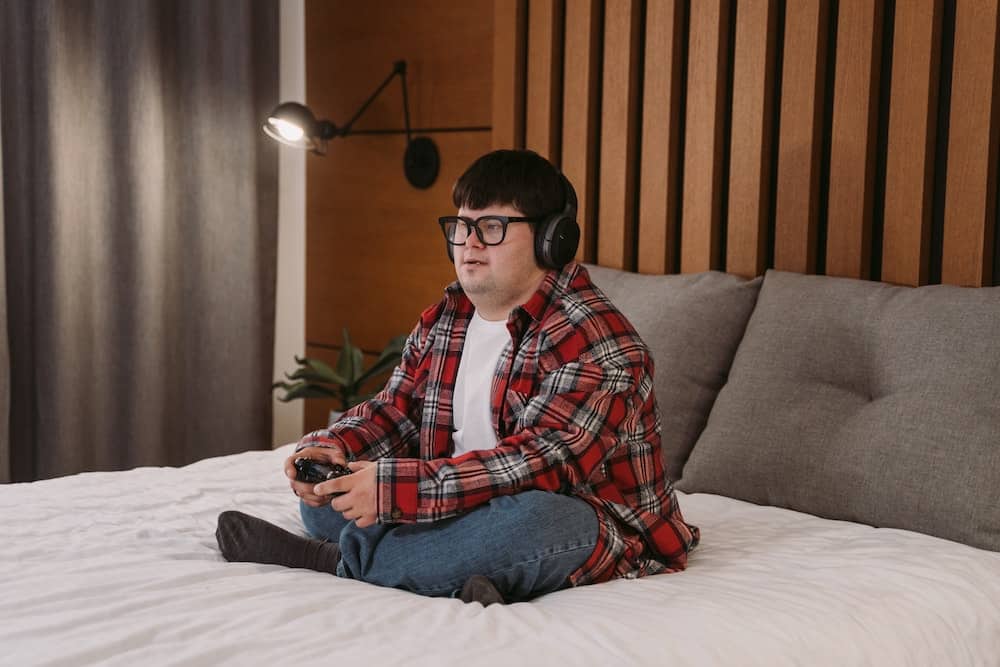 Vibrating Pillows
A handy and relatively new feature to look out for if your child is deaf or hard of hearing is vibrating pillows. Amazingly, the pillows have a sensory device that alert customers to sounds and vibrations going off throughout the building and can be lifesaving in emergency situations.
Colour Contrasting Surfaces
For blind and partially sighted people, specialist hotels will offer features such as colour contrasting surfaces to help guests navigate their way around the building. The contrasting colours stand out to children, improving mobility, and are particularly important at locations such as doors, reception desks, and restaurant tables. 
Light Signallers
Similarly, try to see if the hotel you're interested in offers flashing light indicators in the bedrooms. Signallers can be strategically placed in the room and cause the lights to flash in response to sounds and alerts such as a doorbell or ringing phone.
Room Service
You're on holiday after all! Most holidays will offer room service, but it can often come with a surcharge. If you're travelling with children who have mobility, visual, hearing or learning difficulties, and it's becoming increasingly hard to leave the room, talk to hotel staff in advance to see if they are willing to help without adding a large sum to the end of the bill.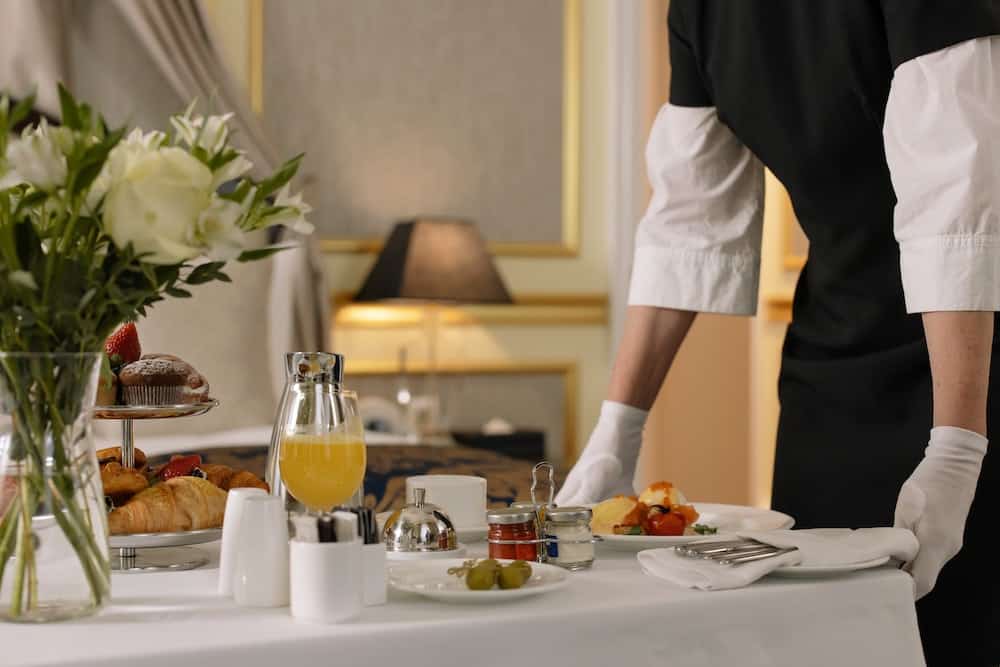 Let's Make Your Holiday as Relaxing as Possible
As you can see, there is lots to consider when booking a getaway with a disabled child, but don't let that stop you, or them, from having a lovely time. Your family are just as entitled as everyone else to have their needs catered for, no matter how difficult you think they may be.
The biggest take-home from this article should be that if you are unsure about the services provided, always call the hotel! Speaking to an employee directly will give you a good feel as to the capabilities of the hotel and if they offer additional services.
Ask questions about the hotel's disability awareness and if their employees have had any training or experience interacting with disabled customers. A key giveaway is if they have a specific person who deals with accessibility in the hotel, and if they use the appropriate language when referring to your child's disabilities.