We were very lucky on our recent family weekend break to Liverpool to be invited to Knowsley Safari.  None of us had been to Knowsley Safari before, so this was an amazing new experience to share with the family.  Daddy didn't even realise that such a thing even existed in this country so it really was an eye opener for him.
We arrived at the park at around opening time, and were given our arrangements for the day and times to join the Knowsley Safari Baboon Bus.  As we weren't going to be joining the bus until 12pm, we decided we would drive around Knowsley Safari first to find out what it was like.  I'm so glad we did, as being one of the first cars around the park was a real advantage.
Meet The Lions
If you are planning a visit to Knowsley Safari I really would urge you to get there as soon as the gates open and head straight for the safari.  The benefit of doing this is you get to see the lions right up close and personal, so to speak.
Before the cars start to arrive the lions take advantage of this and loiter on the road side.  When we went through later on the Baboon Bus they had moved off the road on to the platforms they can rest on.  You still get a great view of them, but you don't get pictures like this.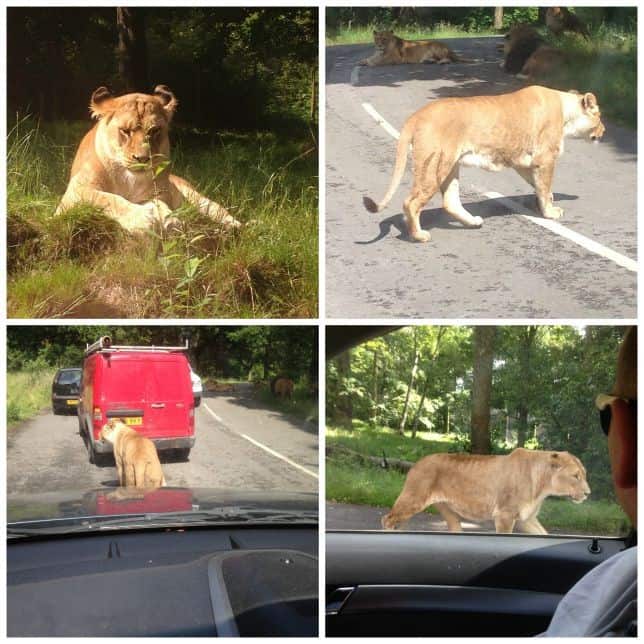 This had to be the most breath taking part to our visit, and something we would not have seen if we had not gone round the park first thing.  They are magnificent creatures aren't they?
Lots To See
Around the park there are so many animals to see, you really will get the most out of your visit if you go around twice.  They have a vast collection of all different kinds of animals from zebras, giraffes, peacocks, elephants and rhinoceroses.  The park contains around 700 species of animal all together over 550 acres of safari and I'm pretty sure we saw nearly all of them.
Sea Lions
Princess seemed to enjoy the sea lions the most, and the fact she could see them from under the water really added to her experience.  I lost count of the times she went up and down the steps to see them from all the different angles in their pool.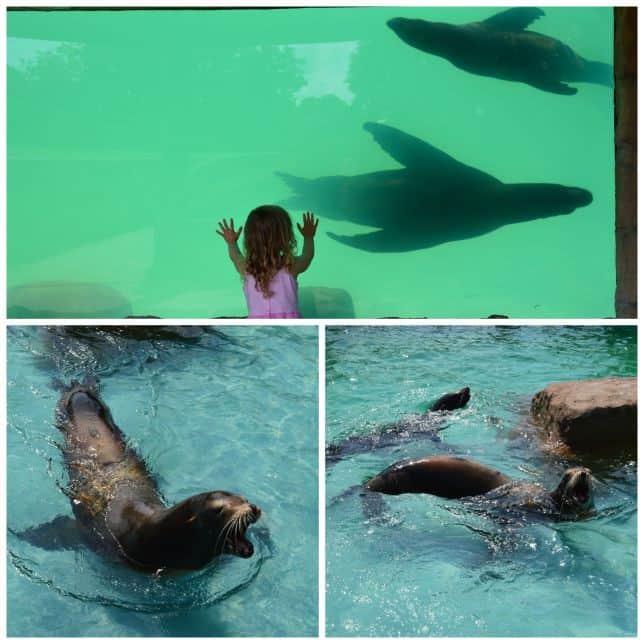 Knowsley Safari  have talks and shows on through out the day so you can learn more about the animals they home.  We really wanted to watch the sea lion show, but didn't make the times.  We did hear all about the meerkats though, which we really enjoyed.
The Baboons
Knowsley Safari has a a very large collection of Baboons in residence.  When we drove round the park ourselves we decided to take the Baboon safe route.  We value our windscreen wipers, especially as we were going to be driving 2 hours back to Nottingham after the weekend.  We knew we would get to see them when we caught the baboon bus later.
These cheeky primates have quite a reputation you see.  They are famous for stealing windscreen wipers, England flags, number plates and pretty much anything they can pull off a car.  They are also known for using the odd moving vehicle as a toilet.  We saw this in progress, so I can completely vouch for it.
They are amazing creatures, but when they see a car they think it's playtime.  When we were about to enter their enclosure on the Baboon bus, we saw a women get out of her car, and stick her windscreen wipers down with masking tape.  Now, you remember those lions I mentioned at the beginning of the post?  Firstly, it really isn't a good idea to get out of your car whilst at the safari, and secondly masking tape really isn't going to make a jot of difference.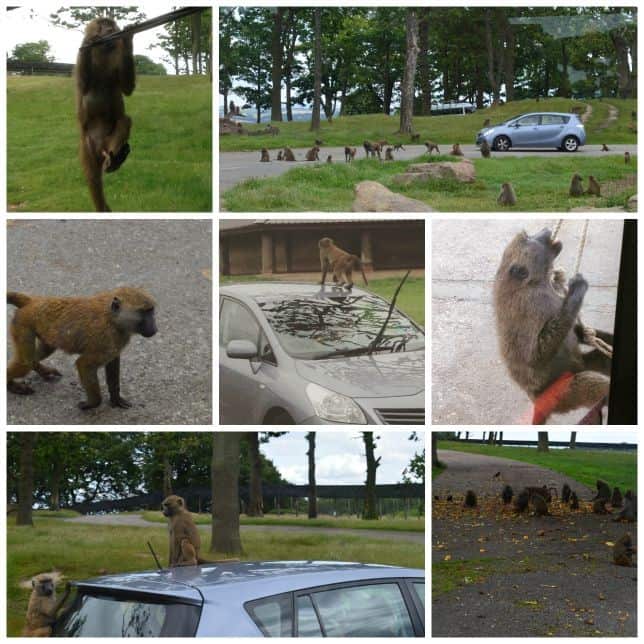 It's worth taking the Baboon bus for lots of reasons.  The guide gave us lots of interesting facts about all the animals that live at Knowsley Safari, which we all really enjoyed.  You can use the guide your given on entry too, but I must say I prefer someone to point things out and tell you interesting facts.
The main reason though is that the Baboon bus is a great way to see the Baboons and keep your car in one piece.  There are ropes hanging from the bus that the Baboons catch and climb up, but they aren't shy about using the windscreen wipers either.
This was such a fun experience, and our 3 year old thought it was very amusing watching the baboons jump onto the bus.  She thought it was even more amusing when one wee'd down the windscreen.  These guys know no shame.  I really can't recommend the Baboon bus enough.
We Met Ben & Holly Too
During our visit, Ben & Holly were visiting Knowsley Safari too.  They were having meet and greets with their fans through out the day.  Now, we couldn't miss this as Princess loves the show.  She kept reminding us that she'd seen them at the theatre, and was very excited to meet the in person.  Just look at this happy little face…
Recommendation
We had an amazing visit to Knowsley Safari and would recommend a visit for anyone coming to Liverpool.  It really does have something for everyone.  The have a play park for the children to enjoy, restaurants and picnic areas too.
They have a really flexible pricing structure so that you can enjoy the park in the best way that suits you.  Entry starts at just £7.50 and under 3's are free.  Baboon Bus tickets are £5.00 per person.  It really is great value for money.
We were provided with complimentary tickets to Knowsley Safari  in exchange for this post, but all thoughts and opinions are our own.