Going to Buckingham Palace is probably on every travel itinerary for tourists who are visiting London, especially for the first time.  The Royal Mews is just next door but is probably a less visited attraction, which I think is a real shame.  During our weekend at Hilton London Canary Wharf I really wanted to show the girls where the Queen lived.  Buckingham Palace is an incredibly British institution, and I wanted to introduce the girls to one of the most iconic symbols of our interesting heritage.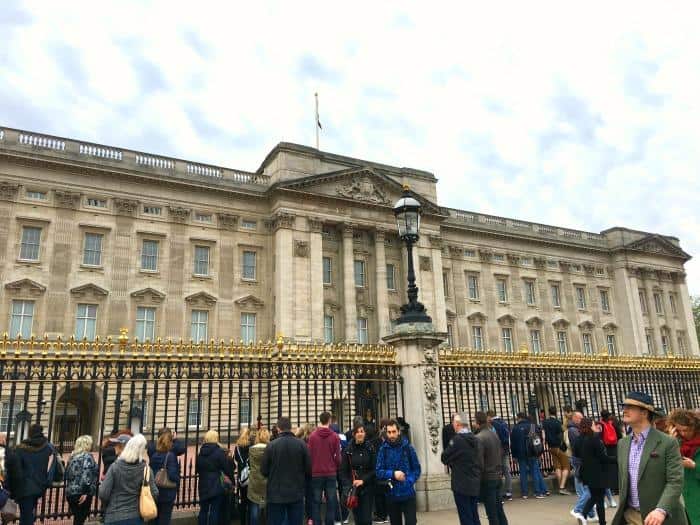 Going to the Royal Mews was a definitely about a trip down memory lane for me.  I can remember visiting the Royal Mews when I was a child and being absolutely awestruck when I saw the Golden State Coach and the other Royal carriages in this working stables.
Buckingham Palace
When we arrived at Buckingham Palace, my little princess was bubbling with excitement.  Her little sister on the other had decided this was an appropriate time to take a nap and missed her date with the Queen.  I guess sleep is just more important sometimes.  While she grabbed 40 winks in the pushchair, we all took a look around the gates and at the Queen Victoria Memorial.  The famous monarch presides over The Mall surrounded by some equally impressive symbolic statues which are well worth a visit.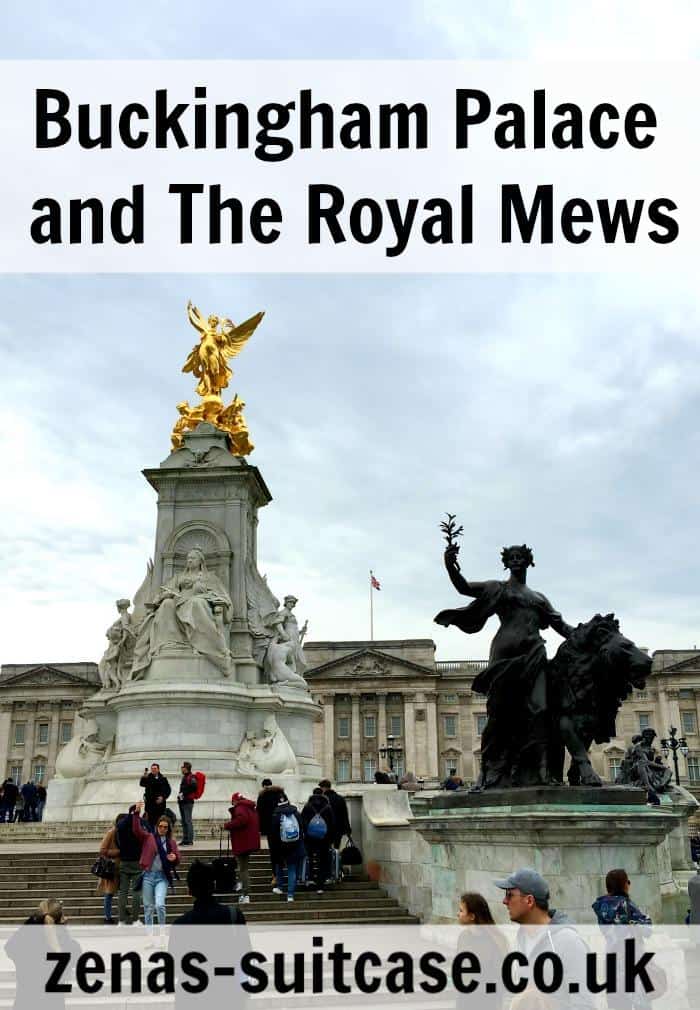 Conscious that our young explorers would soon be hungry we stopped at a cafe between Buckingham Palace and the entrance to the Royal Mews.  It served Italian food and classic British dishes like egg and chips.  I wish I had made a note of the name as it transpires there are a lot of Italian inspired cafe's near to Buckingham Palace!
The Royal Mews
With all the kids awake and fed we headed to the Royal Mews. We picked up our free family audio tour and headed through the stables.  Princess loves audio tours and when she heard that the horses went to school she couldn't quite grasp it.  She struggled to see how horses might sit at desks all day which led to a enlightening conversation about what a riding school was.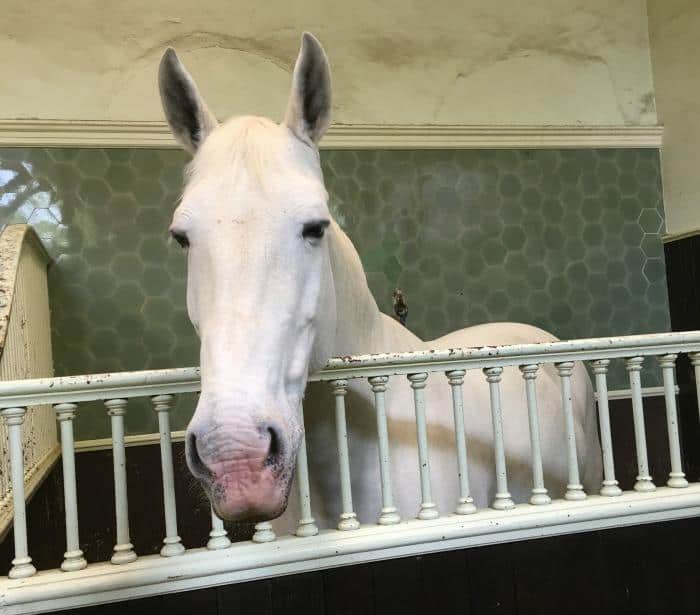 The first inhabitants of the Royal Mews that we met were a couple of the Royal horses.  They are such splendid creatures and the fact that they are completely white makes them seem very majestic, especially when you are a child.  We left the horses and went to see some of the carriages that they pull on Royal engagements.  The audio tour provides some history to each carriage and there are also some videos of them in action as well.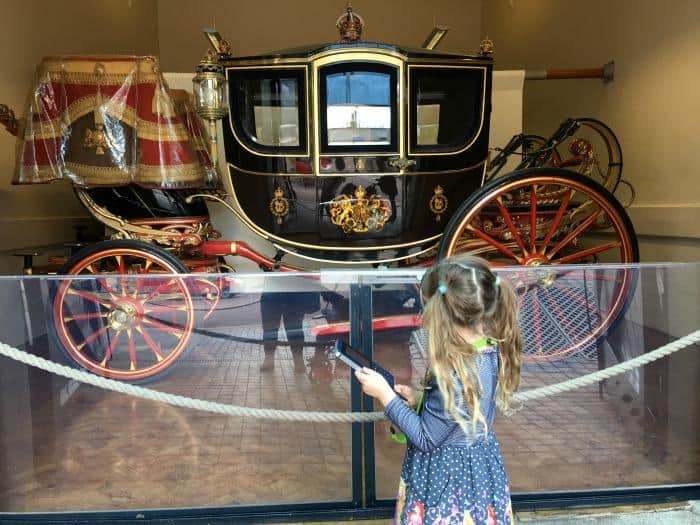 After we had seen the Royal coach collection including the Diamond Jubilee State Coach we went inside to where the Golden State Coach is kept when she is off duty.  It really is quite a magnificent carriage, but it's size and design doesn't lend itself to a particularly comfortable ride.  Because of this the Golden State Coach is only used for very important Royal occasions like weddings and coronations.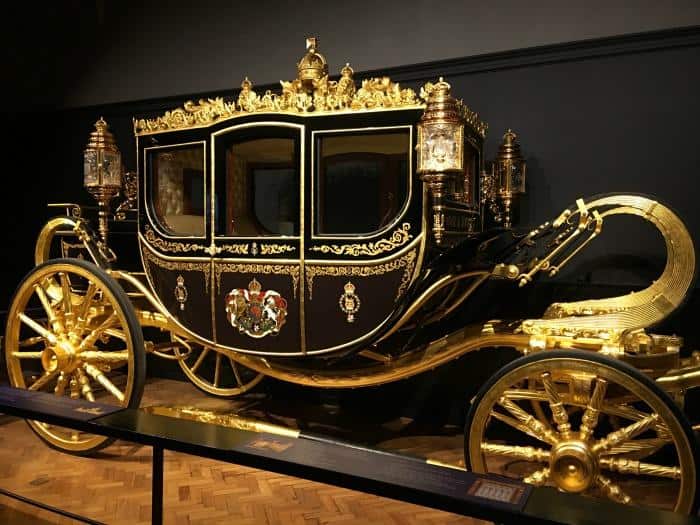 The Golden State Coach is presented as if it were in use with replica horses and footmen.  It is quite stunning to see with all it's gold gilding and ornate features.  It was as impressive as I remember it being when I was a child, and we all enjoyed the experience, especially the children.  The carriages wowed the girls a lot, and the visit was just the right length of time for them to enjoy it.  We spent about an hour in the Royal Mews and around half an hour at Buckingham Palace before hand.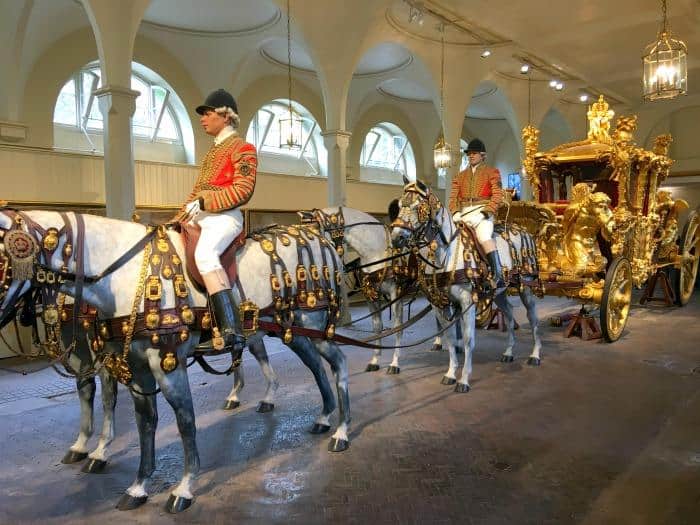 Being from the UK, the main thing I took from our visit to Buckingham Palace and the Royal Mews was that there are some incredibly historic and important aspects to British culture that we should be able to feel proud of.  Being reminded of this in the light of some of the things I'm not quite so proud of, i.e. Brexit, was an important part of our visit.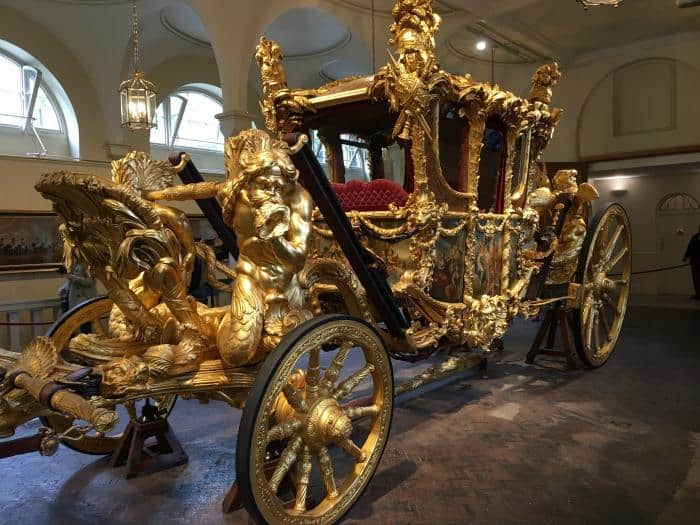 Whether you are visiting the UK from overseas or you live in the UK I would recommend a visit to Buckingham Palace including the Royal Mews, especially if you enjoy horses, history and all things Royal.
We were invited to the Royal Mews in exchange for this post but all thoughts and opinions are our own.