I've always found that getting into a good comfortable position for breastfeeding makes a massive difference to the success of the nursing relationship.  I want baby and me to be comfortable as we are going to be sat for at least 20 minutes but quite likely longer and there's nothing worse than getting a tired arm or feeling uncomfortable when supporting baby.  If I don't have proper support and baby starts to slip, often her latch will change.  The nightmare that is cracked nipples can soon follow cries the voice of experience!  I was plagued by this with Princess, but so far Tinkerbell and I have avoided it.  Hoorah!
I was really pleased when I was asked to review the Theraline Wynnie Nursing Pillow as I felt this could make a real difference to my third breastfeeding relationship.  Things hadn't gone quite so well with Princess and pillows featured massively in the solution but I never had a designated nursing pillow.  I ended up stacking pillows round me, which wasn't so easy or convenient when I was home alone.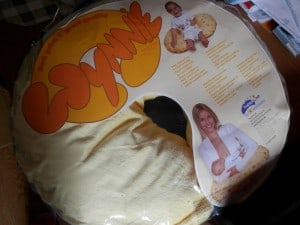 When the pillow arrived, the first things that struck me were that it came in a reusable bag which made for easy storage and transporting.  The pillow itself was lovely and soft, with a fur like texture. This doesn't malt in the slightest though but is really comfy.  The cover can be completely removed and I particularly like the way that the zip is fully concealed so it doesn't catch on you or baby.
The pillow itself is firm and supportive, which helps to keep baby in a good position for nursing.  It's shaped like a half moon so it fits snuggly round my tummy.  It's really easy to get into position when I'm home alone, as there is nothing worse than sitting down with baby and realising that half the things you need are on the other side of the room, like all the cushions I use to prop baby into position.  The Theraline Pillow has been the only pillow I've used to support baby this time round.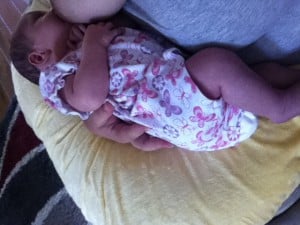 I've found it really easy to feed baby using the Theraline Nursing Pillow, and I really wish I'd have used something like this before with Princess.  I have't experienced any aches or discomfort at all while feeding baby and as you can see baby makes herself pretty comfortable too!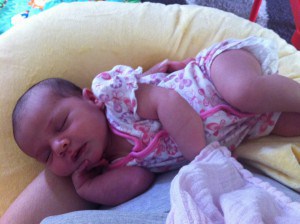 The other great feature is that when baby is old enough to start sitting up, this pillow can also be used as a stabilising support.  We're a while of that, but the pillow does seem firm and comfortable enough for this.
My only thoughts on this pillow are if you were a larger lady, it might not be suitable for you for nursing, but on the whole I have been really happy using it to nurse a newborn.  Theraline do provide a range of Nursing Pillows though, and there are larger alternatives to the Wynnie available.
We were provided with the Theraline Nursing Pillow for the purpose of providing this review which would normally retail at £44.99.  I have no regrets about providing this review and would happily recommend this product to a nursing Mum.  I would say it's important not underestimate how long you spend feeding a newborn baby, and how important it is to be comfortable and in the right position.  This nursing pillow can make a huge difference.