If your new to blogging I'm sure your spending a lot of time getting your head round many things.  Getting familiar with your blog platform, experimenting with the look and feel of your site, and learning how you fit into all the different social media platforms to establish your following not to mention blogging etiquette.
There seems such a lot to learn at first, and the internet is brimming with advice.  One thing I've learned is that it is worth reviewing your blog page every so often to make sure it's working for you, especially when your getting of the ground.  Your home page needs to be a place where your readers can interact with you, it has to be easy to navigate and encourage easy engagement with your blog.
It sounds complicated, but it really isn't.  Go over your home page and make sure it has the following elements and you'll see an increase in readers engaging with your blog in no time at all.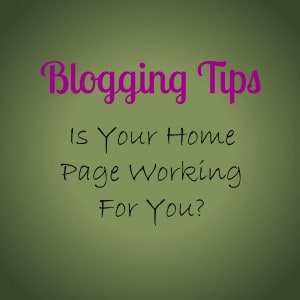 1. Search  You've written some killer content, your reader remember's seeing the post, and they are desperate to come back to it for reference.  They arrive at your home page and there's no search function.  They may have a quick click through your archives but after 2 or 3 attempts they get reader's fatigue and give up.  An obvious search function is crucial.
2. Share Buttons Make sure you have share buttons on your posts.  Your readers love your content and want to share it with the twittersphere, but alas there is no share button.  Only the dedicated reader will copy and paste the URL into a tweet or Facebook post.  Make sharing easy.
3. Follow Me Buttons What ever social media platforms you are active on, make sure your readers can follow you on them easily.  Don't hide your twitter handle on your 'About' or 'Contact' page.  Make sure your follow buttons are up to date.  When you are joining new platforms, make sure you add them to you follow me section on your blog.  Harness every opportunity to engage with your audience.
4. Subscribe Provide an option for your readers to subscribe to your blog so they get your very latest posts right into their inbox.  If they like your content they will want to be able to read more, as soon as it's available.  A reader who has taken the time to subscribe is committed to your blog.
5. Comments  The best way for your readers to be able to engage with your blog is to comment on your posts.  Make it easy for them to comment, avoid Captcha, and let them leave their URL if they have one.  This will encourage your readers to come back again.
The tips are designed to make it easy for your readers to interact with you.  I've read many a blog now that would benefit from the odd tweak here and there to support the great content that is being written.  These simple 'call to action' functions will guarantee your readers have a positive experience when they visit your blog.
Do you review your blog to make sure it's working for you?  What are your blog 'must have's'?