My daughter loves Justin (Fletcher) in all his guises.  When I say love, it's not a notion I have about how she feels about him, she actually declares her affection when ever she sees him.  We are very excited about CBEEBIES LIVE! next year and are very much looking forward to JUSTIN & FRIENDS: MR TUMBLE'S CIRCUS.  It sounds like it's going to be spectacular!
That's why I'm delighted to bring you Justin's thoughts on the live show in his own words! My daughter thinks this is pretty amazing too!
Justin Fletcher MBE is one of the most recognisable and best-loved faces of children's television, delighting pre-schoolers in popular CBeebies shows such as Something Special, Justin's House and Gigglebiz. Next Easter he'll be starring in CBeebies Live!'s circus-themed extravaganza Justin & Friends: Mr Tumble's Circus which will be touring arenas across the UK in April 2015. Visit www.cbeebieslive.com for full details.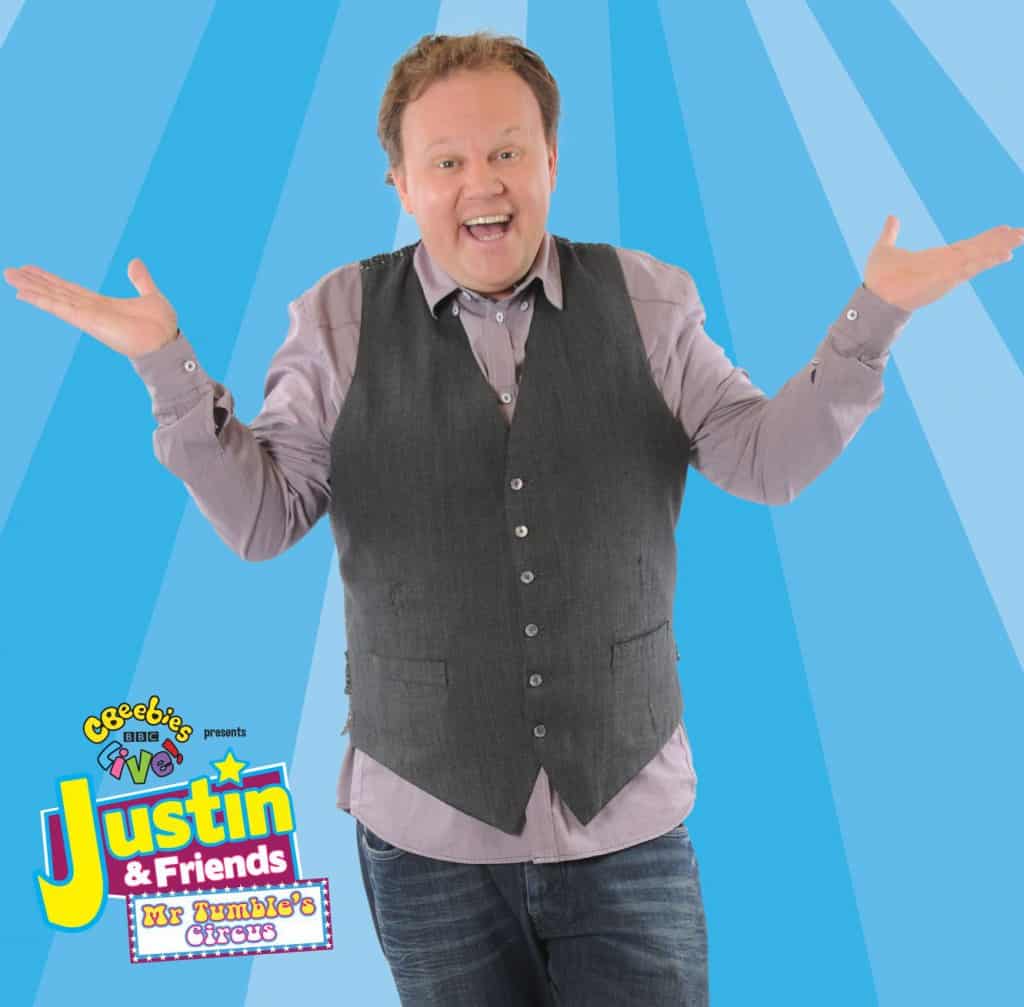 Justin & Friends: Mr Tumble's Circus – that sounds like fun! What inspired you to give this tour a circus theme?
Well, on the first Justin & Friends show (in 2013) we themed the show around Justin's House and this time around we wanted Mr Tumble to play a bigger part. So we thought that given that Mr Tumble is a clown, we'd give the new production a circus theme.
The circus theme is also the perfect environment for the arenas that we visit – big imagery, lots of colours and lots of larger than life performances from the cast and a host of guests as well.
Did you go to the circus as a child? What was your favourite part of the show?
Yes, I went to the circus many times as a child and obviously I loved the clowns. What I vividly remember is the clown car, that's why I'm now a big collector of weird and wonderful vehicles! I remember the car coming into the middle of the ring and then half of the car collapsing, then the bonnet came up and a big water cannon sprayed the audience!
There were bubbles everywhere and I remember thinking "Wow!". I now have my own version of a clown car that we're actually going to use in the new Justin & Friends show.
Will we be seeing any special circus acts in Mr Tumble's Circus?
Yes, we're certainly going to have some speciality acts – lots of juggling and balancing as well as a few surprises… And of course there'll be clowning! It wouldn't be a circus if it wasn't for the clowns.
If you decided to run away with the circus, what act would you do?
I think I'd have to be a clown, Mr Tumble would fit in perfectly.
Which of your CBeebies friends will we be meeting on this tour?
We've got lots of great people joining the tour this year. We've got Andy Day who I've known for a very long time. Our lovely CBeebies presenter Cat Sandion and Gem from Swashbuckle are going to joining us for the first time, which will be great.
We've got lots of characters from my other shows as well; Robert the Robot will no doubt be following me around trying to tidy up after me; Little Monster will be causing mayhem and mischief; from Gigglebiz we'll have Arthur Sleep and Keith Fitt amongst others.
And let's not forget the Tumble family! I believe Aunt Polly will also be making an appearance. All in all, a huge array of CBeebies favourites.